Should You Use a Sample Demand Letter for Unpaid Wages in California?
If you have not received your wage, you should not give up on your hard-earned money. As an employer is in breach of contract, there are ways to make them fulfill their obligations.
One of the efficient options is sending them a demand letter to inform them of the breach and motivate them to settle the debt before you take legal action.
You could take a look at what a sample demand letter for unpaid wages in California includes to prepare yours correctly. This article provides the information and presents an efficient product that can help you create a reliable demand letter in minutes.
Are You a Victim of Wage Theft?
You could be a victim of wage theft if an employer has not paid you for the time you worked for them. Wage theft happens when an employer fails to provide you with your final paycheck or has not paid you:
At all
For overtime
Applicable minimum wage
For all hours you have worked
If you have experienced wage theft, you could consider the following options:
Sending an unpaid wages demand letter
Suing the employer
Why Should You Send a Demand Letter for Unpaid Wages?
Creating a breach of contract demand letter should be your first choice since:
Most employers prefer out-of-court settlements to avoid:
You could avoid complex, lengthy, and expensive legal proceedings (you will need to prove breach of contract elements and provide evidence, e.g., pay stubs)
Your demand letter should specify that:
You have performed your contractual obligations
The employer has not fulfilled the terms of the contract
How To Prepare a Demand Letter for Payment of Wages
If you are not sure how to draft a California breach of contract demand letter, take a look at the following options:
How To Create a Demand Letter
Details
Hire a lawyer
While any attorney could prepare a demand letter for you, you need to understand that:

Attorney's fees are high
This service might end up costing you more than you expect to receive in damages

Do it on your own
If you would like to draw up a demand letter by yourself, you could:

Download a template available online
Get familiar with state laws
Adjust the template to legal requirements and your specific case

Use DoNotPay
Our AI-powered app has a vast legal database and can generate a demand letter that meets your needs in a matter of minutes
What Does a Sample Demand Letter for Unpaid Wages in California Consist Of?
Here is what a sample demand letter for unpaid wages should include:
Your contact information—To give the employer a chance to get in touch with you, the demand letter needs to include your:

First and last name
Physical address
Email address
Phone number

Date—Keep in mind that this date serves as a record and evidence in case you end up in court
The employer's data—Make sure you provide:

The full and registered name of the company
Physical address
Department
Name and title of the person you are addressing the letter to
Aside from providing the above-listed data, you should also make sure to:
Use a formal tone—Be careful not to sound aggressive since the demand letter could be used as evidence in case you initiate a lawsuit
Provide facts—While it might seem obvious that the employer is familiar with your case, this is a chance for you to claim unpaid wages formally. You should specify the following:

The type of wage(s) you are owed, e.g., regular or overtime
Payment instructions

Keep it clear and short—Aside from outlining the facts, you should not be overly detailed as this is a formal reminder. If the employer wants to discuss the matter further, they can get in touch with you
Keep a copy and proof of delivery—You need a copy of the sent demand letter for your records, together with proof when you mailed it—e.g., a certified mail receipt—since you might use these in court
DoNotPay Helps You Create a Trustworthy Demand Letter
You can avoid spending a lot of:
Money on pricey lawyers
Time on searching for demand letter samples and templates that you need to inspect carefully and change to suit your case
DoNotPay knows all relevant regulations and can help you prepare an airtight demand letter fast.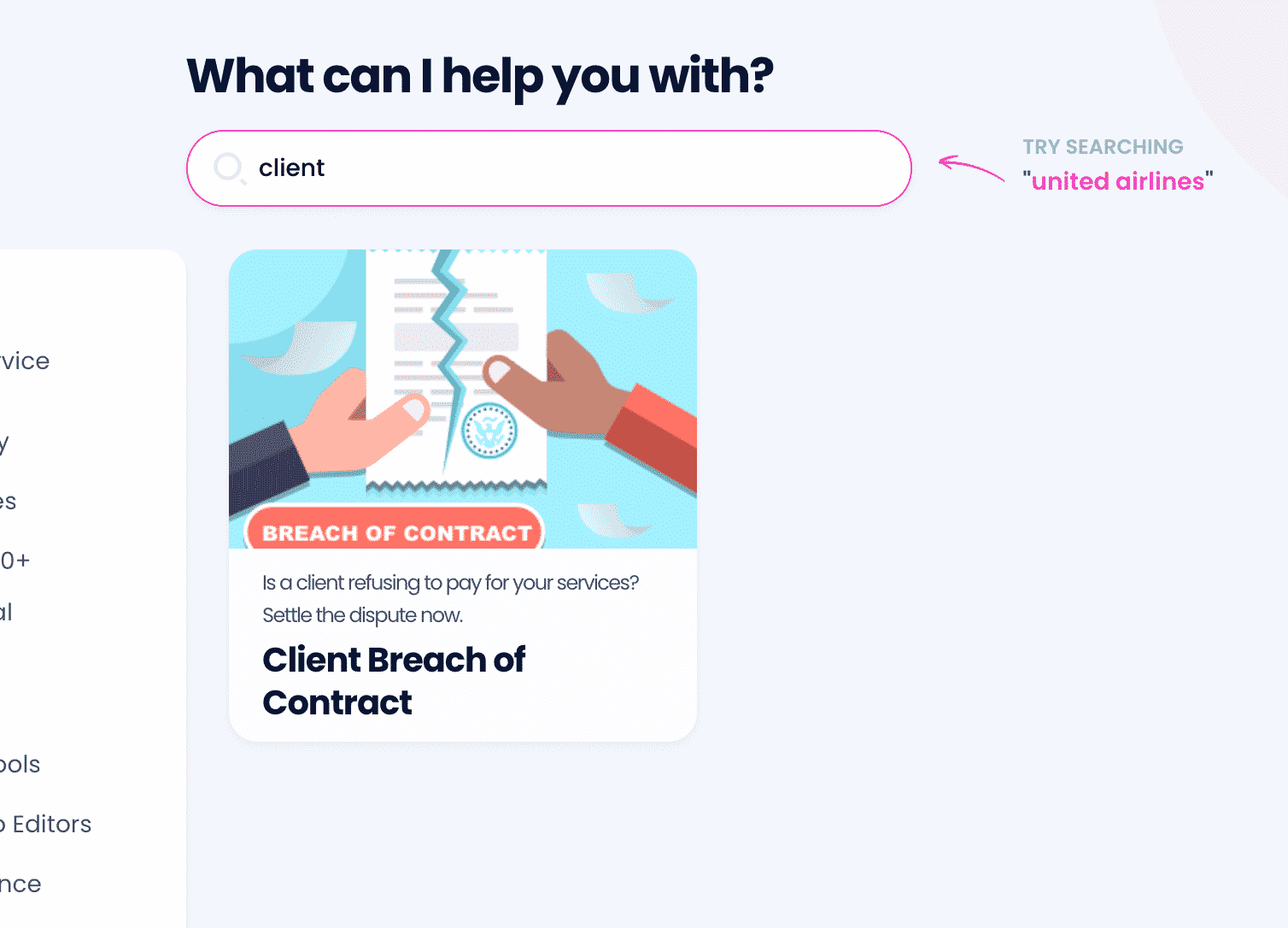 The process is simple—sign up for DoNotPay and:
Use the Client Breach of Contract product
Answer questions regarding the other contractual party and your agreement
Indicate a new payment deadline
Describe the provided services
Provide additional evidence to support your request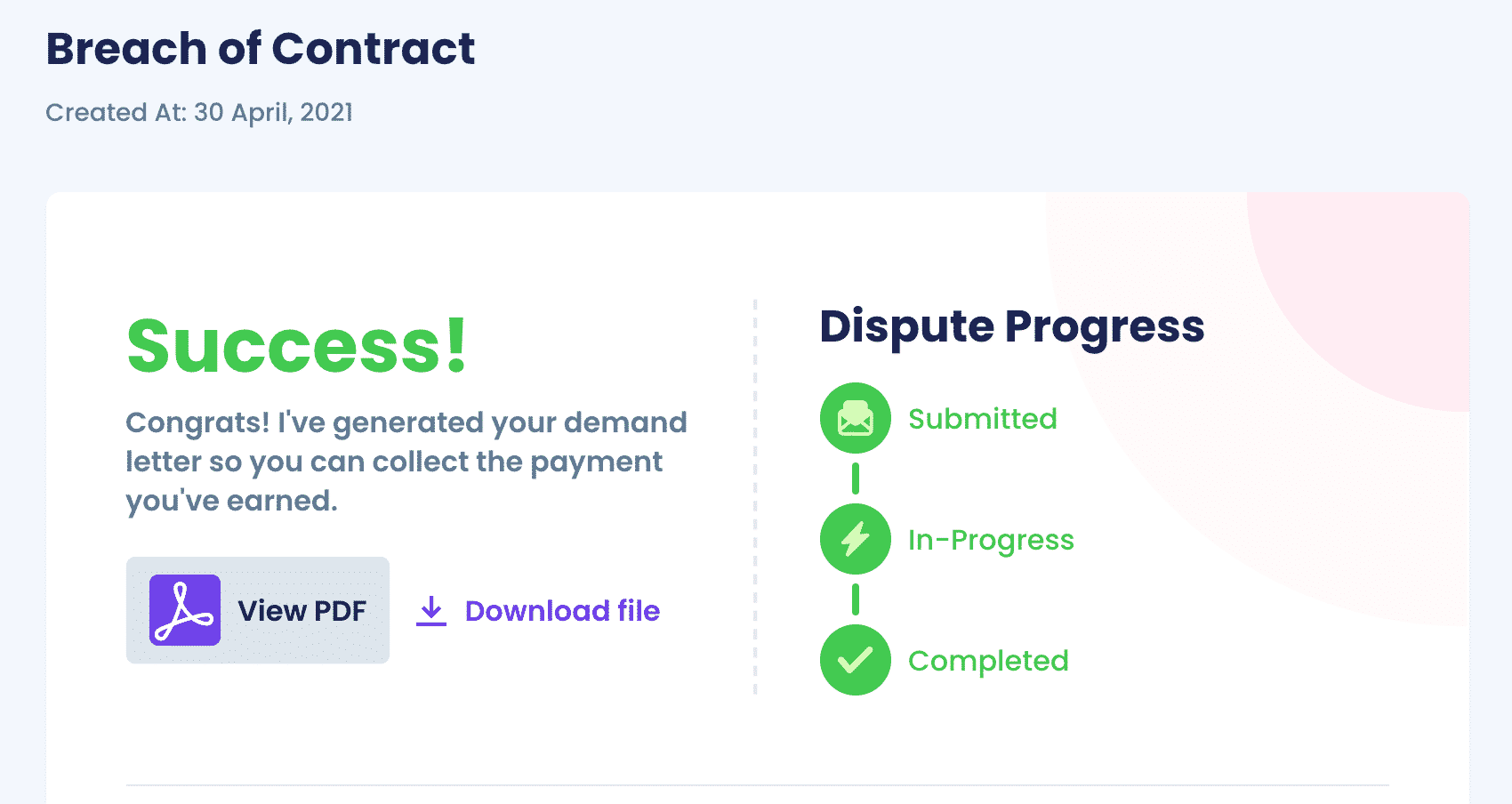 Keep in mind that DoNotPay can:
Generate a reliable demand letter regardless of what type of breach has occurred, e.g., material, fundamental, anticipatory, or any other
Help you sue in small claims court if the breaching party is not willing to reach an out-of-court settlement
Get Down to Business With DoNotPay
If your to-do list is getting longer by the day, we offer numerous solutions. You can focus on growing your business while we handle the endless administrative tasks.
Here are some of DoNotPay's products and services that will assist your company tremendously:
DoNotPay Feature
Our App Will
Trademark Registration

Complete your company name, logo, or slogan registration application
Submit the application in your stead

Trademark Protection

Perform monthly checks
Notify you in case there is any trademark infringement
Help you file cease and desist letters

EIN Registration

Fill out and file your Employer Identification Number (EIN) application
Notify you of your new EIN

Register a DMCA Agent

Complete the DMCA agent registration process
Register the designated agent with the U.S. Copyright Office
There Is Even More We Can Do for You
Navigating the business world can be overwhelming. If your paperwork is piling up and disputes keep emerging, start using our app and declutter your workday from numerous chores.
The world's first robot lawyer can help you deal with the following:
Chargeback scams
Business loan applications
Faxing and mailing
Negative online reviews
83(b) election forms
Self-certification with the Privacy Shield program