Sample Complaint Letter About Manager Behaviour
You deserve to be treated with respect and dignity in the workplace. When a manager displays inappropriate behavior towards an employee, you should not have to feel intimidated.
In this article, we'll provide you with a sample complaint letter about manager behavior that you can submit to HR. We'll also show you an easier and more anonymous way to file a complaint letter about your supervisor using !
How to Write a Formal Complaint Letter About Your Boss
Whether you are writing a formal complaint letter about a coworker or your boss, there are a few things that are important to keep in mind. Your complaint letter should identify the kind of managerial misbehavior that occurred, present facts chronologically, and offer a solution to the issue.
To get started, here a few tips:
Avoid using offensive language. HR professionals are more likely to give attention to complaints that are politely penned and void of threats or all-uppercase letters. Complaint letters that contain profanities are often ignored, and some that are threatening are even forwarded to authorities.

Keep it short and concise. It should be long enough to include important details but should not take hours to read.

Explain the problem exactly as is. Indicate the date and place where your manager displayed misbehavior and how it affected you and your coworkers. HR is more likely to prioritize

complaints

that detail repercussions on employee productivity or the company operations.

Include a call to action. State what desired action you wish the HR department to take. It will also be helpful if you can state legal grounds for disciplinary action if that applies to the manager's offense.
Reasons for Writing a Complaint Letter About Your Manager
It's not always easy to draw a line between what's offensive and not, but discrimination is a valid reason to file a complaint letter about manager behavior. Here are other situations that warrants a formal letter to HR:
You were discriminated against because of your gender, race, religious belief, national origin, age, and/or disability.

Your manager makes offensive jokes, ridicules employees, displays offensive objects or pictures, or makes physical assaults/threats.

They harassed an employee sexually, made unwelcome sexual advances or requests for sexual favors, or made offensive remarks and engaged in

harassment

of a sexual nature.

You experienced retaliation for reporting discrimination or other illegal activities in the workplace.

The manager openly engages in compensation inequality between men and women in the same position.
Elements of an Effective Complaint Letter With a Sample
It can be disheartening and even harmful when you have been an innocent victim of your manager's unwarranted advances. If you don't know how to get started with your formal complaint letter, here's a guideline to help you:
Sample Letter
Elements of the Letter

MM/DD/YYYY

[Company Name]

ATTN: Human Resources Department

[insert address here]

Address your complaint letter to your company's HR Department and include a date.

Re: Complaint Letter Against Manager Behavior

Be specific with the subject of your letter to give the recipient a rough idea of what the letter will contain.

To whom it may concern:

Start with a polite salutation and maintain a well-mannered tone throughout the letter.

My name is [your name], and I work in the [your department] of the company. I want to bring to your attention that [name of manager] is displaying inappropriate misconduct.

Keep the introduction short and to the point.

They have consistently displayed rude and negative behavior to all employees in our department. Specifically, their use of profanity in every conversation has been incredibly dismissive and constant lashing towards our team during our 10 minute lunch breaks has been demoralizing.

State the problems and situation.

I am writing this letter to you so that they may be transferred to a different department, or you may confront them and ask to change their behavior. Otherwise, it is getting very difficult to work in such a toxic environment.

Offer a solution or action you wish the HR department to take. Make sure to mention the consequences if HR fails to do as requested.

I am looking forward to swift action from your

side.

Sincerely,

[Your Name]

[Position]

[Department]

End with a polite call to action and conclusion.
Drawbacks of Filing a Complaint Letter Against Your Manager
Many believe that complaining to Human Resources always ends positively. Sometimes reporting a manager to HR can result in unintended negative consequences for yourself. There's also a risk of retaliation from your manager, which can make the workplace environment even more hostile.
Therefore, it may not be the best move to go directly to HR for all your complaints — especially if you are reporting your manager. An easier and safer alternative is to file a complaint anonymously.
How to File an Anonymous HR Complaint With DoNotPay
The DoNotPay app is the home of the world's first robot lawyer. With our new Anonymous HR Complaints product, you can file a complaint letter to HR about the manager without having to submit your personal details. Furthermore, there's no need to draft a formal complaint letter by yourself. All you have to do is:
1. Go to and search Anonymous HR Complaints.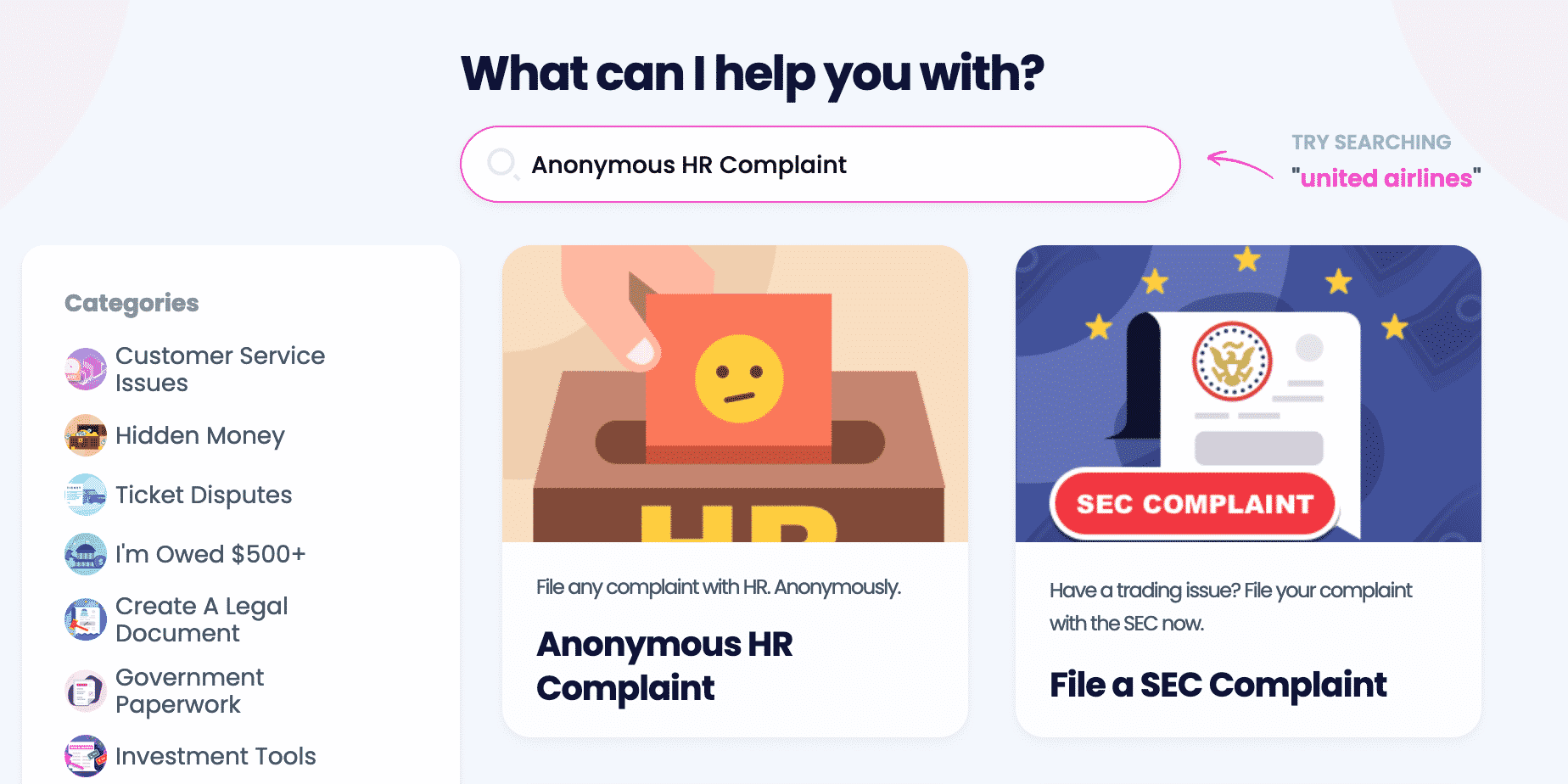 2. Enter your employer's name and the HR's mailing address.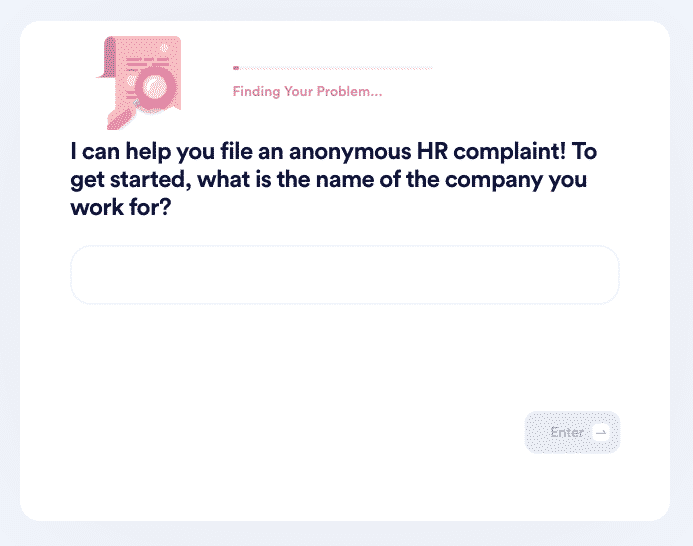 3. Describe the manager's misconduct and resolution you demand.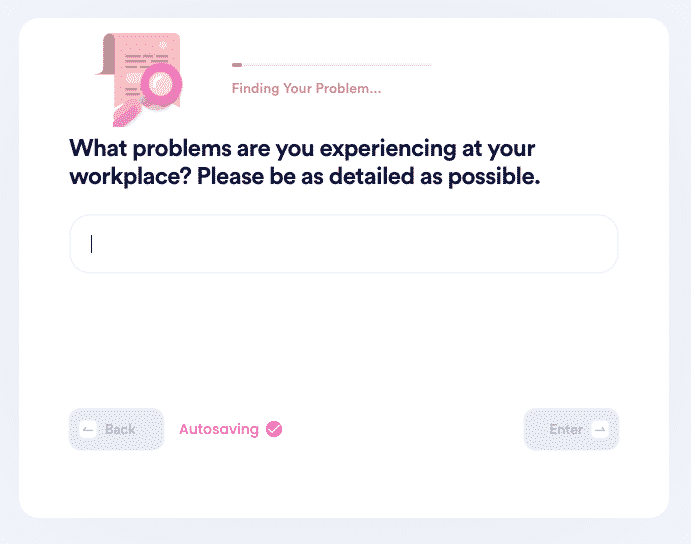 That's it! DoNotPay will automatically send the report anonymously on your behalf.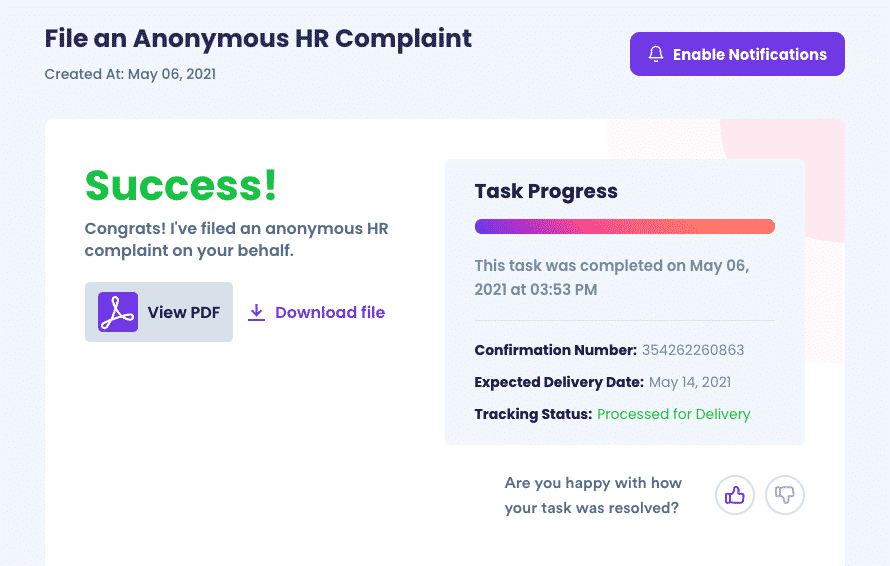 Other Services DoNotPay Provides
Have another work-related issue we can solve? DoNotPay can also help with other matters such as:
DoNotPay also assists with drafting legal documents, fighting email spam, and more! Lower your daily to-do list and get things done faster with DoNotPay's personal robot lawyer and AI assistant on your side!