Sample Cease and Desist Letter - Defamation
In some defamation lawsuits, a common legal recourse for a plaintiff is to send a cease and desist letter. If after exploring other options and you believe sending a demand letter is the next best step but you don't know where to start, then we've got you covered. In this article, we will help you draw up a cease and desist letter without the hassle and the stress.
When to Use a Cease and Desist Letter
A cease and desist letter is also known as a cease and desist notice, demand letter, or stop harassment letter. It differs from a cease and desist order. A letter is not legally binding and simply notifies an individual or entity to avoid engaging in infringement or harassment activities.
The cease and desist letter usually serves as a warning to the recipient that they must comply within a certain period. Otherwise, the sender will take legal action against them. Some of the most common situations where you can use a cease and desist letter include the following:
Harassment from debt collectors
Copyright infringement
Trademark infringement
Defamation of character
Stalking or cyberstalking
Intimidation
Invasion of privacy
Breach of contract
Property boundary encroachment
Defining Defamation of Character
Defamation of character is a legal aspect that allows an individual or business to recover compensation for financial loss or injury to reputation as a result of defamatory statements. There are two forms of defamation which include libel and slander. Libel is an act of writing false statements about a person or entity, while slander is a false statement that is spoken about a person or business. For a plaintiff to prove that defamation was committed, the lawsuit must fulfill the following elements:
The statement is false
The statement is without privilege
The statement was published
This statement caused injury or loss
How to Write a Defamation of Character Letter
In most defamation claims, very rarely is a cease and desist letter the first step to stopping the defamatory acts. However, if after going through different options and you believe that a cease and desist letter will be effective in stopping slanderous activity against you, then you may draft one on your own. Although there are templates you can get online, you should make sure that they include the following elements:
Element
Sample
The recipient's name and address
Dear [insert name and address]
Specify which acts the recipient needs to stop
You are hereby notified to cease and desist any and all further unlawful defamation, slander, and/or libel with regards to your actions and/or statements relating to [briefly define unlawful incident and/or statement].
Include legal grounds to support your claim
In accordance with the law, it is illegal to provide a false statement, whether written or oral, of an individual's character and/or reputation, which consist of:

1. Any false statement, pictures, or video intended to cause harm or damage another's

character and/or reputation;

2. that is communicated to another either in writing or verbally; and

3. which the offending party is aware or should have been aware that such statement, pictures or videos were false.

Include a time where compliance is expected
THEREFORE, you are hereby requested to immediately cease and desist illegal defamation, slander, and/or libel and within 7 business days, return the signed written assurance below affirming that you will refrain from any further acts of defamation, slander, and/or libel with regards to my character and/or reputation.
Include a consequence if the recipient fails to comply
Failure to comply with this cease and desist request, and/or return of the signed assurance within the stipulated time, will leave me no other alternative but to pursue all available legal remedies, including but not limited to filing a motion for injunctive relief, monetary damages, filing fees, court costs and/or attorney fees.
Include a strong ending sentence
Govern yourself accordingly.
Your name and address
Sincerely,

[insert your name and address]

Request return receipt and signed assurance
In accordance with the above request and stipulation, I, [insert recipient's name], do hereby agree to immediately cease and desist from the defamation of character and/or reputation. And in turn, will release me from all acts of defamation, slander, and/or libel relating to this incident.

HOWEVER, should I act or behave in such a manner that would result in a breach of this agreement will be entitled to filing fees, court costs, and attorney fees in any action which may be filed to enforce this agreement, in addition to any injunctive relief and/or monetary damages that may have been entitled to have this assurance never been signed.

[insert recipient's name and date]
Delivering Your Slander Cease and Desist Letter
Delivering a cease-and-desist letter has no formal or legal requirement. However, in the case of online defamation, make sure to send the letter to the person who posted the defamatory content. This is because ISPs, website hosts, and social media platforms are protected under the Communications Decency Act of 1996. Though there is no statute of limitations on how long you need to give someone to respond to a cease and desist notice, there are considerations to take when defining a reasonable time frame. This may depend on the following:
How your cease and desist letter was delivered – Sending the demand letter via standard postal service may take longer for it to be received. A quicker delivery method such as email will provide a faster response time.
The act that you want to stop – Depending on the action or behavior that the demand letter is intended for, it may take the recipient some time to resolve the situation.
How the recipient will respond – If you mailed your demand letter to a collection agency, the recipient will most likely mail you a response letter in return. This means that you should allow some time for the recipient to receive your letter.
DoNotPay Can Create a Cease and Desist Letter for You in Minutes
Another option in drawing up a cease and desist letter is to let a lawyer draft one for you. However, this comes with exorbitant fees. This is where DoNotPay can help. We are the world's first robot lawyer and we can help you write a cease and desist letter without expensive fees. All you have to do is:
1. Search for Defamation Demand Letters on DoNotPay.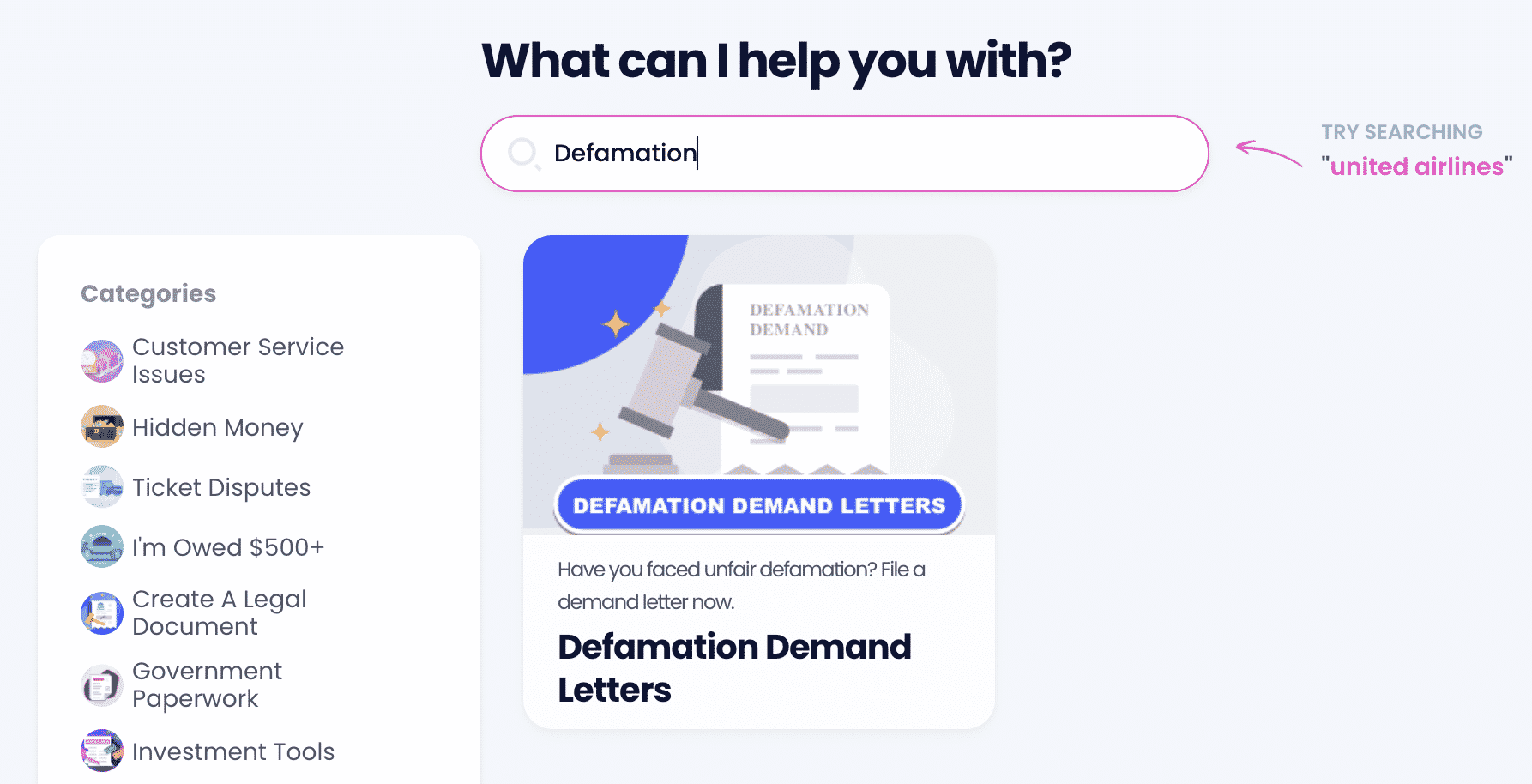 2. Tell us about your situation, including whether the statements were libel or slander, listing the statements that were made, explaining why they are false or misleading, and what consequences you have suffered as a result.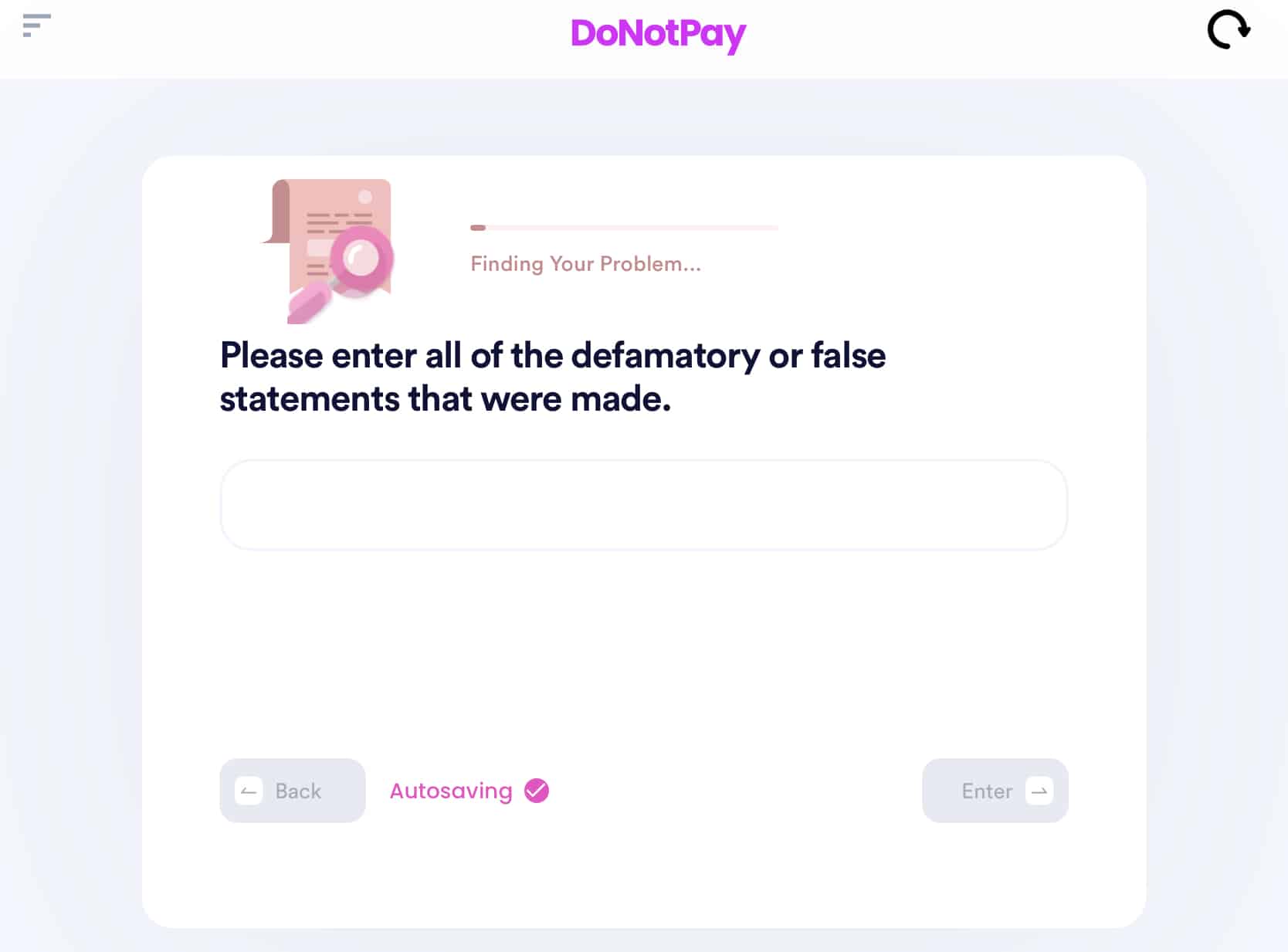 3. Based on your location, DoNotPay will generate a formal demand letter on your behalf with the most relevant state legislation regarding defamation.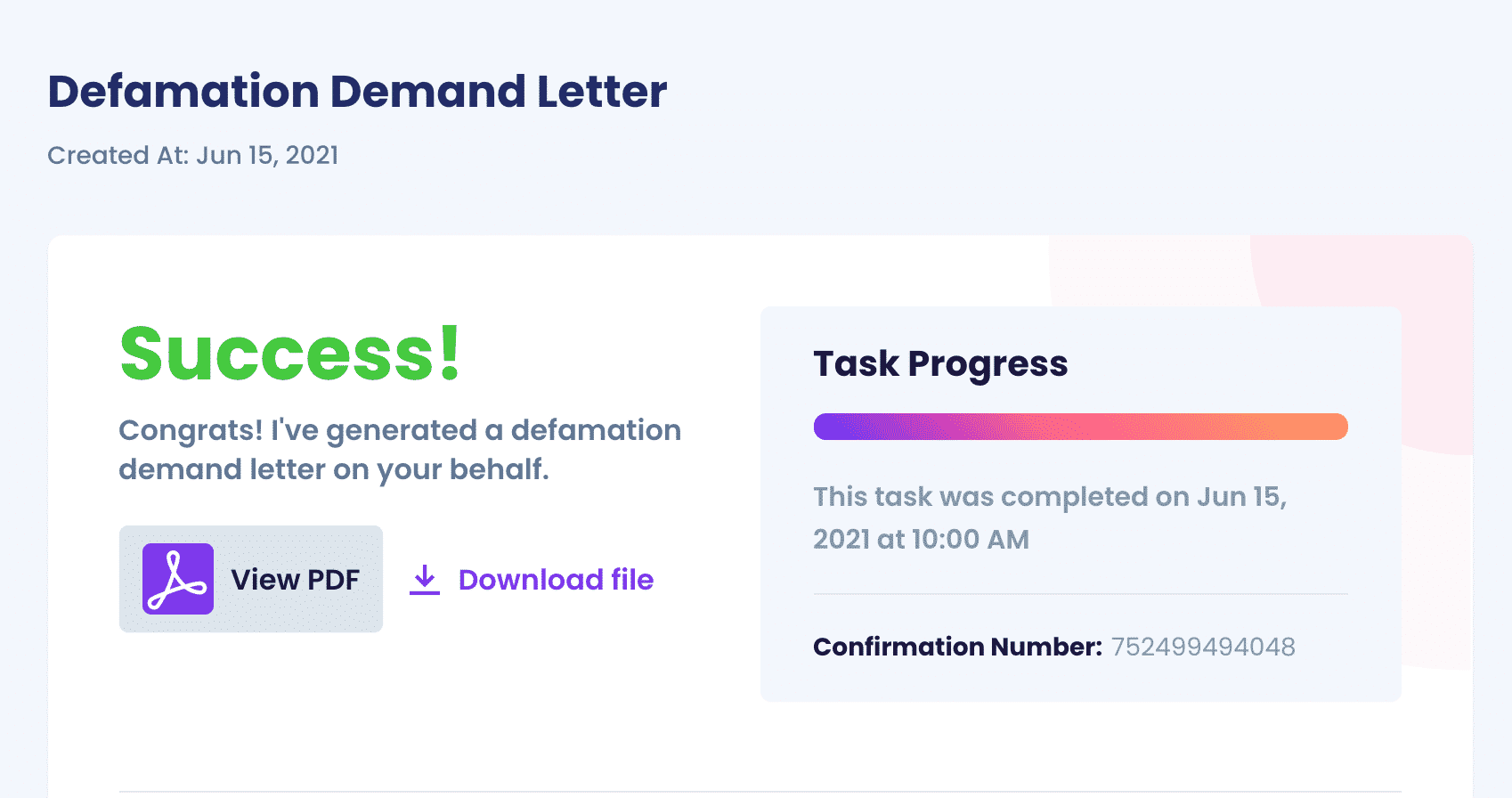 What Else Can DoNotPay Do?