A Guide to Finding a
Sample Caregiver Contract for a Family Member
When a family member gets old or becomes unable to take care of themselves, hiring a caregiver is a wise solution. Licensed nurses and carers are widely available, but not everyone feels comfortable enough to be attended by an unknown person. This is why family members sometimes decide to take over this role.
Caregiver agreements are the best way to establish the terms of such a relationship, but you may have a hard time writing one. If you aren't sure what a caregiver contract for a family member should contain, you can find all the answers in our guide! 
How Does a Caregiver Contract Work?
A caregiver contract is an agreement between a:
Care recipient

—A disabled, sick, or elderly person who needs additional care due to their condition

Caregiver

—A family member who agrees to take care of their disabled or sick relative
It's also known as the:
Personal care agreement

Eldercare contract

Family care contract

Non-medical home care service agreement

Long-term care personal support services agreement
This legal document outlines all the services the caregiver must provide and lists all their responsibilities. To be valid, it must be in writing and refer to future care, not to the previously provided assistance. 
Caregiver's duties may include:
Providing transportation

Taking a person to the doctor's appointments

Cleaning the care recipient's house

Doing laundry

Preparing hot meals

Paying utility bills

Shopping for groceries

Helping with numerous other daily activities
The best way to prepare for drafting a caregiver contract with a family member is to discuss potential terms with the recipient. Once all family members agree upon the specific conditions, you can start preparing a written agreement.
What Should a
Caregiver Agreement
With a Family Member Cover?
Here are some essential provisions every caregiver contract sample should include:
Names and signatures of the caregiver and care recipient

Contact information and physical addresses of both signing parties

Start date of the agreement

The location where the caregiver will work

The status of the caregiver—Whether they act as an independent contractor or an employee

A thorough description of all caregiver's responsibilities 

Schedule of caregiving activities—How long or how often the caregiver must provide their services

Payment details—Amount, frequency, etc.

Modification clause—Potential alterations of the contract terms and conditions. The

American Bar Association (ABA)

suggests checking your agreement due to possible changes at least once a year 

Backup plan for situations when the caregiver is absent

Termination clause

Applicable laws
You can include any additional clauses related to other aspects you consider significant. 
Do You Need To Have Your Caregiver Agreement Notarized?
You must have your caregiver contract notarized to make it valid. The parties involved shouldn't sign it before arriving at a notary office. The notarized document must state the date of signing and have the signatures of the caregiver and recipient of care. 
If the recipient can't visit the notary, they should give a power of attorney to another person to sign the contract on their behalf.
How To Create Your Contracts Stress-Free With DoNotPay
The journey from a blank paper to a well-crafted contract is long and stressful. This is why people entrust their agreements to professionals. Sadly, lawyers tend to charge exorbitant amounts for a single document. Completing an online template is more affordable but quite unreliable, as such samples are usually outdated or vague.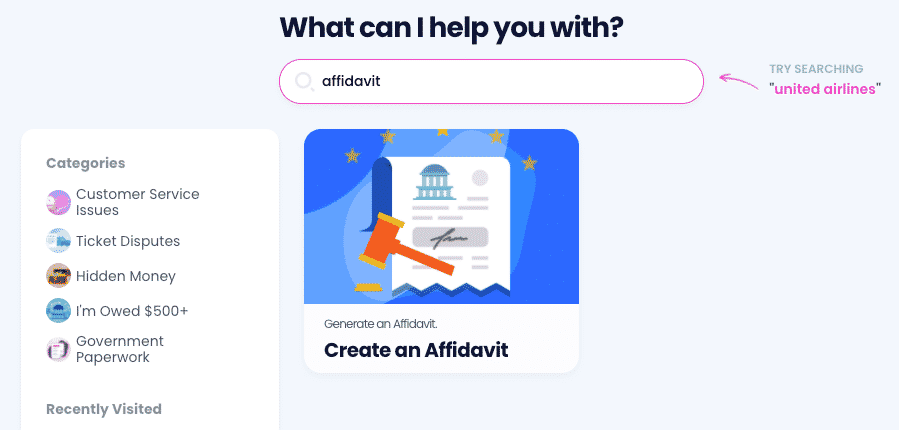 To avoid all these obstacles, give DoNotPay a go! Our Standard Legal Documents service will help you get a professionally drafted contract in a heartbeat. All it takes is to pick a customizable template from our database and tell us what you want to add to your contract. The result is an enforceable document ready for signing and notarizing! 
To get your agreement in a split second, proceed as follows:
in your preferred web browser

Input the name of the desired document in the search box—

NDA,

or

lease agreement,

for example

Complete a short questionnaire to help us finish your contract
That's not all. You can skip standard notarization and have your signature validated using DoNotPay's Notarize Any Document feature! Schedule a video appointment with a notary and turn a burdensome and long procedure into a five-minute task!
Here are the documents DoNotPay can generate:
Category
Documents

Business

General Business Contract

Real Estate

Quitclaim Deed

Intent To Purchase Real Estate

Estoppel Certificate

Other

Promissory Note

General Affidavit

Child Care Authorization Form
Can You Learn About Other Contracts From DoNotPay?
We always strive to provide the best service to you, which is why we created a vast learning base full of handy articles. and get familiar with other contracts and legal documents, including the:
Need Help Fighting Bureaucracy? Use DoNotPay!
As the world's first robot lawyer, DoNotPay can help you resolve a plethora of tedious administrative issues. Our app will assist you in getting justice in small claims court, getting refunds from merchants, reporting annoying spam emails and text messages, reporting copyright infringement, bypassing phone number verification, and so much more!
You can also rely on DoNotPay's help when it comes to subscriptions. If you want to sign up for a free trial, cancel a service you no longer use, and skip the phone queue when doing so, our app will provide its assistance.
Our App Saves You Time and Money
Are you unable to pay your bills? Use the world's first robot lawyer app to cover them! Do you want to appeal your traffic or parking tickets? DoNotPay will help you appeal them in the blink of an eye.
Our app can do so much more than that, though—with DoNotPay by your side, you can sign up for clinical trials, ace government tests, claim any type of warranty, schedule an appointment with the DMV, and handle any other bureaucratic task.