Consult a Sample Breach of Contract Complaint
If the party to the contract you have signed fails to fulfill their contractual obligations, you could sue them for the breach. In that case, you can find a sample breach of contract complaint to get familiar with all necessary aspects. Before taking legal action, you might want to consider other options as they could turn out to be less demanding and expensive.
This article provides information on the necessary elements you will need to prove at a court of law but also offers an effective way to reach an out-of-court settlement.
Steps To Take Before Filing a Complaint for Breach of Contract
If you have decided to sue for breach of contract, you need to prepare well for this complex and often lengthy process. Here is what you can do before initializing a lawsuit:
Steps To Take
Details
Check the statute of limitations
If some time has passed since the breach occurred, you need to determine what the statute of limitations is:

In your state
For the type of your contract—The statute of limitations might be different for, e.g.:

Written and oral contracts
Sales, real estate, or some other types of agreements

Check the type of breach
In some states, you are allowed to file a claim in case of specific breach types only. A material breach is a common breach type for which you can:

Sue the other party
Seek damages and other legal remedies

Try to resolve the problem
As litigation is expensive and time-consuming—especially if the other party raises affirmative defenses—you might want to try to negotiate the settlement outside of court first by creating a breach of contract demand letter. The purpose of this letter is to:

Inform the other party of the breach
Urge them to perform their contractual obligations
Warn the breaching party you will sue them for damages
Breach of Contract Sample Complaint
To prepare well for what lies ahead if you decide to start a lawsuit, you could look for an online sample complaint for breach of contract.
While the form might differ from state to state, here is what a typical breach of contract complaint includes:
Plaintiff's data—As the plaintiff, you need to provide your:

Full name
Street and email address
Phone number

Breaching party's information—You should enter the defendant's:

First and last name
Job or title
Physical and email address
Phone number

Amount—You need to provide the exact figure the defendant owes you
Statement of claim—You should present briefly and clearly:

The facts proving that you are entitled to the damages or other remedies you seek
The acts the defendant committed that caused you harm and led to the breach of contract

Information about the agreement—This section should include the basics of the contract you have entered into with the defendant, including:

The date
The type of the contract, i.e., written or oral
What each party agreed to do
What the breaching party failed to do

Remedy—You should list the damages or other remedies you are asking the court to order and include the:

Amounts
Reasons you are entitled to these damages

Plaintiff's signature—Insert the date of signing and printed name in this part
Do You Need To Hire an Attorney To File a Breach of Contract Complaint?
You do not have to hire a lawyer to prepare and file a complaint for a breach of contract. If you decide to do that after all, make sure you fill out an additional section of the complaint form, providing your attorney's:
Full name
Bar number
Name of the law firm
Physical and email address
Phone number
Signature
To ensure you have the correct form, you could check if your local court provides them on their website or at the clerk's office.
Settle the Dispute With a Demand Letter
You should keep in mind that no one wants to go to court and risk losing money on court and attorney's fees and additional expenses litigation will incur. The breaching party might be more willing to negotiate and complete their side of the deal if you send them a demand letter first.
Use DoNotPay to make sure your letter covers all necessary points and uses an appropriate style.
DoNotPay Creates Airtight Demand Letters
There is no need for you to get familiar with state laws, pay for services of costly attorneys and collection agencies, or go through numerous unreliable online templates.
Our AI-powered app can help you prepare a reliable demand letter in a matter of minutes.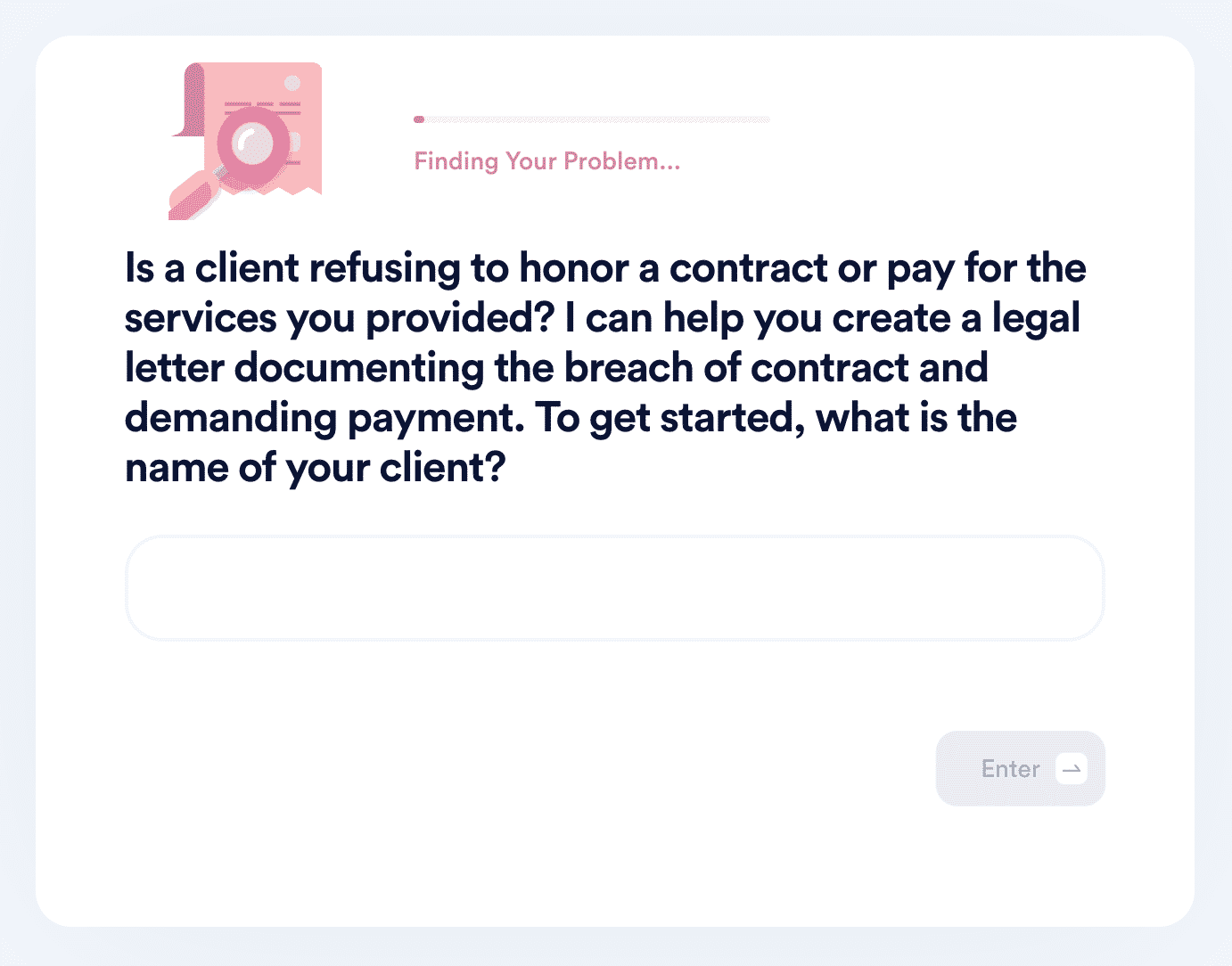 Choose the Client Breach of Contract product
Enter the data about the agreement and breaching party by answering our chatbot's questions
Indicate a new payment or delivery deadline
Provide any documents that could support your claim (if available)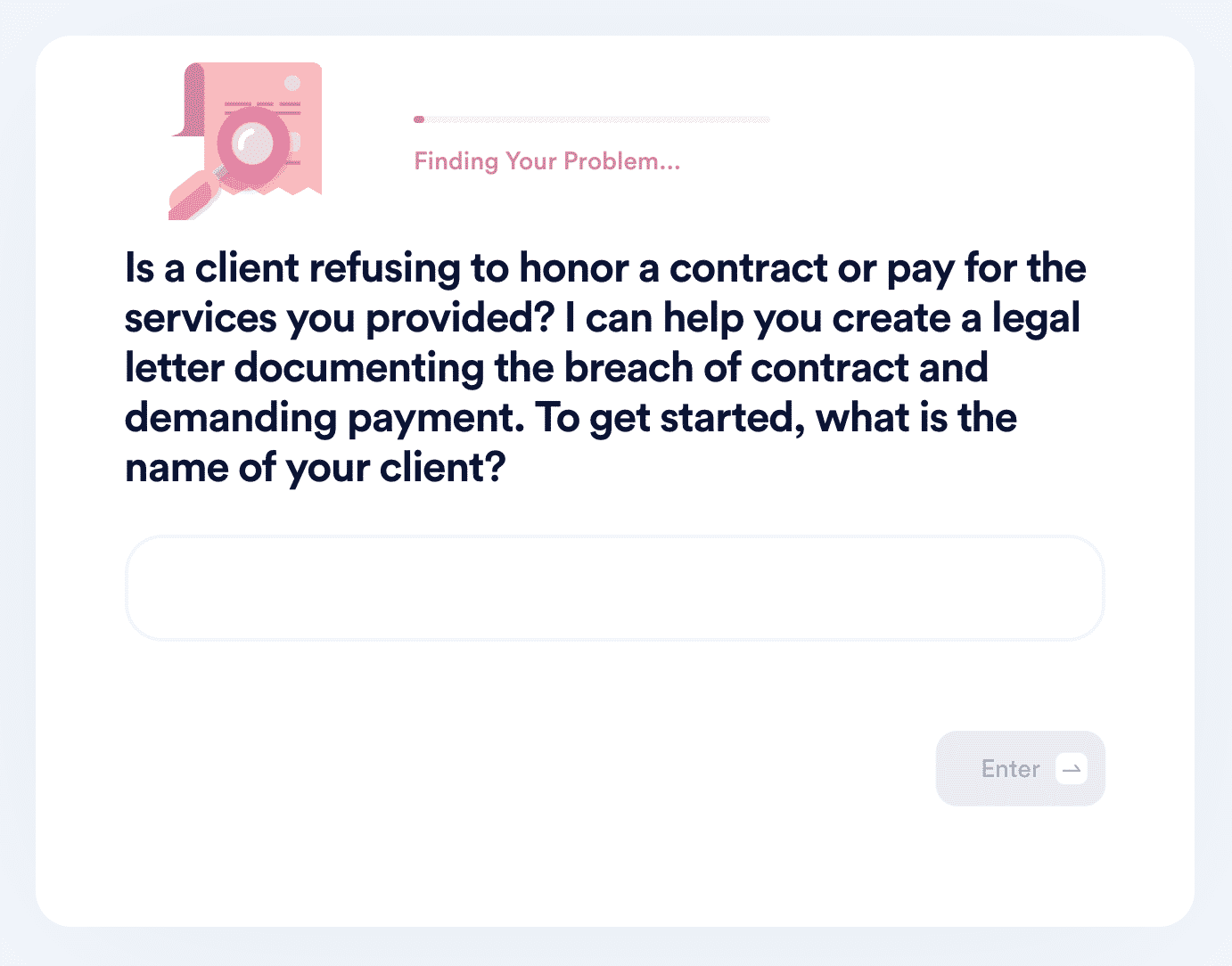 Once you enter the required information, DoNotPay generates a demand letter that:
Complies with your state laws
Fulfills the requirements of your specific situation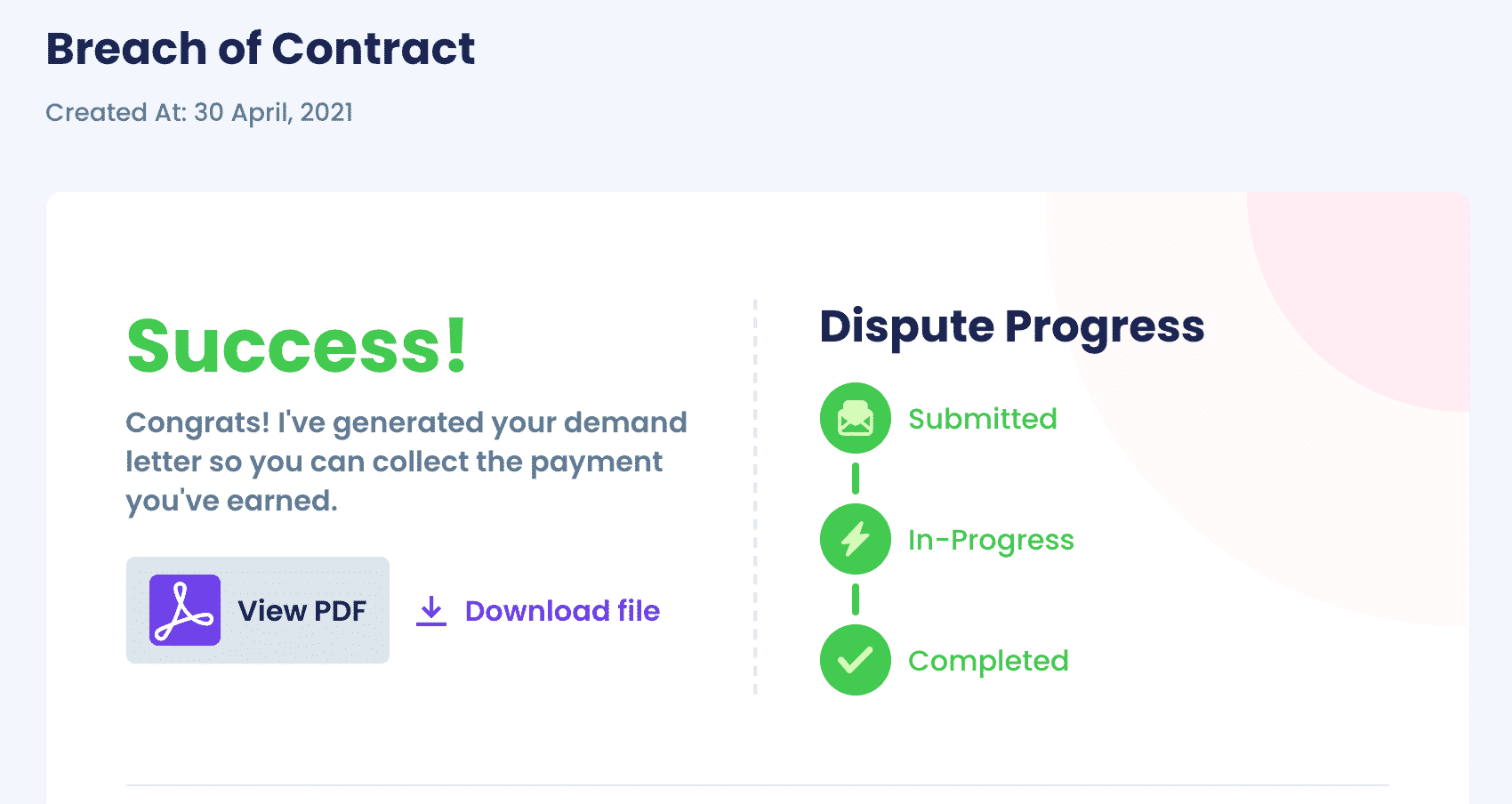 If the breaching party decides to ignore your letter or refuses to honor their commitments, we can also help you sue them in small claims court.
To get familiar with state-specific breach of contract laws, check out the guides from the table below:
Get Down to Business With DoNotPay
If your to-do list is getting longer by the day, we offer numerous solutions. You can focus on growing your business while we handle the endless administrative tasks.
Here are some of DoNotPay's products and services that will assist your company tremendously:
DoNotPay Feature
Our App Will
Trademark Registration

Complete your company name, logo, or slogan registration application
Submit the application in your stead

Trademark Protection

Perform monthly checks
Notify you in case there is any trademark infringement
Help you file cease and desist letters

EIN Registration

Fill out and file your Employer Identification Number (EIN) application
Notify you of your new EIN

Register a DMCA Agent

Complete the DMCA agent registration process
Register the designated agent with the U.S. Copyright Office
There Is Even More We Can Do for You
Navigating the business world can be overwhelming. If your paperwork is piling up and disputes keep emerging, start using our app and declutter your workday from numerous chores.
The world's first robot lawyer can help you deal with the following:
Chargeback scams
Business loan applications
Faxing and mailing
Negative online reviews
83(b) election forms
Self-certification with the Privacy Shield program