Same-Day Small Business Loans—Are They the Right Option for You?
Do you need a quick way of getting money to cover your unexpected business expenses or startup costs? Same-day small business loans might be what you are looking for. Our article will tell you how these loan options work and break down the pros and cons so you can decide whether you should apply for one.
If you want to ensure that you get approved, use our app to draw up an error-free and convincing loan request letter.
Can You Get a Same-Day Small Business Loan?
While you cannot get a same-day business loan from banks and organizations such as the Small Business Association (SBA), you can get money the same day you apply for a loan from online lenders. These loans allow you to get money fast, but you have to keep in mind that they are designed to help with emergency expenses.
Same-day business loans have higher interest rates, and they usually do not offer flexible terms of repayment like other small business and startup loans.
Pros and Cons of Same-Day Small Business Loans
Learn about the pros and cons of same-day small business loans by consulting the table below:
Pros
Cons

Certain types of same-day small business loans do not require you to have a good credit score
These loans have streamlined application processes if you have all the paperwork ready—use DoNotPay if you want to go through the process without a hassle

Lenders usually charge higher interest rates to offset the risk involved in providing loans the same day
Installments are more frequent compared to other startup or small business loan options
Lenders offer small amounts, which may not be enough to meet your financial needs
Types of Same-Day Small Business Loans
Various lending institutions offer different types of same-day small business loans, such as:
Business lines of credit
Invoice factoring
Merchant cash advances (MCAs)
Business Lines of Credit (LOC)
This option allows you to spend money from a limited budget as needed, and the interest is paid only on the amount you spend. The downside is that you might have to provide collateral, especially if you have not been in the business for long.
Invoice Factoring
Invoice factoring is not a typical loan as it requires you to sell your unpaid invoices to a third party (called a factoring company) at a discount. The factoring company will then get paid from your customers in 30 to 90 days. Invoice factoring allows you to get quick access to cash before your customer pays for the product they received.
Merchant Cash Advances (MCAs)
Although MCA is an easy way to get a same-day loan, it is one of the most expensive options. The interest rate is around 20% to 40%, which means that if you take out $10,000 at a 40% interest rate, you will have to pay back $14,000.
Best Lenders for Same-Day Small Business Loans
Consult the table below for information on the best lenders for same-day small business loans:
Lender
Details
Requirements
Credibly
Credibly offers various types of loans, including:

LOC
Invoice factoring
Equipment financing

At least six months in business
500 credit score
$15,000 a month in deposits (three-month average including the most recent month)

Forward Financing
Forward Financing can approve your loan in a matter of hours. The minimum loan that you can get is $5,000, and you should repay it in daily or weekly installments

One year in business
$10,000 in monthly revenue
500 credit score

Kapitus
Kapitus offers various loan types that can be approved within 24 hours. An added convenience is that you can apply online

Two years in business
$250,000 average annual revenue
625 credit score
Get Approved for a Same-Day Small Business Loan With DoNotPay's Help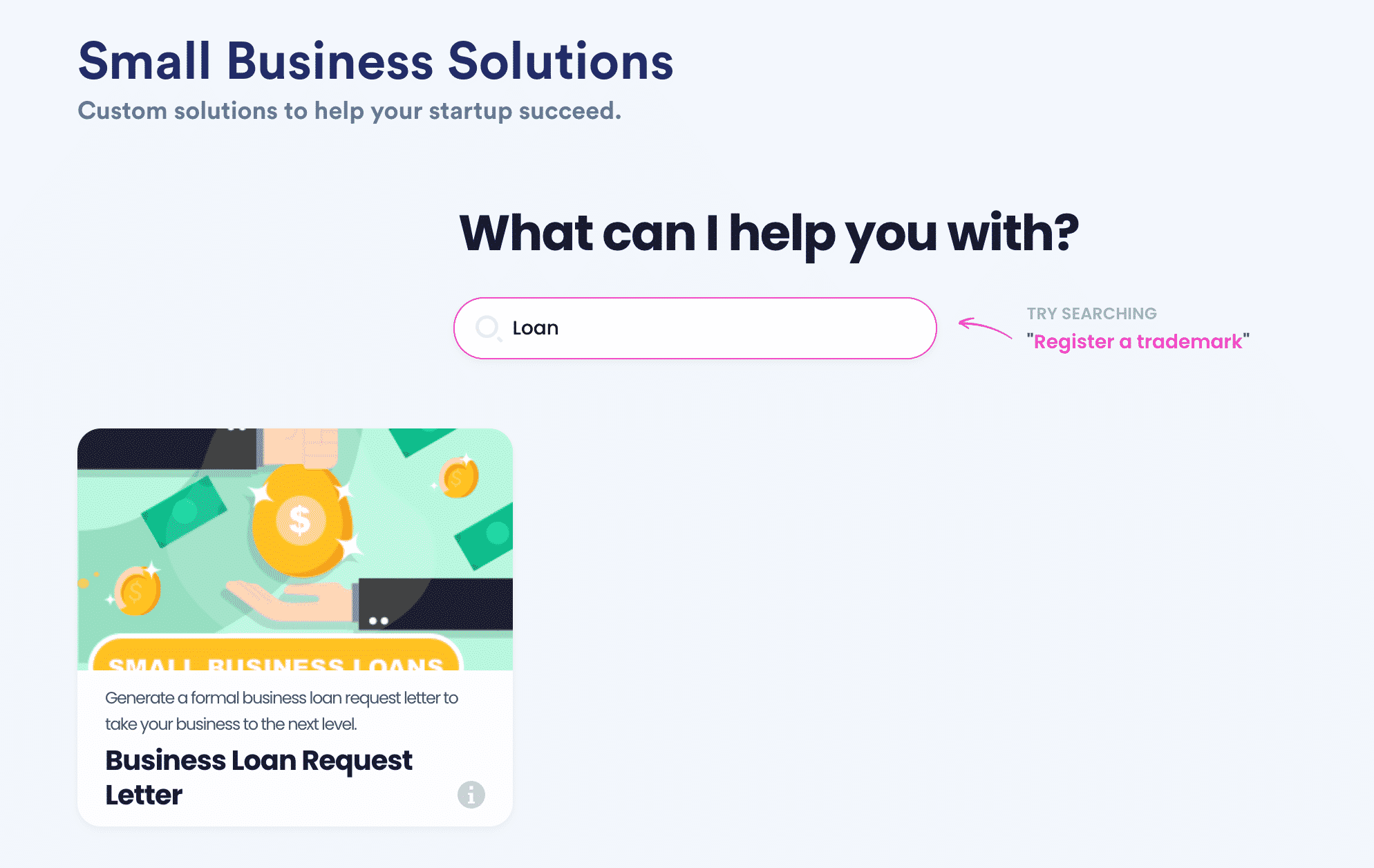 Getting a small business loan on the same day you apply for it requires you to turn in a flawless application and gather all the required documentation. If you want to increase your chances of getting approved, subscribe to DoNotPay. We will help you prepare the paperwork by providing a checklist of the documents you need.
Need help drafting a professional loan request letter? DoNotPay is here! To use our AI-powered app, follow these steps:
Navigate to our Business Loan Request Letter tool
Give us the details about your desired loan
Upload the required paperwork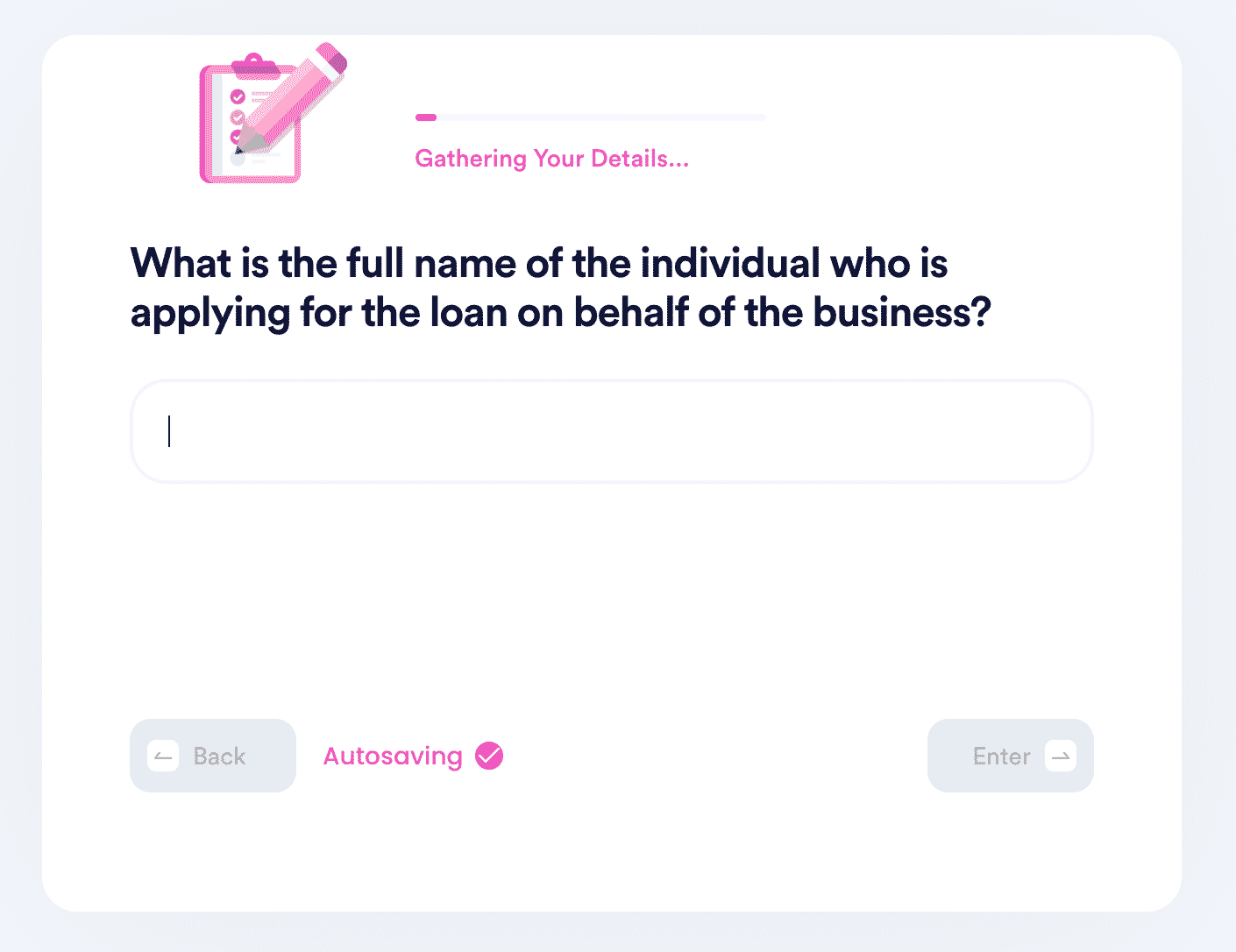 Cannot find a suitable lender? DoNotPay can find the best online lenders for you if you use our Find Online Business Loan Lender tool.
Run Your Business Worry-Free!
Every beginning is challenging, which is why DoNotPay has everything you need to start running your business stress-free! We have created numerous easy-to-use products that will make boring administrative tasks easier to manage.
To help you get started, DoNotPay will assist you in taking care of trademark, Employer Identification Number (EIN), and DMCA agent registration, Privacy Shield self-certification, and business loan requests.
We can even help you maintain a good business reputation by:
Monitoring your trademark and filing a cease and desist letter in case someone tries to use it
Reporting fake negative reviews that could harm your business
Disputing illegitimate chargeback requests in a matter of minutes
DoNotPay Helps You Create and File a Number of Legal Documents
Why waste time worrying about how to draw up and file various legal documents when you can have the world's first robot lawyer do that in your stead? You do not have to waste thousands of dollars on lawyer's fees—our extensive database has a myriad of documents on offer.
DoNotPay will help you automate the procedure of completing and filing 83(b) election forms, write a formal demand letter requesting payment from clients who try to avoid it, and deal with other important paperwork.
Don't want to waste time going to the post office to mail a contract? Now you do not have to! With DoNotPay, you can fax and mail any document in a matter of clicks!