Launching a Salon Startup—Cost of Starting Your Beauty Business
Starting a new business is both exciting and frightening since it requires you to dip into your personal savings to finance the launch.
For that reason, it is best to come up with an itemized list of one-time and recurring expenses to help you prepare. In this article, we break down the expected salon startup cost and explain what to do if you cannot cover it.
What Is an Average Startup Cost for a Salon?
When opening a beauty salon, you need an initial investment to account for the launching costs alone. Before you get started with the calculations, try to answer the following questions:
Are you going to be a renter, or will you purchase the salon space?
Will you specialize in hair care and styling, or will there be other available services (e.g., manicures, beauty treatments, etc.)?
Are you going to lease or buy the equipment?
Will you be selling any products in the salon?
Once you come up with a blueprint for your business, it'll be easier to project the initial one-time expenses. You can refer to the table below for an overview of the average startup cost for a beauty salon:
Salon Startup Cost
Average Amount
Licenses and permits:

State-issued beautician or cosmetology license
Business operation license
Retail seller permit
Certificate of occupancy
Federal Employer Identification Number (EIN)

$100–$2,000
Location
Remodeling and renovation
$15,000–$32,000
Equipment:

Drying stations
Shampoo station
Styling station
Chairs
Scissors and clippers
Blow dryers
Diffusers
Brushes and combs
Curling iron and flat iron
Trolleys and carts

$27,000
Initial supplies and inventory:

Shampoos and conditioners
Hair treatment
Hair dye, toners, and bleaches
Styling products
Rollers and rods
Towels
Caps and gowns

$2,000–$20,000
Employee attire (i.e., uniforms)
$500–$1,000
Insurance
$350–$750
Point-of-sales system
$550–$2,300
Signage
$1,000
Website
$300–$700
Marketing and advertising
$500–$5,000
Total
$86,400–$591,750
Recurring Beauty Salon Startup Costs
Apart from the one-off salon startup costs, you need to factor in long-term expenses when setting up your budget. The recurring costs for hair and beauty salons include:
Rent—The rent ranges from $10 per square foot to $25 per square foot
Licenses and permits renewal—The budget for licenses and permits renewal ranges from $50 to $100 per year, depending on the local regulations
Employee wages—The average wages for hair and beauty salon workers are:
Hairstylist—$29,000
Cosmetologist—$24,400
Salon manager—$35,800
Beauty therapist—$27,000
Insurance—Insurance is typically charged between $300 and $700 per year. It is possible to split the expense into monthly payments
Payroll taxes—As the salon owner, you fall under the self-employment category and can expect 7.6% tax fees
Credit card processing fees—The base rates for credit card processing are 1.5%–3%. If you decide not to accept credit cards as a form of payment, you will eliminate the recurring expense but also risk losing potential clients
Cleaning fees—The cost of hiring a professional cleaner is approximately $200. If you choose to handle the upkeep yourself, you need to set out roughly $50–$200 for monthly cleaning supplies
Inventory—The salon supplies costs can be anywhere from $2,000–$15,000, depending on the products
Utilities—The average electricity bill adds up to around $150, but there is room for reduction (e.g., relying on natural lighting during the day). As for the water bill, the monthly expenses range from $30 to $150
How Small Business Loans Can Help You With Salon Startup Costs
If you cannot acquire the minimum working capital for your salon, consider getting a small business loan to get you through the first few months. Loans are a form of financial aid aimed at small to medium-size businesses that can cover a wide range of purposes, including startup costs.
How do small business loans work? To apply for a startup loan successfully, you need to meet the following qualifications:
Having a good or excellent personal credit score
Adhering to lender-specific requirements
Gathering the right paperwork
You must also choose a loan provider. New businesses have a slight disadvantage when applying for a loan due to the lack of business credit and maturity. While you might have to work harder to secure funding, you still have plenty of viable options, such as:
SBA loans—The Small Business Administration (SBA) provides some of the best loan programs, with great interest rates and flexible loan terms
Asset-based financing—These types of loans work well with hair and beauty salons since they're tied to tangible assets, such as equipment and real estate
Crowdfunding—Crowdfunding websites such as Kickstarter and GoFundMe have been a reliable source of income for many budding businesses
Personal loans—Direct online lenders are a way to bypass banks or non-profit lending organizations if you end up being rejected
Finally, you need to submit an official application with your chosen lender. Typically, you can do it one of three ways:
Online application
In-person application
Sign Up for DoNotPay and Increase the Chances of Getting a Startup Loan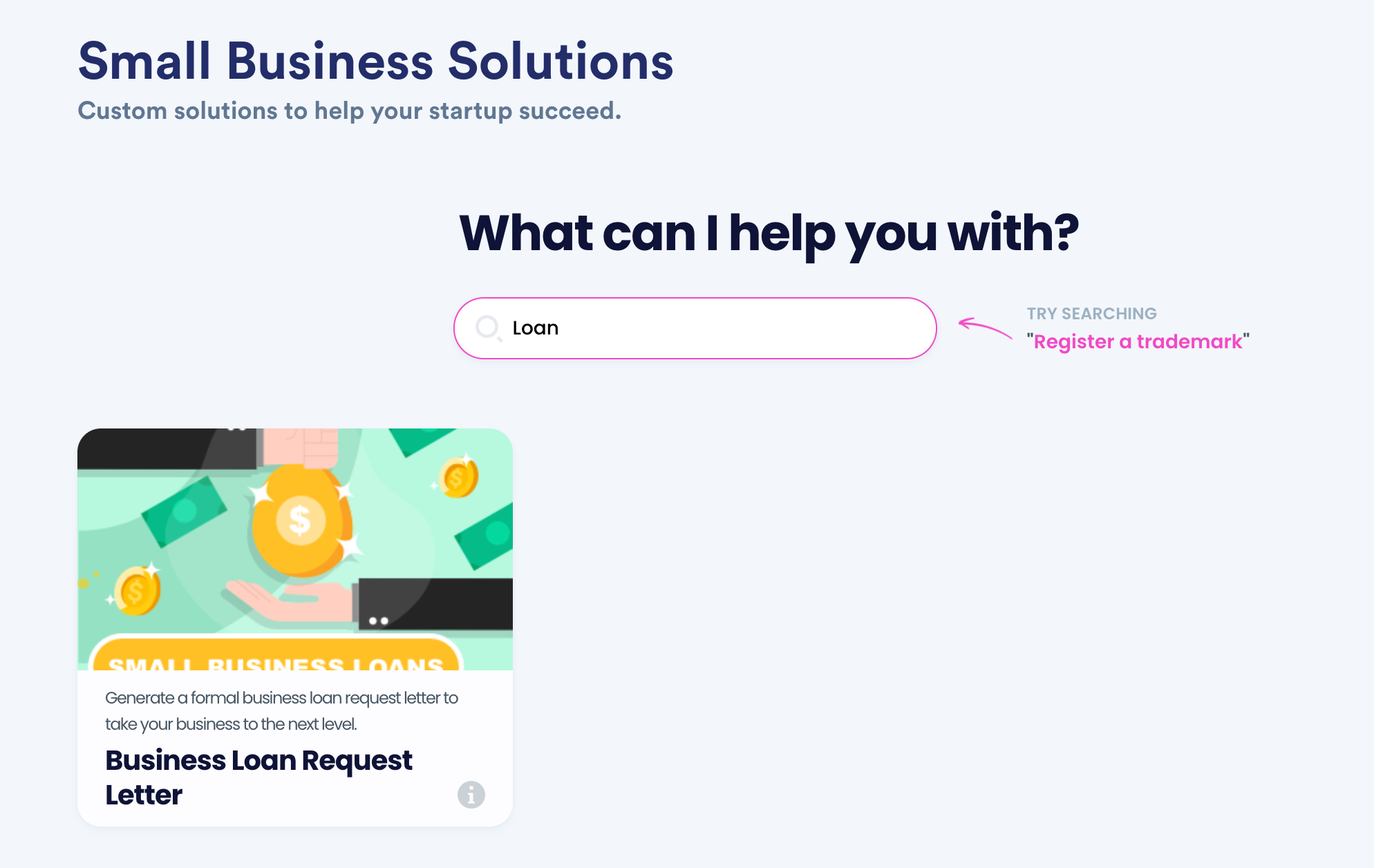 A subscription to DoNotPay can help you secure funds to cover both one-time and recurring salon startup costs. Our Business Loan Request Letter product will process the necessary paperwork and generate an official application letter based on the provided data.
All you have to do is:
Gather all the financial documents, such as:
Balance statement
Profit and loss statement
Cash flow statement
Sign in to your DoNotPay account and select the Business Loan Request Letter product
Provide details about your salon and the loan
Upload the required documents
You can rely on our AI-operated app to forward the loan request letter to your chosen lender, and if you don't have one yet, we can help you look! Use our Find Online Business Loan Lender product to search for the best loan provider.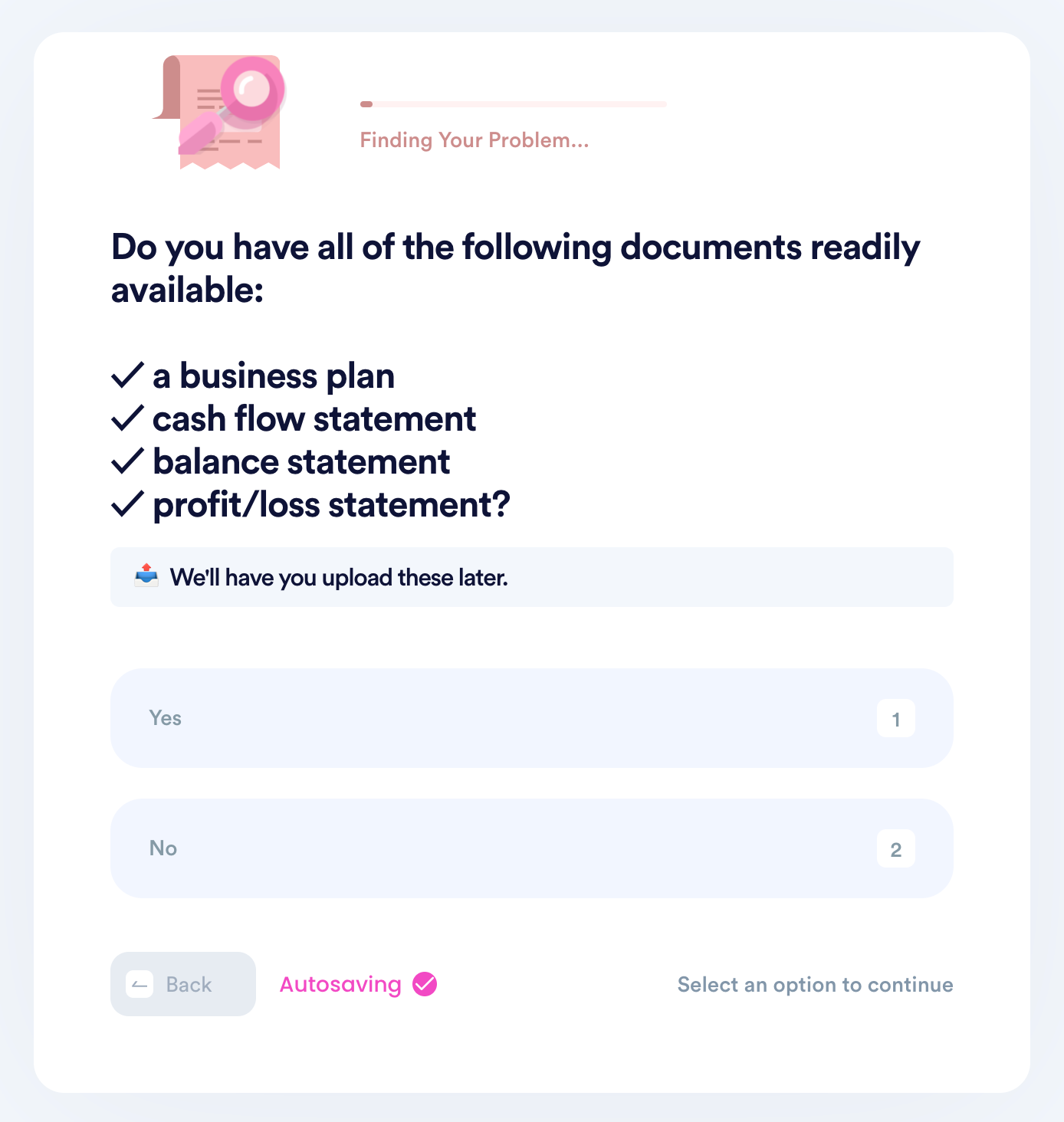 Don't Let the Complex Procedures Stress You Out! Rely on DoNotPay and Run Your Business Like a Pro!
DoNotPay has created a plethora of simple-to-use features that will help you run your business the best way possible. Here are some aspects we can help you take care of:
Registrations
Legal Documents

Get an Employer Identification Number (EIN)
Register a DMCA agent to avoid copyright violations

Send a cease and desist demand if someone is using your trademark
Draw up a watertight letter requesting a loan for your business
Draft a demand letter to send to a client who refuses to pay you
Get a customized chargeback rebuttal letter and fight unfair chargeback requests hassle-free
What Else Does DoNotPay Have in Store for Your Business?
You can use our app to resolve many other business-related issues. DoNotPay can help you deal with fake reviews that are ruining the reputation of your business by analyzing the harmful review and figuring out the best way to go about it.
Do you wish to protect the privacy of your clients and prevent their data from being collected while they are on your website? Use our app to file a self-certification request with the Privacy Shield program.
If you need help automating the filing of 83(b) election forms, DoNotPay has the right solution for you and your employees or shareholders! With our app, you will be able to finish the entire process with a few clicks.
Another perk of using our app is that we can help you fax and mail any documents or letters without having to leave your home or office.
DoNotPay will help you handle all your business tasks in the blink of an eye!