Sales Contract Essentials—Protect Your Interests

Whether you are a buyer or a seller, you should know what a sales contract looks like and why you are signing it. 
Though it may seem like legal documents are complicated and you can't possibly write a contract on your own, that doesn't have to be the case. You can learn the essentials of sales agreements, look up several contract templates, and use DoNotPay as your guide.
What Is a Sales Contract—A Simple Definition
A sales contract is a legally binding document between two parties—the buyer and the seller. The contract lists the terms of the transaction between two parties. You can sign a sales contract whether you are buying or selling goods, services, or property.
Other names for a sales contract are:
Purchase agreement

Sales agreement

Sale of goods contract
Depending on the parties and the description of goods, a sales agreement can have various clauses.
Do You Need a Sales Agreement?
You don't need to be an owner of a large company to negotiate and sign a sales agreement. If you want your transaction to go without issues, the best course of action is to draw up a legally binding document, negotiate its terms with the other party, and sign it.
The most common situations that require a purchase agreement are:
Selling and buying real estate

Making a large transaction

Buying or selling goods and services for a large amount of money
The rule of thumb is to use a sales contract if the payment for the exchange goes over $500.
Why Do You Need a Sales Agreement?
A sales agreement is a way to make sure you will benefit from the transaction you're making and that your terms will be met. For example, if you are the buyer, signing a sales contract under agreed-upon terms means the seller is legally responsible for delivering the goods, services, or property to you. If you are the seller, using a purchase agreement means that the buyer must pay for the delivered goods, services, or property within the agreed-upon period.
In case you're uncertain whether to negotiate a sales agreement with your partner, here are the two biggest advantages and disadvantages:
Pros
Cons

Defining your terms and ensuring they'll be met

Reducing the risks of a lawsuit

Failing to negotiate the terms that both parties will be satisfied with

Losing much time and money in the process
What Terms Do You Need To Negotiate for a Sales Contract?
Whether you decide to draw up a sales contract on your own or hire a lawyer to do it for you, you need to know what it consists of.
The essential elements of a sales agreement are:
Parties' names and the date

Description of goods, services, or property

Payment plan

Delivery

Legal repercussions
Who Are the Parties, and When Is the Contract Executed?
The first clause in your sales agreement identifies the parties that are making the transaction. State your company's name—or your name if you are an individual buyer or seller—in the first clause.
This section should also include the date when the contract is signed.
What Are the Goods or Services?
The description of goods and services is the essential clause in a sales contract. It details all the necessary information about what the buyer is paying for. The more detailed description you have in your contract, the more chances the transaction will go smoothly. 
When Does the Seller Expect Payment?
The payment plan is the second most important clause in the sales contract. In it, you and your partner should negotiate and agree upon:
Amount for which a sale will be made

Time when the seller will be paid

Possibility of paying in installments

Payment methods
When Does the Buyer Expect Delivery?
A delivery clause details the time, money, and method of delivery. You should first agree with your partner about the legal ramifications of a failed delivery. 
Including a force majeure section in your contract is also a good idea. It is a bonus clause that lists the conditions under which delivery doesn't have to be executed due to circumstances outside of control of both parties.
What Are the Legal Repercussions of Breaching the Contract?
Any legally binding contract should detail the repercussions parties will have to suffer if they fail to honor the terms of the agreement. 
Learn To Draw Up Legal Documents With DoNotPay!
If you are an owner of a company that buys supplies or sells goods and services, chances are you have to deal with more legal documents than a sales contract. The good news is that you don't have to spend effort and huge amounts of money on drafting all of them yourself.
DoNotPay can draw up many contracts for you automatically. You only need to:
Log in to your

DoNotPay

account

Provide the name of the document you need

Enter the necessary information for the document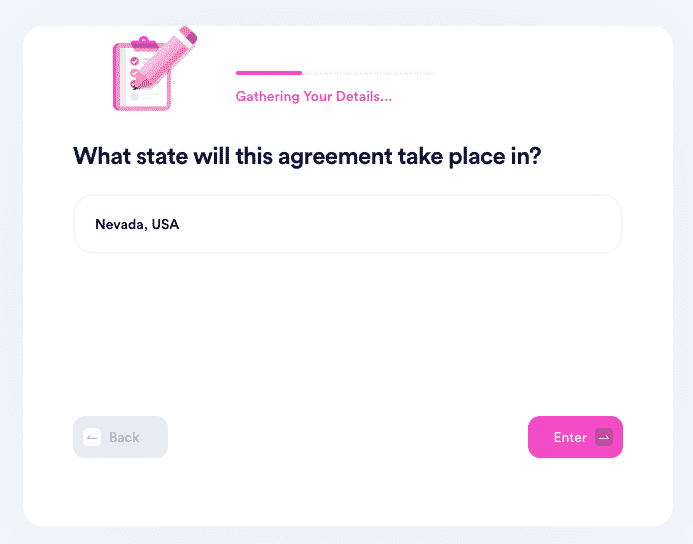 DoNotPay will create your contract in a heartbeat.
Here is the list of all the legal documents DoNotPay can generate:
General Business Contract

Promissory Note

Child Care Authorization Form

Intent to Purchase Real Estate

Estoppel Certificate

General Affidavit

Quitclaim Deed
Getting any of the above documents drawn up with DoNotPay is easy and quick. This experience can give you a head start with drafting legally binding contracts and help you create a sales agreement on your own.
Is a Sales Agreement the Same as a Bill of Sale?
You may confuse a sales agreement with a bill of sale, but they are not the same. The former outlines the terms of sale—like payment plans or legal repercussions—whereas the latter is a certificate of transfer of property.
You can compare a bill of sale to a receipt you get when you buy goods in a shop. It is legal proof that the ownership of the property has been transferred from one party to another.
Do You Know What Else You Are Eligible For?
DoNotPay is a handy virtual assistant that can reveal a world of possibilities that you may not have even been aware of. We've perfected our algorithms to identify opportunities for you to save up and take charge of your rights. 
Here's a fraction of what we can do for you:
What Else Is New With DoNotPay?
DoNotPay boasts several new features that can help make your everyday life so much easier. 
Have you been wondering how to file an insurance claim but weren't sure where or who to turn to? We'll gladly do it for you. 
Are you tired of outdated faxing practices and manual documentation? Our app can provide you with an online fax solution and draft all your legal paperwork in no time at all.
Do you need a safe place to prepare for your upcoming government test? DoNotPay will give you all the prep tests you need.
We can help out with locating an imprisoned loved one and keeping correspondence with them via our virtual mailbox.
See what else DoNotPay has in store by accessing our web app in any browser.