Learn All About Salem, Oregon, Jury Duty
Have you been summoned for jury duty in Salem, Oregon? Jury duty might seem confusing at first, but it's a mandatory civic responsibility of all eligible citizens.
We will explain the ins and outs of jury duty in the Beaver State and tell you what it entails and how it affects your work. DoNotPay will also help you prepare for this important duty by and sending it to your employer if you need assistance in requesting time off.
Understanding Jury Duty in Salem, Oregon—What Happens When You Get Summoned?
Prospective jurors get selected at random, which is why there's a chance for someone who has already served as a juror to be called again.
When you receive a summons, you will be instructed to attend jury selection. There, you'll be asked various questions so the judge can determine whether your background, prejudices, beliefs, and relationships with anyone involved in the case could intervene with the trial.
What Happens After the Jury Selection Day?
If you pass the selection, you will be instructed to return to the court on the day of the trial. You will have to remain on the jury as long as the trial lasts, which is usually one day, but some trials can last up to five days or longer.
The payment you receive depends on the state you live in and the type of trial you're summoned for. You will be paid:
$10 a day for the first two days and $25 a day from the third day onwards if you serve as a state juror
$50 per day and $60 a day after the tenth day as a federal juror
Can You Skip Jury Duty in Salem, Oregon?
Oregon recognizes a few statutory jury duty exemptions, as follows:
| Situation | Statutory Exemptions? (Yes/No) |
| --- | --- |
| Disability | No |
| Elected official | No |
| Student | No |
| Breastfeeding mother | Yes |
| Medical worker | No |
| Police | No |
| Firefighter | No |
| Military | Yes |
| Old age | Yes (citizens over the age of 70) |
You can ask to be excused by sending a written request via email or calling the jury commission office.
If you wish to be exempt from jury duty for any other reason, you can respond to the summons with an excusal request and supporting proof.
You can get fined or arrested if you skip jury duty without a valid reason or notice. Keep in mind that if you are to serve in a federal court, the exemption policy and procedure might be different.
What About Skipping Jury Duty Because of Work?
Your employer can't fire you for missing work for taking time off to serve as a juror. You can't skip jury duty because of work unless it's due to the following reasons:
Attending jury duty brings a significant financial loss for you
Your role in the company is vital, and it's impossible to find a temporary replacement
In Oregon, employers are required to give unpaid leave for jury duty, but you could still get paid your full wage if your work arrangement allows it.
An important step to take is to inform your employer about your jury duty. Not sure how to do it? Rely on DoNotPay and send a professional and detailed leave request letter to your boss in a matter of clicks.
DoNotPay Can Write a Jury Duty Leave Request Letter on Your Behalf!
Our app can help you write a formal letter to request jury duty leave in no time. Here's what you need to do:
Locate the Request Jury Duty Leave product
Tell us a few details about your workplace and your juror service schedule
Upload the image of your summons and submit the form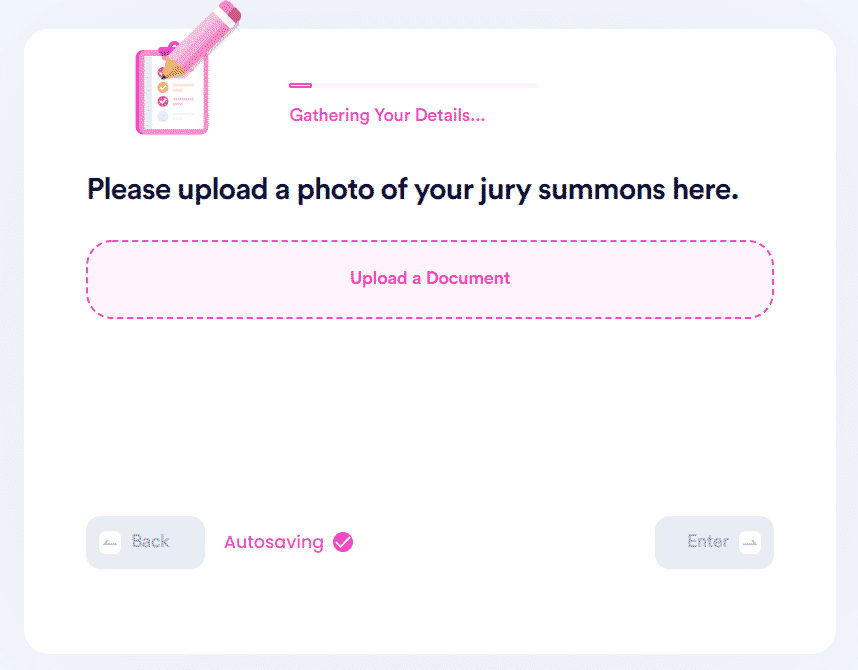 You can choose whether to:
Print the letter and send it yourself
Allow us to email it to your employer directly
All responses will be delivered straight to your inbox.
Wondering how jury duty works in other Oregon counties? Check out our guides on Lincoln County and Washington County to find out more!
Our App Offers Assistance in More Ways Than One
As a multifaceted app, DoNotPay creates solutions to numerous problems. Check out the table below and get to know a fragment of what our app can do:
| Keep Your Privacy Intact | Deal With Legal Problems | Solve Money Issues |
| --- | --- | --- |
| | | |
Use DoNotPay To Streamline Different Tasks
Tick the items off your to-do list faster by signing up for DoNotPay. In record time, you'll be able to request a refund, cancel a subscription, and get a free trial.
If talking on the phone is your worst nightmare, don't worry—you can use our app to schedule a meeting with an online notary, reach customer service with ease, and make a DMV appointment.
Feel free to also rely on our app when you want to prep for government tests, file FOIA requests, or connect with loved ones in prison.