Explore the Safest Way To File Safeway Insurance Claims—DoNotPay
Safeway Insurance is a private insurance company that provides auto insurance. It is located in Westmont, Illinois, and it provides services for Texas, Arizona, Alabama, Arkansas, Illinois, Colorado, Georgia, Louisiana, California, Mississippi, Tennessee, and New Mexico.
If you experience a car crash, you'll want to file an accident insurance claim. DoNotPay can help you through the complicated administrative chaos of submitting an insurance claim in a few easy steps.
What Is Covered With Safeway Insurance?
Safeway is a non-standard insurer with basic policy options. You can check out what the company will cover, in case of an accident, in the table below:
What Does Safeway Cover?
Coverage Details

Medical Coverage

If an accident leads to a severe injury or death, this type of coverage will take care of hospital bills and funeral costs.

Liability Coverage

The company will cover the expenses of a driver who isn't at fault. It will cover property damage and bodily injury.

Uninsured Motorist

This insurance company will take care of the costs of repair and bodily injury when an at-fault driver isn't insured.

Comprehensive and Collision

Comprehensive insurance covers damage that isn't a result of a car accident, such as a

flood

, theft, or a fallen tree.

Collision insurance covers any damage that was caused by the car crash.
How To File Safeway Auto Insurance Claims Manually
Before starting the process of filing an insurance claim, you'll need to have the following information:
Full name of the policyholder

Policy number

The details about the accident like the date, location, and additional facts

Names of other people involved in the accident

Police accident report
After you have all the information needed to file an insurance claim, follow these steps to start the process:
Go to the Safeway

Claims

page

Scroll down to access the

Find an Agency Near You

box

Fill out the required information—address, city, state, ZIP code

Tap on

Find an Agency

Contact the office that's nearest to you

Talk to the claims advisor and follow their instructions to file a claim
How Can DoNotPay Help You File Insurance Claims Easily?
It seems like filing an insurance claim with Safeway is too much work, and the company might look for any reason to deny your request. Making a few mistakes or missing to provide some vital piece of information can happen to anyone.
If you use DoNotPay to file your insurance claim, you'll unlikely make a mistake. Our feature for claiming insurance policies is designed to collect all the important data and include it in your letter for claim settlement. We can help you file claims for any of the following:
Aside from submitting these claims, our platform can help you file an unemployment insurance claim and receive your benefits. All you need to do is open DoNotPay in any and create an account.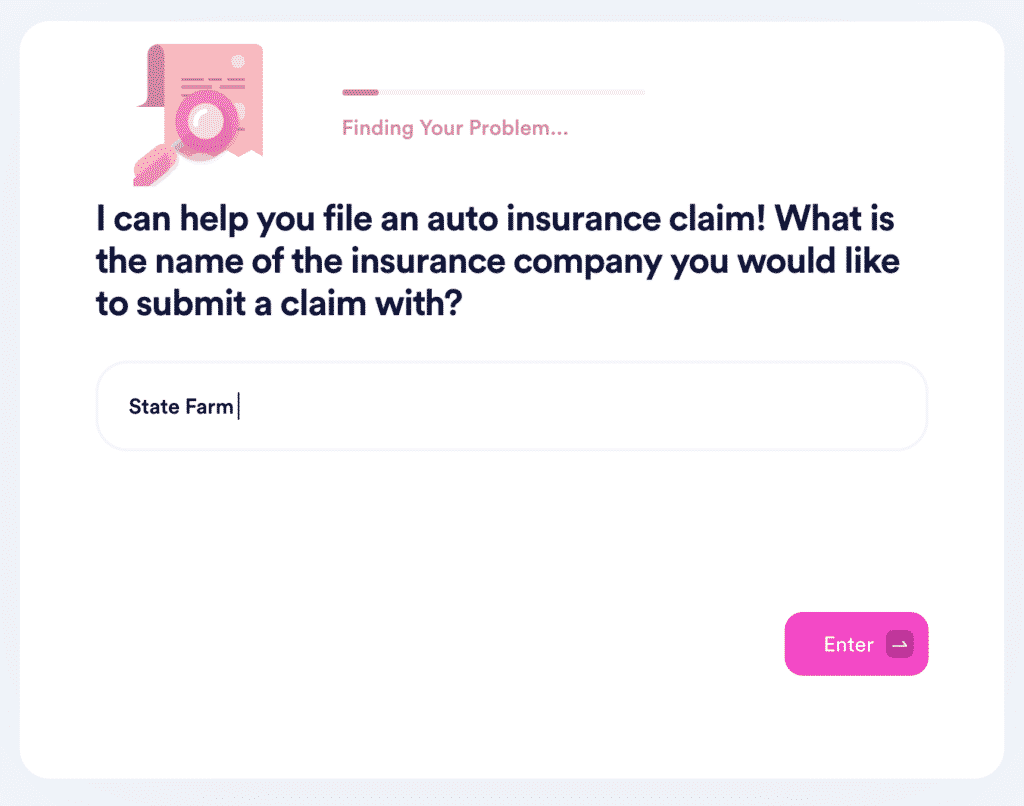 Steps to Filing a Safeway Insurance Claim With DoNotPay's Help
DoNotPay will help you submit your insurance claim request after you open our app in your and:
Sign in to your account

Type in

Safeway Insurance

in the search field

Provide all the required data like your full name, policy number, etc.

Explain why you're filing a claim and give details about the incident

Click on

Enter

to submit your claim
We will file the request on your behalf automatically. Safeway should contact you about further information via phone or email.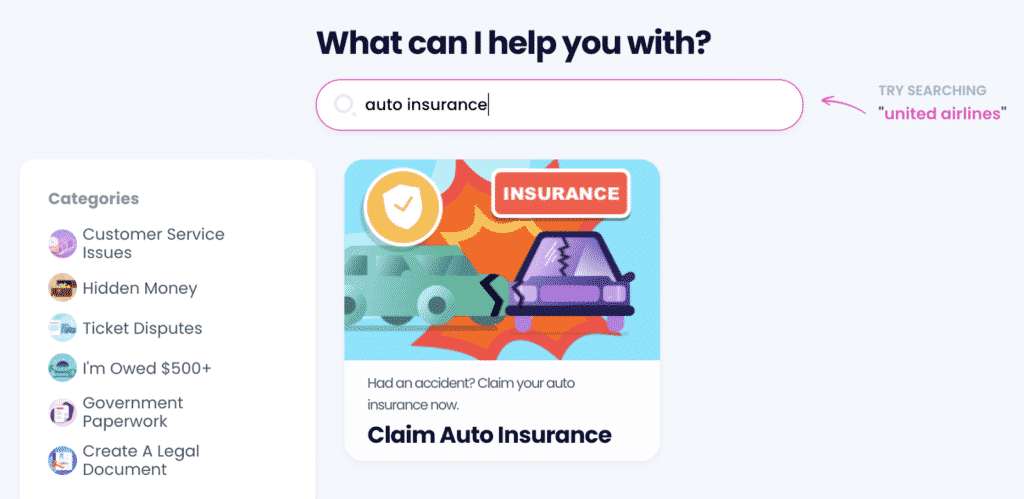 What Happens After You File an Insurance Claim?
When you call the company to file a claim, it will assign you a claims advisor who will compile all the information regarding your case and forward it to a claims representative. The claim representative will review your insurance claim, inspect your car, and give an estimate of the cost of repairs.
If the damage is irreversible and exceeds the car's market value, the company won't cover your repairs.
Safeway will cover the expenses of a rental car if your plan covers these types of vehicles. The company will return the repaired car to you or write you a check in the final settlement. Safeway will contact you within 48 hours after you file an accident report if someone was injured during the accident or another vehicle was involved. The company will review all liability claims, accident and police reports, and witness statements.
DoNotPay Is Here To Fight Against Any Rejected Claims
Our platform has an additional feature that can improve your chances of getting the money for your bills following the accident. Since companies tend to deny claims hoping that a customer would give up, you'll need someone to deal with rejected claims instead of you.
Filing an appeal letter will improve your chances of getting the coverage you need. You can use DoNotPay for this as well. We will generate your letter and send it to the company.
Want To Avoid Tiresome Admin Processes? DoNotPay Will Handle Them
Applying for a clinical trial, free trial, copyright of your work, or any service without phone number verification is a time-consuming task many people want to avoid. Fortunately, such processes are DoNotPay's specialty.
If you feel like a company or individual has wronged you, you can sue them in small claims court. DoNotPay will handle the paperwork, and all you need to do is show up in court and win the case!
With our robot lawyer's help, you will also be able to deal with various credit card issues, deal with high bills you cannot pay, and appeal speeding, parking, and traffic tickets in no time.
Report Companies or Individuals That Won't Give You a Break
DoNotPay also makes it easy for you to report and earn off persistent robocalls, email spam, spam text messages, and stalkers and harassers.
Once you sign up for our handy app, you won't have to deal with any of these. We'll even make it easy for you to schedule a DMV appointment or jump the phone queue when getting in touch with any company's customer service!