How to Get SaferVPN Free Trial Securely With a Virtual Credit Card

Since the massive technological breakthrough in 1983, a lot has changed in the internet world. Today, you can do about everything from the comfort of your home provided you have an internet connection. But with it comes several risks: getting tracked, targeted marketing, identity theft, personal data leaks, among others. But there are many solutions, including masking yourself using VPN services.
SaferVPN is a popular virtual private network that enables you to use an anonymous identity when browsing online. However, note that SaferVPN has merged with StrongVPN and currently markets itself as StrongVPN. Therefore, StrongVPN is just another name for SaferVPN. Existing SaferVPN customers can still access StrongVPN with their existing accounts.
But with dozens of VPN services to choose from, you might be wondering whether  before committing. Keep on reading to learn more about StrongVPN.
Does SaferVPN Offer a Free Trial?
No. Although before becoming StrongVPN, you could try the VPN for 24 hours, it doesn't currently offer any free trials. However, you can sign up for a 30-day risk-free  with a refund guarantee (this option is only available for the annual plan). During this time, you can enjoy all the benefits of the VPN service.
How to Start Your SaferVPN Trial
Since you have to pay before using StrongVPN, you'll need to enter your payment info — they accept credit cards, PayPal, and Alipay. To subscribe to StrongVPN:
Visit the official website.
On the navigation menu, choose "PLANS."
Choose either the annual or monthly plan.

Remember, if you want a 30-day money-back guarantee, you have to choose the yearly plan.

Enter your email address.
Select your payment method (credit card/PayPal/Alipay). You can apply a coupon if you have any at this stage.
Complete the sign-up form and payment details and click the "Join Now" button.
If successful, you'll receive a confirmation message on the website and an email containing your sign-in credentials. You can contact support if you don't receive this message in your mailbox.
Install the StrongVPN on your device and start enjoying private browsing.
Note: In some cases, your transaction may be held by your bank or Apple, hence indicating as "Pending." This can take up to 48 hours, after which your account will be activated.
What Happens When StrongVPN Trial Expires?
After the 30 days are over, you cannot claim a refund from the company, and your annual subscription will continue until the end of the 12 months. Therefore, if you think that the service is not what you were looking for, cancel it before 30 days, and you'll get a full refund from StrongVPN. Usually, expect to see your credit card refund after about seven days. If you experience problems, you can contact support. Otherwise, use DoNotPay to quickly contact customer service, cancel your subscription, or claim refunds.
Say No to Free Trial Charges With the Help of DoNotPay Virtual Credit Card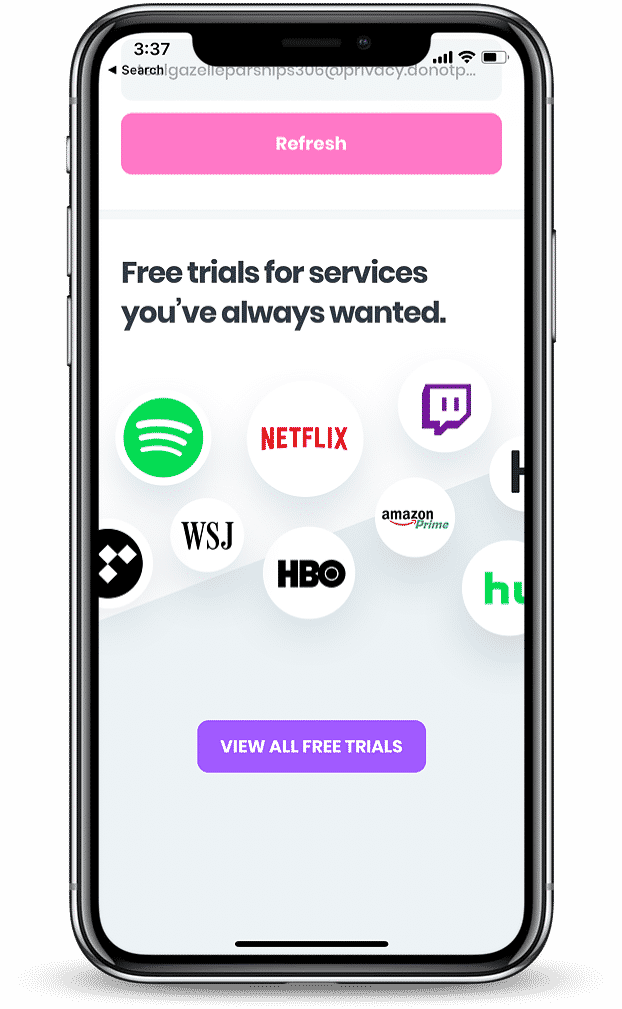 When you see a big banner with "Free Trial" displayed on a service website, take caution. Some are not, in fact, free. Many of them are a trick to steal from you. This is especially true if the subscription requires your credit card to start a supposed "free trial." So, should I stop subscribing to free trials? No. We have a solution for you — enjoy any free trial risk-free using a virtual credit card.
How Does This Work?
DoNotPay generates a valid and verifiable free trial card that any service can accept, provided they're not charging you anything when starting the free trial.
When your free trial ends, the subscription cancels automatically. This is because the free virtual credit card holds money at no time. Therefore, when the company automatically enrolls you in a paid subscription after the free trial, the payment fails, thus canceling your plan inevitably.
Bonus: When generating the VCC, we will also issue you with a disposable email address that prevents companies from reaching your primary mailbox directly. This way, you'll have an easy time managing emails that matter as there is no clutter from the marketing guys.
SaferVPN Subscription Plans
There are two subscription options for StrongVPN.
Plan
Pricing
Benefits
Monthly
$10.99/month
250 GB of SugarSync
Annual
$43.99/year (first year)

$79.99/year (subsequent years)

250 GB of SugarSync

30-day money-back assurance
Why Choose SaferVPN?
If you're wondering why SaferVPN might be the perfect choice for you, here are some of the reasons people prefer it over its competition:
Cross-platform: StrongVPN has an app for several devices, including Windows, Mac, Android, iOS, Chrome/Firefox plugin, routers
Unrestricted bandwidth and server switching
Secure and fast
Can connect up to 5 devices at once
More than 900 servers across 30+ countries
No keeping connections and activity logs
Other Competitor VPN Services You Can Use
Not satisfied with SaferVPN? We have compiled among the top alternatives you might want to consider.
Name
Has Free Trial?
Pricing
ExpressVPN
No free trial

Has 30-day risk-free trial

$12.95/month billed monthly

$6.67/month billed annually

$9.99/month billed every 6 months

CyberGhost
Yes. 24-hour free trial
45-day money-back guarantee

$2.25/month

PrivateVPN
No free trial

30-day risk-free trial

$11.99/month billed monthly

$2.00/month billed every three years

$6.00/month billed quarterly

IPVanish
No free trial

30-day full refund guarantee

$10.99/month billed monthly

$3.75/month billed annually (first year)
Leverage the Full Potential of DoNotPay
When any issue comes knocking at your door, you can rely on DoNotPay to have a solution for it. Our over 100 products are designed to solve about any problem, including:
 thousands of other Americans who benefit from our services daily.