Be Sassy and Create a SaaS Agreement in the Blink of an Eye!

Have you started providing software as a service but don't have a SaaS agreement in place to protect it from unauthorized use? Create one ASAP! If you find drafting legal documents challenging, DoNotPay can teach you everything you need to know about SaaS agreements, how legal documents work, and how to write any contract without a pricey lawyer!
What Is a SaaS Agreement?
A Software as a Service (SaaS) agreement outlines the terms and conditions of a software delivery model. It is a contract between the app developer and the app user and contains all the rules and regulations for using the product. SaaS agreements usually incorporate a service level agreement (SLA) as well.
By paying a service fee, the user can access and use the software. SaaS agreements are usually subscription-based because the software is cloud-hosted. Users have restricted software access, and the provider is responsible for managing the infrastructure and service. Although each customer can access the software remotely, they cannot modify or control it.
What Is the Difference Between a SaaS Agreement and a Standard Software License?
There are a few key differences between a SaaS agreement and a standard software license:
| | |
| --- | --- |
| SaaS agreement | Standard software license |
| Users do not receive physical or installed software. They can access the software on the cloud | For a specified fee, the user receives a physical or installed copy of the software |
| Users have no rights after the termination of the contract | User doesn't lose the access rights even if the contract has ended |
Key Elements Your SaaS Agreement Should Cover
If you want to draw up a SaaS agreement yourself, you can consult a lawyer or look up contract templates online. This should give you a basic idea of what to cover. Most SaaS agreements include the following information:
Key elements
Brief explanation
Access rights and users

Definition of a user
User obligation
Restrictions (if any)
Penalties if there is a violation of restrictions
Rights to a physical copy

Customer support

Response time
Provisions for customer support

Data ownership

Rights to data entered in the database

Data security

Backup
Security
How to deal with a security breach
Encryption
Storage

Liability and penalty

Who is responsible if data is compromised
Potential remedies if there is a contract violation
What happens if the user goes bankrupt
Tampering with the software
Conflict resolution

Scope of license

The limit of access
Intellectual property rights

Fees

Monthly, quarterly, or yearly fee
Accepted payment methods

Performance objectives

What to expect from the software
Limitations of the software

Service level agreement (SLA)

Minimum performance standard for the SaaS
Estimated response time
Estimated fix time

Terms and conditions

Terms of the agreement
Termination or renewal of service

Signature

Signature of both parties to ensure they have read and understood the terms of the agreement
Since online templates are generic, make sure you customize the contract according to your specific requirements. If your agreement is missing a crucial clause or has incorrect information, it will be considered void.
What Other Agreements Do You Need if You Sell SaaS Products?
If you're providing software as a service, you will require other contracts in place, such as:
Non-disclosure agreements
Trademark policies
Privacy policies
What Happens if a Party Breaches the Contract?
A SaaS contract is legally binding. If any party violates the agreement, they risk facing legal and financial consequences.
It is imperative that both parties mitigate risks and fully disclose how to treat any breach of contract. A SaaS vendor can claim financial compensation, terminate the contract, or file legal action against the user if they violate the agreement.
In case a vendor violates the agreement, they risk facing legal repercussions if the user sues them in court.
Use DoNotPay To Create Contracts and Agreements Without a Hassle
Big corporations hire lawyers to create legal documents. If you're a small company or an individual and don't have the budget to hire a lawyer, use DoNotPay for a hassle-free experience!
All you have to do is follow these straightforward steps:
Enter the name of the document you need to create
Respond to our chatbot's questions to customize the contract
Download, print, and sign the agreement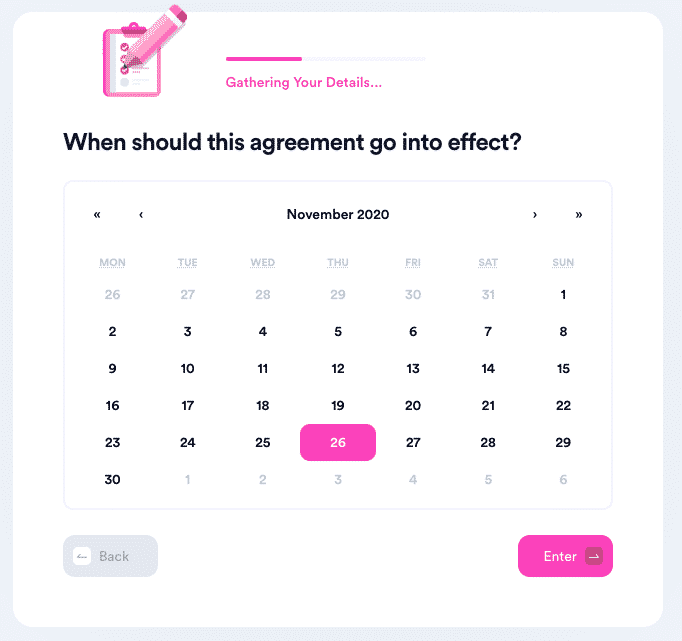 DoNotPay's Standardized Legal Document tool can help you draft various contracts and agreements, including:
General Business Contract
Intent To Purchase Real Estate
Quitclaim Deed
General Affidavit
Promissory Note
Child Care Authorization Form
Worried because your document is not listed? DoNotPay is working round the clock to extend the offer, so stay tuned to find out more!
More Nifty Solutions to Annoying Problems
If you're dealing with problematic neighbors or coworkers, you're not alone—our app can help you handle these issues with our Neighbor Complaints and Fight Workplace Discrimination products.
No problem is too big or too small for DoNotPay! Check out the best time- and money-saving solutions to different nuisances:
An Array of Hacks To Help You Deal With Greedy Companies
Nobody likes to spend more money than they have to. DoNotPay is here to offer many penny-pinching hacks and also stop companies from taking advantage of you.
Almost every free trial nowadays isn't really free. Companies request your credit card info and auto-renew subscriptions. Fight this sneaky practice by using DoNotPay's virtual credit card next time you want to snatch a free trial. We'll also uncover any unwanted memberships you have mooching off of you and help you cancel them in a few clicks.
If you need to contact a company's customer service, avoid wasting your time and money on hold and count on our app to wait in your stead.
Do you need to get your money back, but you don't know how? Use DoNotPay to: