The Quickest Way to a Rwanda Tourist Visa
Are you considering spending your next vacation in Rwanda? Learn about the application process and requirements for a Rwanda tourist visa so you can visit the "land of a thousand hills" worry-free!
Do U.S. Citizens Need a Rwanda Tourist Visa?
Yes, U.S. citizens need a Rwanda tourist visa to enter the country, and they can apply for the following ones:
| Type of Visa | Validity | Entrances Allowed | Price |
| --- | --- | --- | --- |
| Holiday/tourist visa | 30 days | Single | $50 |
| Holiday/tourist visa | 90 days | Multiple | $90 |
| Family visit visa | 30 days | Single | $50 |
| Family visit visa | 90 days | Multiple | $90 |
| Group tourist visa (4–10 tourists) | 30 days | Single | $100 per passport |
| On arrival visa | 30 days | Single | $30 |
| Rwanda/East Africa tourist visa (allows multiple entrances to Kenya and Uganda as well) | Three months | Multiple | $100 |
Keep in mind that if you apply through the eVisa application, you should expect an additional $1 processing charge.
Tourists who want to extend their stay can do so by contacting the Rwanda Directorate General of Immigration and Emigration during their allowed stay. You may not exceed the total allowed stay duration of 180 days. If you do end up overstaying, the Rwandan government allows you a 5-day grace period to renew your visa or leave the country. If you fail to abide by that law, you will face penalties.
What Do You Need To Apply for a Rwanda Tourist Visa?
Check the following table to find out what paperwork you need to prepare to apply for a Rwanda tourist visa:
Category
Requirements
General requirements

A passport valid for at least six months since your estimated entry date
A return or onward ticket

Identification
Family visits

Invitation letter from a family member
Passport

Tourists

Travel itinerary
Proof of temporary residence during your visit
How To Apply for a Rwanda Tourist Visa
You can apply for a Rwanda tourist visa in three ways:
Online
On arrival
At a diplomatic mission
Apply for a Rwanda Tourist Visa Online
To apply for a Rwanda tourist visa online, visit the Rwandan government portal or the East Africa Tourist Visa website, depending on the type of tourist visa you opt for. What's unfortunate is that the application is entirely in their native language, so you will have to rely on translation software to navigate to and complete the application.
Request a Rwanda Tourist Visa on Arrival
The Kigali International Airport and all land borders offer you the option to apply for a Rwanda tourist visa on arrival. Approach the officials to request one.
Apply for a Rwanda Tourist Visa at a Diplomatic Mission
You can apply for a Rwanda tourist visa at any diplomatic mission in the United States in person or by mail.
To apply for a Rwanda tourist visa in person:
Visit your nearest Rwandan diplomatic mission
Complete the Rwanda tourist visa application form or the East Africa Tourist Visa form, depending on the type of visa you're requesting
Hand over your passport and other supporting documents depending on the purpose of your visit
Follow these steps to submit a Rwanda tourist visa application by mail:
Complete the application form according to your desired tourist visa
Include the application, your passport, and supporting documents in a prepaid, self-addressed, and traceable return envelope
Send the envelope to any Rwandan diplomatic mission
Does Rwanda Impose Any COVID-19 Restrictions?
Amidst the ongoing pandemic, the Rwandan government requires tourists to:
Provide a negative Real-Time Polymerase Chain Reaction (RT-PCR) test result taken no later than 72 hours before they depart from the United States
Wear a mask or face covering at all times
Afford their accommodation and treatment in case they test positive for COVID-19. Travelers are not allowed to leave until they receive negative test results, and the U.S. Embassy can and will not pressure the government to let you go for the safety of everyone involved
Check the website of the Embassy of the Republic of Rwanda regularly for any updates regarding these restrictions.
DoNotPay Streamlines Your Rwanda Tourist Visa Application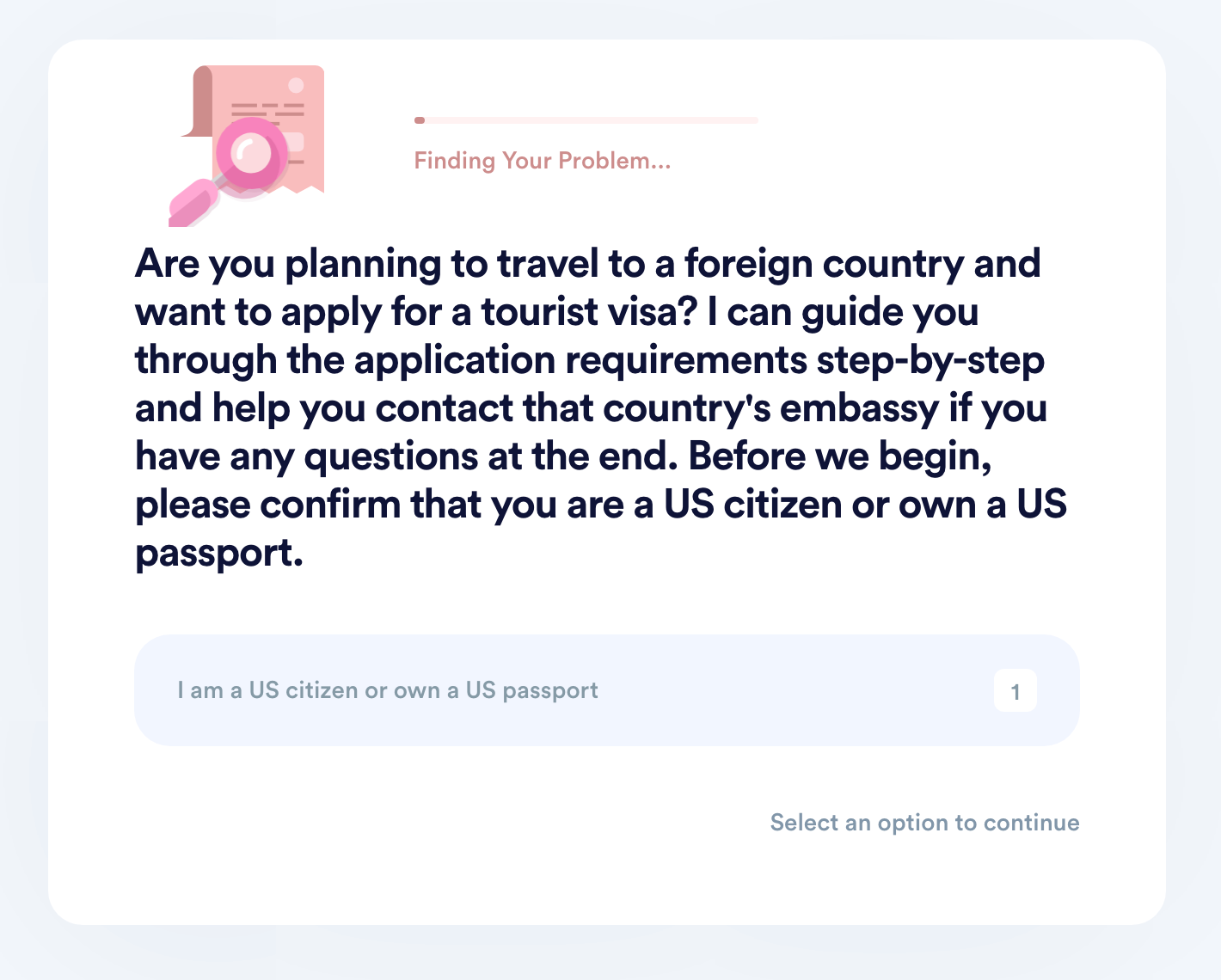 If you need assistance with preparing and applying for a Rwandan or any other tourist visa, DoNotPay has your back!
Our app will:
Inform you about all of the required paperwork you need to gather
Provide you with a link to the online application form
Contact the country's diplomatic mission in the United States to check if there are any other remote application methods available
Create a PDF guide for you that explains the traditional application process
To turn all of your tourist visa applications into a breeze:
Access our Tourist Visa Guide feature
Confirm you're a U.S. passport holder
Enter a country of your choice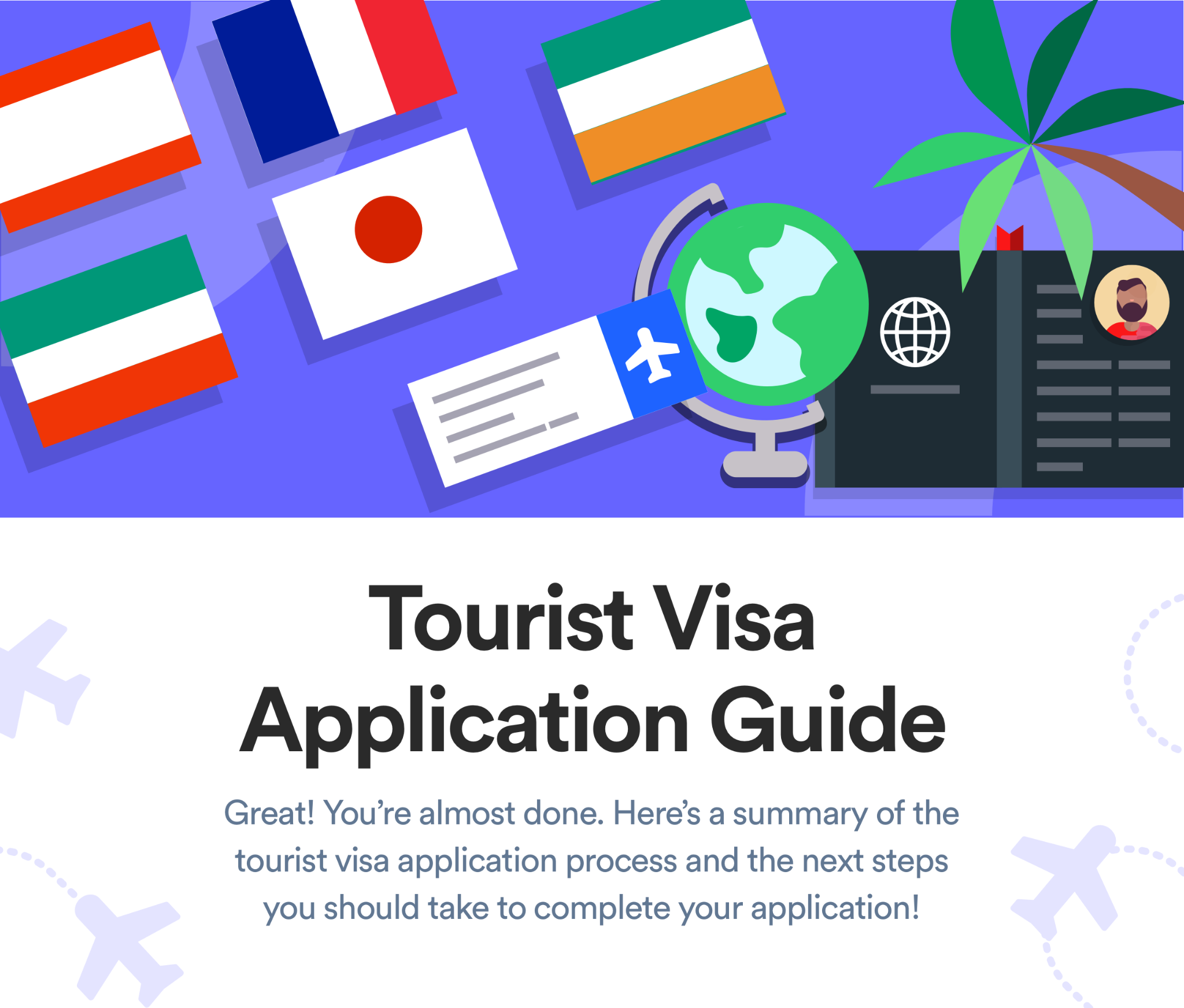 With DoNotPay, Exploring Africa Has Never Been Easier!
Applying for any African tourist visa is a walk in the park with our app. Subscribe to DoNotPay to simplify your tourist visa application process for the following African countries and many more:

DoNotPay Helps You Tackle All Kinds of Problems From the Comfort of Your Home
Are you too busy to go to Target, Walmart, or photo studios to get your passport photos taken? DoNotPay offers you the possibility of taking them yourself and having them edited without going anywhere!
Thanks to our app, you don't need to visit the post office if you want to initiate a return. You can also skip going to a notary office because we'll help you get your documents notarized.
Here are some other tasks you can complete with ease using DoNotPay:
We Help You Get Fuss-Free Subscriptions to Any Service
Interested in a specific service or platform? Make sure to get the best out of your free trial without getting charged and ending up with an unwanted paid membership. Even if you make a mistake, DoNotPay can end your subscription in a few simple steps!
Our system allows you to generate virtual credit card numbers to prevent platforms from getting your real bank details and using them for unauthorized transactions. We also offer burner phone numbers that will help you go through any subscription or verification procedure without disclosing personal details.