Everything You Need to Know About the Russian Embassy In Washington, DC
Whether you are a Russian citizen wishing to get in touch with your embassy or a foreign citizen planning on a trip to Russia, Russian Embassy Washington DC can answer your questions and process your requests. However, we are well aware of the fact that finding the proper way to contact the embassy or even going to the office physically can be tiresome. You might not be sure about which email address to send your email to, or which number to call.
This article is your guide on how to contact the Russian Embassy Washington DC, the services they provide, and how you can easily contact the embassy with DoNotPay! 
Where is the Russian Embassy in Washington DC?
The Embassy of the Russian Federation is located in Westchester and the Embassy Row. The exact address of the embassy is:
2650 Wisconsin Avenue, NW, Washington, DC 20007, USA
If you wish to take public transportation to get to the embassy, you may use the bus or metro.
Bus: 30N, 31, 33
Metro: Metrorail Red
How to Contact the Russian Embassy, Washington DC?
If you have a problem that you think the embassy can help you with and you wish to contact them by yourself, here is all the contact information of the Russian Embassy Washington DC:
Address
2650 Wisconsin Avenue, NW, Washington, DC 20007, USA
Email
The email address you need will change depending on the specific issue you are asking for:

General Questions: russconswdc@gmail.com
Visa Questions: rusconswas@gmail.com
Passport Questions: passportunit@gmail.com
Pension Questions, Documents on Demand, Non-Conviction Certificates:  documentcons@gmail.com
Notary, Legalization Questions: legal.russianembassy@gmail.com
Citizenship Questions: citizenshipwasdc@gmail.com

Phone

For Consular Questions: (202) 939-8907
Emergency Line: (202) 298-5700

Fax
(202) 298-5735
Office Hours
Monday to Friday

9:00 AM - 1:00 PM and 3:00 PM to 6:00 PM

Social Media
Website
https://washington.mid.ru/en/
What Matters Can the Russian Embassy in Washington Help You With?
For Russian Citizens:

International Passport

Information on Issuing
Registration
Declaring Invalid
Change of Name

Consular Accounting

Consular Registration & Removal

Notary
Registry

Birth
Marriage
Divorce
Death
Name Change
Adoption

Pension Issues

Application
Registration
Translation

Citizenship Issues

Confirmation
Consideration
Withdrawal
Application

Maternal Capital

Maternity capital funds can be used for: improvement of living conditions, education of a child, formation of labor pension for women

Health Insurance

Medical Expenses
Documents Needed

Requesting Documents
Return to Russia

Who Can Apply
Needed Documents
Minor Application

Apostille

Which Documents are Considered Official
Documents Apostille Does Not Apply to

For foreign Citizens:

Visa Issues

Applying for Russian Visa
Information on Application Centre & Russian Border
Tariffs
Migration Card

Russian Citizenship

Proof
Withdrawal
Application

Information on the Implementation of the Tax-Free System in the Russian Federation

Automobile Checkpoints
Air Checkpoints
Maritime Checkpoints
Tax Return Services Provided by Some Retailers

Resettlement Program for Compatriots

What is Compatriot
Who Can Take Part
How to Take Part
Activities Permitted
Needed Documents

Travel to Russia

Activities in Russia
Tourist Attractions
Calendar of Events
How to Contact the Russian Embassy, Washington with DoNotPay
DoNotPay understands that it can be time-consuming to reach out to an embassy, and frustrating when you don't receive timely responses for your urgent matters. Let the robot lawyer contact an embassy on your behalf! All you have to do is:
1. Search for "Contact Embassy or Consulate" on DoNotPay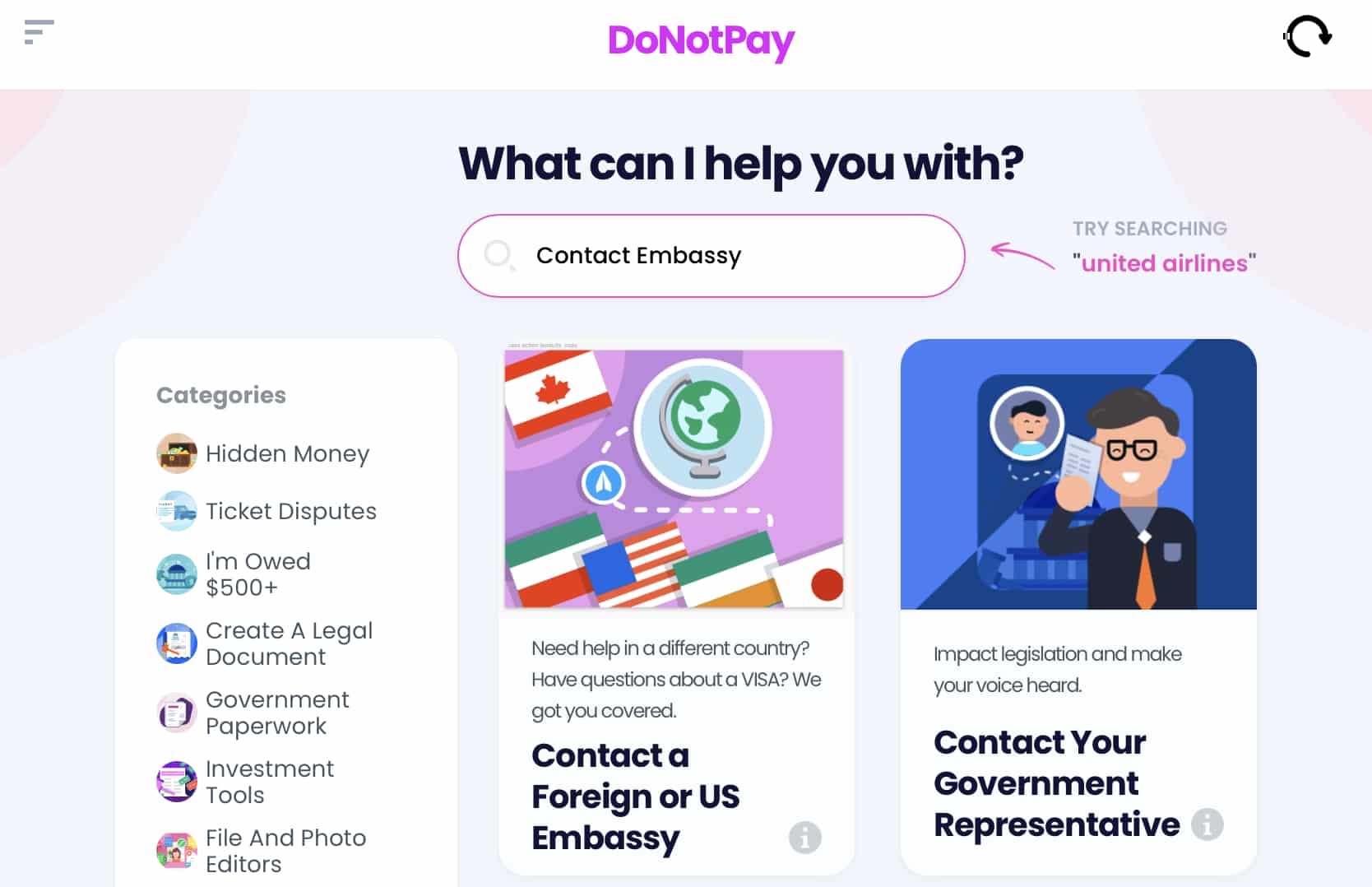 2. Choose to contact a foreign embassy in the US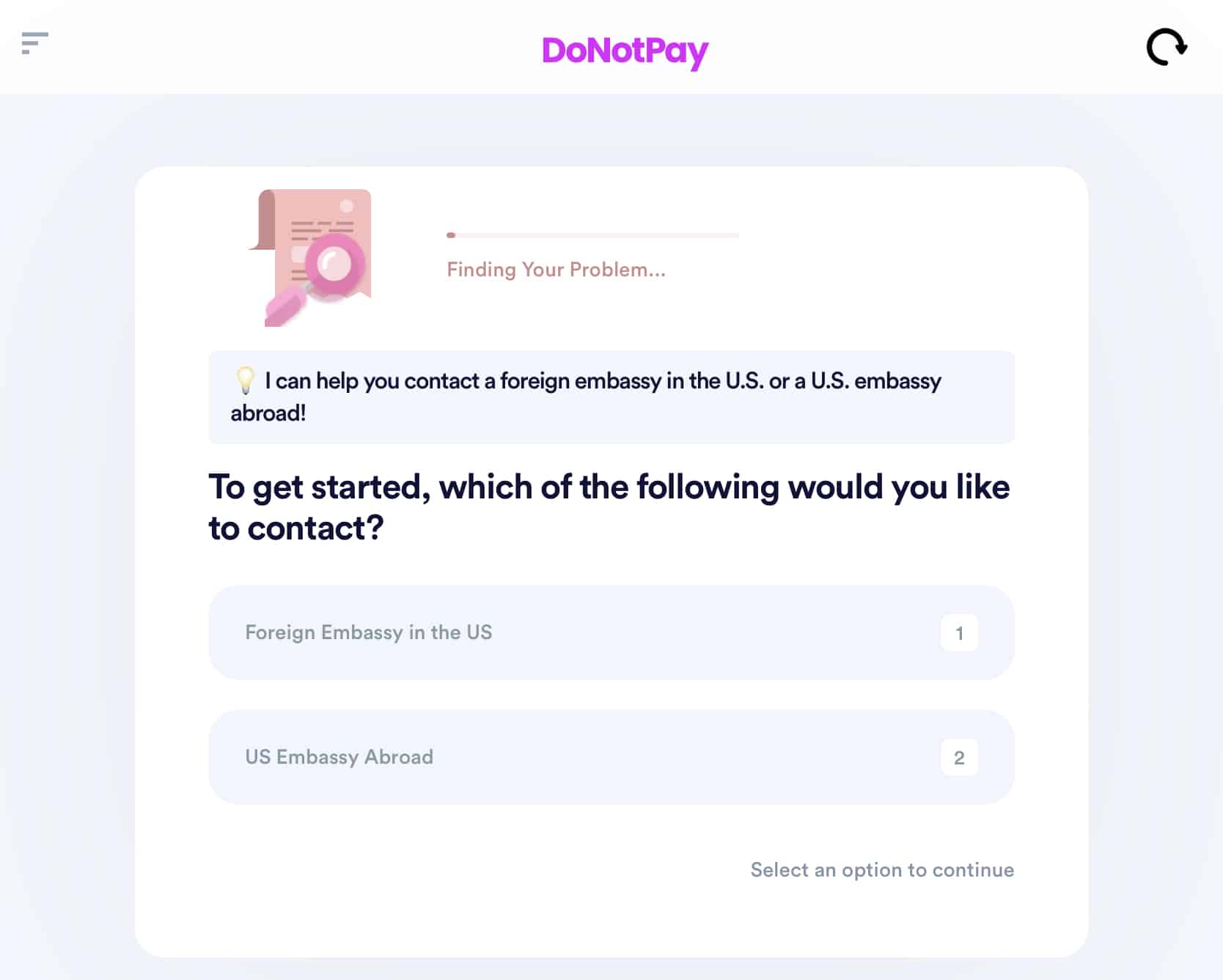 3. Describe your problem, why you need help, and any questions you may have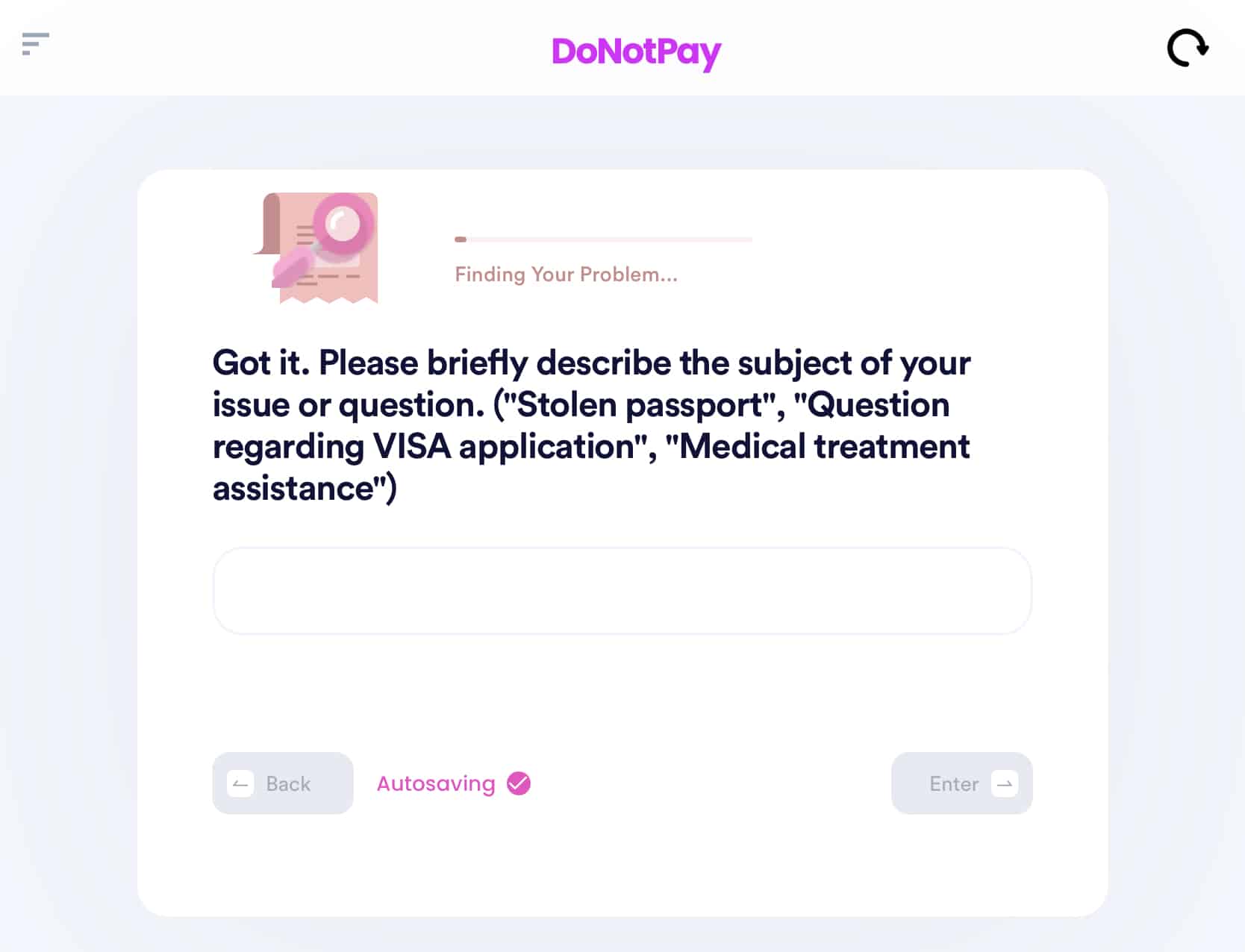 4. Enter "Russia"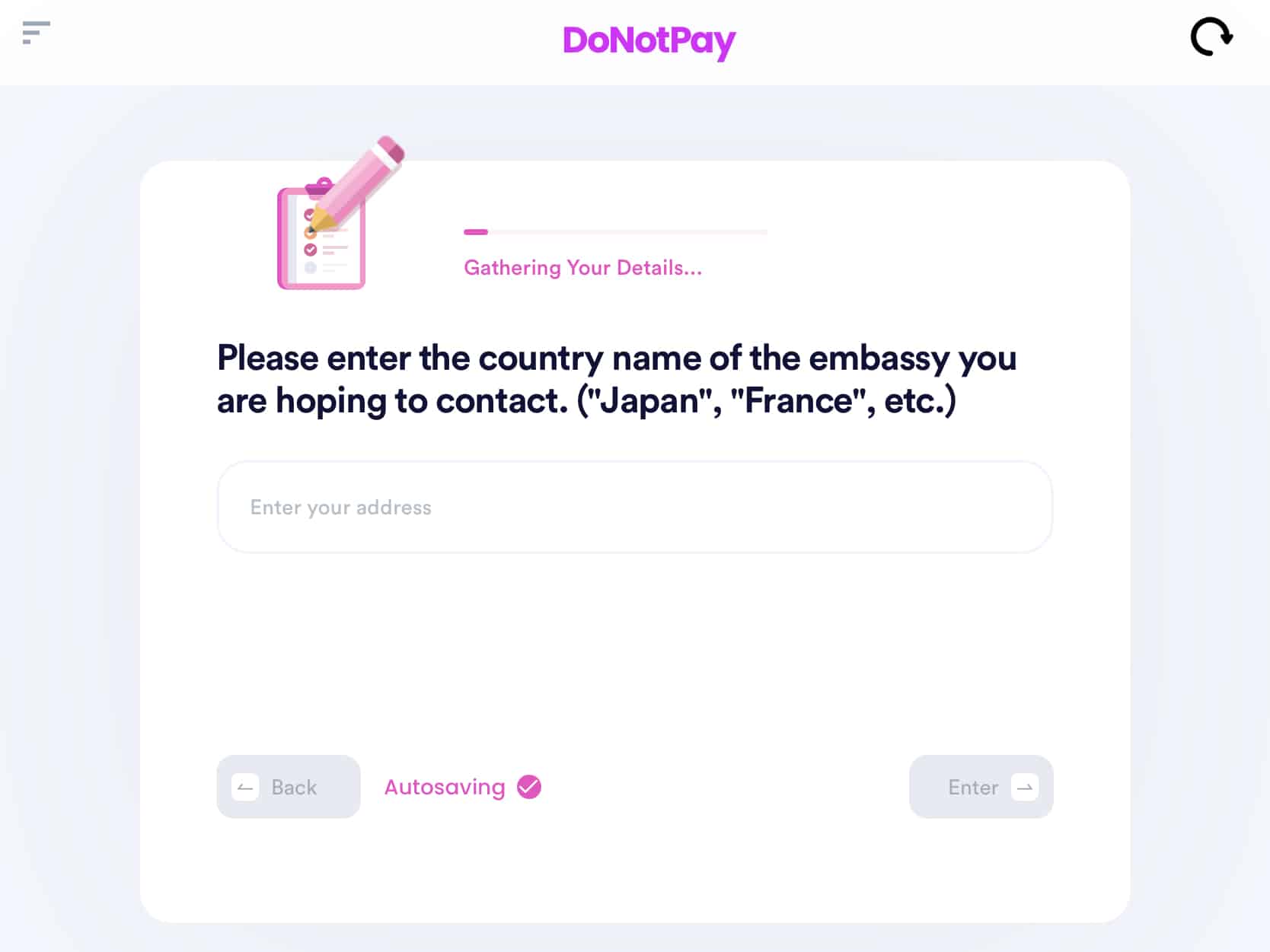 That's it! DoNotPay will generate a customized email specific to your issue, send the email to the right address, and direct the response to your email address!
What Other Embassies/Consulates DoNotPay Contacts For You?