What Should You Know About Your Royalty Agreement?
Royalty agreements are a type of legal documents that people use across many industries.
If you have no clue what you should pay attention to when reviewing the terms of a royalty agreement, this article will answer all of your questions!
Use DoNotPay's rich knowledge base to understand what kinds of legal documents exist and how to write contracts without the help of expensive lawyers!
What Are Royalties?
If you want to understand any royalty agreement, it's crucial that you familiarize yourself with the term "royalty" and all that it can refer to.
Royalties are essentially payments an individual or a company receives from licensing their creations to another party. The party that obtains the right to use the assets or original creations of the company or individual needs to compensate them in the form of a royalty payment. These creations are called intellectual property.
The party that receives royalty payments is the licensor, while the party that uses the assets or creations of the licensor is called the licensee.
Royalty payments are usually a stable and large source of income for those that license out their property to another party.
Examples of Royalties Across Different Industries
The practice of selling one's property is present in many industries. The most common example is the entertainment industry.
For example, musicians always sell the right to use their songs to third parties for their songs to be played in films, on radios, or on streaming services.
Here's a table that presents different types of royalty payments across industries:
| | |
| --- | --- |
| Industry | Royalties |
| Music | Performance royalties, such as songs and merchandise |
| Fashion and sport | Logos, names, and design |
| Publishing | Book royalties that authors receive every time their work is sold—creators can also receive a royalty payment from the renditions of their characters if they sell the rights to another party to use them  |
| Business | Franchise royalties that give the right to the licensee to open a branch under the name of the licensor   |
| Software | Patent royalties |
| Mining | Minerals |
A Simple Definition of a Royalty Agreement
A royalty agreement is a legally binding contract between two parties—the licensor and the licensee. Also called a licensing agreement, the contract lists all the terms of royalty payments, the most important being:
Who receives royalty payments and who pays them

What the royalty rate and payment amount are

What the intellectual property use period is

Which location the property will be used in
When the licensor sells the use of their intellectual property, they give the licensee the right to reproduce, market, and sell their product in return for royalty payments.
A solid and all-encompassing royalty agreement details all the ways in which creators—whether individuals or companies—agree that their intellectual property can be used by the licensee. It's crucial that both parties benefit from the agreement. The intellectual property owner gains:
Steady and large income that may increase further as their product gains popularity

A wide audience and market reach
The licensee mainly gains access to products they cannot use without the royalty agreement.
What To Include in Royalty Agreements
Including the names of the licensor and the licensee and the amount of royalty payment is only the starting point of drawing up a royalty agreement.
When entering into a licensing agreement, you need to:
Establish the property rate, which is usually a percentage of the net and gross sale of the products

Decide on the regularity of the royalty payment you will receive or pay

Determine whether royalty payments will increase if the product sells in larger quantities than initially anticipated
If you are the intellectual property owner, you also have to decide with the other party whether you can sell the use of your property to another party during the period your licensing agreement is in effect.
Can You Use a Royalty Agreement Template?
You can take a look at many examples of royalty agreements by downloading contract templates from the web. When it comes down to it, though, it's best to draw up your own agreement. Only then can you be sure that the contract you are signing includes all the sections you need.
When you sign up for a DoNotPay account, you can create all kinds of different legal documents from scratch. Our robot lawyer guides you through the making of your contract, and you only need to answer a few key questions about the document you want us to generate. In under a few minutes, you will have a fully personalized contract! 
How To Generate Documents With DoNotPay
Getting a tailor-made contract with the help of DoNotPay takes only three short steps. Here's what you should do:
Log in to your DoNotPay account

using any web browser

Search the document you need our app to generate

Answer a few questions from our chatbot to get a personalized document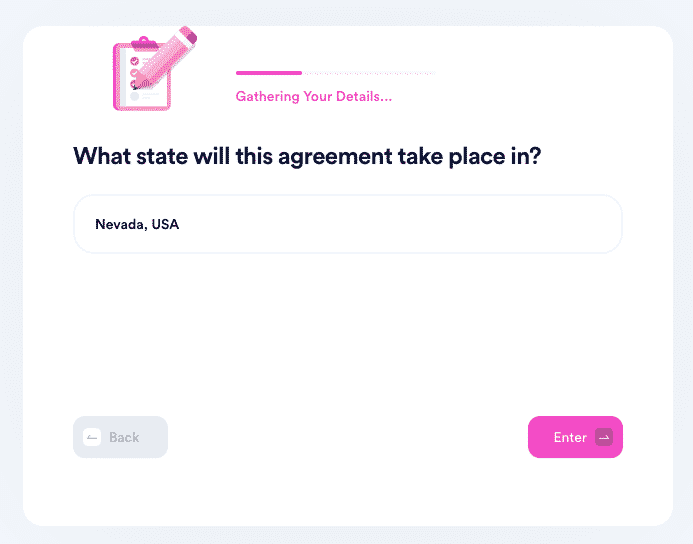 Our Legal Documents product is updated daily to include more contracts you need in your personal and professional life. Here are some of the legal documents DoNotPay generates most often:
Child care authorization form

Estoppel certificate

Intent to purchase real estate

Promissory note

General affidavit

Quitclaim deed

General business contract
Do Not Let Companies Burn Your Pocket—Fight Back With DoNotPay
In the golden age of consumerism, it's easy to fall for greedy corporations' tricks and waste your money, sometimes without even knowing it. We are here to nip the money-grabbing techniques in the bud!
With your DoNotPay account, you'll be able to sign up for free trials without worrying about losing money once the trial expires. Are you also concerned about your privacy since most free trials require credit card info? With DoNotPay's virtual credit card, your privacy will remain intact.
Say goodbye to drawn-out refund and cancellation processes with the virtual assistant extraordinaire by your side.
If you need help returning an item or claiming its insurance or warranty, we'll help you throughout the entire procedure.
Need Some Extra Money? Find Unclaimed Funds or Get Compensations
Whether you need help with bills, you're strapped for cash, or you just want to get your money back but you can't bear dealing with customer service, we know what to do!
DoNotPay can help you overturn your parking tickets, apply for a college fee waiver, lower your property taxes, and get free raffle tickets. We can also show you the best way to discover your unclaimed money and obtain different types of refunds and compensation involving airlines, gift cards, and late deliveries.