Get a Rosetta Stone Free Trial Securely With a Virtual Credit Card

Are you looking for a way to get a  without any risk? Rosetta Stone is the leading language learning software available and to get you started they do offer a free trial.
In this post, we are going to show you  by using the Virtual Credit Card products from DoNotPay. Even if you have never used one, DoNotPay is the fast and easy solution to get you informed and use a Virtual Credit Card for your Rosetta Stone free trial!
How to Get Your Rosetta Stone Free Trial
When you go to the Rosetta Stone website, you have to look around for a bit to see where the free trial offer is. There is a direct link at the bottom of the page that says, Try it for Free.
After giving your credit/debit card information, you will then have a 3-day free trial with very limited features.
What Features of Rosetta Stone are available on the Free Trial?
Your 3-day free trial is only going to serve one purpose. You will access for 3-days for a detailed demonstration of how the program works as well as several opportunities to get started with a full-price paid subscription to access all the features of Rosetta Stone.
What Different Subscription Packages are Offered by Rosetta Stone?
Currently, there are three different subscription packages available from Rosetta Stone. They are;
| | |
| --- | --- |
| 3-Month Plan | $11.99/month billed in 3-month increments of $35.97 every 3 months. |
| 12-Month Plan | $7.99/month billed annually at $95.88 every 12 months |
| Life Time Plan | |
Just below the plan offers is a 30-day money-back guarantee.
What Happens if I forget to Cancel My Subscription?
If you forget to cancel your subscription before your 3-day free trial period, be ready for a hefty charge on your credit/debit card.
After the 3-day free trial, your credit/debit card will automatically be billed for the 12-month subscription price of $95.88! According to the FAQs page on the Rosetta Stone website, you can cancel your subscription any time during the first 30 days for a full refund.
What Alternatives are Available Other Than Rosetta Stone?
Language learning software companies have become very popular in recent years. While Rosetta Stone seems to be the front-runner, there are alternatives.
Here are the most common alternatives to Rosetta Stone;
Babbel

1 Month-   $12.95/month
3 Months- $8.95/month
6 Months- $7.45/month
12 Months-$6.95/month

Duolingo
Rosetta Stone, Babbel, and Duolingo are the 'go-to' for learning any language.
All other language learning websites are for specific languages like Russian, German, Spanish, and more.
Use DoNotPay Virtual Credit Cards for Risk-Free Rosetta Stone Free Trials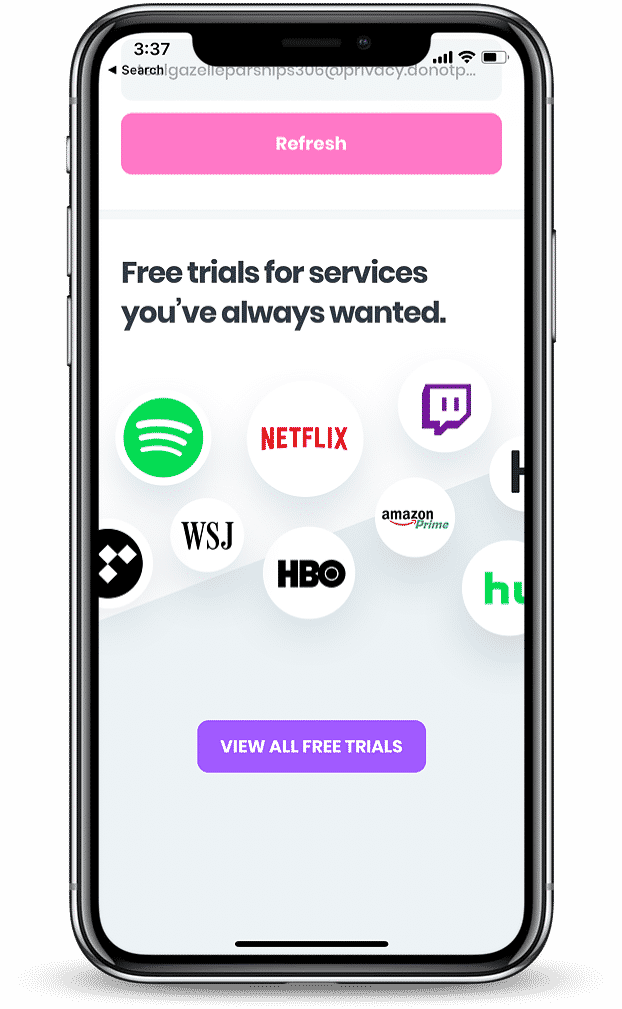 Don't run the risk of your credit/debit card being charged full price for a one-year subscription because you forgot to cancel after your free trial of Rosetta Stone!
The Virtual Credit Card (VCC) available from DoNotPay is designed to be a one-use, automatically generated card number that gets Rosetta Stone free trials unlocked for you!
Here's how;
DoNotPay will generate a random credit card number in your name
When the free trial is over you will automatically be unsubscribed because there is no money tied to that card!
You can use the VCC to subscribe for any service offering a free trial period!
Never be charged for a subscription because you forget to cancel ever again by relying on the Virtual Credit Card product available from DoNotPay! Never miss another free trial because you are worried you will forget to cancel during the trial offer period!
Just think of all the free trial offers you can now unlock for you and your family by using free Virtual Credit Cards from DoNotPay!
What Else Can DoNotPay Do?

DoNotPay is a way to level the playing field and get you a fast and easy free trial of Rosetta Stone. The DoNotPay platform is your information hub for all of life's little nuances and your Rosetta Stone free trial is a small fish in the deep DoNotPay waters!
You can open DoNotPay and get help with almost anything! Including: 
Why not get your Virtual Credit Card from DoNotPay and take advantage of the Rosetta Stone free trial today!