A Guide to Understanding Root Insurance Claims
Root Insurance is a renowned car insurance company from Ohio. It's the first U.S. company that successfully implemented smartphone technology in its business methods.
The goal of this article is to teach you how to claim insurance with this company without stress by using DoNotPay—your new virtual assistant.
What Is Insurance, and How Does It Differ From a Warranty?
The main difference between car warranties and insurance is the type of damage they cover. A car warranty protects your vehicle from defects due to a manufacturer or material mistake.
The insurance company usually pays a certain amount to a customer to compensate for the damage that wasn't the manufacturer's fault. Such situations include collisions, traffic accidents, natural disasters, etc.
An insurance claim is an official reimbursement request you submit after suffering an accident with your car. The compensation usually comes in the form of cash or replacement cost value settlement.
What Types of Insurance Coverage Does Root Offer?
Root covers all insurance requirements proposed by the state the customer lives in. Here's what their insurance policy consists of:
Liability coverage

—serves for paying the damage on another vehicle or other party's medical costs when the accident is your fault. It doesn't cover your vehicle or your medical expenses

Car coverage

—serves for paying the damage on your vehicle when the accident is your fault. It includes hit-and-run accidents and crashes with drivers who don't have a car insurance policy

Comprehensive coverage

—helps you pay for damage due to any other factor other than a traffic accident. It's useful in case of fires, floods, thefts, storms, or extreme weather conditions

Roadside assistance

—solves the issues that can take you off the road—when your car experiences a breakdown and needs a tow truck, for example

Medical coverage

—includes personal injury protection (PIP) in accidents for you and your family regardless of whose fault it was. You can use it for your medical bills
The company's services are currently available in 30 U.S. states, and the details and pricing depend on your location.
Raise a Root Insurance Claim Before You Know It With DoNotPay
According to the reviews from Better Business Bureau (BBB), the company's customer service reps give misleading information at times. The common issues include payment delays, failed cancellations, and numerous additional costs hiding in the fine print.
If you want to avoid exhausting claiming procedures and endless talks with reps, give DoNotPay a go! Our service lets you file any insurance claim without contacting the provider directly, including unemployment or third-party insurance claims.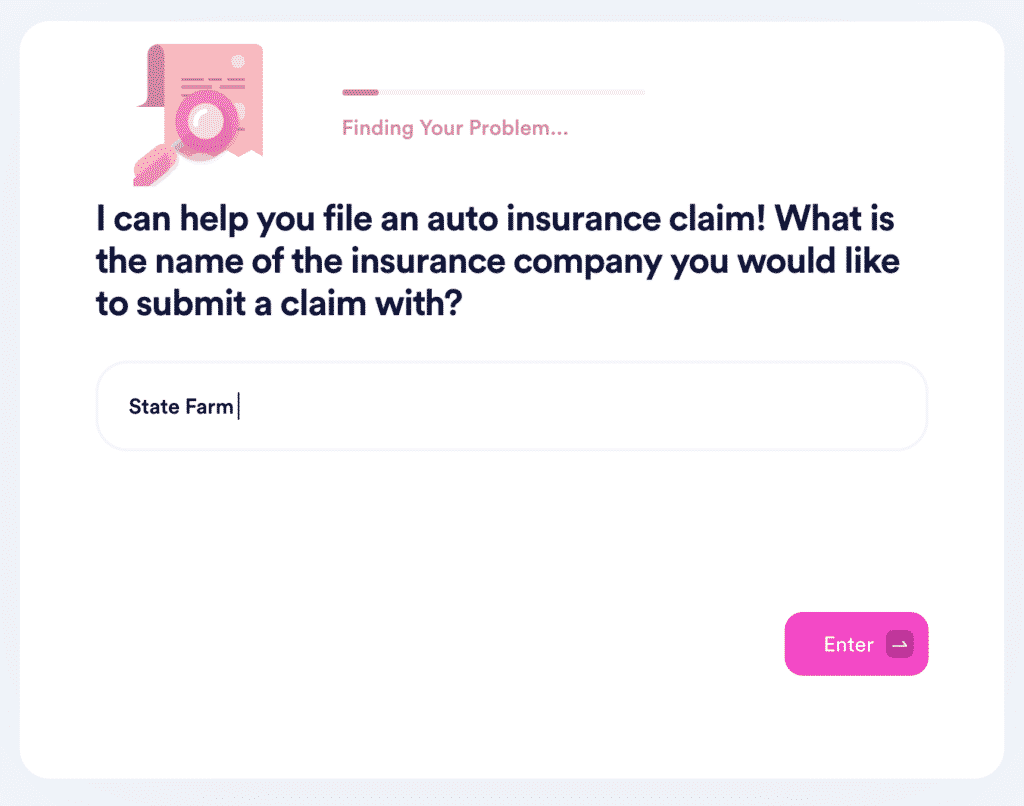 Check out the steps below to learn how to use our service:
Access DoNotPay from your

Search for the particular insurance type

Provide us with your insurance policy number and your contact details

Explain the issue

Submit your claim
Our app will create an insurance claim letter based on the information you disclosed and send it to Root. If the reps have any further questions, they will call you or send you an email to discuss the case.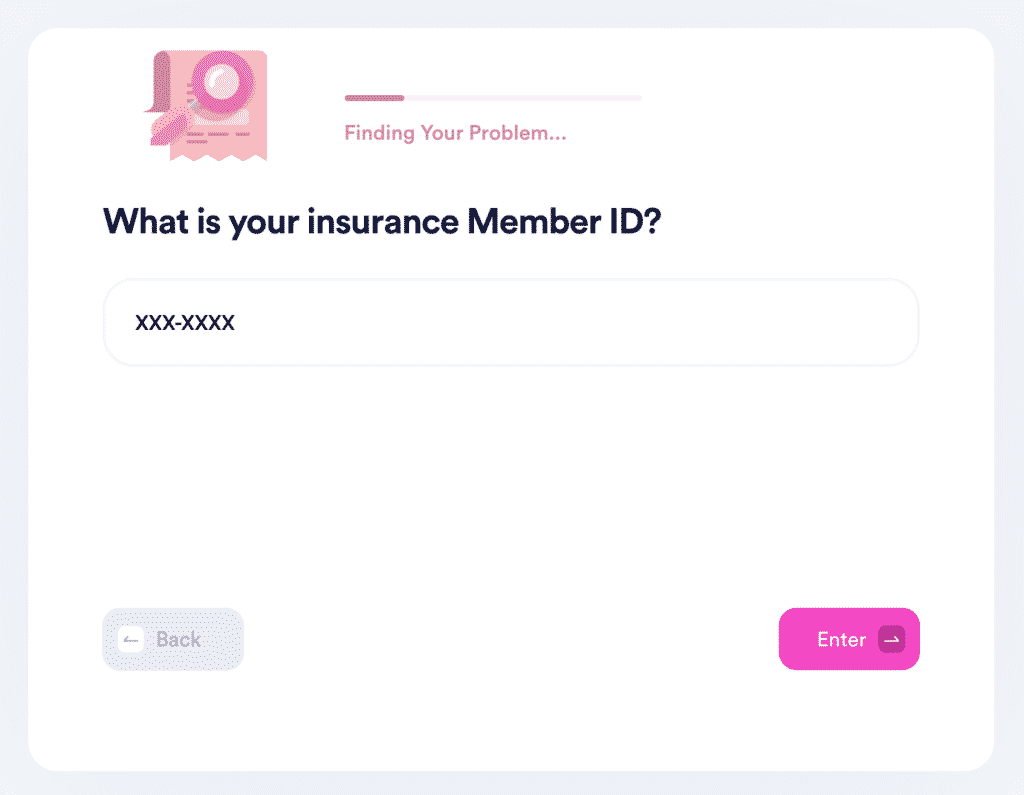 Is There Any Way To Raise a Root Insurance Claim by Yourself?
If you want to give more complicated claiming procedures a shot, you can opt for:
Filing your insurance claim online by using an app

Calling Root customer service

Emailing Root customer service
Filing Your Insurance Claim by Using an App
Root is famous for providing insurance only to good drivers. All customers need to use the special driving evaluation app since that's how the company checks their skills. The main purpose of the app is to help Root choose the right clients, but you can use it for claiming insurance as well.
If you prefer to solve the insurance matters online, follow these steps:
Open the app

Provide the necessary information regarding the accident

Disclose your contact details and your insurance policy number

Take photos of the damage—if applicable—and attach them to your claim

Submit the claim
You will get a call from the company's representatives, who should assess the damage and the reimbursement amount.
Calling Root Customer Service
To raise an insurance claim with Root over the phone, you should dial (866) 980-9431 and let the representative know what happened. They may need additional details, such as your first name, last name, insurance info, or contact details. The rest of the procedure is the same as in online claim submissions.
Emailing Root Customer Service
You can email the company if the phone lines are engaged or you have internet connection problems. In such cases, getting a reply may take longer than usual, like with any other written correspondence.
Here's how you can file a claim in written form:
Compose a message describing the issue or accident you have experienced

Attach photos of the damage

Send the email to

claims@joinroot.com
| | |
| --- | --- |
| Can You Claim Your Insurance Via | Yes/No |
| DoNotPay | Yes |
| Email | Yes |
| Phone | Yes |
| Letter | No |
| In Person | No |
| App | Yes |
No Success With Your Claim? Get a Second Chance by Using DoNotPay
DoNotPay can help you appeal any insurance claim that got denied in less than five minutes! You provide us with the necessary information—we create an insurance appeal letter and submit it to the provider in your name.
Here's how our service helps you claim Root insurance:
Open DoNotPay in any

Enter the insurance type in the search box

Select

Appeal a Denied Claim

Follow the steps to finalize the claim submission
Keep Your Money in Check With DoNotPay
How often do you sign up for a free trial and then forget to cancel it before it expires? Unexpected charges are the worst, but you can prevent them if you use our free trial card. DoNotPay's virtual credit card is not connected to your bank account, which means that no money can be taken from it.
We can also help you get refunds for unsatisfactory purchases or compensation from airlines for delayed or canceled flights.
In case you are struggling with warranty claims, bill payments, insurance, or tax reduction, DoNotPay can solve these issues as well. Our app also has the largest database of unclaimed assets in the United States, so you can find and claim your lost funds quickly.
DoNotPay Offers a Variety of Services
DoNotPay is the ultimate virtual assistant that takes over all those annoying tasks you don't want to deal with!
Need to schedule your DMV appointment? Want to get your college fees waived? Have to draft a legal doc quickly?
We can do all that and much more!
Our app waits on the phone line with customer service of any company for you, reports robocalls, and helps you file lawsuits in small claims court.
We can also help you deal with your parking tickets, get rid of spam emails and texts, or find and sign up for reputable clinical trials!