How to Draft a Roommate Eviction Notice
Most of the time it's the landlord that gives a person one of these notices, but it isn't always the case. Sometimes a tenant has to send a  for doing something that goes against the unit's lease.
When will a tenant need to perform this duty, and under what conditions does it need to be done?
When Will a Roommate Eviction Notice Be Needed?
It's not uncommon for roommates to rent out an apartment or home together. Sometimes both people become co-tenants on a lease, and sometimes a person is the master tenant, renting out some of the space to another person, with permission from the landlord. In either situation, it's possible that there will be a time when a roommate needs to be evicted.
Some of the conditions that could result in a  include:
Failure to pay their portion of the rent
Failure to pay their portion of the utility bills
Threatening the safety of others
Damaging the property
Performing illegal activities on the premises
Brought in a pet that's against the rules
While you would think the landlord would be responsible for evicting a person from home, there are some situations where you can have them removed yourself. However, you still have to follow your state's laws when it comes to eviction. 
What Do You Need to Do to Evict a Roommate?
While each state is different where this is concerned, generally, the first step is to give them an eviction notice. This will lay out all the items of the lease that they have violated. If the roommate doesn't make amends for the things you requested in the notice, the next step is to file an eviction case with your local court system.
A hearing will be set up for you and your roommate to appear. In the meantime, you will need to pull together all the evidence you can get of the items they're accused of. This would include things like:
The lease of the property, highlighting the areas the person violated
Pictures of damage done to the property
Proof a pet lives on the property, which is against the rules
Documents showing their failure to pay the rent or the utilities
Be sure to show up to the court hearing with all your documents. If you don't, you'll likely lose the case. Be professional, answer questions, and present evidence in a calm manner. If the roommate tries to goad you into an argument, don't give in. A judge will hear both sides, evaluate evidence, and give a decision.
What Happens if the Judge Rules the Roommate Be Evicted?
If the judge decides against you, the roommate will then be allowed to continue living on the property. But, if you've presented a good case and the judge rules against the roommate, they will be given a certain amount of time to leave the premises. How much time that will be will depend on the state's eviction laws. It could be anywhere from 3-30 days and sometimes more.
If you feel your safety is at risk, you might need to stay somewhere else until they leave.
If, however, the person hasn't left by the date they were given, more actions will need to be taken. In some states, you can have the local authorities physically remove the person for you.
You can't lock your roommate out of the apartment until they have left the premises and handed over the keys.
You might need to inform the landlord in case something happens when they need to step in, like damaging the property or replacing the locks on the door.

 

You have to be careful during that time.
Keep valuables and important items out of the apartment or hidden, in case they seek revenge by destroying your stuff.
What Should a Roommate Eviction Notice Contain?
To begin the process of resolving issues your roommate has committed, it's important to create an eviction notice that will contain everything necessary for a successful resolution. For example, you would list out all the things they have done,  like breaking noise ordinances, failure to pay rent, etc.
List out specific time-frames where they must resolve a situation and give them a reasonable amount of time to do it. Say they owe $700 in rent and utility fees. Give them enough time to arrange whatever is necessary to come up with that amount, so you can offer 30-45 days, depending on your state's laws and how long you feel they will need. Clearly state what will happen if they haven't taken care of what they need to in that time frame. In this case, it would be an appearance in court for eviction proceedings.
While it sounds straightforward, it's actually a little difficult to do. The notice needs to contain all pertinent information, and it also needs to have a neutral tone. You can't let your emotions guide you when typing up a letter like this. If you get to an eviction hearing, the judge won't be impressed with statements like, "The jerk didn't pay…."  That's hard to do when the roommate has gotten on your nerves.
How DoNotPay can Help the Situation With Your Roommate
If your roommate has caused enough trouble, and you want to start eviction proceedings by doing everything by the book, our tool will get you the results you need. We can help by writing the letter in a professional tone, using the information you provide us with. If all else fails, we can also help with small claims court if things get that far.
To use our tool, simply:
1. Search for and open the Landlord Protection product on DoNotPay.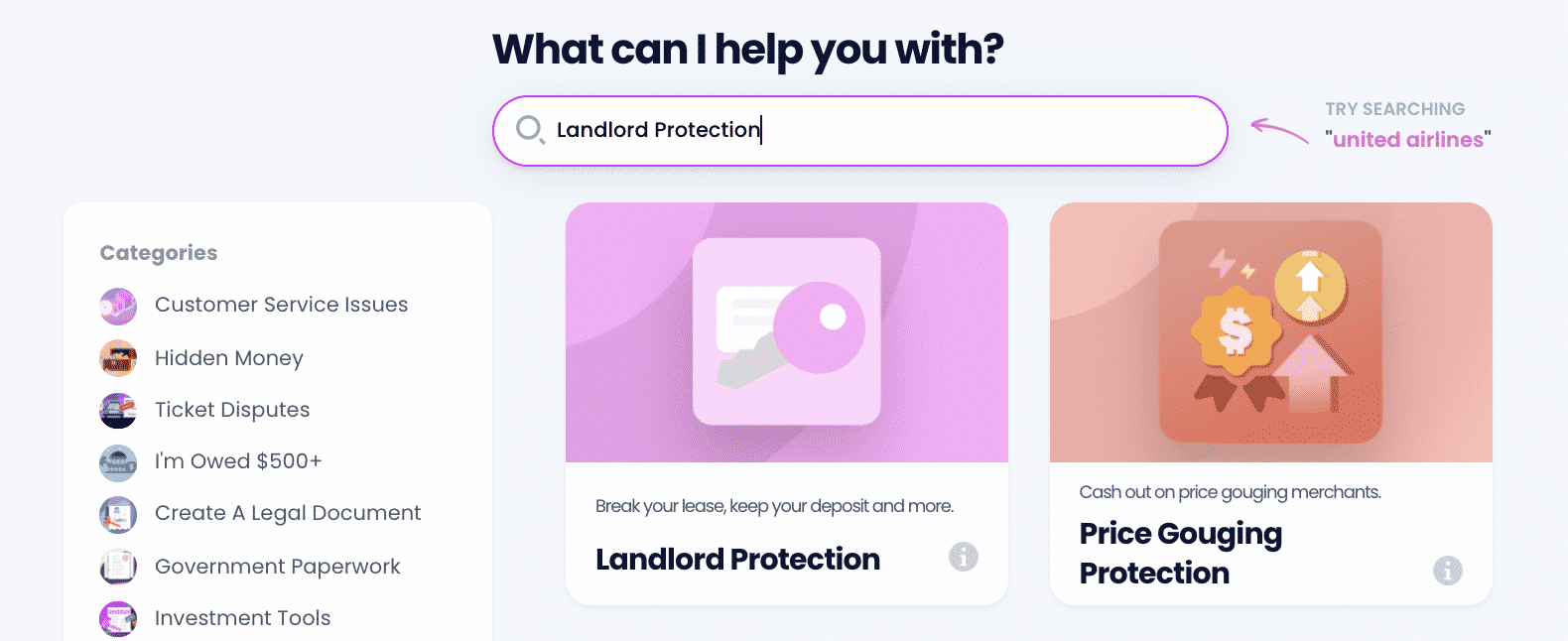 2. Select which issue applies to you.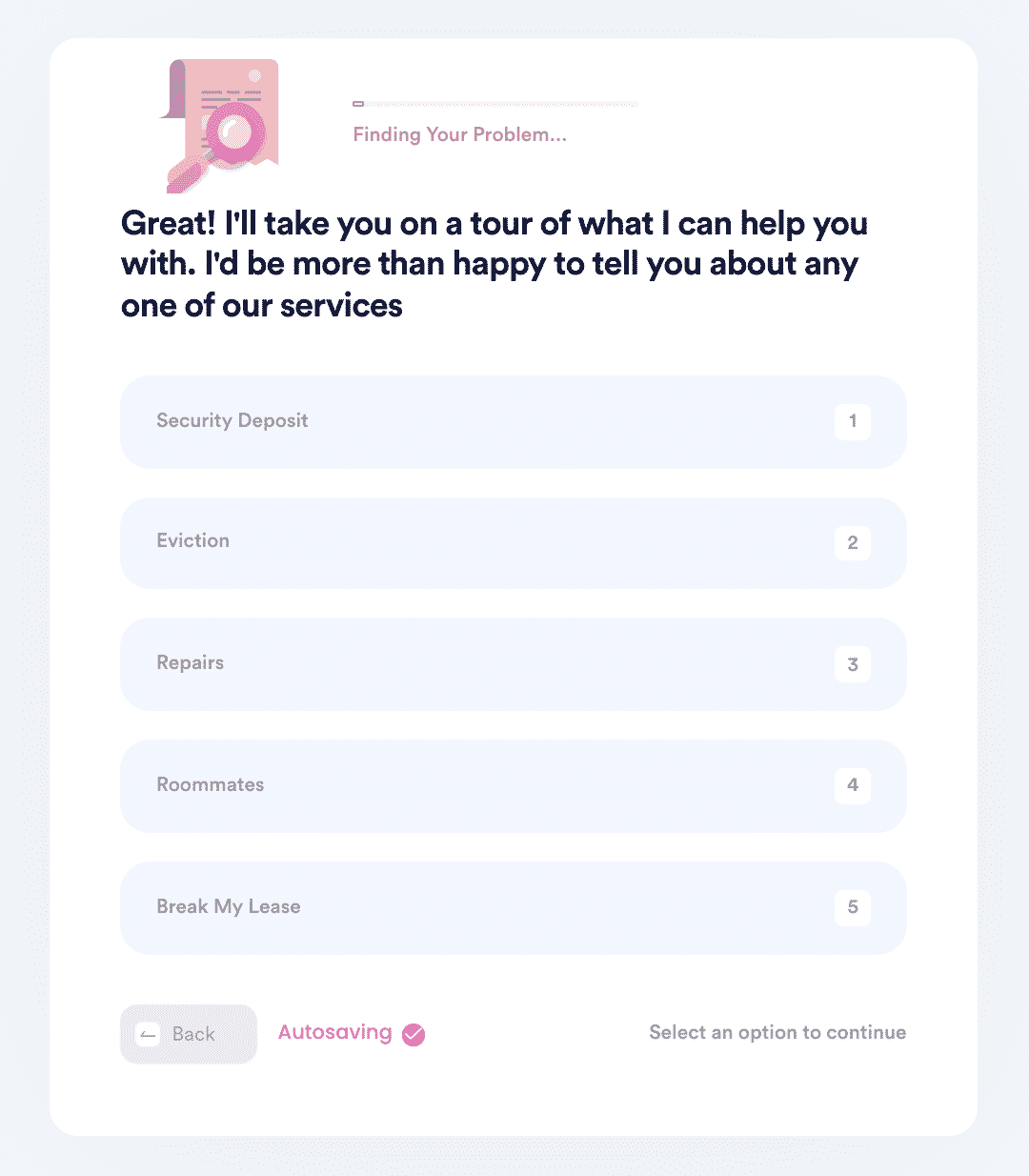 3. Answer a simple set of questions so our chatbot can collect the necessary information to create your demand letter.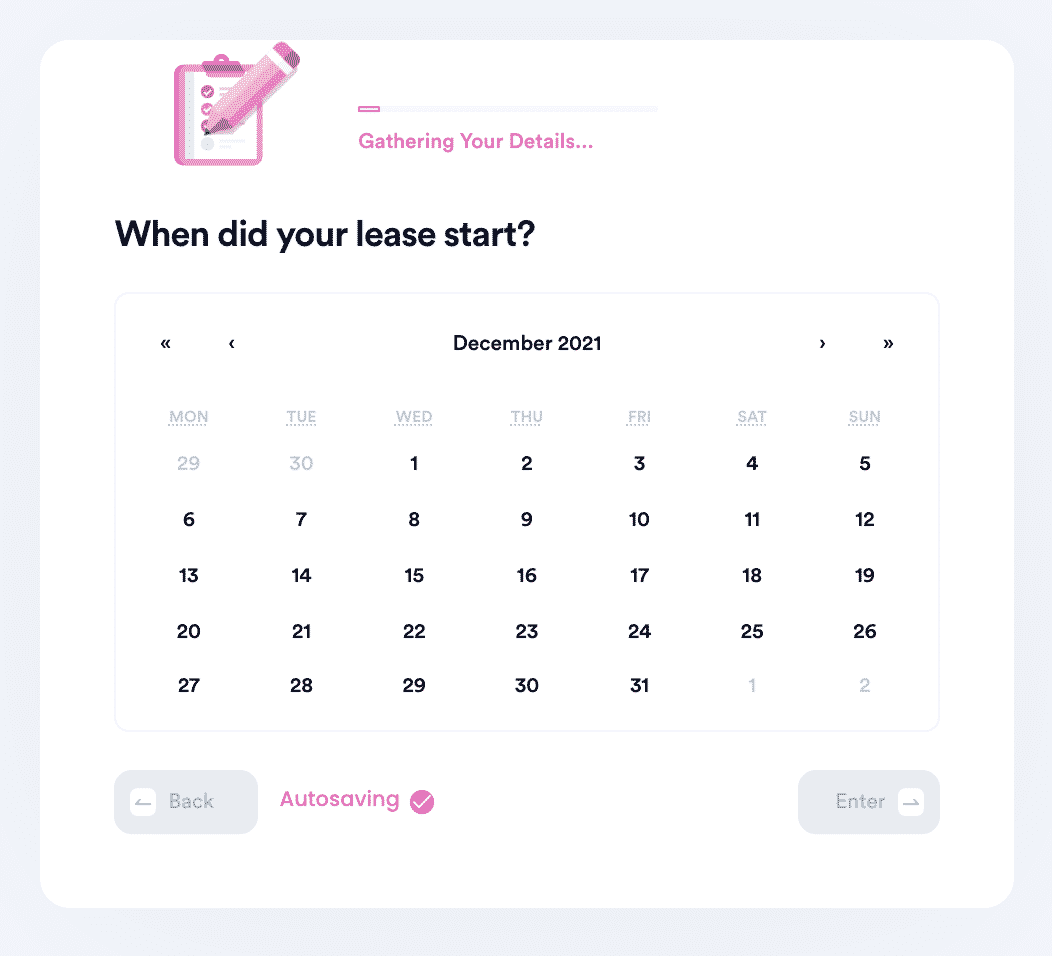 4. Choose whether you want DoNotPay to send the demand letter to your landlord or roommate on your behalf. If you already tried sending a demand letter and it didn't work, we can help you start the small claims court process.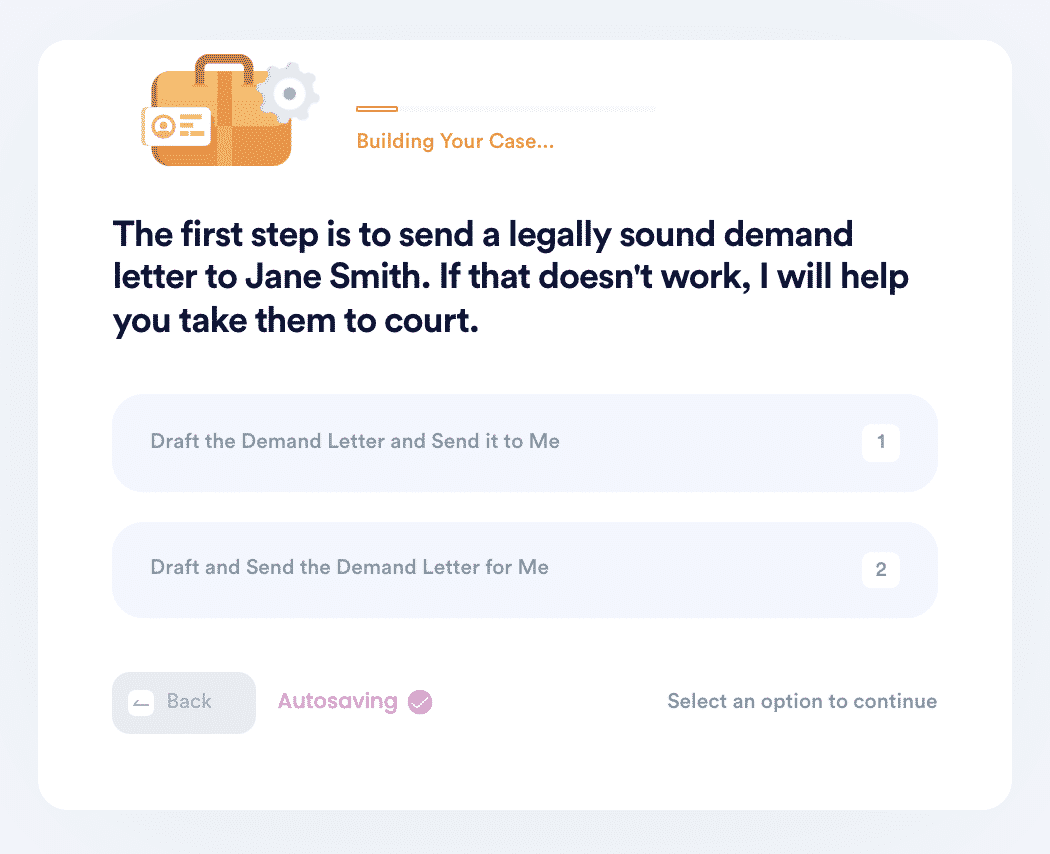 That's all you have to do for DoNotPay to get started.
What Else Can DoNotPay Help With?
DoNotPay can help with all your landlord issues as well as a ton of other problems. When it comes to your rights in a rental property, we can:
No matter what problems you're having, we can help. has plenty of experience when it comes to your rights, so try out our tool and see what all we can do to help your situation!