The Benefits of a Roommate Agreement
Whether you share your dorm room, house, or apartment, having a roommate agreement can be a lifesaver! You don't want to lose your best friend, who happens to be your roommate, over some unfortunate misunderstanding. Drafting a roommate agreement can help you avoid potential misunderstandings. 
If you are not into legal intricacies and shy away from making a legal document or contract, fear not because we are here to help you! Keep on reading and find out everything there is about roommate agreements.
What Is a Roommate Agreement?
A roommate agreement is a contract signed by the tenants of a shared rental unit. It regulates the most important aspects of living together, such as how you split the bills, use the common areas, share items, and many other issues. It also goes by the name of:
Roommate Contract

Housemate Agreement

Roommate Living Agreement

Contract Between Roommates
Every roommate agreement is different, depending on the terms you want to specify and define. There are several elements you should always include in your roommate agreement:
Names of the tenants

The property address

The amount each tenant pays

The date the lease starts and stops

Who will pay the utility bills

Which bedroom each tenant occupies

Who will give the security deposit

(

a sum of money the tenants pay to the landlord to guarantee that they will fulfill the obligations under the lease agreement)

Parking policy

Pet policy

Quiet hours

Substance policy

Overnight guests rules

Party rules

What happens if a tenant leaves the place earlier than stated in the agreement

When should a roommate move out

How to resolve disputes

Signatures of all the tenants
Informal agreements between roommates are frequent, but people easily forget or misinterpret the rules, so making a written agreement makes sense. The point is to anticipate potential issues and prepare for them should they appear.
How Is a Roommate Agreement Different From a Lease Agreement?
These two agreements are often confused. Even though they may overlap to some extent, roommate agreements are different from lease agreements. 
A lease agreement is a legal contract between the landlord and one or more tenants living in the rental unit. It regulates the terms of renting the property. A roommate agreement is a contract between the tenants themselves. The landlord is not involved in a roommate agreement. Roommate agreements are used to manage the everyday duties and responsibilities of the tenants.
The tenants can sign both a lease agreement and a roommate agreement. Anyone named on a property's lease is equally responsible for paying the rent.
Are Roommate Agreements Legally Binding?
The answer to this question is both yes and no. Some parts of a roommate agreement are legally binding, for example, financial arrangements. If your roommate is not paying the bills or the rent, and you do have a roommate agreement, you can easily take legal action and get your justice.
Other aspects of a roommate agreement, such as household duties, taking the trash out, or washing the dishes, cannot be subject to lawsuits. You may define those duties in your roommate agreement for practical purposes.
The best way to resolve the dispute between you and your roommate is through dialogue. If you are planning on going to court, think about the expenses associated with it and whether you can win the case or not. No judge will waste his time deciding who was supposed to clean the kitchen or take out the garbage!
What Happens if a Roommate Moves Out?
All tenants who signed a lease agreement are responsible for paying the rent. If one roommate leaves, you and the other remaining parties should cover the remaining part of the rent. The amount you agreed on in the lease refers to the entire rental unit and is usually not dependent on the number of occupants.
What you can do is ask the landlord to approve a sublease. A sublease means you can try to find another person to live with you and share the rent and include that person in the original lease agreement. If everything goes well, and you find a new roommate, it might be a good idea to make a new roommate agreement.
What Can DoNotPay Do?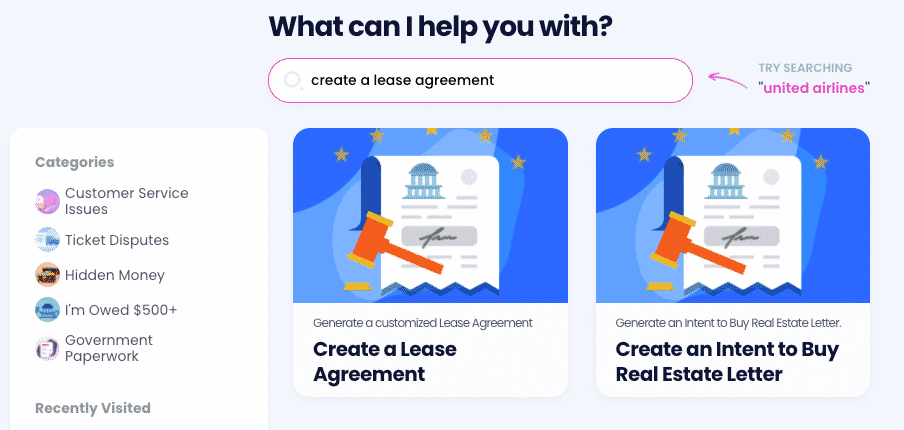 Making agreements and drafting contracts is not something everyone looks forward to. If you dread it too, we've got some encouraging news! DoNotPay is an AI-powered robot lawyer proficient in drawing up legal documents in the blink of an eye. Your part of the job is to:
Open DoNotPay in a web

browser

Input the name of the document that you want to draft

Answer the chatbot's questions 

DoNotPay will generate the document for you instantly
The document needs to be signed or notarized to become official.
We are working 24/7 to ensure there are more legal documents available for you in a few clicks. At the moment, DoNotPay offers the following documents:
Business 
Real Estate
Other usages

Quitclaim deed

Intent to purchase real estate

Estoppel certificate

Promissory note

General affidavit
Explore the Full Range of DoNotPay's Services
Don't let annoying bureaucracy stop you from exercising your rights or finding new opportunities. DoNotPay—the world's first robot lawyer—comes with a diverse portfolio full of practical shortcuts for:
Struggling with finances? Our app will help you manage unpaid bills, find and claim lost money in any state, or get college application fee waivers. 
Minimize Paperwork With DoNotPay
Writing letters, filing claims, sending requests—these chores are nobody's idea of fun. Thanks to DoNotPay, you can bypass these menial tasks with a few clicks in your browser. 
Our platform is full of useful tips and features for filing insurance and warranty claims, dealing with parking tickets, getting refunds and chargebacks, or writing harassment cease-and-desist letters. 
DMV offices don't have to be the place where hope goes to die. With DoNotPay, you will be able to schedule any DMV appointment without the nightmare of waiting in lines. While you're at it, you can check out our guides and practice tests for the best driving exam preparation!