Little Known Tips To Simplify Making a Roommate Agreement for Dorm Rooms
The college experience should be one of the best and most fun experiences of your life! Meeting new friends, visiting campuses, and learning about what you love is a dream come true for many.
What happens when a tedious task, like drafting contracts, gets in the way of your perfect college plans? DoNotPay jumps in to help with simplified instructions for drawing up a roommate dorm agreement!
By letting us help you create a dorm roommate agreement, you will ensure that no misunderstandings among roommates occur, and you can get back to enjoying your college life!
Why Is the
Roommate Agreement for Dorms
Worth Your Attention?
You arrive at your college, and it's time to settle in, but you soon find out that you have to share your dorm room with a roommate. You had already met a friend that you would like to live with, so you're happy about it. But what happens when you can't choose the person you want to share your room with?
Your roommate is often already assigned to you, so you aren't in a position to pick and choose which one you want. In such cases, clear communication and ground rules are the key. That's where the dorm roommate agreement swoops in.
By having this agreement, you won't have to worry about any rules and obligations concerning you or your roommate. You will have a clear understanding of every responsibility you two should carry. The agreement is the best way to avoid any issues. Even if an issue arises, the agreement is the easiest way to resolve the problem if you write it the right way. We help you with valuable and valid info, so don't shy away from using our article as a guide to your perfect dorm roommate agreement!
Save Time by Writing Your
Roommate Agreement for Dorms
in Four Quick Steps
There is no need for you to waste time and overthink your dorm roommate agreement. By following the four steps we provide below, you will have your agreement ready in the blink of an eye! Here's what to include:
Names and room location

Terms

Additional concerns

Signatures
Names and Room Location
At the beginning of your agreement, state your and your roommate's names. If you have more than one roommate, don't forget to include any of their names. Follow it up by specifying the room's location, including the details such as:
State and town

School

Room number
Terms
When it comes to the terms, you can include anything that you think is relevant and that your roommates agree with. One of the most important terms is study time. Make sure to reach an agreement on when the best study time is, and that will be when roommates make minimum noise.
Mention anything else you find relevant, including the terms related to:
Sleep time

Personal belongings

Cleaning duties

Shared costs
Additional Concerns
The terms we listed above are the most common ones when it comes to dorm roommate agreements, but if you or your roommate think of anything else that you would like to address, don't hesitate to include it in the agreement. Discuss any additional concerns you have and use this section to address them.
Signatures
Once you cover all of the terms your agreement should have, you have to solidify it with signatures. Sign the agreement and get your roommate to do the same. If there is more than one roommate, make sure all of them provide signatures.
DoNotPay Drafts Contracts So You Don't Have To!
There is no reason why you should burden yourself with such legal formalities as drafting contracts—we'll do it for you! Making a lease agreement or an income share agreement with could also be of use to college students.
You no longer have to waste time on research because DoNotPay has developed a product that will draw up your legal documents and contracts for you! We made the process as simple as it can be.
Draft your agreements from the comfort of your home in a few quick steps! Here's how:
from your web browser

Enter the

name of the document

that you want us to generate

Give us additional information about the agreement you're making
That is all! We draw up your agreement, and the last step is for the parties involved to sign and notarize it.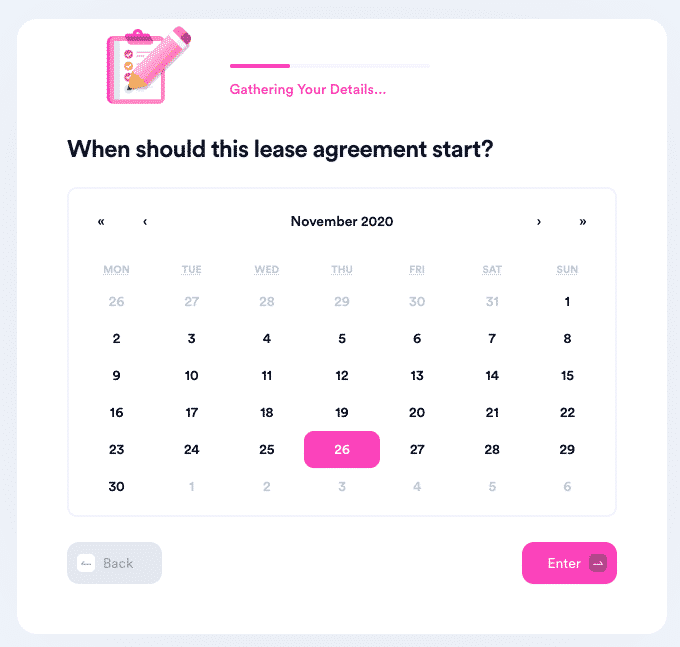 What Documents Can I Create Using DoNotPay?
If you are curious about what contracts we can draft in your stead, check the table below for all the info:
Business
Real Estate
Other

General Business Contract

Estoppel Certificate

Quitclaim Deed

Intent To Purchase Real Estate

General Affidavit

Promissory Note
DoNotPay Helps You Claim Your Money
Our virtual assistant app makes sure you get back funds that are rightfully yours.
Whether you need to claim insurance, warranties, or your property held by the state, we will help you do it in minutes.
DoNotPay can also help you initiate a chargeback on any transaction you disagree with. We can help you secure compensation from airlines, robocall and text scammers, or in case you've been a victim of a crime.
In case you are dealing with an unfair company regarding your subscription cancellation or any other matter, we can help you get your money back by suing them in small claims court.
Bypass the Administration With DoNotPay
There's no more need for extensive research, abundant paperwork, or endless phone calls with customer service reps.
DoNotPay brings the administrative nonsense to a minimum.
Book DMV appointments fast and easy, appeal your parking citations, sign up for free trials without disclosing your credit card info or phone number, or reach your loved ones in jail—all in less than five minutes.
We also generate any legal document, provide full access to public records, offer DMCA protection, and reduce your property taxes with a few clicks.