Draw Up a Room Rental Agreement the Easy Way!
Signing a room rental agreement is an important step towards ensuring that both parties know their obligations and responsibilities. If you want to create a room rental agreement but aren't sure how to make one, we will walk you through the process and show you how to make one trouble-free! You can lean on DoNotPay for instructions and step-by-step guides on creating various legal documents!
Understanding the Basic Room Rental Agreement
A room rental agreement is signed between an owner of the room and a tenant that the owner subleases or rents their room to. Having a room rental agreement can be beneficial in many ways and for both parties. It outlines and imposes duties that should be followed and respected. It also imposes house rules, chores, and more.
Is the Room Leasing Agreement Legally Binding?
The room rental agreement is legally binding. It obligates tenants or roommates to pay rent and bills. If one tenant decides not to oblige, the other can sue. As long as tenants are listed in the lease agreement, they are bound to it and have to honor it.
Should You Use a Free Room Rental Agreement Template?
Creating a room rental agreement can be a bit tricky and tiring. We will happily take some burden off your back by providing you with all the crucial items you should include in your agreement. Instead of searching for unreliable room rental agreement templates online, check out the table below for all relevant info:
Item
What To Include

The Names of all the Tenants

State the name of every tenant in your agreement to ensure that you will be legally allowed to take rental fees from each in case one leaves early or is unable to pay

Limitations of the Tenancy

Indicating that only the tenants who are renting the room are allowed to stay there will help you evict anyone staying without permission. Only the tenants whose names are on the lease should be allowed on your property

Terms of the Occupancy

Both parties should agree on the terms of tenancy and how long the agreement would last. Decide if you want a fixed-term rental or a simple rental agreement, and make sure both parties agree and accept the terms

Rental Fees

It is important to include details regarding rent, such as:

How much the rent will cost

When should the rent be paid

Which payment methods the tenants should use

Tenants should know this info before they sign the agreement to avoid any misunderstandings later on

Security Deposits and Other Fees

You should specify how much the security deposit will be, how it will be used, and when it will be returned. This will help avoid legal issues once the tenancy ends

The Arrangement on Maintenance and Repairs

Elaborate on the tenant's responsibility regarding the maintenance of the room. State that the tenant is obliged to keep the room in clean condition and reach out to the owner if any damage or issue arises

Owner's Entry to the Property

Landlords will have to make an occasional inspection, but to avoid any inconvenience, make sure to state the terms of the landlord's entry to the property/room

Restrictions on Illegal Actions Made by the Tenants

Clearly stating the restrictions about the property is crucial. Owners don't want tenants to get them in any legal trouble or issues with the law, so the section explaining any and all restrictions on illegal actions is a must

Rules on Pets

Decide whether you want to allow the tenants to have pets on your property or not. If you allow it, make sure to specify which pets and any other relevant information

Other Limitations

To make sure you don't overlook anything important, consult a legal advisor and ask about the health and safety policies, as well as any other important laws and regulations that may concern you
Wondering How To Create Legal Documents Stress-Free? DoNotPay Provides the Answer!
DoNotPay boasts a feature that makes creating contracts and legal documents a smooth-sailing experience! You don't have to waste hundreds of dollars on lawyers or overwhelm yourself with unclear instructions and information found online. Follow our easy three-step guide and create your contract in a flash! A room rental agreement falls under the Residential Lease Agreement category. To create it, open DoNotPay in your web browser:
Type in

Residential Lease Agreement

Provide the necessary information

Download the document
Note that the created document has to be signed or notarized by all parties.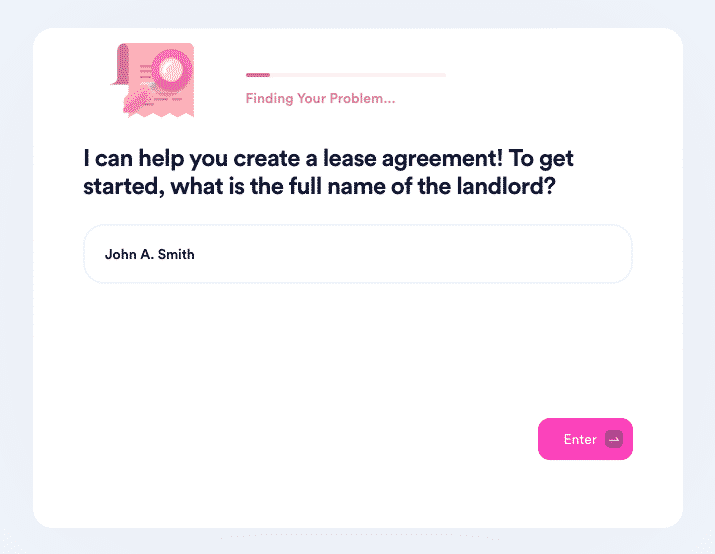 If you need help with any of the following legal documents, DoNotPay will jump in and draft a:
Estoppel Certificate

General Business Contract

Quitclaim Deed

Intent to Purchase Real Estate

General Affidavit

Promissory Note
Get Back at Greedy Corporations With DoNotPay
How many times have you tried reaching out to an airline regarding your canceled flight? Did you ever spend hours trying to contact customer service reps only to be refused your refund request?
Big companies tend to make certain processes complicated for their customer in hopes they would give up on pursuing their goals.
This is why your warranty claims often get denied the first time or why canceling a gym membership can be an administrative hell.
Our AI-powered app is here to help you sort these problems out. 
Whether you're trying to file an insurance claim, schedule your driving test, start a free trial without disclosing your payment info or a phone number, or get access to public records, we've got you covered. 
DoNotPay Is the Virtual Assistant You Need
DoNotPay is the first robot lawyer in the world created to simplify complex tasks. We can help you with anything from appealing your parking citations to filing lawsuits in small claims court.
In case you need to save up some money, our app will show you how to get an extension on your bill payments, sign up for paid clinical trials, or avoid paying your college application fees.
DoNotPay can also report robocallers, text spammers, and email phishing attempts, and real-life stalkers with a few clicks.