Alone in the Lone Star State? Make a
Room Rental Agreement in Texas
Renting property is a serious business. It usually entails the creation of legal documents that will protect the parties if anything goes south. A room rental agreement in Texas is necessary if you want to ensure the safety of everyone's interests. to learn how to write this contract and draw up other legal documents!
What Is a Room Rental Agreement in Texas?
A room rental agreement in Texas can have an ambivalent meaning. This depends on how many people are participating in the agreement and what their roles are. There is a difference between a basic room rental agreement and a sublease agreement. 
What Is a Basic Room Rental Agreement?
A room rental agreement in Texas is an agreement made between an owner of the property (the landlord) and a person they are renting one of the rooms to (the tenant). Even though both people are living together, there is a clear distinction between them. The room rental agreement should explain their responsibilities in detail.
What Is a Sublease Agreement?
The term sublease agreement is sometimes used interchangeably with the room rental agreement. In this case, the contract allows the tenant (who already has a landlord) to sublease one of the rooms in the rented property to a subtenant. The tenant renting the room will be referred to as the landlord in the room rental agreement even though they are not the owner of the property in question.
What Does a Room Rental Agreement in Texas Need To Contain?
When creating a room rental agreement in Texas, you need to be careful about the info you include in the document. It could make a difference in case you have problems with the other party of that contract. Make sure you write down:
Property info

—Location, address, and number of units

Personal information

—Names, phone numbers, and email addresses

Lease terms

—Date of start and end of the agreement and signatures of everyone involved

Security deposit details

—Total amount and the amount each party needs to pay

Rent info

—Date on when rent is due and the amount of money tenants need to pay

Utilities

—Who is in charge of paying the utilities

Details on sublease

—A statement about the sublease that explains what obligations the tenant and subtenant have to each other

Rules on the premises

—Chores, pets, guests, and noise rules
Room Rental Agreement in Texas and Smoke Detector Information
If you are making a room rental agreement in Texas, you ought to include information about smoke detectors in accordance with Section 92.258 of the Texas Property Code. It stipulates that landlords need to check if smoke alarms work before they lease the property to anyone.
Whenever a new roommate enters the agreement, this test needs to be performed again. According to Texas law, smoke alarms must be present in each bedroom and on every floor.
Want To Create Legal Documents? DoNotPay Is the Way!
Whenever you need to make a legal document, you need to make sure it is drafted properly. People usually use lawyers for this purpose, but their services are expensive. The solution for your troubles exists, and it's DoNotPay!
Our app will generate a contract of your choice in a few clicks. You only need to follow these directions:
from a web browser

Inform us about the document's name

Answer several questions about yourself
After you receive the perfect legal document, find out whether you need a notary's signature to make it official. In most cases, the parties signing the document will be enough. With our services, you won't have to rely on free online contract templates that won't be of much use. Those templates are generic and will not be good enough for your specific needs.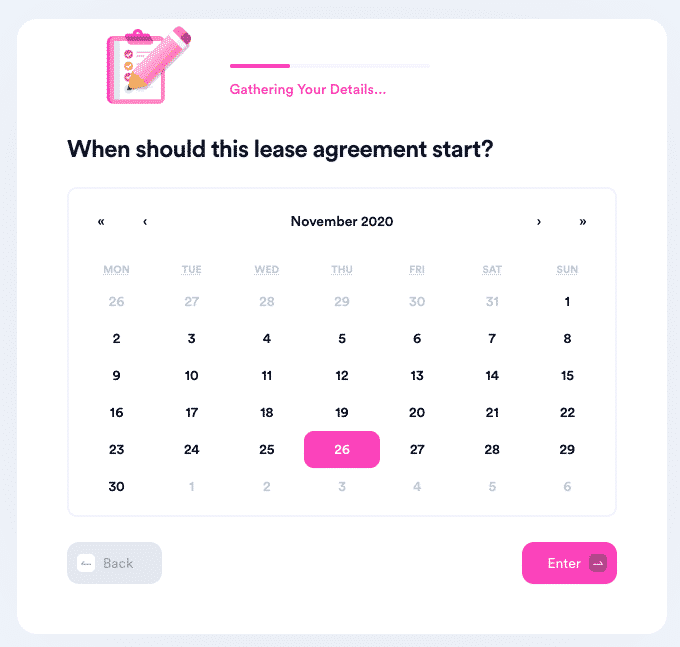 You can turn to DoNotPay for help if you need to create other real estate documents. We can generate the following ones:
Quitclaim Deed

Estoppel Certificate

Intent To Purchase Real Estate Letter
We also know everything about drafting the mobile home lot rental agreement, buyer representation agreement, and property management agreement. 
DoNotPay Is Here if You Need To Make Other Documents 
Apart from real estate documents, DoNotPay can assist you in drafting countless others. We can create a variety of other agreements you might need and give information on any contract you can imagine! See the table below for more details:
Draw Up a:
Find Out More About a:

Promissory Note

General Affidavit

General Business Contract
If you choose to make contracts with DoNotPay, you will save time and money!
Don't Let Companies Take Your Hard-Earned Money!
People love to subscribe to all sorts of services—especially if there are free trials involved. The problem is that most of them forget that they signed up for anything in the first place. Companies are aware of this, which is why they auto-renew memberships as soon as the free trials expire.
Don't let them get away with it—use DoNotPay to sign up for free trials and cancel subscriptions right before they renew. If you want to save even more money, use our platform to learn how to handle high bills, parking tickets, college application fees, canceled or delayed flights, or faulty services you should get refunded for.
Use DoNotPay To Stop Illegal Activities and Earn off Scammers!
Our AI-powered platform can assist you in dealing with all sorts of scammers. If you got any of the following, the world's first robot lawyer will help you seek justice:
Do you want to protect yourself and your loved ones from stalking and harassment as well? Use DoNotPay to learn how! If the situation with a stalker escalates, our app is going to help you take them to small claims court by preparing all the paperwork and your court statement.
Don't stop there—check out how you can bypass phone number verification, claim any type of warranty, or pass any government test with flying colors!