Room Rental Agreement in California
—Everything You Should Know
Whether you are a landlord or a tenant looking for a room in the Golden State, you need to draw up a room rental agreement in California. This legal document will protect your interests and save you from potential lawsuits and losing money. 
DoNotPay is here to tell you how to write this contract and to create other agreements for you!
What You Need To Know About a Room Rental Agreement in CA
A room rental agreement is also known as a roommate agreement because it is made between tenants. In California, a roommate is either a:
Subtenant

—They do not have a residential lease with the landlord. They live with a master tenant and submit the rent to them

Co-tenant

—They are equal with the other tenant in the sense that they have a lease agreement with the landlord. In this case, both roommates pay the rent directly to the owner of the property
The landlord, master tenant, and roommate all need to sign the room rental agreement to make the arrangement official. The focus of this contract is to regulate the living situation of the tenants, so they need to have clear statements regarding their mutual responsibilities.
What Every California Room Rental Agreement Needs To Contain
If you want to ensure that the room rental agreement you make is valid according to California's laws, you need to know what to include in it. All parties need to be satisfied with the document that states their individual responsibilities. Take a look at what the CA room rental agreement should contain:
Section

Details

Contact Information of all Parties

Names

Phone numbers

Email addresses

Rent

The rental amount

Payment due date

Forms of payment

The name of the person responsible for collecting the rent

Security Deposit

The total amount

The date when the security deposit was paid

Names of everyone who contributed to the payments and the amount they gave

Utilities

The cost of utilities and how it is divided among roommates

Person responsible for paying the utilities

Cleaning Schedule

Cleaning tasks and a scheduled time to complete them

Consequences if someone doesn't honor the arrangement

Agreement Specifics

Start and end date of the agreement

Signatures of all parties

Roommates' rights

Roommate Rules

Pet permission

Smoking policy

Social gatherings

Noise policy

Overnight guest policy

Roommate Conflicts

Conflict resolution method

Consequences of breaking the rules
Termination Clause for a Room Rental Agreement in California
This part of the contract is one of the crucial points that require special consideration. The terms of ending the agreement need to cover the situations in which the parties can cancel the contract before the agreed date.
Everyone involved needs to know how many days' notice needs to be delivered to other parties in writing. If all of these terms are simple and to the point, it is unlikely that anyone will be in breach of the agreement.
DoNotPay Draws Legal Contracts in the Blink of an Eye
DoNotPay offers a fast and easy solution for generating agreements you can use for various situations. We will make sure they are specifically tailored for you. That's not the case with free contract templates available online. The document you need will be in your hands in a matter of minutes if you follow these steps:
Open DoNotPay in any

Type in the name of the document you require

Provide us with some info about yourself
Depending on the type of document you create, you may also need to take it to the notary public for notarization to make it enforceable.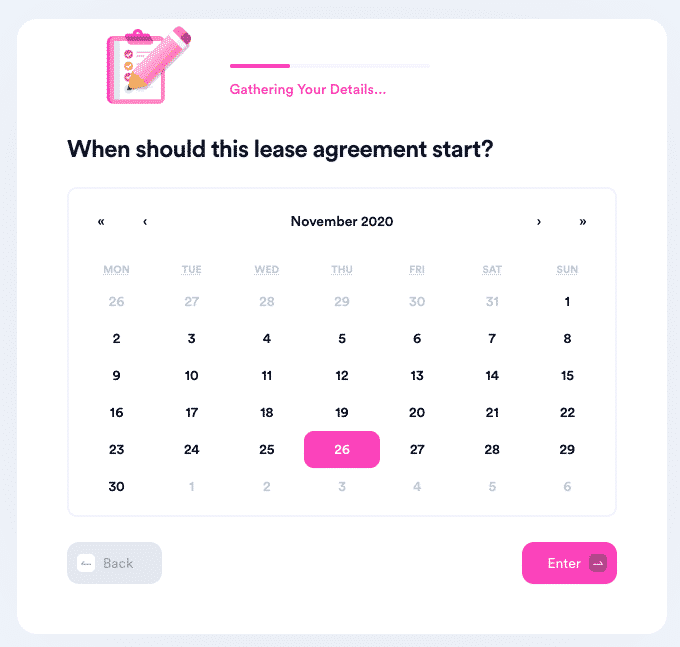 DoNotPay is the app you should turn to if you need to make real estate agreements in any state, not only California. We can draw up quitclaim deeds, estoppel certificates, residential lease agreements, and intent to purchase real estate documents in no time. 
If you want to find out more about how other real estate contracts work, you can check out our guides on the:
What Are Other Legal Documents DoNotPay Can Create for You?
DoNotPay enables you to draft legal documents that are not limited to real estate. We can help you create different agreement templates and provide information on numerous other contracts. See the table below to grasp DoNotPay's capabilities further:
Learn About These Legal Documents
Generate These Legal Documents

Promissory Note

General Business Contract

General Affidavit
Don't Let Companies Take Your Hard-Earned Money!
People love to subscribe to all sorts of services—especially if there are free trials involved. The problem is that most of them forget that they signed up for anything in the first place. Companies are aware of this, which is why they auto-renew memberships as soon as the free trials expire.
Don't let them get away with it—use DoNotPay to sign up for free trials and cancel subscriptions right before they renew. If you want to save even more money, use our platform to learn how to handle high bills, parking tickets, college application fees, canceled or delayed flights, or faulty services you should get refunded for.
Use DoNotPay To Stop Illegal Activities and Earn off Scammers!
Our AI-powered platform can assist you in dealing with all sorts of scammers. If you got any of the following, the world's first robot lawyer will help you seek justice:
Do you want to protect yourself and your loved ones from stalking and harassment as well? Use DoNotPay to learn how! If the situation with a stalker escalates, our app is going to help you take them to small claims court by preparing all the paperwork and your court statement.
Don't stop there—check out how you can bypass phone number verification, claim any type of warranty, or pass any government test with flying colors!