A
Roofing Contract Template
—Making a Rock-Solid Contract
Whether you're a contractor or a property owner trying to get a roof over your head, a contract is a must. We'll show you what every roofing contract needs to cover, why it's important to have one, and what to look out for when searching for a roofing contract template.
Roofing Contracts 101
A roofing contract is a legal document between a contractor and a client stipulating the terms and conditions of a roof installation, repair, or replacement. The most important elements of this contract are the scope of work and payment terms. Its purpose is to protect both parties by having all the wishes, promises, and rules in writing.
What's the Difference Between a Proposal and a Contract?
A roofing contract is sometimes referred to as a proposal or estimate, but it's much more than that. A proposal usually serves as a marketing document laying out what the roofer will do and how much they'll charge for it. A contract can be negotiated and should adhere to both parties' wishes. It is also a legally-binding document.
Terms and Clauses of a Roofing Contract
Regardless of the roof job you're writing a contract for, there are certain sections that every roofing contract contains. Check the table below for a breakdown of the roofing contract's terms:
Terms
Brief Explanation

Details of both parties

Contractor or the roofing company's info and contact details

Property owner's personal and contact info

Scope of work

Details of the project

Materials that will be used

Installation methods

Additional services, such as:

Permit acquisition

Cleanup services

Disposal services

Ventilation installation

Safety measures for the installation procedures

Project duration

Timeline of the project

Start and end date or a

no later than

clause

Acceptable unforeseen circumstances that may prolong the project, such as the weather

Payment terms

Deposit requirements

Payment method

Payment schedule, typically including:

Initial deposit details

Second payment (when the materials are delivered)

Final payment (when the job is complete)

Insurance details

Workmen's compensation

Public liability insurance 

Warranties

Warranties the contractor is offering

Duration of the warranties

Option to terminate the agreement

Notice period

Payment arrangements

Refundable deposits

Compensation against damages

Date and signatures

Both parties should sign the contract
The Importance of a Roofing Contract
Aside from the benefit of having everything in writing, a roofing contract is important because it ensures a clear payment schedule, which will safeguard against any unpleasant surprises, such as changing minds or refusing to pay.
A roofing contract lays out all expectations of the project that gives both parties peace of mind. It is also a safety net in case a dispute arises if there are any unforeseen circumstances or a party wants to terminate the agreement early.
Negotiating the Contract
Most terms of a roofing contract can be negotiated, most importantly, the price. Neither party should sign the contract before negotiating and agreeing to the payment terms.
Should I Download a Free Roofing Contract Template?
You can find roofing contract templates online, and some of them are free. Although a roofing contract is straightforward for the most part, it may need to address certain state or local laws and regulations, which a template may not cover, such as the zoning laws or permit inquisition fees.
If you can't write the contract yourself or hire a lawyer and you want to get a template, make sure to review it carefully and look out for any:
Mistakes
Watermarks
Missing terms
Forget About Contract Templates—Use DoNotPay
If you're in need of other contracts, DoNotPay can help! Between spending a fortune on a lawyer and downloading questionable templates, you may be wondering what's worse. Luckily, there is a third option! Using our app gives you a fast and affordable method of drawing up different legal documents.
and let the world's first robot lawyer do the work for you:
Search for the legal document you need

Answer our chatbot's questions

Download your document
By answering a few questions, you'll customize your contract or agreement, and we'll make sure it fits your situation and preferences.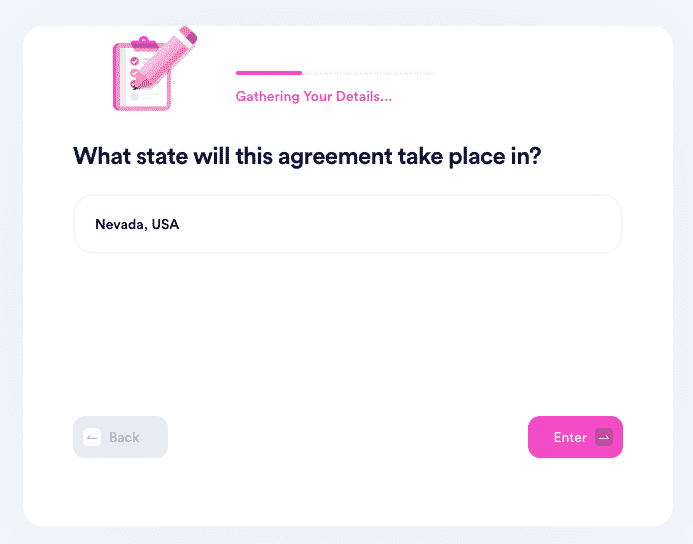 What Documents Can DoNotPay Help Me With?
Our database is constantly growing. We provide rundowns on many documents in addition to drawing them up. Whether you want to learn about or create a document regarding real estate, business, or personal matters, we've got it covered.
Check out what can do for you and browse our learning center to get even more assistance:
Drawing Up Documents
Learning About Documents

Prenuptial Agreement

General Affidavit

Promissory Note

Residential

Lease Agreement

Quitclaim Deed

Intent To Purchase Real Estate

Estoppel Certificate

General Business Contract

Child Care Authorization Form
Tired of Companies Not Taking You Seriously? Use DoNotPay To Put a Stop to It
If you're sick of companies that violate your consumer rights, DoNotPay is here to help. If you're struggling with reporting robocalls, requesting a refund, claiming any type of warranty, scheduling a DMV appointment, reporting spam text messages, or anything else, our robot lawyer will help you sue any firm or individual in small claims court.
With DoNotPay, you can also sign up for any free trial, cancel any subscription, avoid getting charged after your free trials end, and much more!
Want Your Money Back? DoNotPay Is Here To Help
Are you looking for your missing money? Do you want to get a refund for a delayed or canceled flight? Are you trying to flip the script on illegal robocalls and earn money off them? DoNotPay will assist you in dealing with any of these pesky issues!
We can also help you bypass phone number verification, sign up for clinical trials stress-free, ace any government test in a jiffy, and block spam emails for good.