No Need To Be Down by the Riverside—County Divorce Made Painless by DoNotPay!
Filing for divorce in California is perceived as being expensive and painful.
The process in Riverside County can be cheap and hassle-free if you and your spouse are prepared to work together towards a friendly divorce.
DoNotPay can help with our complete rundown of how a Riverside County divorce can be made as manageable as possible!
Divorce Riverside County-Style Explained
Riverside County adheres to California divorce legislation, so it is a no-fault jurisdiction.
You don't have to prove that it's your spouse's fault—you can just claim irreconcilable differences.
The only prerequisites you have to fulfill are that:
You or your spouse have lived in California for at least six months
Either of you has been a Riverside County resident for three months
You wait a mandatory six months between filing for divorce and your final judgment being granted
You do not need to be legally separated to file for divorce in Riverside County. When you file your papers, the court will decide whether your divorce is classified:
Contested—the default option
There is also no legal requirement in Riverside County for you to use a lawyer to file for divorce.
What Is the Divorce Process in Riverside County?
The steps to getting your divorce granted in Riverside County are:
Filing divorce papers
Serving the papers on your spouse
Reaching a settlement agreement
Filing Divorce Papers
Your first step is to collect, fill out and file the correct divorce papers from the Riverside Superior Court.
The papers you will need to file include:
| Required Documents | Explanation |
| --- | --- |
| Petition | The petition for dissolution is the formal request to the court to grant you a divorce |
| Schedule of assets and debts | You should fill this form out with a complete breakdown of your joint and individual assets and liabilities |
| Income and expense declaration | All sources of income and all your joint and individual expenses need to be declared on this form |
| Declaration of disclosure | This declaration is an affidavit stating that your declarations are true and complete |
| Uniform Child Custody Jurisdiction and Enforcement Act (UCCJEA) declaration | If you and your spouse have minor children, you must fill out a declaration under the UCCJEA to make the court aware of their existence |
| Summons | The summons informs your spouse of the divorce proceedings |
| Proof of servitude | The proof of servitude confirms that your spouse has received the summons and the divorce papers |
| Response | Your spouse should file an answer to your divorce petition signifying whether the divorce will be contested or uncontested |
Once you have downloaded the Riverside County divorce papers, filled them out, and filed them, you will need to pay the filing fee of $435.
Serving the Papers on your Spouse
Your next step is to serve your spouse with the divorce papers by having them delivered by a deputy sheriff or professional process server.
Your spouse will have to sign a form confirming that the papers have been received.
Within the following 30 days, your spouse can file an answer to the summons, which can indicate:
Acceptance of the terms of the settlement if you have already agreed on them
Intention to contest the settlement
Reaching a Settlement Agreement
A settlement agreement is a legal document that states how your marital responsibilities should be divided after your divorce, including provisions for:
If you can reach a settlement agreement with your spouse before you file for divorce, your case will be seen as uncontested, meaning you can:
Save on potentially exorbitant costs
If there is no signed agreement in place when you file, you can still avoid court proceedings by negotiating an out-of-court settlement before your case comes before a judge. If you can lodge the agreement before your first hearing, your divorce will be re-designated as uncontested.
How Can You Negotiate a Settlement Agreement?
Negotiating your settlement agreement with your spouse is where your divorce can become expensive.
Your options to work out the terms of your settlement are:
Settlement Negotiation Options
Explanation
Lawyer
Although this is the traditional route, using attorneys to hammer out a settlement can quickly become expensive.

California lawyers charge up to $400 per hour, and the negotiation process alone can easily run to thousands of dollars per party. What you gain in negotiating muscle may be outweighed by the cost

Mediation
A trained mediator can help you and your spouse constructively negotiate face-to-face at a fraction of the cost of attorneys
DIY
If you and your spouse agree on the terms of your settlement, there should be no need to use expensive third parties to negotiate for you. This represents the simplest and most cost-effective route
Where Can You Get Your Agreement Drafted?
If all the points of your settlement are agreed upon, you need to have it drawn up in legal terminology.
This can be done using:
A lawyer—While you are guaranteed to get a comprehensive and legally binding document, this will come at a cost of several hours of attorney's fees
An online provider—Many websites offer online templates for you to fill out, but you should be careful that the template you get isn't too generic
DoNotPay has the answer with our Divorce Settlement Agreement feature. With this tool, we can create an all-encompassing, watertight agreement that covers all your divorce settlement needs!
DoNotPay Has You Covered in Riverside County!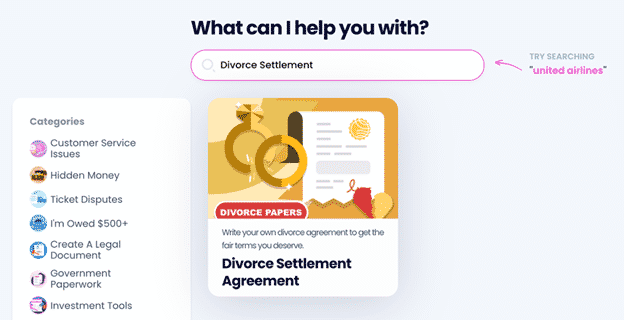 DoNotPay is committed to making your divorce process as easy and painless as possible!
Our Divorce Settlement Agreement feature is designed to reflect your exact settlement needs and generate a fully customized agreement, ready for you and your spouse to sign and file.
To set up your agreement, here's what you need to do:
Sign up with DoNotPay in your web browser
Click on our Divorce Settlement Agreement feature
Take us through what your agreement should include by following the prompts
Once we have all your details, we will create your agreement in an instant. You and your spouse can sign it and have it notarized.
If you don't know where to look for a notary in your area, DoNotPay can help with our online notarization service!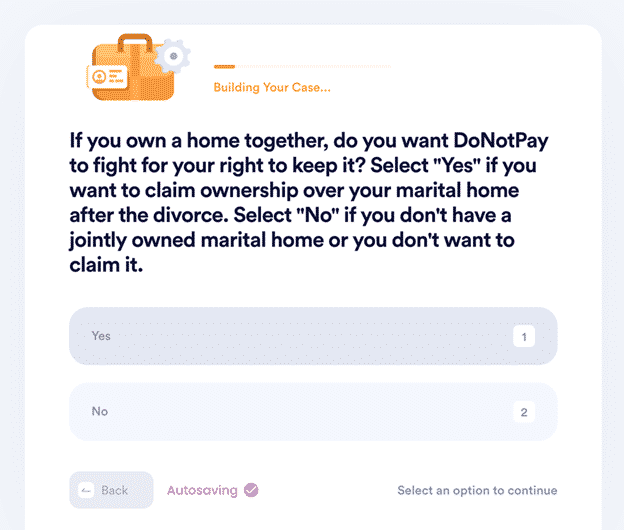 Specific County Laws and Procedures in California
If you are looking for info on other counties in California, here are some examples of the help we can offer:
We can also help you with the specific legislation around military divorce in California if you are based there.
Our App Solves Your Legal Issues!
Do you really have to set aside astronomical amounts to pay lawyers for drafting legal documents or taking a person or business to small claims court?
The answer is no—all the cash remains in your pocket, thanks to DoNotPay! From now on, you can perform many legal tasks from home with the help of our app. It enables you to create flawless powers of attorney, divorce settlement agreements, and child travel consent forms in a snap.
That's not all—once we generate these documents for you, we also help you have them notarized via a video meeting. No need to waste your time and fuel visiting notary offices.
Check Out Other Perks DoNotPay Offers!
DoNotPay provides a wide selection of services, from creating virtual credit cards and burner phone numbers to getting refunds from companies and canceling subscriptions. Have you received an unfair parking ticket? Appeal it with our app before you know it! Are email spam and robocalls making your life a living hell? No scammer stands a chance against our efficient AI-powered tools and features!
We also work in your favor when it comes to safety. Our app offers perfect ways to prevent copyright infringement, stalking and harassment, work discrimination, sex offenses, and disputes with annoying neighbors.