How to Get a RingCentral Free Trial With a Virtual Credit Card

For anyone who's transitioned to remote working environments, the  sounds appealing. The pandemic forced millions to work from home and demand a quality video conferencing and meeting solution. Zoom seemed to be the fan-favorite, but more options, including RingCentral, are gaining traction. They offer Fax App, and send Fax.  And if there's a RingCentral free trial to explore, you're hopeful you can compare it to whatever service you're using right now.
But there's always a catch with free trials. And before you sample a RingCentral free trial period, you'll want to know about auto-renewals or subscription enrollment policies. Will you automatically be subscribed after the RingCentral free trial if you don't cancel first? And which price point plan might you be at risk of auto-renewing into if it does?
We'll uncover any hidden nuances for sampling the RingCentral free trial. And you'll be glad to know DoNotPay offers a convenient way to experience the free trial without getting charged.
So, Does RingCentral Even Offer a Free Trial?
Yes, RingCentral's software platform is cloud-based and offers a host of solutions for individual users and business entities alike. To know which features work best for you, you can take advantage of the RingCentral free trial period. You'll enjoy 15 days of free use to make your final purchasing decisions. In case you are not satisfied, you can cancel RingCentral  anytime. Here are just a few of the platform offerings you can explore.
| | |
| --- | --- |
|                  Platforn |                                      Features |
|       RingCentral Glip Pro | You won't need to use a RingCentral free trial for the Glip Pro option. This entry-level solution is entirely free to use, with unlimited access to video and audio-conferencing tools. |
|       RingCentral Video | RingCentral's free trial does apply to the paid plan called RingCentral Video Pro+, which builds on the basic free plan by adding features. This level provides additional cloud storage, host capabilities of up to 200 participants, and a few business integration tools, like Salesforce. |
|       RingCentral MVP | Under the RingCentral MVP platform of services, users can choose between four levels: Essentials, Standard, Premium, and Ultimate. There are RingCentral free trials available for the lower three services. And all of these offer phone, messaging, and business applications for video and audio-conferencing tools. |
How You Can Try the RingCentral Free Trial
Depending on which RingCentral free trial you want to sample, you will be prompted to enter a few responses. For the business platforms, for example, you might be asked to enter work-related phone numbers, etc. At the individual level, you'll be prompted to verify your age and asked to set up an account based on your work or Google email.
To sample the RingCentral free demos, which are separate from the standard RingCentral free trial, you'll be prompted to first enter your:
Company Name
Company Phone Number
Company Email Address
Your Name
Number of Employees
Will the RingCentral Free Trial Automatically Turn Into a Paid Version?
For most of the RingCentral free trial applications, you won't have to enter any credit card or payment information. However, with so many levels of software sampling available, including at the business level, payment information may be required at some point. If you accidentally select a plan or deliberately pay for a subscription, RingCentral may allow you to use their 30-day refund policy.
How Can You Avoid Auto Renewals With DoNotPay's Virtual Credit Card?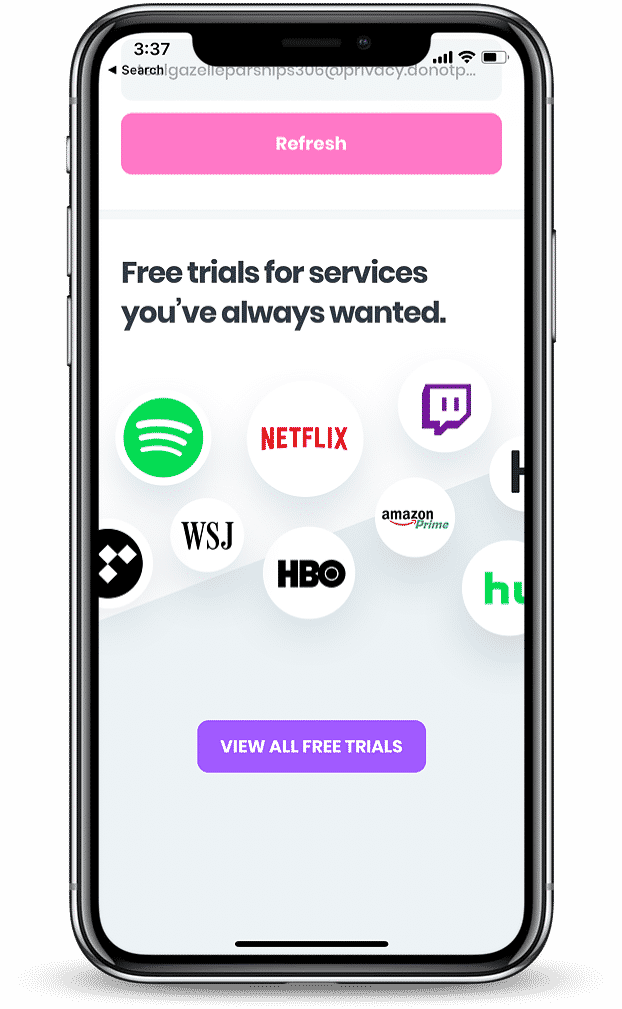 Instead of wondering or worrying about sharing your credit card information for RingCentral's free trial or any other free trial offering, try DoNotPay's Virtual Credit Card! Never deal with costly automatic subscriptions again in just a few easy steps.
Visit DoNotPay's Virtual Credit Card product page.
DoNotPay then uses a system that generates random numbers and credit card information.
Use this provided information to access free trials that require credit card details.
Once your free trial expires, no actual funds are available on the provided card.
Free trial ends, and no further charges are assessed to you.
RingCentral Free Trials Lead To These Paid Price Plans
If you want to explore pricing after the RingCentral free trial ends, here is a breakdown of the various plans and their costs. To pay, most users make a one-time payment, again using a credit card. If you have questions about billing, plan pricing, or past-due balances, you can contact the RingCentral team:
U.S. Customers: (888) 898-4591
Canadian Customers: (800) 591-6543
By Email: RingCentral Email
Here is a breakdown of RingCentral plan pricing. Some are available in monthly installments, while others are annual pricing plans.
| | |
| --- | --- |
|                            Plans |                               Costs |
|              RingCentral Video Pro |                                Free |
|              RingCentral Video Pro+ |              $11.99 per user/per month |
|              RingCentral MVP Essentials |              $19.99 per user/per month |
|               RingCentral MVP Standard |             $27.99 per user/per month |
|               RingCentral MVP Premium |             $34.99 per user/per month |
|               RingCentral MVP Ultimate |             $49.99 per user/per month |
How to Tell if You're Being Charged for RingCentral
Because you have to create a profile to tap into the RingCentral free trial, you'll have a dashboard to help users get ahead of any charges. And when providing your credit card information for a recurring or one-time payment, you can always check your credit card statements for a RingCentral subscription charge.
RingCentral Competitors to Consider if You're Not Ready to Subscribe
If after your RingCentral free trial period, you're not convinced yet to subscribe, you can check RingCentral reviews. Also, here are the other cloud-based video conference software options worth considering.
Zoom
Webex Calling
Vonage Business Communications
Google Chat
Nextiva Business Communications Suite
Microsoft Teams
Dialpad Talk
8x8 X Series
DoNotPay Comes in Handy for More Than Just Free Trials

When you realize how simple and convenient it is to sample a free trial with DoNotPay's Virtual Credit Card, you'll wonder what else DoNotPay can help you accomplish.
If you're ready to find a Zoom alternative for your remote working environment, consider the . And let DoNotPay help you try it out without getting charged.