What Is a RI Living Will, and How Does It Work?
Having a living will can provide inner peace because you'll know your wishes will be respected even when you cannot communicate them. Rules and regulations regarding the creation of this advance directive differ among the states.
In this article, DoNotPay will explain how a RI living will works and how you can make it with ease once you sign up.
What Does a Living Will in RI Entail?
A living will is a type of health care directive. This legal document is used to provide instructions for health care providers:
For life-sustaining procedures—These are medical procedures that serve only to prolong your life as much as possible. It does not include any procedure to:

Ensure comfort
Provide care
Alleviate pain

When you have a terminal condition—A terminal condition is one that is incurable or irreversible, which will result in death in a relatively short time without life-sustaining procedures
Before making a living will, you should consult with your:
Doctor—To understand medical procedures, their limitations, and potential side effects
Loved ones—For support
In Rhode Island, a living will is often created together with a durable power of attorney for health care.
What Is a Durable Power of Attorney for Health Care?
A durable power of attorney for health care is another type of advance directive you can create in Rhode Island. It goes by many other names, such as a medical power of attorney or a health care proxy (in some states, there is a subtle difference between them).
A health care power of attorney enables you to appoint an agent who will be in charge of making medical decisions for you.
How Do You Make a Living Will in Rhode Island Valid?
In Rhode Island, you can make a living will legally binding by signing it in front of a notary public or two adult witnesses. Note that neither of the witnesses can be:
Your health care provider
An employee of your health care provider
The operator of a community care facility or their employee
The notary public and your witnesses cannot be related to you or entitled to any portion of your estate.
How Can You Create a Living Will in Rhode Island?
When making a living will, it is crucial that you respect the laws and regulations set by your state. There are a few ways to create this document in Rhode Island, but the end results and the cost will differ significantly. Take a look at the table below to see your options:
How To Create a Living Will
Brief Explanation
Use a living will form

You should avoid customizing online forms if you lack the required legal knowledge
Forms are generic and won't be of much use

Hire a lawyer

You will receive the wanted results
Lawyers charge exorbitant fees for this service

Register for DoNotPay

You will get a well-written document
This option will save you time, money, and energy
Make a Living Will in Rhode Island With DoNotPay's Help
If you want to make a living will without wasting time and money, you should rely on DoNotPay. Our app provides you with a rock-solid document that protects your wishes and interests and abides by your state laws.
The process is straightforward—here is everything you need to do:
Choose our Advance Health Care Directive product
Appoint your health care agent
Decide what powers you want to transfer to your health care agent
Our app also lets you include the names of the people who will witness you signing the document.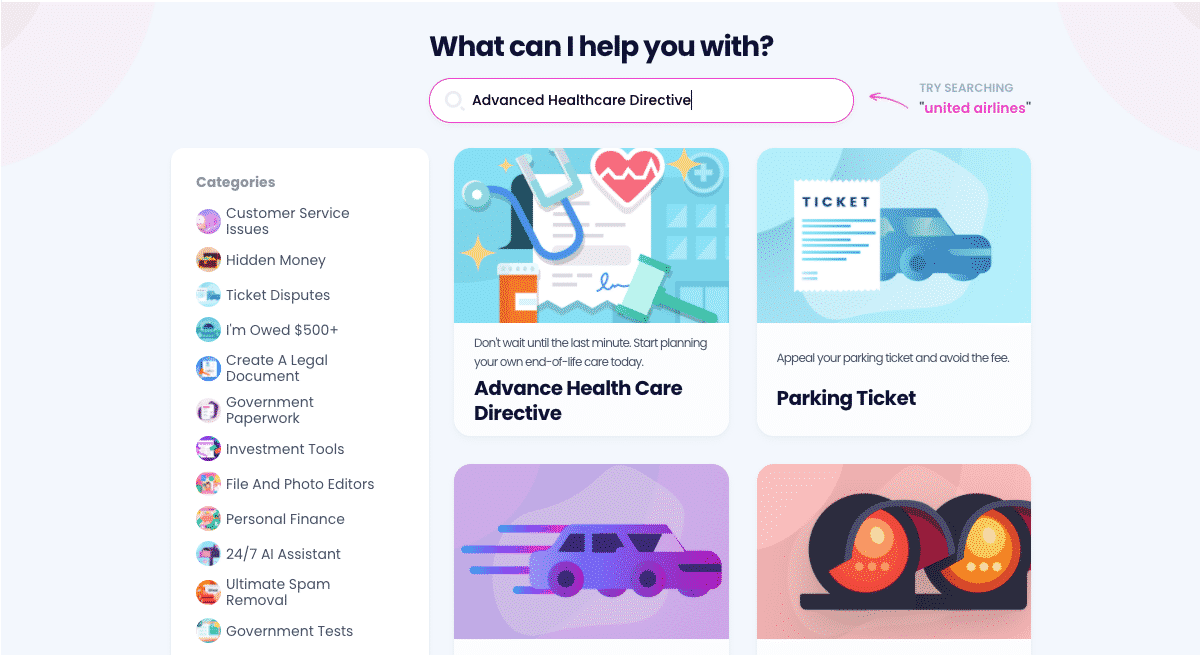 Our Virtual Lawyer Has Got Your Back
DoNotPay has solutions for all those burdensome tasks you would rather avoid or entrust to someone else. Our AI-empowered app can assist you with copyright protection, clinical trial applications, DMV appointments, FOIA requests, mailing services, item returns, and delivery refunds. It also generates standardized legal documents and gets them notarized or faxed with zero fuss!
Through the same app, you can:
Make Education More Accessible and Affordable With DoNotPay
College expenses can be quite a burden for the entire family. Luckily, DoNotPay can have your tuition expenses waived or assist you in applying for various types of financial aid, such as scholarships.
We also offer you a chance to prepare for government tests in a much simpler way or contact embassies or consulates quickly and efficiently if you want to travel abroad to continue your education. If you are a parent who wants to withdraw their kid from a standard school, we will help you draft a notice of intent to homeschool and send it to the local authorities with no stress!