Called for Rhode Island Jury Duty? Here's What You Need To Know
It is your American civic duty to occasionally serve as a juror. There are thousands of cases filed in Rhode Island each year, and every one requires an impartial jury.
Do you understand how Rhode Island jury duty works? From summons to trial, there are many steps in the process, all of which we will explore in this article.
One of the most stressful parts of being a juror is asking for time off at work—DoNotPay can make that task easy!
How You Were Chosen for Rhode Island Jury Duty
Jurors are chosen at random from all eligible residents of the state. Juror requirements include:
Being a U.S. citizen
Being 18+
Having Rhode Island residency
Having command of the English language
Being able to execute juror duties both physically and mentally
Being of a sane mind
Having no previous convictions or felonies
When you receive a jury summons, you are required by law to appear in court. Those who fail to honor their jury summons will face the following consequences:
Held in contempt of court
Charged a fine
How Rhode Island Jury Duty Works
Here is the process by which a jury is selected:
Potential jurors are drawn and sent their summons in the mail
Jurors fill out a questionnaire to confirm their eligibility or request an excusal from duty
Jurors submit to questioning as a part of the selection process on the first day
Between six and 16 jurors are selected, depending on the type of trial
The jury observes the trial and delivers a ruling
Rhode Island courts cannot summon jurors more than once a year if they have served at least two weeks. Jury duty usually lasts two to five days. You may apply for a postponement of your jury duty by getting in touch with the Court Clerk's office.
How Much Do Rhode Island Jurors Get Paid?
County jurors are entitled to $15 per day served in court. This ranks relatively low among the daily wages offered to jurors by other states.
Rhode Island courts do not offer reimbursement for travel or other expenses associated with jury duty. If you serve in a federal court, you will receive $50 per day and additional reimbursements. Unlike in other states, your employer does not have to provide compensation while you serve as a juror.
Getting Out of Jury Duty in Rhode Island
There are a number of commonly claimed reasons for jury duty exemption—Rhode Island does not recognize them all:
| Vocation/Condition | Exempt in Rhode Island (Yes/No) |
| --- | --- |
| Military | Yes |
| Elected official | Yes |
| 75+ | Yes |
| Disability | Yes |
| Law enforcement | Yes |
| Firefighter | Yes |
| Breastfeeding mother | No |
| Student | No |
| Teacher | No |
What To Do Before Your First Day in Court
Get ready for your time in court by first informing your employer about your upcoming absence. Don't worry—your boss cannot fire you for needing time off for jury duty. You are legally entitled to unpaid leave from work for the extent of your jury duty.
DoNotPay Will Help You Ask for Time Off
Are you worried about how to ask your employer for leave from work? DoNotPay offers its Request Jury Duty Leave product to help streamline the task of producing a professional document to submit to your manager.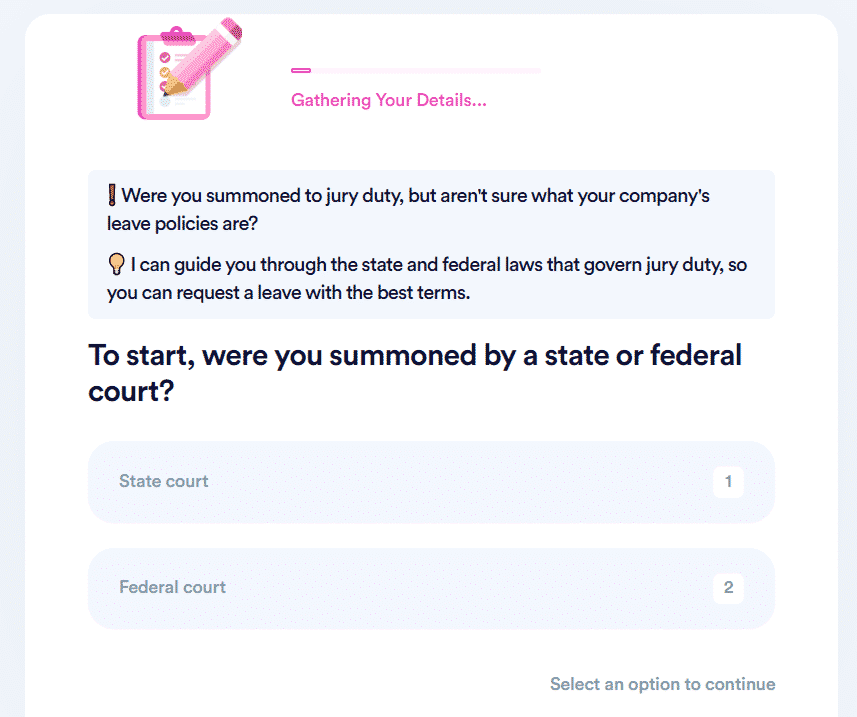 Here is what you need to do:
Call up the Request Jury Duty Leave product
Input the necessary details about your employer, your local court, and your absence
Upload a copy of your summons for verification
That's all you need to do. We will compile all of that information into a professional letter that you can download and hand in to your boss. Alternatively, you can provide their contact info, and we will submit it for you.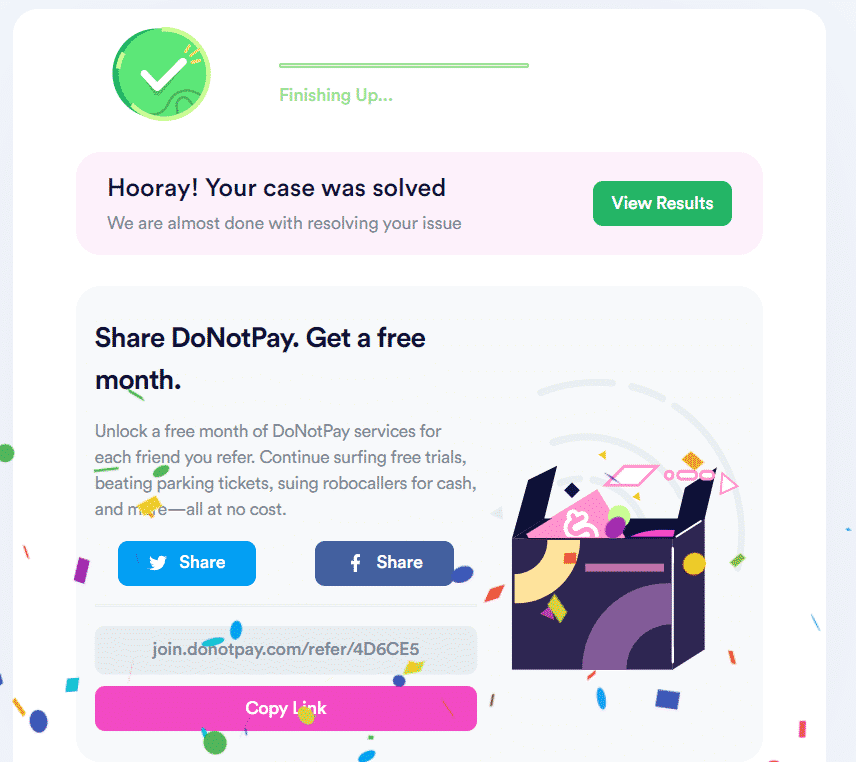 Save Time and Money Using DoNotPay
Being on hold while trying to reach customer service is no picnic. With DoNotPay, you can jump the phone queue and reach a rep with ease. Are you contacting a company to request a refund or cancellation? No need for that! Our app can get it done in a few clicks. We can also help you return an item or handle a late delivery.
Dispute parking tickets, claim your warranty or insurance, set up a DMV appointment, contact an embassy, and deal with any other task with our assistance.
You can also request access to public records, apply for tourist visas, or file complaints with the help of our AI-powered app.
We're Not Done Helping You!
Our multifaceted app keeps getting new features that can streamline numerous tasks and solve all kinds of problems.
Would you like to join sweepstakes or giveaways? Are you up for participating in clinical trials and earning some money? Are you interested in sending mail without visiting the post office? We've got it covered!
We will help you protect your privacy by putting an end to spam emails, incessant text messages, and robocalls. If you think you're being stalked, you can count on our assistance. You can also use our app to perform a sex offender search, fight workplace discrimination, and handle annoying neighbors.