How to Clean Your Credit Report From RGS Financial With the Help of DoNotPay
Financial constraints might lead us to be on the wrong side of debt collectors and having negative credit scores. Debt collectors are mandated to collect debts on half of your creditors.
If you fail to pay your debts on time, the debt collection agency will follow up on your case, listing you on debt defaulters lists. Your credit history and score will also be affected negatively, which might have a lifelong impact on your loan interests.
You should strive to clear your debts on time and get a clean credit report from your financiers to improve your credit score. A positive credit report increases your chances of getting credit and loans at a lower interest rate. When you find yourself on the wrong side of your debt collectors list, it may be challenging to redeem yourself. However, DoNotPay can help.
DoNotPay helps you fix your credit score and easily access and other debt management agencies within minutes of your application.
What Is RGS Financial?
Inc. is a Business process outsourcing and accounts receivable management company founded on 1st Jan 2005. The company offers a wide range of financial consultation services, such as debt collection, customer care, retention, and business accountability. The company operates on solid business values such as:
Integrity and professionalism
Accountability
Dedications to finding solutions
Client and consumer respect
Attentive services
RGS Financial purchases your debt from your creditors and follows up on your payment on their own. Once RGS Financial purchases your debt, they are supposed to send you a debt validation letter indicating how much you owe them and information on how to dispute these debt allegations.
The agency might connect you through email or phone calls, reminding you to clear your debt within a given time, or giving you a chance to negotiate your payment plan.
Once you clear your debt, RGS Financial clears your credit report, and you are free to borrow whenever you need financial help. If you fail to honor your debt payment agreement, a debt collection account is added to your credit history.
How Do I Dispute an RGS Financial Credit Report?
Being listed on the collections account for your credit history lowers your credit score and chances of getting financial aid in the future. The negative score also translates to higher interest rates when you secure a loan or other forms of repayable financial help.
You have the right to dispute the credit report if you detect any errors in the report. You can send your concerns to RGS Financial through email, physical mail, or phone.
However, a phone call is one of the most ineffective ways to petition your credit report with a debt collector. Instead, compose a credit dispute letter and send it through email or physical mail.
Your letter should point out the inaccuracies in the credit report and request RGS Financial to correct the error or remove the collections report from your credit profile. The letter should contain the following details:
Items on the credit report that you dispute
Facts regarding your credit history
Reasons why you are disputing the report
Request to correct or remove the collections on your credit history
What Can I Dispute on My Credit Report?
There are critical details you should always look out for in your credit report, including:
Misspelled name
Wrong address
Transposed Social Security number digits
Apart from these apparent errors, there are other things you can dispute in your credit dispute letter, including:
Removal of late payment

Erasure of report collections
Removal of foreclosures that have been listed for seven years or more
Erasure of bankruptcy reports that have been listed for seven to 10 years
How to Clean Your Credit Report From RGS Financial With the Help of DoNotPay
Cleaning your credit report is a delicate process that might plunge you into a lifetime of no financial aid with just one wrong move. Although you get a negative credit score by not honoring your debt payment agreement, paying your dues after collections listing might have a worse effect than not paying at all. You could try cleaning your report by making a call to your debt collecting agency, but it also comes with a downside; you might set back the clock, and all your defaulting records might be unburied.
The safest way to remove inquiries from your credit report and get a clean report is by working with professional credit report services such as DoNotPay. DoNotPay is the perfect solution to all your credit report woes.
Here is how to clean up your credit report using DoNotPay:
If you want to clean up your credit report but don't know where to start, DoNotPay has you covered in 3 easy steps:
1. Search Clean Credit Report on DoNotPay.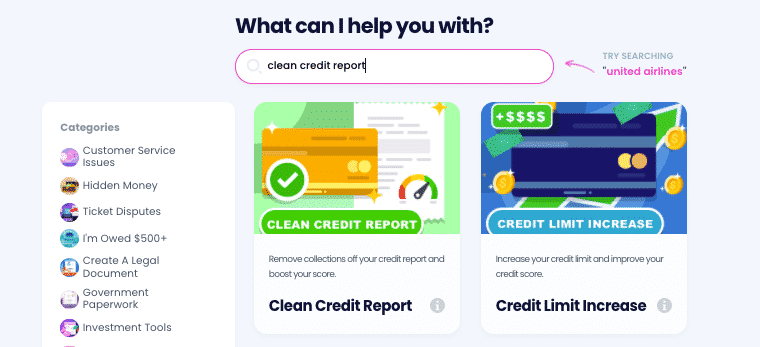 2. Prepare a recent copy of your credit report that you can use as reference.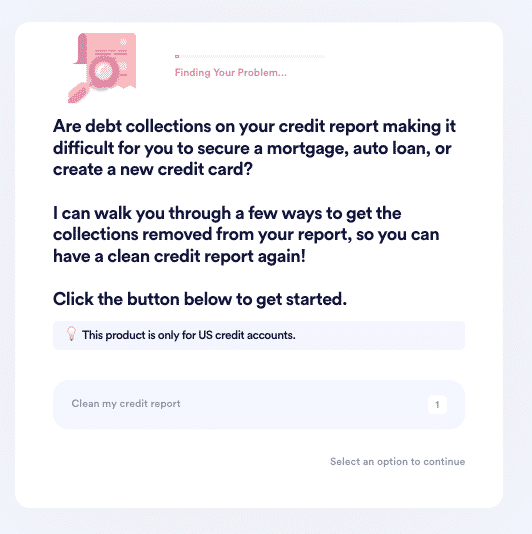 3. Let us guide you through the 4 potential options:
If you've already paid off your debt, we'll help you file a Goodwill Removal Request to get it removed.

 

If you notice any errors in your report (we have a list of common errors you can use!), we'll help you file a credit dispute to the creditor or major credit bureaus.

 

If there are no errors, we'll check if you're still eligible to file a debt validation request. If they can't validate your debt, they're required to remove it from your report, and they can't collect it!

 

Lastly, if none of the above options work, we'll help you file a pay-to-delete negotiation letter. You can customize the amount you are willing to pay in exchange for getting the item removed.
What Other Services Can DoNotPay Provide?
DoNotPay offers you the simplest, most reliable, and most convenient solutions to all your administrative and legal issues. We work across all government agencies and institutions and private entities to simplify and smoothen all your long processes.
Sign up on our website today to enjoy the following services and more: