Does the Law Allow You To Revoke a Medical Power of Attorney?
A medical power of attorney (MPOA) differs from a living will and health care proxy (in states that recognize its difference from the MPOA). An MPOA is legally binding, meaning that any breach of the document brings legal consequences.
Before you create a medical power of attorney (also known as a health care proxy in some states), you should know whether you're able to revoke it if you change your mind about any detail you included. So, what does the law say—can you revoke a medical power of attorney?
DoNotPay answers your burning questions about revoking a medical power of attorney so you can decide whether you want to create yours!
Can a Medical Power of Attorney Be Revoked?
A medical power of attorney is no different than any other type of POA in terms of revocation. By law, you can revoke a medical power of attorney if you're the declarant. You have several ways to do it:
Revocation Method
Details
Revoke the document in writing
You can:

Complete a revocation form
Compose a written statement

Both the statement and form confirm that you are of sound mind and should contain the:

Date the medical power of attorney was signed
Name of your, now old, health care agent

Once you complete your revocation, you need to give it to everyone who has the (now revoked) MPOA

Verbally proclaim your revocation
If you are unable to submit a written revocation, you can express your wishes about terminating your MPOA to your assigned medical practitioner
Destroy the document
A medical power of attorney cannot be in effect if it does not exist. If no one has a copy of the document, you can destroy it to render it invalid
Sign a new medical power of attorney
Every time you sign a new MPOA, the previous one becomes invalid, but you need to make sure that all people who had the old document get the new one as well
If you revoke an MPOA, you must ensure all copies of it are destroyed.
Who Can Request the Revocation of a Medical Power of Attorney?
Only the declarant can revoke their medical power of attorney, and they can do so:
If they are of sound mind and able to communicate their intent of revocation
At any given moment before the MPOA takes effect (before the declarant becomes incapacitated)
After they recover from a condition that made them unable to express their wishes
What Happens After You Revoke a Medical Power of Attorney?
After you revoke the MPOA, you can create a new one and:
Designate a new health care agent (and up to two alternate ones)
Express your latest wishes regarding medical treatment
When creating any advance health care directive, you want the process to be:
DoNotPay answers your wishes and ensures you as soon as possible without breaking the bank!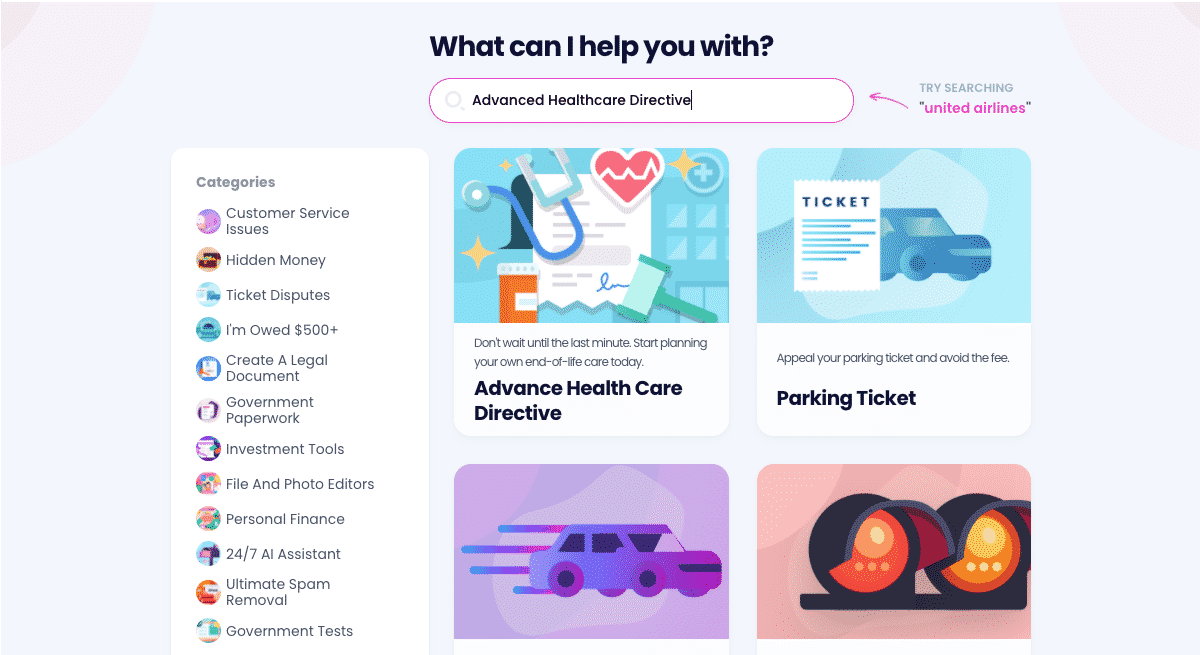 Create Any Advance Directive in the Blink of an Eye With DoNotPay!
Whether you're creating your first advance directive or a new one after submitting your revocation—the process of getting a living will, health care proxy, or medical power of attorney shouldn't be complicated.
With our app, the process is straightforward—you enter your wishes, and your personal robot-lawyer handles the formalities! To get started:
Search for Advance Health Care Directive
Designate a health care agent and express your wishes regarding medical treatment
Enter the names of your two witnesses
After you complete all the steps, your personalized advance directive form will be on its way to you shortly! All that's left for you to do is get your document notarized, and we can help. Our app allows you to get your advance directive verified from the comfort of your home.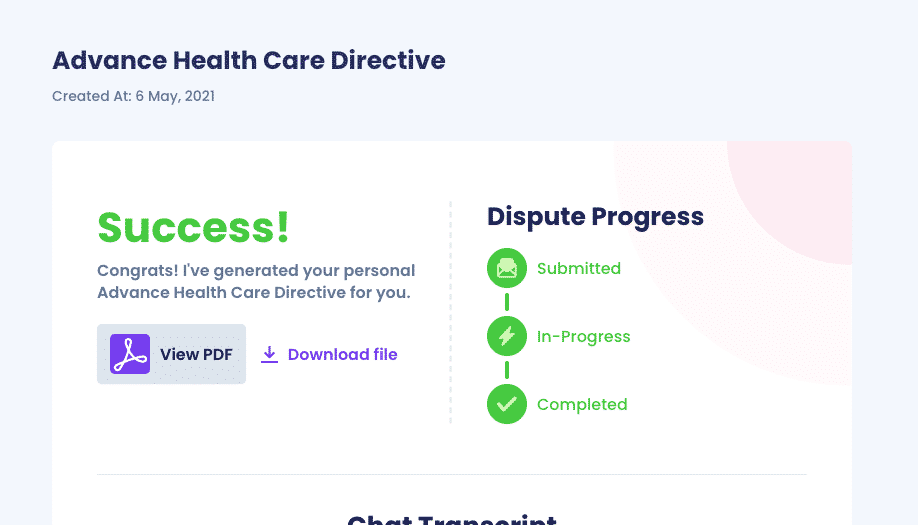 Choose From a Vast Variety of DoNotPay's Handy Services
DoNotPay boasts an enviable collection of various tools that help you cope with administrative matters more efficiently. Here is a small portion of the services we generously offer:
| We Can Help You File | We Can Create |
| --- | --- |
| Tourist visa applications | |
Be Safe Online With the Help of Our App
Keeping your details confident when using the internet is simpler with DoNotPay! Check out virtual credit cards our app can generate for you, and have fun with the free trials no one can charge you for! If you need a quick solution for phone authorization but don't want to use your actual phone number, we can create burner ones and keep your info private.
DoNotPay assists you in reporting defamation as well as stalking and harassment, prevents copyright violation, and helps you eliminate spammers and their annoying texts, emails, and robocalls.