Revocable vs. Irrevocable Trust: Which Is the Better Option for You?
A revocable and irrevocable trust are important financial tools for simplifying or removing the probate process. There are different rules about trust among different states. In this article, we will go through the differences between revocable vs irrevocable trusts and how to draw up a living trust cost-efficiently.
What is a Revocable Trust?
Also known as a revocable living trust, a revocable trust is a trust that can be altered or modified at any time as long as the grantor is still alive. This is the most preferred option if you want to maintain full control over your estate while you are still capable. Upon death, a revocable trust automatically transforms into an irrevocable trust and cannot be altered. The benefits of a revocable trust are as follows:
A revocable trust is easier to amend compared to a will. it also provides flexibility when and however you would like to alter it.

It ensures that your loved ones can avoid the stress and delay that ensue from a probate process.

Since a revocable trust doesn't have to go through probate, the original document is not required which significantly simplifies the process of distributing assets. 

As long as the revocable trust was already funded, there is continuous management of the assets even if the grantor becomes incapacitated.

Even if you become incapacitated your assets and property remain readily available.  It lets you do away with the durable power of attorney which is more difficult for third parties to manage.
What is an Irrevocable Trust?
An irrevocable trust cannot be easily amended or terminated once it's already signed. Although there have been very few and extremely isolated instances that allow for an irrevocable trust to be modified, the changes must be made with the consent of the beneficiaries. This process usually takes time as it needs to have the approval of all the named beneficiaries. The benefits of an irrevocable trust are as follows:
Anyone with a very large estate that approaches $12 million could do well with creating an irrevocable trust. Assets added into an irrevocable trust do not contribute to the overall estate value. Take note that estates that are valued at more than $11,580 million are subject to federal

tax

.

Grantors who have high-profile careers or are prone to lawsuits can benefit from an irrevocable trust because it protects assets from litigation and creditors. 

Government assistance such as Medicare and supplemental security income is not afforded to those with substantive wealth. By moving assets into an irrevocable trust, you do not need to deplete your savings to qualify for government benefits.
Differences Between Revocable and Irrevocable Trust
Also called inter vivos trust, a living trust allows the grantor to create and fund the trust during his or her lifetime. These are in contrast to testamentary trusts which are set up based on the terms of the grantor's will after death. Living trusts can either be revocable or irrevocable. One primary difference between the two is that the former can be amended anytime the grantor is alive while the latter cannot.  Here are more key differences between revocable and irrevocable trust: 
Revocable Trust
Irrevocable Trust

Who acts as a trustee?

Grantor can act as one

Grantor must elect one

Who do assets belong to?

To the grantor until the transfer

To beneficiaries and managed by a trustee

Does it protect assets from lawsuits and creditors?

No

Yes

What other benefits does it offer?

Allows loved ones to avoid probate

Assets are not subject to estate tax

Can transfer assets automatically at a trigger event

AB and ABC types give tax benefits for married individuals

Becomes irrevocable trust upon grantor's death

Can set aside tax-exempt charitable donations

Protects the privacy of property and beneficiaries

Can incorporate life insurance benefits
Which Trust is Right For You
If your goal is to eliminate or simplify the probate process, then a revocable trust is the right choice for you. If you are seeking advantages that are focused on minimizing taxes, then you may do well with an irrevocable trust. Whichever living trust you choose, setting one up helps make your loved one's life better when you're no longer around. 
Choose a revocable trust if:
You want to avoid probate but also maintain maximum control.  A revocable trust provides you with the flexibility to make changes as you see fit without limit.
 Choose an irrevocable trust if:
You want to reduce estate taxes. An irrevocable trust transfers your estate to the trustee and the beneficiaries. Since the assets are not part of your estate, they cannot be taxed as such.

You want to protect your estate from personal liability. Technically, any asset that you move to an irrevocable trust is not under your legal ownership. Therefore, they can be protected from litigation or creditors.
Create a Revocable Living Trust with DoNotPay
Getting a living trust drafted by a lawyer can cost somewhere between $1,000 to $2,000 for a single trust.  For a joint living trust, it can reach as much as $8,000. There are less costly online living trust forms that you can simply download and fill out. However, you cannot be sure of the legality of the language that these forms used. DoNotPay can help! Our AI lawyer can set up a living trust in a few clicks without having to spend on expensive lawyer fees. Here's what you need to do:
Log-in to

DoNotPay

Go to the Revocable Living Trust product

Enter the state the trust will be notarized in

Provide the name of the trustee
Enter the name of the beneficiary
Provide details about the assets and properties under the trust
That's it! Press "Solved" and DoNotPay will generate a living trust for you!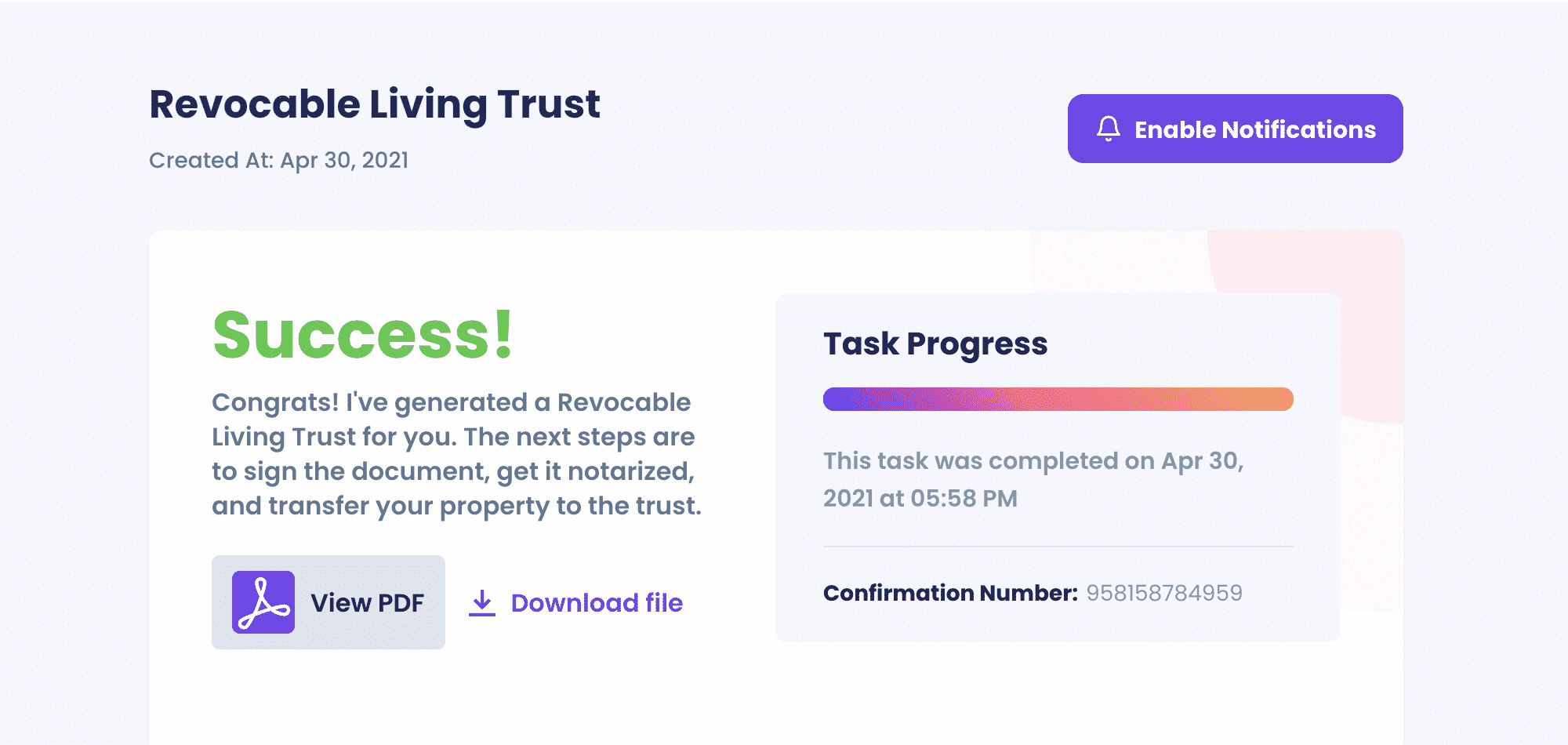 We can help draw up a living trust in the following states:
DoNotPay Can Do More For You