What is a Revocable Trust?
As you get older and acquire more properties and financial assets, you should consider estate planning. Some think that only rich people need to plan their estates with trusts and wills. However, anyone should look into estate planning to keep their family safe after they pass. One of the most popular options is creating a revocable trust which comes with a bevy of benefits. In this article, we will provide you with a simple guide on revocable trusts, who it is suitable for, and how to draft one that doesn't require you to spend thousands of dollars.
Revocable Trusts Explained
Also known as a revocable living trust, a revocable trust is created while the grantor is alive and in which the terms and conditions can be altered or terminated anytime. In some cases, the grantor is also the trustee or the primary beneficiary. It is an organized way to allot assets and ensure privacy for themselves and their beneficiaries. Here below are the purposes of a revocable trust:
In contrast to an

irrevocable trust

, a revocable trust lets the grantor and beneficiaries avoid probate, which is a legal process of distributing assets where the information is made available to the public.

The trust document can be amended an unlimited number of times while the grantor is still alive. This ensures attentive distribution of the assets to the beneficiaries.

The revocable trust provides creditor protection for the beneficiaries as long as the assets remain in the trust.

A revocable trust allows families living in states with expensive estate taxes to reduce their

taxes

.
Pros And Cons of a Revocable Trust
As with most estate planning options, there are pros and cons to revocable living trusts.  Although it allows you to distribute assets to yourself while you're still alive, some disadvantages come with it. Here is a table of the pros and cons of a revocable trust:
Pros
Cons

Lets you avoid the time-consuming and expensive process of probate

Does not let you save income or state taxes as you still need to implement appropriate tax reduction strategies

Lets your beneficiaries avoid the ancillary probate hassle of owning property in a different state

Your assets are not protected from the reach of creditors (which an

irrevocable trust

can provide)

A trustee has a fiduciary responsibility to manage trust assets in case of

death

or incapacitation

Requires administrative work to retitle assets from individual ownership and transfer them to the trust 
How to Set up a Revocable Trust?
If you believe that a revocable living trust is a right option for you, you need to start preparing the paperwork. The grantor needs to do most of the work upfront so that later on, the distribution of assets can proceed without hitches. The process of how to set up a revocable living trust is as follows:
Take an inventory of your assets.

Determine who your beneficiaries and trustee will be.

When the document is drawn up, move each property that you want to be covered into the trust.

If necessary, contact your banks and insurance companies.

Contact transfer agents to update the beneficiaries, issue new investment certificates, re-title cars, or sign new deeds.

Any unfunded or unallocated assets to your trust should be established in a "pour over".
Costs of Creating a Revocable Trust
Finding out how much you need to expect to pay when drafting a revocable living trust is one of the many steps that you should take. Trusts drafted by an attorney cost somewhere between $1,500 to $5,000 for individuals and $2,000 to $8,000 for a joint revocable trust for couples. Some of the factors that are considered in the lawyer costs for drafting the document are as follows:
Quantity of assets to be recycled

The complexity of estate planning

Goals of the trust

Tax and financial circumstances

Date and manner of how the assets need to be transferred

Appointment of a trustee to manage assets for children below 18

Estate value

Provisions of the estate 
Get Your Living Trust in Minutes With DoNotPay
Getting a revocable trust drafted can be expensive when you need to hire a lawyer to do it for you. If you try to do it yourself and use online living trust forms, there are risks to using language or phrases that are not accurate. That is where DoNotPay can help. Our robot lawyer helps users to draft trust documents without the need to learn technicalities or pay expensive lawyer fees. Here's how to do it:
Log-in to

DoNotPay

and look for the Revocable Living Trust icon
Enter the name and address of your trustees and beneficiaries
Allocate properties and assets as needed

Enter the location where the document will be signed and notarized
How easy was that? You can always go back and have DoNotPay edit the document for you. Just take the final document and get it notarized!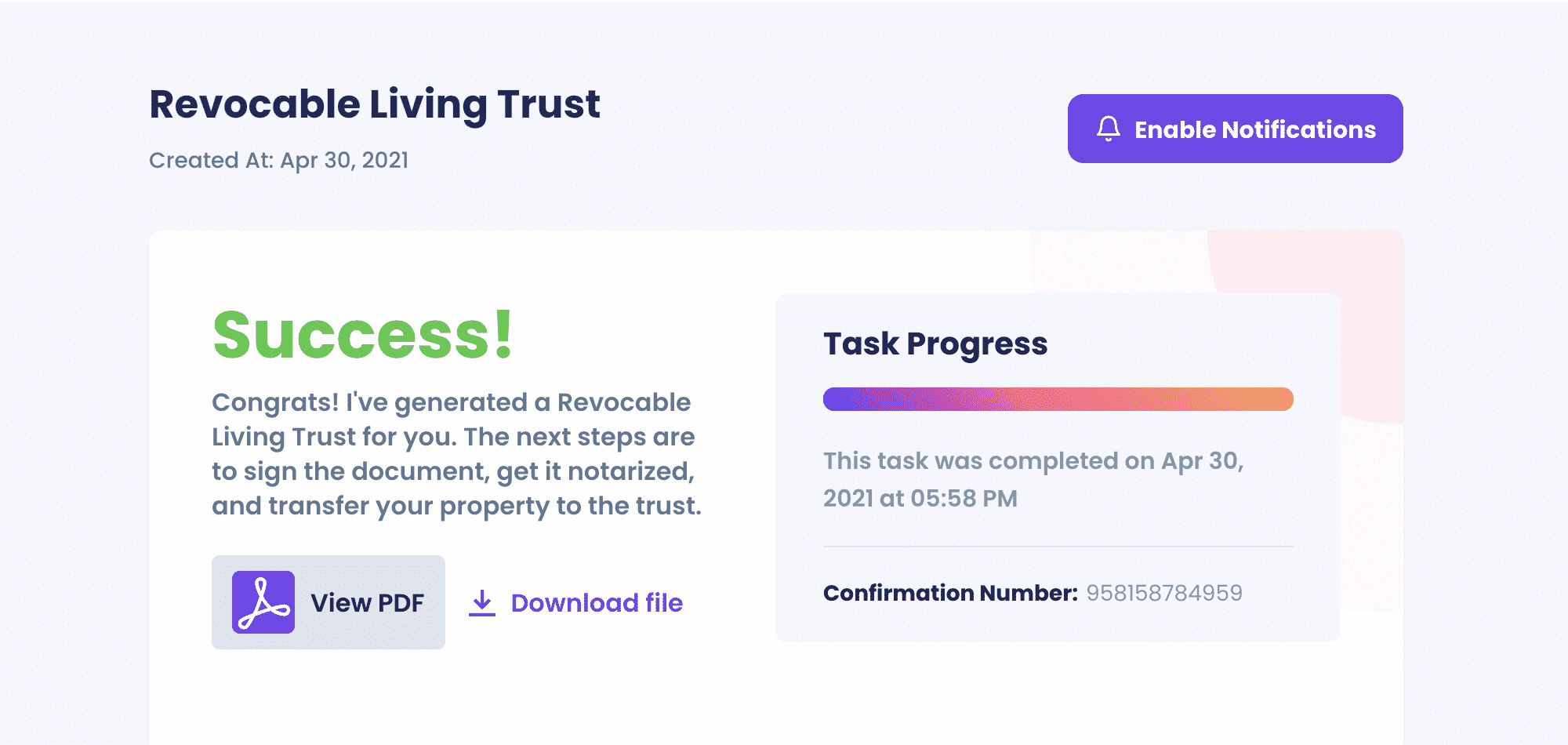 DoNotPay can help you draft revocable trusts in all 50 states including:
How Else Can DoNotPay Help?