Revocable Trust Beneficiary Rights
If you are a designated beneficiary for a revocable trust, you might be wondering what your role in the trust is and what rights you have to the trust's assets. As a beneficiary, it is important for you to know what you need to do to get your share of a revocable trust. To learn more about trusts, how they are established, and what rights you have as a beneficiary, keep reading below. 
Living Trust Basics
If you are included in a living revocable trust, you should learn everything you can about the trust process. A living trust, or a living revocable trust, is a legal agreement that places your assets under the management of a chosen trustee. The most important terms of a trust to know are:
Grantor: the individual who establishes the trust

Trustee: the individual or institution that oversees the trust

Beneficiary: someone designated to received allocated sections of the trust
To learn more about trusts, keep reading. 
What are the Rights of a Beneficiary in a Revocable Trust?
If you have been named a beneficiary for a living revocable trust, you should learn what rights you have to the trust's assets. In a revocable trust, your benefits can vary according to what the grantor of the trust has outlined. Depending on what your trust outlines, you are entitled to receive all of the assets allocated to you in the trust documents. In addition to this, you can request an accounting report from the trustee if you believe they are not executing their duties to the trust correctly. 
Revocable vs. Irrevocable Trust
As a beneficiary, it is important to know if your trust is revocable or irrevocable. The differences between these two major kinds of trusts are important to your benefits and how they can change. The table below can help you understand the differences between revocable and irrevocable trusts. 
| | |
| --- | --- |
| Irrevocable Trust | Revocable Trust |
| Almost impossible to change once the trust is established | Easily adjusted after the trust is first established |
| Firmly establishes beneficiaries and management terms without room for adjustment | Allows beneficiaries, assets, and terms be changed flexibly throughout your life |
As a beneficiary of a revocable trust, your benefits may change throughout the grantor's life if they choose to adjust their trust. 
Living Trusts vs Wills
The most well known estate management plan is to create a will for yourself. But, a will can't cover your asset management throughout your lifetime like a living trust. While a will is only effective after death, a living trust is effective throughout your life and after your passing. A living trust helps:
Avoid probate

Keep your information out of the public record

Keep your beneficiaries from facing court disputes or future costs
You can use both a will and a living revocable trust to manage your estate fully throughout your lifetime. Read more about wills and trusts here. 
Learn More About Living Trusts!
If you still want to read more about trusts and learn everything you need to know about the trust-making process, you can find out more in our articles listed below!
How to Create a Living Revocable Trust
You can use a number of different methods to make your living revocable trust. To start the trust-making process, you can use:
A lawyer

An online template

Do it yourself

Use DoNotPay
Hiring a lawyer might seem wise, but it can be very expensive. But, creating a trust on your own is not advisable considering how important a legal agreement is. Luckily, DoNotPay can help you make your living revocable trust in minutes without any high costs or lawyers' fees. Find out more about DoNotPay's trust process below. 
Make Your Own Living Trust with DoNotPay
Establishing your living revocable trust with DoNotPay can be a quick and stress-free process. To start creating your own trust, all you need to do is:
Log-in to

DoNotPay

and go to the trust product
Tell us what state you live in
Provide details about your trustees and beneficiaries
Allocate your properties and assets as needed
That's all there is to it! Get your revocable living trust ready to download in minutes!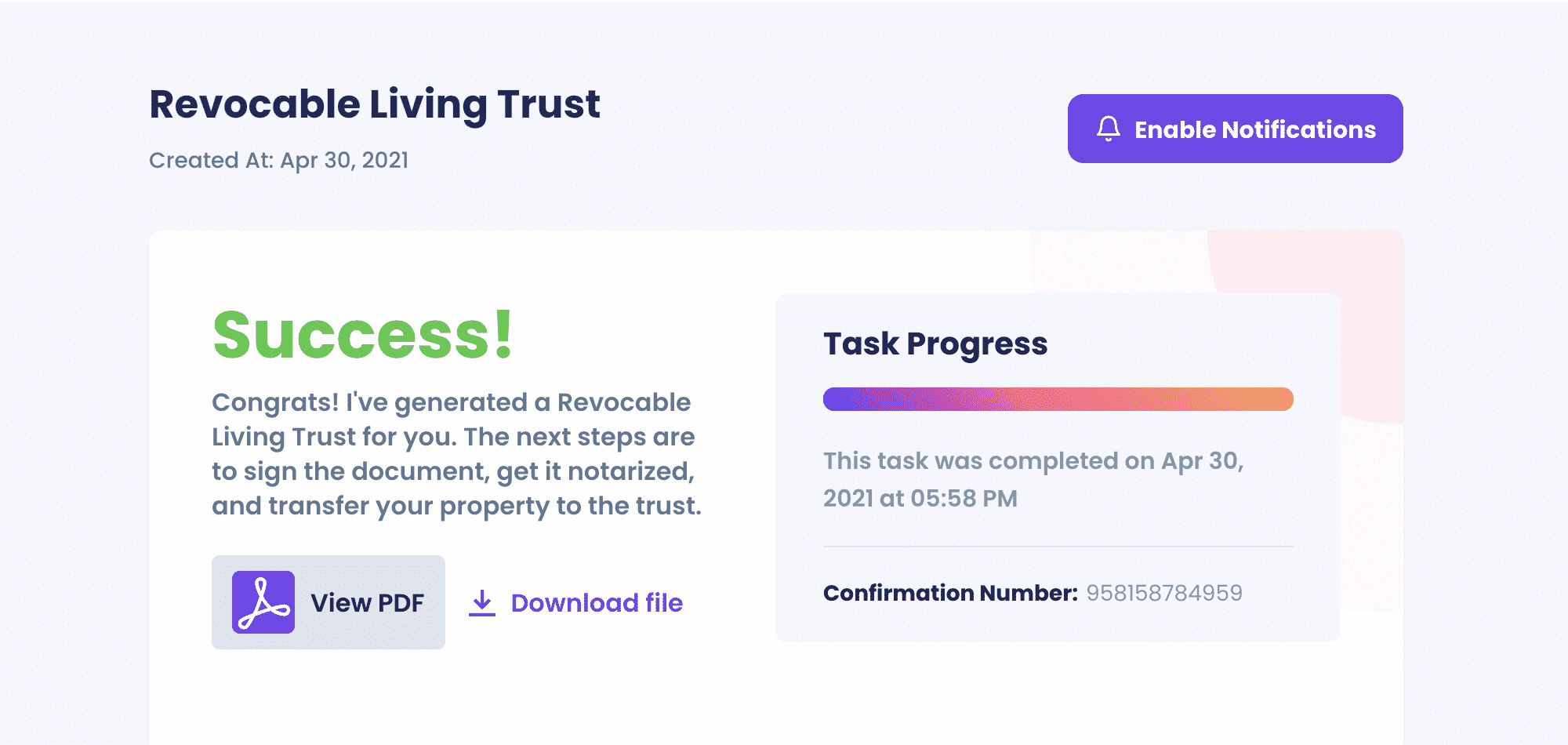 Here's more information based on your state:
DoNotPay Can Do More