Revocable Trust as Beneficiary of IRA
Ever since the U.S introduced the IRA, or Individual Retirement Arrangement, in 1974, hundreds of millions of people have found it a superb way to build wealth. Combining an IRA with the exceptional benefits of a living trust can guarantee your wealth goes to your chosen person after your demise.
This article will shed more light on the tips and pitfalls that come with designating your revocable living trust as a beneficiary of your IRA.  
What Is an IRA?
IRA stands for Individual Retirement Account or Arrangement. It is a type of account that can be opened by any working-class individual and used to save a part of their monthly income according to the stipulated limits. As of 2021, the stipulated savings limit for most types of IRAs is $6,000. There are four types of IRAs:
Traditional IRA
A traditional IRA is the most common type of IRA, which sets a limit of $6,000 to $7,000 as the annual contribution. With a traditional IRA, you contribute before-tax or after dollars. You will be charged an income tax upon withdrawal during retirement. It requires you to stop contributing to the retirement account and become entitled to a required minimum distribution (RMD) every month once you reach the age of 70.5.
Roth IRA
A Roth IRA offers a greater advantage because it guarantees no tax deductions upon withdrawal. You contribute after-tax dollars. Most Roth IRAs come with a minimum income limitation, but there is no limit to how long you can contribute to the account provided you have a viable source of income. 
SEP IRA
The Simplified Employee Pension (SEP) IRA is another kind of retirement account specifically designed for freelancers, independent contractors, and private hire individuals. Every year, the Federal Reserve Board sets a new limit for contributions to SEP IRA. The current limit is 25% of earned income. 
SIMPLE IRA
A SIMPLE IRA is a special IRA for self-employed residents and small businesses. It also requires a maximum contribution limit and can be jointly funded by the employer and employee during business. 
IRA vs. 401K
In terms of functionality, an IRA plays a similar role to a 401k. You can use both as tools for retirement savings. Here are the major differences between them:
| | |
| --- | --- |
| IRA | 401K |
| Can be set up by any individual | Must be set up by your employee |
| Generally has a lower contribution limit of $6,000 and $7,000 for 50+ years old owners.  | Generally has a higher contribution limit of around $19,500 and $26,500 for 50+ year-old owners |
| Thousands of investment opportunities to choose from | Only a handful of investment options to choose from according to the employer's permission |
| May offer tax deduction benefit for holders | Does not offer any tax deduction benefit |
| You face penalties of up to 10% for withdrawing early from your IRA | You can withdraw from your 401k in the form of a loan |
| IRA is less likely to offer complete creditor protection for your assets | 401k offers greater creditor protection for your assets |
| Depending on the composition of your portfolio, IRA may demand a little knowledge of financial management. | 401k requires no financial management skill and you can administer it yourself  |
Some people transfer their assets from a 401k to their IRA after they have ended employment with an employee. To qualify as an IRA beneficiary, you need to be a designated beneficiary, an eligible designated beneficiary, or a non-designated beneficiary.
Designated beneficiaries:

All individuals explicitly named as IRA beneficiaries.

Eligible designated beneficiaries:

All parties not mentioned in the trust but have statues or conditions that suggest a relationship or the need for support from the IRA.

Non-designated beneficiaries:

Are legal entities that can be named as a beneficiary to the trust. This includes charities, trusts, etc.
Revocable Living Trusts
A revocable living trust is one type of living trust. The other is an irrevocable living trust. Both types of trust help you take charge of your estates while you are still alive and after you pass on. Living trusts work similarly to a will, but it avoids probate and the specific transfer of assets is decided by you, not the courts.
IRA and Revocable Living Trusts
If you plan to continue reaping the benefits of an IRA and want to include the right persons after your demise, then you should name a revocable trust as a beneficiary of your IRA. After you pass, the assets in the IRA would be a part of the trust. The beneficiary can roll over the inherited IRA to their own, if it is specified in the trust.
Benefits of Naming a Revocable Trust as IRA Beneficiary
By naming your revocable trust as a beneficiary, you get the advantage of:
Protection from creditors

Solving complicated family structures

Limiting beneficiary access to selected assets 
How to Create a Living Trust With DoNotPay
A revocable living trust can be opened by partners or an individual. To set one up, you can opt for DoNotPay which offers a great living trust at a reduced cost.
Sign-up with

DoNotPay

.
Click on the Revocable Living Trust product. We'll ask for the state you live in and where you're getting the trust notarized.
Assign your beneficiaries and assets to be given to them.

Assign trustees to manage the trust

when you die

.
After you submit the task, a living trust will be ready for download in PDF or DOCX. You can make changes as you wish before getting it notarized.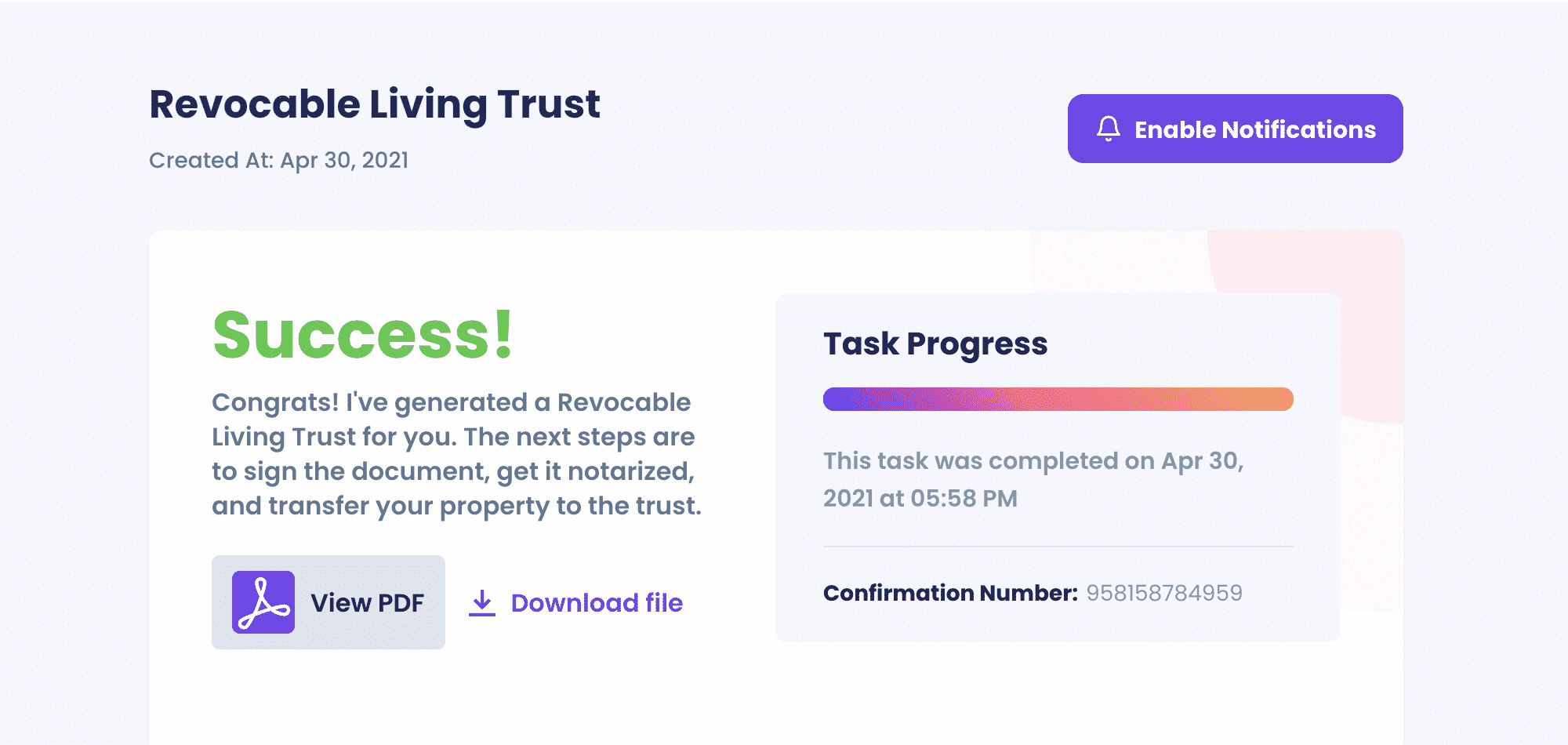 DoNotPay Living Trust Guides
Find out what your state requires to set up a revocable living trust and how DoNotPay can help you no matter where you are from: