Draft a Revenue-Sharing Agreement in No Time!
Do you want to start a partnership but are hitting a roadblock when it comes to revenue sharing? We've got you covered! 
In this detailed guide, DoNotPay helps you figure out everything you need to know about a revenue-sharing agreement. If you need to write other contracts, we're here to help you out with any legal document you require as soon as you sign up!
What Is a Revenue-Sharing Agreement?
A revenue-sharing agreement—also known as a profit-sharing contract—is a legally binding document between two or more partners defining the guidelines for sharing profits and losses. This agreement is usually created as part of a partnership agreement.
Why Do You Need a Revenue-Sharing Agreement?
It is essential to have a written revenue-sharing agreement when conducting business with other parties. Even if your business partners are your family, friends, or someone you know well, there is a chance of potential conflicts when it comes to sharing profits and losses.
Revenue-sharing agreements are also important because they clearly state the duties and responsibilities of every party to prevent any confusion or potential risk. 
It is crucial to keep every scenario in mind when drafting this agreement to cover all your bases regarding revenue sharing.
What Criteria To Follow for a Revenue-Sharing Contract
Before drawing up a contract, you must set the criteria to decide the revenue-sharing percentage:
| | |
| --- | --- |
| Method | Brief Explanation |
| Capital contribution | Profit and loss are shared based on each partner's capital contribution |
| Management contribution | If a partner has a more active management role, they get a higher profit/loss percentage. This agreement is more favorable in businesses with specialty skills |
| Custom criteria | This partnership agreement has various criteria, including business performance and the profit and loss amount. Some partners will have a higher share of profit but not the same percentage of loss |
Important Elements To Add to the Revenue-Sharing Agreement
Although it seems like a simple document, a revenue-sharing contract can be tricky to make.  Here are some essential requirements:
Partners and business name

Duties and responsibilities

Profit and loss percentage

Restrictions

Sweat equity payments

Dispute

Partnership continuity
Partners and Business Name
The section contains the names of all the partners, their contact information, and addresses. It also incorporates the business entity for which the partners are drafting an agreement.
Duties and Responsibilities
It is essential to mention each party's respective duties and responsibilities. Every participant should have a specific role assigned, along with what they're expected to contribute. 
Profit and Loss Percentage
The agreement must clearly state the division of profit and losses. You should determine it through percentages or fractions.
Restrictions
Revenue-sharing agreements usually impose restrictions on individuals during the decision-making process. A majority of partners need to give written or verbal consent for spending the company money. The purpose of this mutual consent is to avoid misuse of business assets.
Sweat Equity Payments
Sweat equity is an individual's contribution to a partnership. This contribution can be both monetary and non-monetary. This clause is important because some partners have more sweat equity than others, so they have a higher decision-making capacity and revenue-sharing percentage.
Dispute
What happens if there is a dispute? Is there any specific procedure to follow? Specify how to deal with conflict and reach a resolution to make the process more efficient.
Partnership Continuity
This section explains how the partnership is supposed to continue if a partner passes away or terminates the contract. In the case of death, the agreement should have a clause to pass on the respective party's share to their successor. If they terminate the contract, it states the procedure to carry out the termination.
What Happens if a Partner Fails To Honor the Contract?
A revenue-sharing contract is legally binding. If a partner violates the agreement by making decisions without the consent of other parties or using the company's assets inappropriately, they can be subject to lawsuits and disciplinary action. 
The partners can make a unanimous decision to remove the guilty partner, impose a fine, or take them to court. 
Create Various Contracts and Agreements With DoNotPay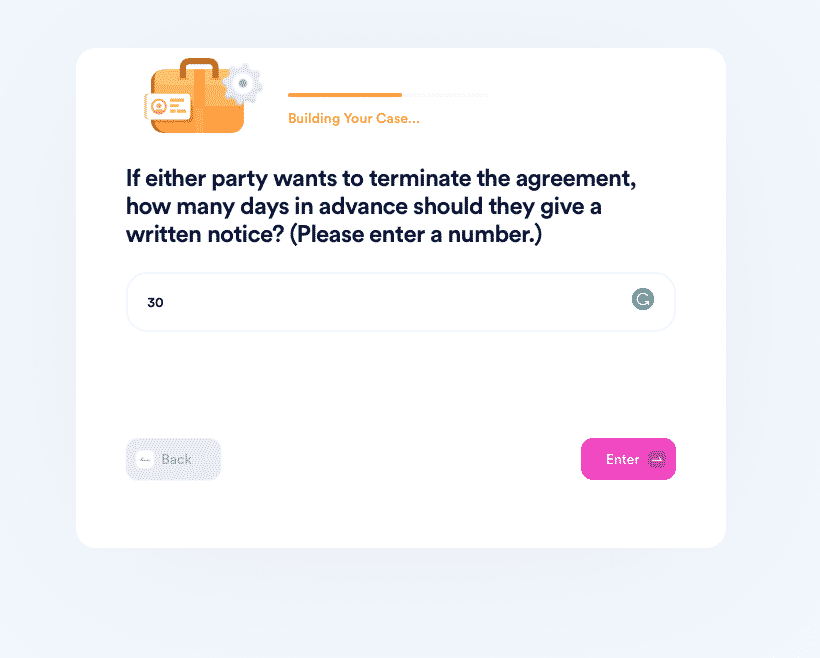 Hiring an attorney to draft a contract can be expensive, and online contract templates are often outdated. With DoNotPay, you can get a professional contract drawn up within minutes for an affordable monthly fee!
Here's all you need to do:
Search for the document you want to create

Answer our questions to personalize your document
We will send the contract to you, and you should download, print, and sign it. 
DoNotPay can draft the following agreements for you:
Real Estate
Business Contracts
Other

Intent To Purchase Real Estate

Quitclaim Deed

General Business Contract

Promissory Note

Child Care Authorization Form

General Affidavit
Easy-Breezy Ways To Deal With Not So Breezy Issues
Administrative and similar tasks don't have to be as complicated as we've known them to be. With DoNotPay, dealing with paperwork and companies is done in a few clicks. Let the world's first robot lawyer help you:
Money Troubles? I Don't Know Her!
As our app's name says, DoNotPay's mission is to put a stop to losing money and overpaying. We will help you get your hands on free trials and snatch free raffle tickets. DoNotPay can also provide solutions for you to get help covering bills and reduce your property taxes.
If you want to get some additional funds, use our app to sign up for clinical trials. You may also take our practice tests to ace a government test and land a better-paying job.
It doesn't hurt to check whether you are owed some unclaimed money, and we can help you with the application.