Return Policy 101: All You Need To Know
You purchased an item, and you realized it's not quite what you bargained for? Don't worry. In most cases, you will be able to return the product to the merchant without any issues. All you have to do is follow their return policy.
DoNotPay explains the ins and outs of the typical return policy and helps you use any retailer's return guidelines to your advantage.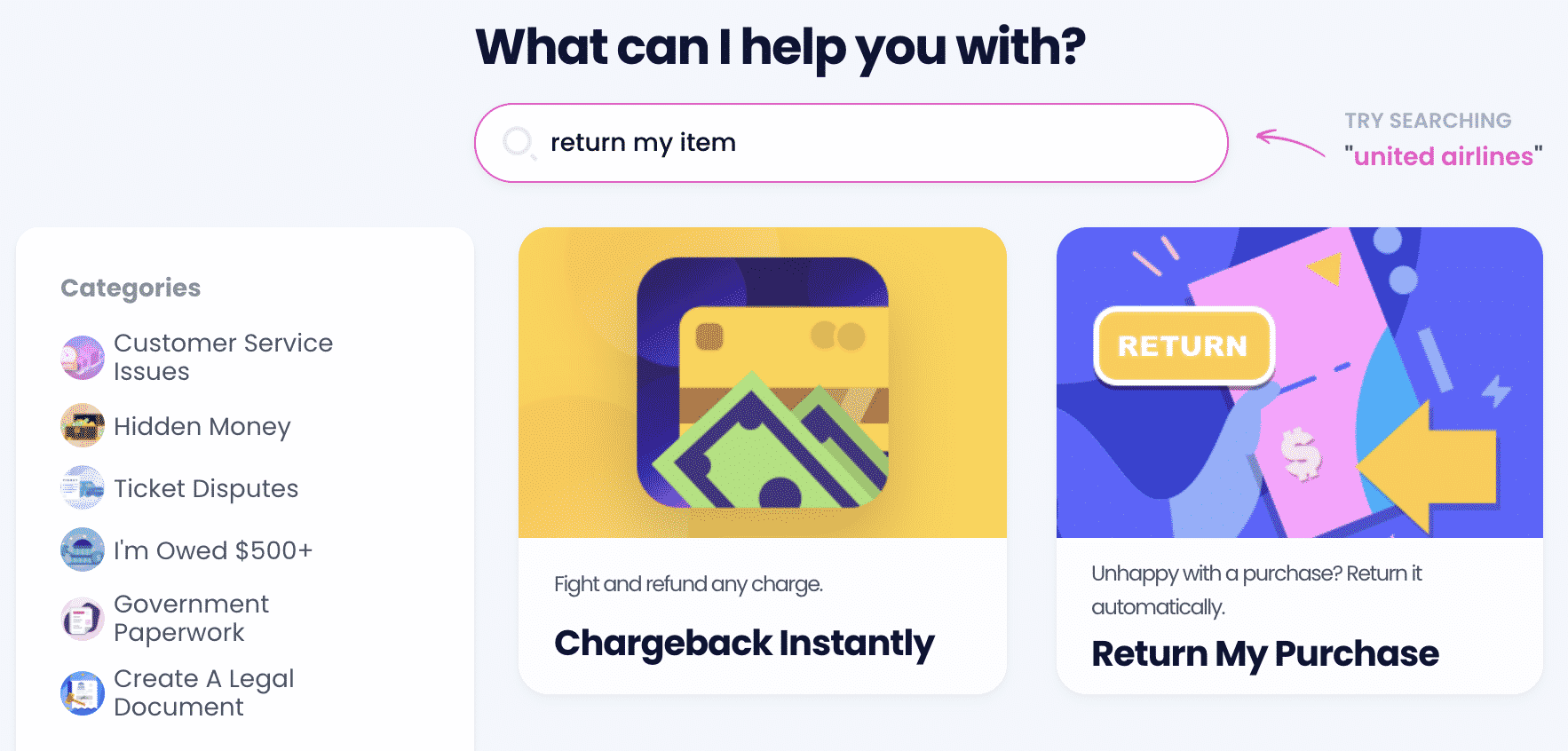 Breaking Down the Returns Policy
A return policy is a set of rules that retailers create to handle possible product returns or exchanges. Most merchants accept returns under certain conditions, which should be explained concisely and clearly.
Almost all retail stores and shopping websites include some sort of a return policy.
Store return policy—whether it is an eStore or a physical shop—should include detailed information about the return process, such as:
Time after purchase you have to place the return
Item condition and whether you need to pack it in the original box or not
Ways you can return the product
The type of refund the store can provide
Shipping information
Time for refund realization
Which Items Are Returnable?
Every responsible business has a fair return policy that clearly states which products you can return.
There are multiple reasons why you may wish to return the product. Because of that, you should always make sure that the store where you purchased the item accepts returns.
Retail return policies should cover:
Unwanted items
Duplicate products
Items you received or bought by mistake
Damaged or defective products
In most cases, retail return policies state that the items you return should be in good (sellable) condition. This is especially true if you are returning a product that doesn't have a manufacturing error or isn't faulty. Some retailers will also not accept products that have been opened or that no longer contain tags or seals.
If the merchant sold you a damaged or defective product, you can request to return it.
Is There a Standard Return Policy?
In most states in the U.S., merchants have no legal obligation to accept the item you return unless it is defective. Aside from that, stores can adjust their return policies according to their business practices. The terms they include vary from one enterprise to the other, although you should always have a right to return the product within three days of purchase, according to the FTC.
Most retailers, such as Zappos, will apply a 30-day return policy, which is standard practice. That means you will have 30 days to return the item after the purchase or delivery. Amazon and Bath & Body Works are some retailers that have this policy.
How To Return an Unwanted Item
The way to return a product you bought usually depends on whether you purchased it in-store or online. While, in most cases, you can return an item from a store by bringing it back to the same location, you will have to follow a specific process for the items you bought online. Web stores usually include step-by-step instructions on how to return the product.
There are several ways you can make the return request:
In person
Through the website
By phone
Via email
With DoNotPay
Not all companies will support the same methods. For example, some stores—like Adidas, Office Depot, or Staples—will not accept phone or email returns. To avoid complications, you should check the company's return policy or contact its customer support for information.
Can You Return an Item Without a Receipt?
This is also something that is different from one store to another. All merchants will ask for a receipt when you return the product. Some of them are willing to accept a return without the receipt as long as the product is in a sellable condition. For instance, you can return the item to Dollar General even if you don't have a receipt, but you will receive a refund on a gift card instead of in cash.
How Can DoNotPay Help You Make a Return Request?
If you find that going through a company's return policy and following all of those steps is a tedious and time-consuming process, do not hesitate to use our app. We can help you create any type of return request within a couple of minutes.
All you need to do is:
Search for Item Return Request
Complete our form with relevant information and add photos of the items you wish to return
Click on Submit
After you go through these steps, DoNotPay will create a custom-tailored return request and send it to the store. The request will include a time limit for the merchant, so they should process it by the date you specified.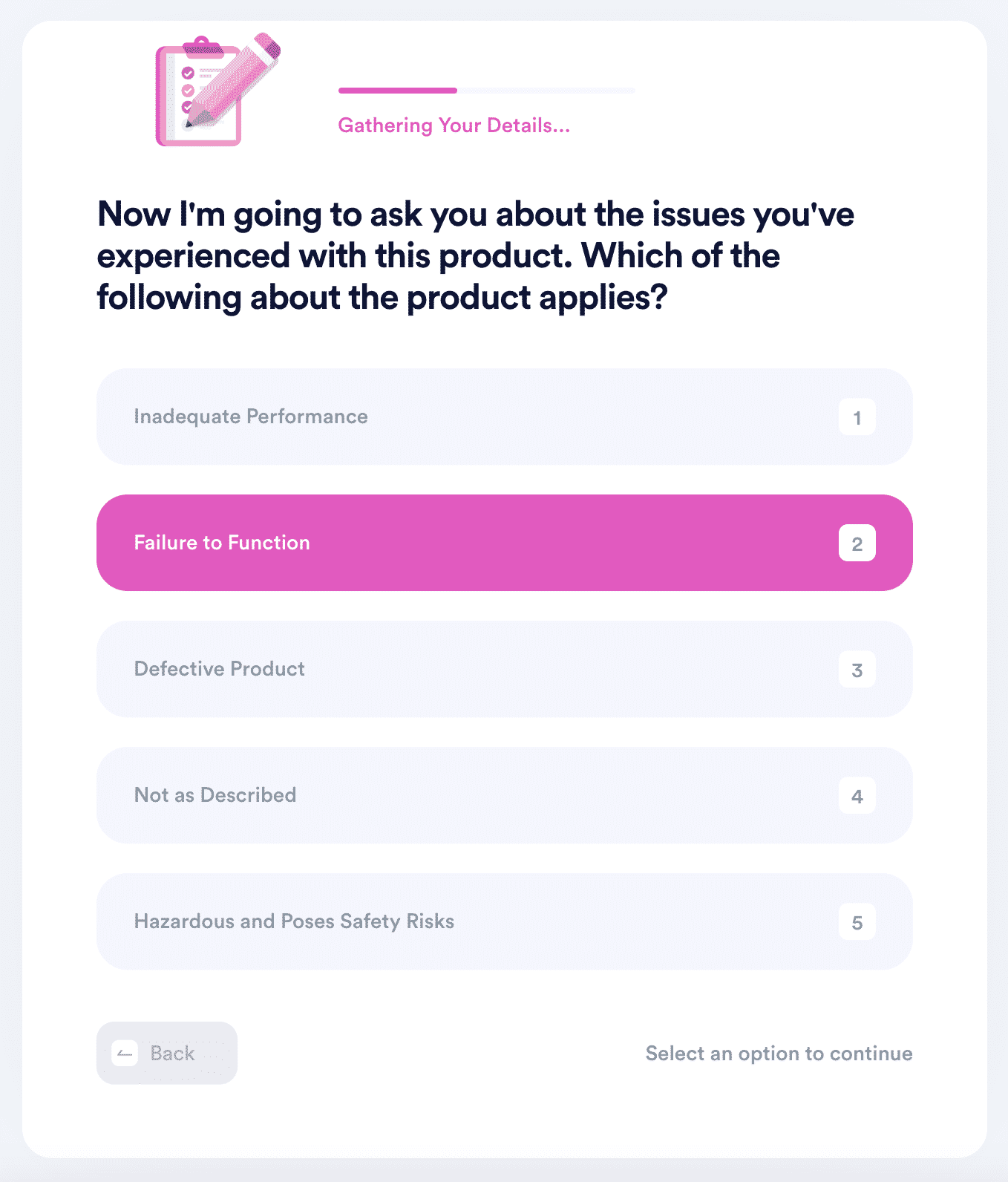 In the return request, DoNotPay will include all of the information you provide about the item, the reason for the return, and whether you wish to get a refund or a replacement. DoNotPay also provides you with a return label so that you can send your return package for free.
DoNotPay Sends Return Requests to Stores in No Time
We can help you figure out return policies of countless retailing companies, such as:
With DoNotPay, you will not have to waste time on the return policies ever again!
Returned Your Faulty Item? Discover Other Nifty DoNotPay Products!
Apart from being your shortcut through returning your faulty items to merchants, our app can do so much more! From helping you request a refund, get extended warranties, file insurance claims, and find clinical trials in your vicinity to assisting you in creating legal documents, getting them notarized, and faxing them—DoNotPay can do it all.
Do you think you're eligible for a victims of crime compensation program? Our app can help you apply for it. Do you want to get revenge on persistent robocalls, report someone for stalking or harassment, or get your noisy neighbors to be quieter? We got your back!
You Don't Have To Waste Time in Endless Lines
Returning an item may require you to wait in endless lines, but if you sign up for our AI-driven app, you will be able to skip all kinds of queues! You won't have to spend ages waiting in lines at the DMV or in customer support phone queues because DoNotPay will provide an easier way to get what you need.
If you want to skip the hassle of waiting on the phone when canceling a service, requesting refunds or compensation from airlines, requesting a college fee waiver, or connecting with a loved one in prison, you can count on DoNotPay to provide easy solutions.