Retaliation Against Employees That Report Misconduct Is a Problem in Cultures
Workplace retaliation is unethical and illegal. However, it is more common than we think. The U.S. Equal Employment Opportunity Committee (EEOC) shows that retaliation in the workplace is the most frequently reported basis of discrimination in private and federal sectors. In addition, research shows that 60% of employees are reluctant to report misconduct at work due to fear of ramifications.
This article will discuss what constitutes workplace retaliation and how to take legal action against it. If you are a witness or victim of workplace misconduct but fear to voice your concerns, you can learn how to file formal complaints safely and anonymously through .
What Constitutes Workplace Retaliation?
Retaliation occurs when an employer takes revenge against an employee for exercising their legal rights. Here are some examples:
Demotion:

A case where the employee is stepped down in rank as a result of their legally approved whistleblowing.

Transfer:

An employee is moved to continue work at another geographic location as a retaliatory measure.

Unwarranted job reassignment:

An employee is switched to another department or a new job role within the company, which they may not find favorable at that time.

Termination of employment:

A form of retaliation in which you get fired for reporting company or

manager

wrongdoing.
How to Deal With Retaliation
There are a few steps you must take if you are being targeted by your employer for retaliation.
Write To Your HR:

If you are unsatisfied with your manager's response or the steps taken to settle the issue, you should write to your

HR

. This is necessary for evidentiary purposes, especially when you intend to escalate your complaint to the EEOC. You may skip this step if you are convinced that HR is complicit in the wrongdoing.

File A Complaint With The EEOC or your state Employee Protection Agency:

The Equal Employment Opportunity Commission (EEOC)

is a federally mandated worker protection board, that sees to all reports of worker discrimination at work. Some states also have their worker protection agency like the

Department of Fair Employment and Housing in California.
If you're in the private sector
Steps to follow
How long you have

After reporting to your HR, you start by filing your complaint of retaliation to the EEOC through mail, telephone, a credible legal outfit or all by yourself.

180 days

OR

300 days

depending on the case and the state you reside

The service you have chosen will help you deliver your complaint. You will enter into a phase of mediation by the EEOC, between you and your employer.

This happens 1-10 days after filing

Mediation can take up to three months in some cases

If mediation fails, the case will then enter an investigation phase. Then, your employer will be served a charge and he has to respond to it.

This happens between 1-180 days after filing

Investigation can equally take up to 10 months

If your employer is uncooperative, or you are unsatisfied with the outcome of the investigation, you will be given a 'notice of right to sue' permit and this allows you to bring a formal lawsuit against your employer.
If you're in the federal sector
| | |
| --- | --- |
| Steps to follow | How long you have |
| Your first step is to contact your local counselor (EEO) and inform them of the retaliatory incident. They will have to push for an Alternative Dispute Resolution - a special kind of mediation. | 1-45 days after the event happened |
| In the event that ADR fails, the EEO then gives you a go-ahead to file your complaint with the office of the EEO within your work premises. | 1-15 days after a failed ADR |
| The EEOC will commence the investigation and give you the option of a public hearing or a pronouncement.. | 1-180 days after filing |
| If your choice is a public hearing, you would need to write officially to the EEOC if you request a public hearing. | 1-45 after the end of investigation |
| After the public hearing, it is up to the EEOC to decide if they will adopt the judges decision on the fair hearing. | 1-40 days after public hearing |
| If you or the defendant ( your employee) does not agree with the decision, you can file for an appeal. The EEOC will re-examine your case and give a new verdict which is final and unappealable. | 1-30 days after appeal verdict |
Complain the Safe Way With DoNotPay!
DoNotPay's new Anonymous HR Complaints product lets you file a complaint without revealing your identity. All you have to do is:
1. Log in to and choose the Anonymous HR Complaints product.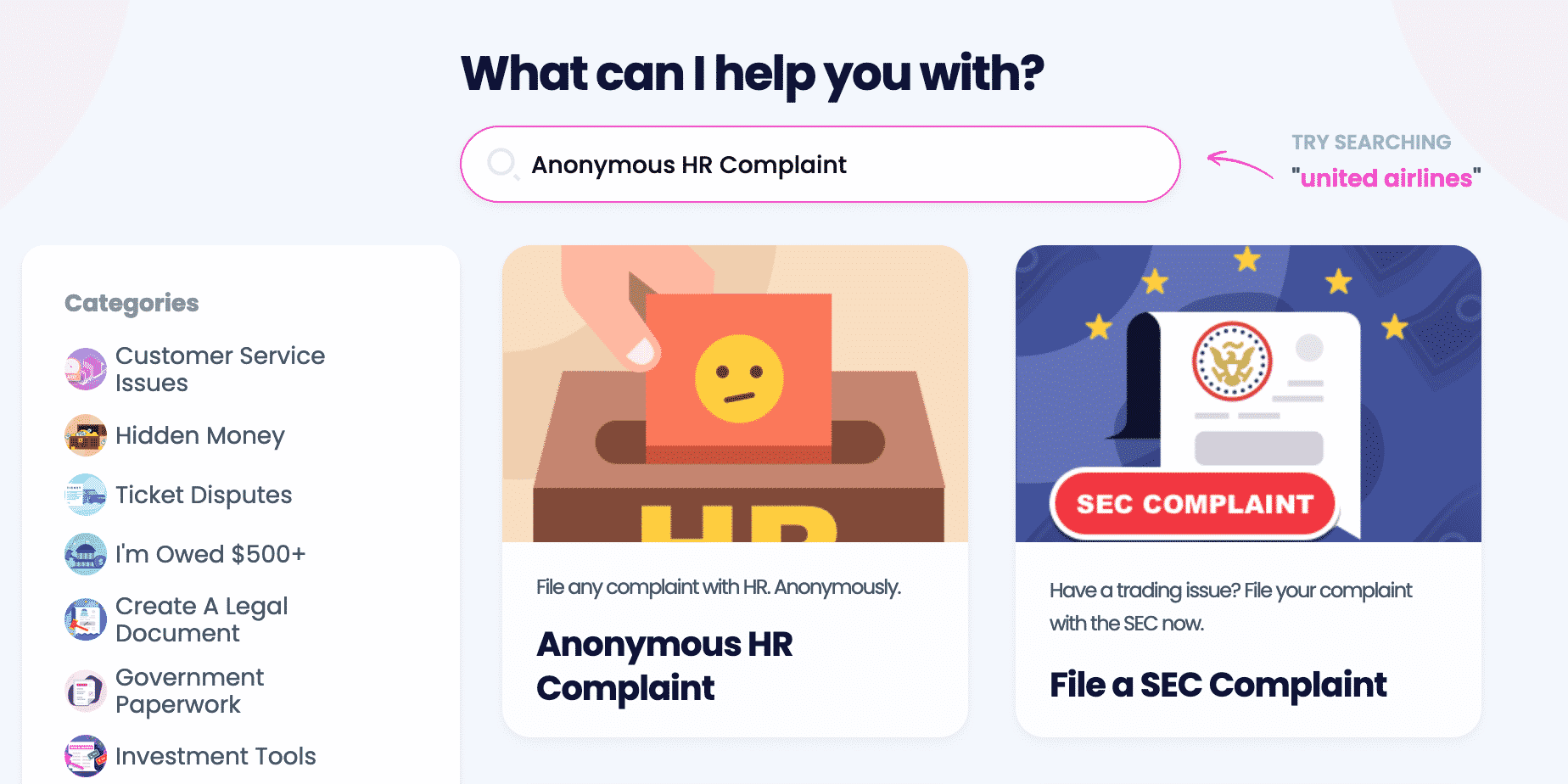 2. Enter the employer's name and the HR department's mailing address.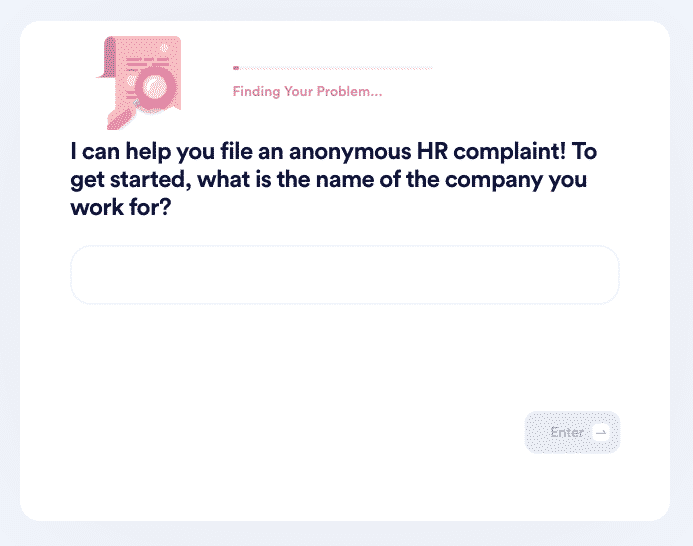 3. Explain the issues you are having and what action needs to be taken.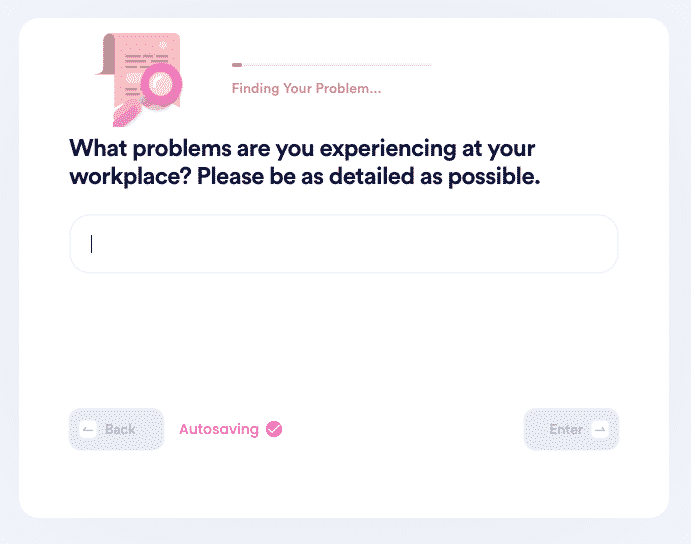 DoNotPay will automatically mail the report anonymously!
DoNotPay Is Your Personal Lawyer
DoNotPay can do more than just report workplace issues. You can also: