Breaking Down the Retainer Agreement
Retainers are not reserved for lawyers only. Many other occupations also require a retainer agreement. Negotiating a beneficial retainer agreement stems from understanding it to a T. We'll assist you in discerning different types of retainer fees and agreements, figuring out what the agreement should cover, and weighing its pros and cons.
Our app will also come in handy when you need to draft various legal documents for your business or other purposes.
What Is a Retainer Agreement?
A retainer agreement is a contract between a client (typically a company) and a professional (usually a freelancer) where they agree to work together. The purpose of a retainer agreement is to set forth the roles and obligations of the parties entering into it.
The word retainer in this agreement is a fee that the client usually pays in advance to retain the services of a professional in case they need them. So, even though it's a work-for-hire agreement, you shouldn't confuse it with the independent contractor agreement.
Retainer Types
Types of retainer fees and agreements vary depending on your line of work and what both you and the client decide on. The most common types are:
General retainer

—The client pays for your availability so that you can provide a service when called upon. It usually covers a specific period

Retaining fee

—Clients need to deposit a lump sum in a designated trust account in advance. Once you perform a service, you can withdraw the agreed amount

Special retainer

—It includes a flat fee for a particular project
The Pros and Cons of Retainer Agreements
Most jurisdictions require a retainer agreement, but even if they don't, you should look into the benefits and drawbacks of having one:
Pros
Cons

Guaranteed income

—It is especially beneficial for freelancers who are living off variable incomes and want steady earnings

Extra funds

—Even if you don't perform any services in a month, the company needs to pay you the retainer to keep you available

Flexible stability

—No need to scout for new businesses all the time while still having a certain amount of freedom

Fewer opportunities

—You may need to turn down other job offers because you're completely booked

Varying workloads

—Depending on your clients and the agreement, you may work overtime for one period and then barely anything for another, which can be overwhelming both personally and financially
What Does a Retainer Agreement Cover?
Drafting a retainer agreement that will benefit both parties is essential. Before you negotiate or add any clause or term to the agreement, go over the basics almost every retainer agreement should cover:
Scope of your work—A detailed description of your services

Amount of work—Number of hours and projects

Retainer fee—The amount and method of payment

Other payments

Additional expenses—E.g., travel costs, meals, materials, and paperwork

Client responsibilities

Service provider responsibilities

Office hours

Communication methods

Indemnification or release of liability

Termination conditions

Additional provisions
Tips for Getting a Better Retainer Agreement
If you want to be satisfied with your work, you'll need to keep a balance between your and your client's needs. Negotiating better terms may entail compromising in certain aspects, but it can be beneficial for you in the long run. Here are some tips on obtaining a promising retainer agreement:
Prove your worth—Develop relationships and keep a record of a job well done

Consider a retainer discount—Offering or accepting a lower retainer fee may be a good idea for new clients who are not familiar with your work

Prepare a pitch—Present your services in the best possible light to get the projects you want and the income that you deserve
Learn About More Legal Documents With the Help of DoNotPay
You have to understand agreements and contracts you may need to sign, which is why we are constantly adding rundowns on different legal documents to our learning center. Explore different documents and find tips on acquiring the best deals for yourself:
Use DoNotPay To Create Legal Documents Within Minutes
Writing a contract without the need for a contract template is possible! 's Legal Documents feature is exactly what you need to draft both a personalized and a professional contract.
Here's how drawing up documents in our app works:
Open DoNotPay in a

Enter the legal document you need

in the search bar

Provide the necessary info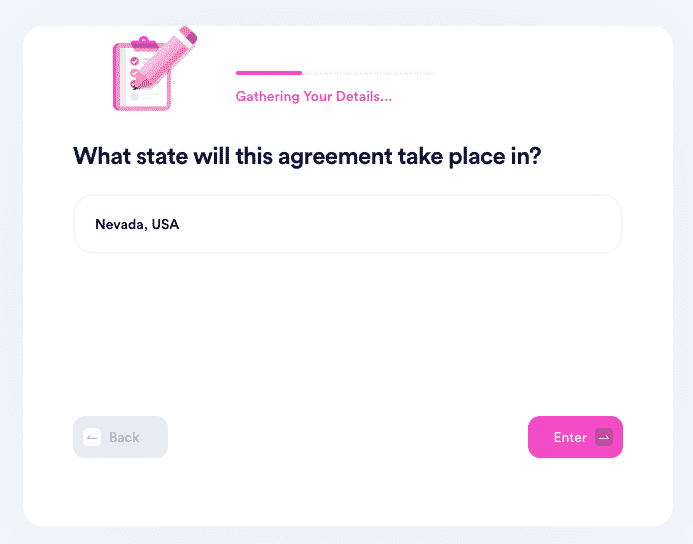 DoNotPay will use your answers to create a contract that is unique to your situation and needs. After a few clicks, your document will be ready. Remember to review it and check if it needs to be notarized.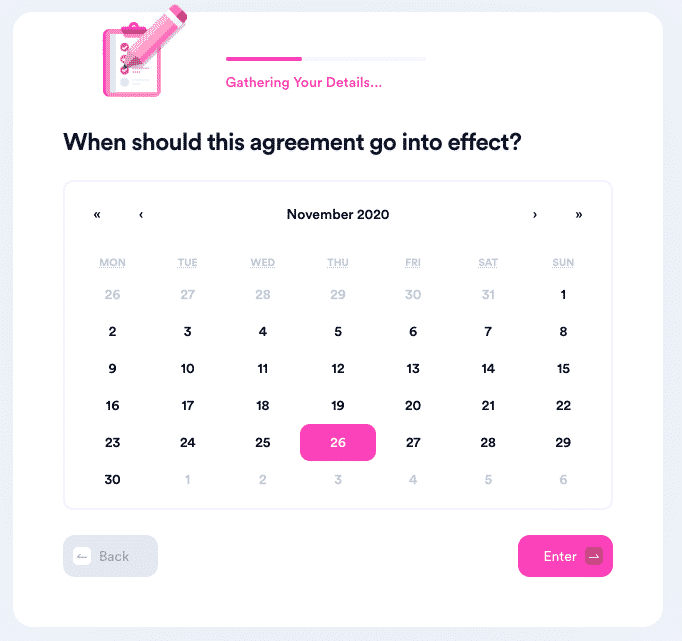 The legal documents you can generate with DoNotPay's help are the following:
Independent contractor agreement

Estoppel certificate

Quitclaim deed

General business agreement

General affidavit

Promissory note

Intent to purchase real estate

Residential

lease agreement
Tired of Companies Not Taking You Seriously? Use DoNotPay To Put a Stop to It
If you're sick of companies that violate your consumer rights, DoNotPay is here to help. If you're struggling with reporting robocalls, requesting a refund, claiming any type of warranty, scheduling a DMV appointment, reporting spam text messages, or anything else, our robot lawyer will help you sue any firm or individual in small claims court.
With DoNotPay, you can also sign up for any free trial, cancel any subscription, avoid getting charged after your free trials end, and much more!
Want Your Money Back? DoNotPay Is Here To Help
Are you looking for your missing money? Do you want to get a refund for a delayed or canceled flight? Are you trying to flip the script on illegal robocalls and earn money off them? DoNotPay will assist you in dealing with any of these pesky issues!
We can also help you bypass phone number verification, sign up for clinical trials stress-free, ace any government test in a jiffy, and block spam emails for good.