The Fastest Way To Create a Rock-Solid Restrictive Covenant Agreement
Maintaining an honest relationship with a person you collaborate with is of utmost importance. The best way to achieve it is to write a contract establishing the rules and conditions of your cooperation and preventing miscommunication. 
Restrictive covenants are the essential components of most business agreements, but it's quite difficult to create them. If you want to generate a restrictive covenant agreement within minutes, we got you covered! Read our guide and get the best tips for creating legal documents with DoNotPay's modifiable templates.
What Are Restrictive Covenants Agreements?
Restrictive covenants can't be considered agreements. They are specific clauses, often within employment contracts, preventing one of the parties from taking a particular action. The employee usually agrees to refrain from doing something that may affect the employer's business negatively. 
These provisions may also appear in any other contract, including:
By signing an agreement containing restrictive covenants, the employer gets peace of mind and protects their business-related operations and intellectual property. Such a document prohibits the ex-employee from endangering the company's privacy and confidential information.
What Restrictive Covenants Can You Use?
Depending on the individual case, the employer can choose one of the following restrictive covenants for their contract:
Non-disclosure (confidentiality)

—This section prevents the employee from disclosing sensitive business-related information to other parties. Such details include strategies, transactions, trade secrets, intellectual property details, proprietary procedures, etc.

Non-solicitation

—By adding this provision to the agreement, the employer prohibits the employee from:

Selling services to the company's customers on their own

Recruiting, hiring, or soliciting staff members to change their employment

Non-compete

—A non-compete provision prevents the employee from creating a new business that can be the company's competitor during a certain period

Non-disparagement

—This disclosure ensures the employee won't make negative comments about the employer or company

Non-dealing

—A non-dealing clause in the agreement prohibits the ex-employee from maintaining communication with the clients

Garden leave

—Once the employee gives termination notice to their employer, this section prevents them from coming to the office or work during the notice period
Are Restrictive Covenants Enforceable?
The restrictive covenants you include in your agreement must meet specific criteria to be enforceable. A single mistake in their creation can make the entire contract invalid and useless, so you must be aware of the following:
Restrictive covenants must be reasonable

The provisions must align with applicable laws (if your state has specific rules) 

These sections must be essential for the protection of the particular business interests

Their duration shouldn't be longer than is required to safeguard particular business interests
If your disclosures comply with these requirements, make the entire document valid by signing it and taking it to a notary if your state's laws mandate so. To be on the safe side, you should always check the updates of the governing laws.
Unable To Create a Contract Yourself? Give DoNotPay a Chance!
If you want to get a proper contract without spending a fortune on lawyers, our app is the way to go. DoNotPay offers a vast collection of customizable templates you can turn into ready-made contracts in a few clicks! Forget about unsuccessful drafts and inaccurate online samples. All you need to do is click a few times, and we will do the rest.
Here is how to get your personalized contract in a snap:
Open DoNotPay

in your preferred web browser

Find a suitable template by inputting the keywords in the search field

Answer a few questions about the contents of your agreement
Our app can generate the following documents:
Estoppel Certificate

Quitclaim Deed

Intent To Purchase Real Estate

General Business Contract

Child Care Authorization Form

General Affidavit

Promissory Note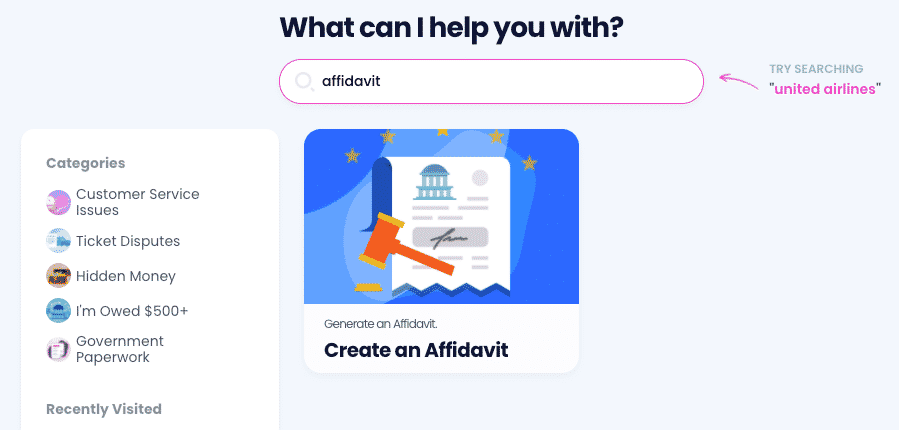 Once you sign up for our service, you gain access to all our helpful features. After creating a contract, you can have it notarized by an online notary or fax it to anyone using the same app!
Can DoNotPay Educate You About Other Legal Documents?
Not only do we write contracts in your stead, but we also offer many user-friendly guides to the most sought-after legal documents. Access DoNotPay from any device and learn more about:
| | |
| --- | --- |
| Business-Related Legal Documents | Other Contracts |
| | |
Discovering DoNotPay Will Make Your Day
If you feel overwhelmed by tons of paperwork flooding every area of your life, you can finally breathe out and let go of that stress. DoNotPay is the world's first robot lawyer that handles your bureaucratic chores for you. 
Some of the benefits that come with our service include:
Why Get a Lawyer When You Have DoNotPay?
Our agenda has one major goal—provide easy legal access to anyone who needs it. Every new feature we come up with relies on AI technology that simplifies bureaucratic procedures and saves you time and money. 
If you're wondering how to navigate tasks like contacting imprisoned friends and family members or reducing your property taxes, DoNotPay has the answers. Our service cuts through the red tape even if you need to deal with stalking and harassment, claim forgotten assets the proper way, or secure compensation for crime victims.