Restaurant Startup Costs Breakdown—How Much Does It Cost?
Having a successful restaurant is a lucrative position to be in—the full-service restaurant market in the United States is worth $334.8 billion—but getting there is a difficult quest.
Starting a restaurant comes with plenty of startup costs that you will need to cover. Without being able to rely on any profit, you will need to form your budget with your personal savings.
In this article, we will show you what restaurant startup costs there are and how big of an investment you have to make to get the restaurant up and running.
Don't have enough money to pay for the expenses? We will also show you how you get a small business loan with ease if you subscribe to DoNotPay.
When you start a new business, you have two types of costs to take care of:
One-time investment
Recurring costs
Restaurant Startup Costs Checklist—One-Time Investments
When you start any business, you need to take care of initial expenses to make your company operational—restaurants are no different.
The costs will vary immensely depending on the type of restaurant you want to open—a full-service restaurant will be costlier than a fast-food kiosk.
For the former, the first cost comes in the shape of securing a place. Depending on its size and location, the purchase price can go over $1 million. On average, owners pay $178 per square foot.
You will also have to cover other expenses before you can greet your guests.
Take a look at the following table to see one-time restaurant startup costs:
Expense
Amount
Renovation and decor
$5,000–$50,000
Kitchen equipment:

Food processors
Mixers
Refrigeration
Ovens
Ventilation
Dishwashers
Stream tables
Slicers
Items necessary for food preparation

$10,000–$400,000
Furniture
$40,000
Starting inventory
$20,000–$120,000
Licenses and permits for:

Business
Health and safety
Liquor
Alcohol tax
Dumpster placement
Food service

$4,500–$11,000
Marketing
$0–$35,000
Insurance
$2,000–$6,000
Administrative fees
$1,000–$5,000
Uniforms
$1,000
Point-of-sale system
$1,500
Signage
$1,000
Starting inventory
$6,000–$13,000
Total
$92,000–$683,500
It is good practice to include a 15% contingency in your budget for any unexpected expenses. With it, the initial startup costs for a restaurant can amount to $786,025.
Recurring Restaurant Startup Costs
Once you open the restaurant, you will have many costs that occur every month. You need to pay salaries and bills, restock your inventory, and cover maintenance costs.
If you do not have the money to buy a place (or do not want to), you can opt to rent. Renting space for a restaurant goes from $40,000 to $150,000 annually—that is $3,333–$12,500 per month.
The following list is a recurring restaurant startup costs breakdown, aside from the rent:
Utilities—$2 per square foot on average
Inventory—$5,000–$25,000, depending on what kind of dishes you serve
Equipment maintenance—$1,000
Salaries:

Sous chef—$44,000
Hostess—$20,000
Waiter—$24,000
Restaurant manager—$46,000
Line cook—$29,000
How Small Business Loans Can Help You With Restaurant Startup Costs
Running a restaurant is a costly affair in the beginning when you do not have a full house every evening. It is reasonable to believe that you will be in the red for the first six months. You should make sure you have enough savings put aside to cover the costs for that period.
If you cannot secure the money on your own, you can get a small business loan to help you fund the restaurant. Many banks and credit unions tend not to provide funds to newcomers as they look to minimize their risk and allow only respectable businesses to get a loan. Still, you can find many startup loans for your company.
Small business loans come with their conditions—lenders decide on the interest rates, repayment schedules, and collaterals. Collaterals serve as a guarantee—lenders take it away from you if you fail to repay the loan on time.
Another aspect of a loan is its type. Different kinds of loans offer varying terms, and some of them accept requests for a specific purpose—you will need to declare exactly what the loan is for. Some of the best small business loans are as follows:
How To Get a Loan Effortlessly With DoNotPay's Help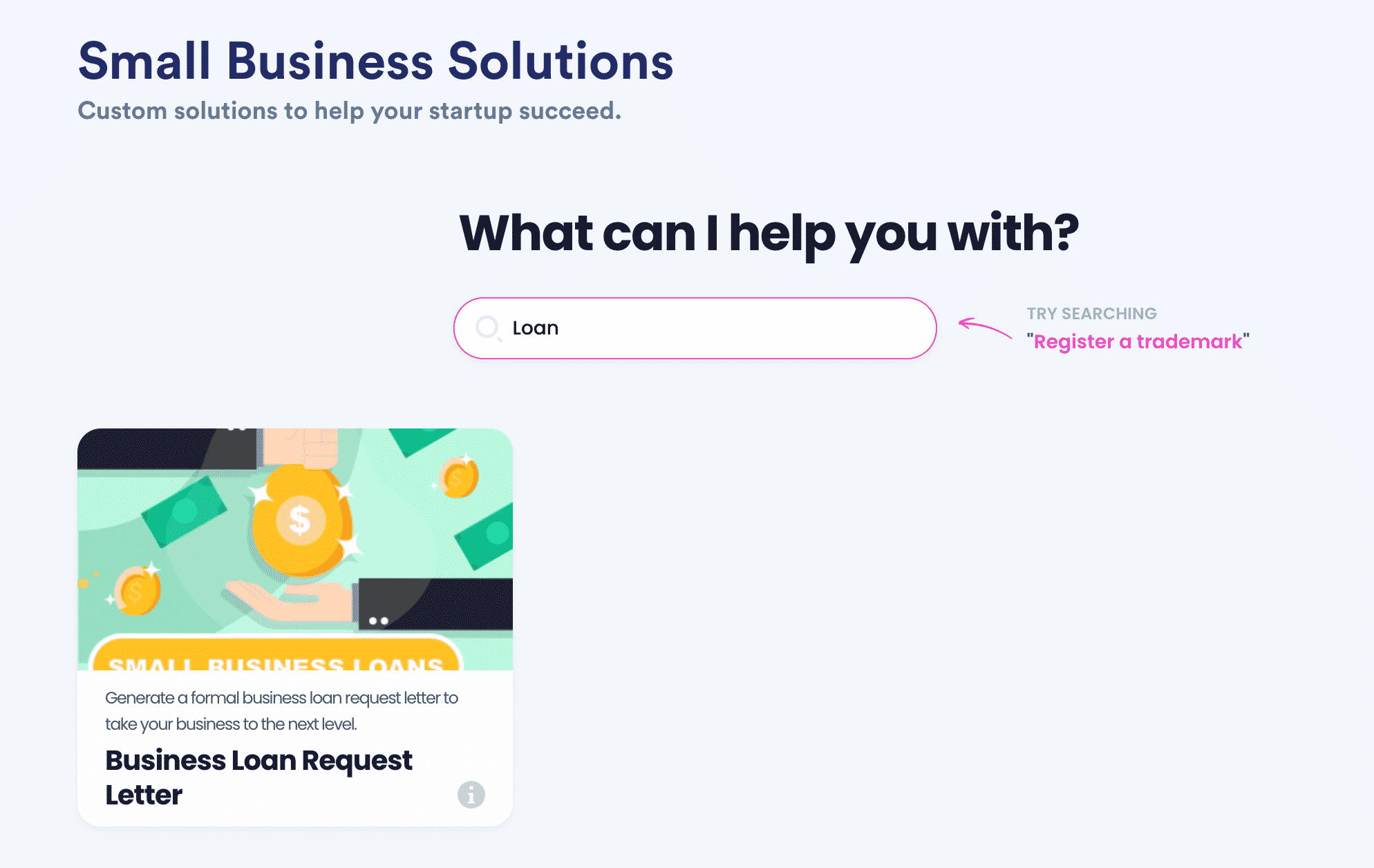 Startup costs for a restaurant are not the only aspect of opening up a business that you will have to take care of. You will also need to hire staff, get the necessary equipment, obtain mandatory licenses, etc.
If you need a small business loan on top, it may prove too much to handle by yourself, especially with how complicated the application process is.
As lenders want to minimize their risk, they have business owners go through a detailed process to prove they qualify for the loan. To do that, you will need to give detailed answers about yourself and the company. You will also need to submit thorough paperwork, including:
Resume
Financial statements on:

Cash flow
Profit and loss
Balance

Budget sheets
Business and personal credit score reports
Business plan
Due to the nature of the application, many business owners fail to tick all the boxes and do not receive a loan. DoNotPay can help you secure the necessary money by helping you create a watertight loan request.
Our app will make sure you submit all the necessary documents and include every detail lenders require. All you need to do is sign up for DoNotPay and:
Navigate to the Business Loan Request Letter product
Gather your personal and business credit scores
Prepare paperwork to prove you qualify
Answer a few questions
Upload all the necessary documents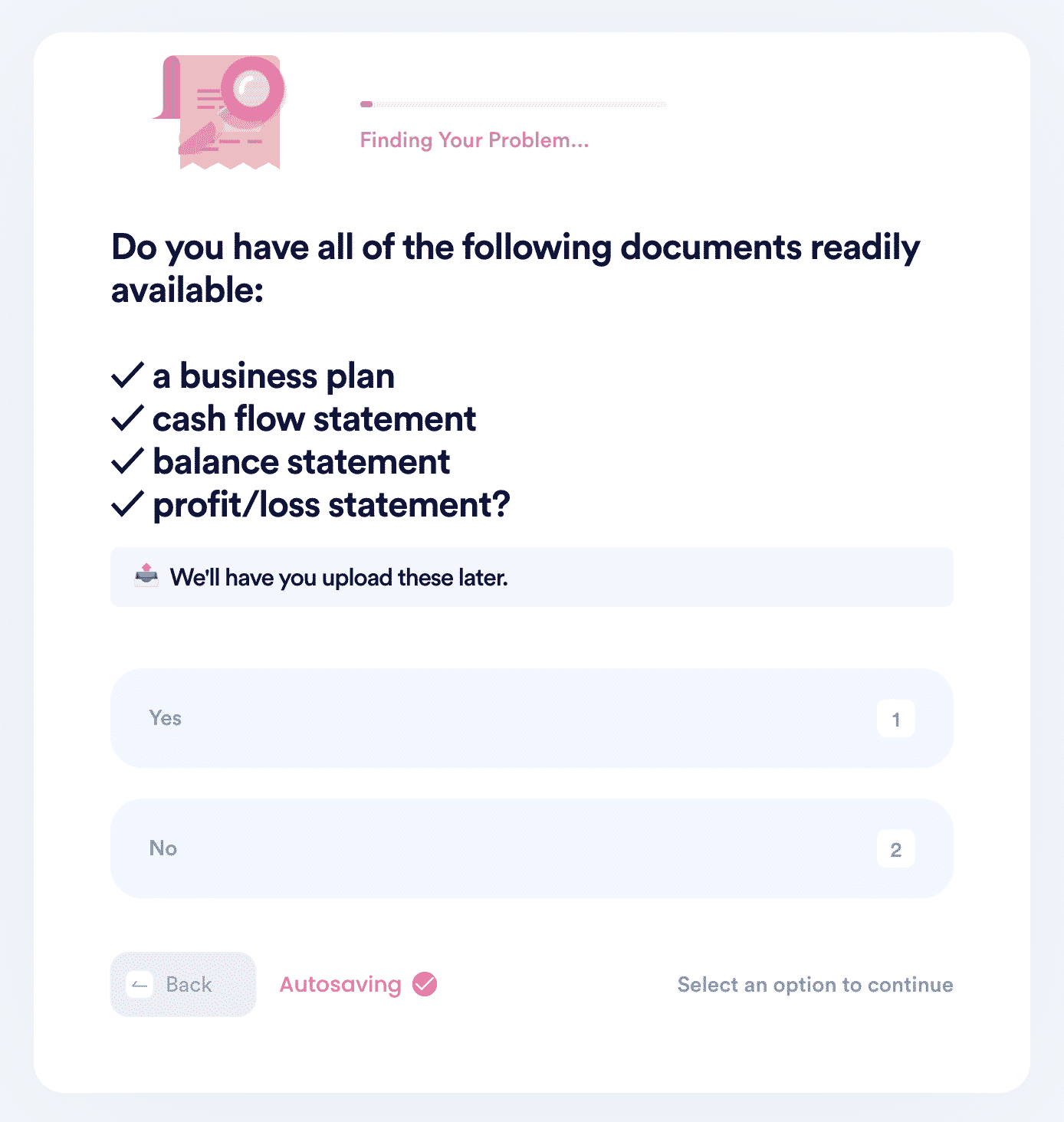 DoNotPay Finds the Best Lenders for You!
If you're still uncertain as to which lender you want to take out a loan from—we can assist you in finding the best one!
You can opt for our Find Online Business Loan Lender feature to get a list of three best lending institutions for the type of loan you need.
Alternatively, you can kill two birds with one stone—fire up our Business Loan Request Letter tool, tell us you don't have a specific lender in mind, and let us find you one and draft a letter you can send to them right away!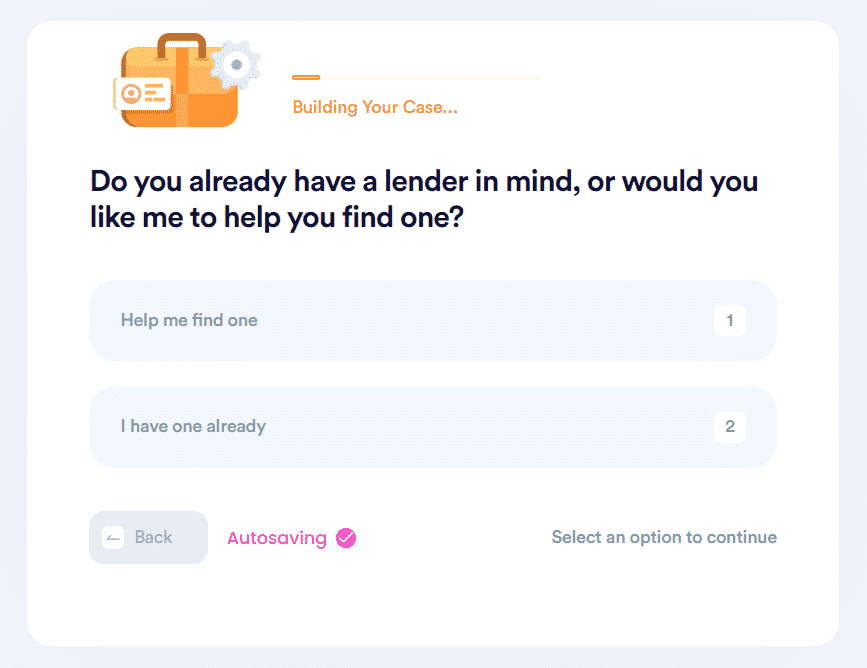 Take Care of Pesky Business-Related Procedures Effortlessly!
As a business owner, you are bound to deal with various complex processes. Luckily, DoNotPay can help you handle most of those procedures stress-free. Do you need to register your business name as a trademark, file the self-certification request with the Privacy Shield program, or report illegitimate and inappropriate negative reviews? Our app enables you to do it within minutes.
That is not all we can do for you! With our nifty products, you can make the filing of 83(b) election forms a breeze and take care of DMCA agent and Employer Identification Number (EIN) registration in no time.
Need a solution that will facilitate correspondence with your business associates or clients? DoNotPay has the right faxing and mailing product for you!
Don't Spend a Small Fortune on Lawyers—Draft Various Documents With DoNotPay's Help
Drafting legal documents does not have to be complicated or expensive. DoNotPay has a variety of tools that you can use to get a:
Letter requesting a loan for your small business
Cease and desist demand regarding your trademark (if someone tries to use your business name, logo, or slogan)
Formal demand letter requesting a client to pay for your services
Personalized chargeback rebuttal document based on the:

Chargeback reason
Chargeback code
Service you offer