Opening a New Restaurant—Loans for Startup Businesses
The restaurant industry is among the most volatile in the U.S. economy today—and yet, thousands of new eateries open every year. If you are hoping to open your dream restaurant, you do not have to rely on your own money to do so. You can get restaurant loans for your startup—DoNotPay will help.
Restaurant Startup Loans 101
Your first step in securing the financing is understanding how small business loans work. Term loans and lines of credit allow restaurateurs to access the funding they need to open their new business. You may also need a loan to help address one of the following types of expenses:
High-cost, one-time purchases
Operating expenses that exceed your short-term revenue
The best small business loans will offer low interest rates and a comfortable repayment window.
Some loan agreements may require you to offer collateral such as your car, home, or another business asset. In the event that you cannot pay back the borrowed amount, the lender will take the collateral in lieu of repayment.
Three Loan Options for Restaurants
There are three general types of loans available to you:
Commercial loans
Business lines of credit
Commercial Loans
This is a conventional loan that you can get from a bank, credit union, or another type of financial institution. A lump-sum loan like this is best applied to big, one-time purchases, such as:
Commercial property
Industrial kitchen appliances
Business vehicles
Commercial loan terms usually offer lower interest rates and greater amounts of capital, but they can be less convenient for new entrepreneurs. Processing can take up to six months, and they require a high credit score and collateral.
Follow these steps to apply for a commercial small business loan:
Find a bank with a suitable loan offer
Set a meeting with a small business loan officer
Present your business plan and budget
If you do not qualify for a loan, you can try again with any other bank.
SBA Loans
If you have trouble qualifying for financial assistance from a bank, you can instead apply for startup business loans with the SBA. This government agency is responsible for supporting the national small business economy by facilitating financial assistance programs and resources.
The SBA's most popular type of lending options are 7(a) small business loans:
| Terms | Details |
| --- | --- |
| Maximum amount | $350,000 |
| Acceptable use | Real estate, renovations, equipment, maintenance, and working capital |
| Repayment window | 7–25 years |
You can access SBA-guaranteed funding by working with one of their approved lenders. Do so by following these steps:
Use the SBA's Lender Match
Choose the lender that fits your business plan
Apply for a loan
Business Lines of Credit
A line of credit is essentially a credit card for your restaurant. It can help you cover ongoing expenses such as employee wages and the cost of fresh produce.
Lines of credit are beneficial in that interest is only paid on money borrowed rather than the total available credit. As you pay back the debt, you can continue to use the credit so long as you have not reached its limit.
Lines of credit generally have higher interest rates and lower totals than term loans. You will likely need a higher credit score and more collateral to secure credit with a bank.
Here is how to secure a line of credit:
Choose a financial institution
Set a meeting with a staff member that handles lines of credit
Provide details about your business, financial bona fides, and any other necessary information
How Large of a Loan Do You Need?
The average loan amount across American banks is $633,000, but you may not need that much. To get a business loan, you need to start by calculating your small business expenses. Consider the following when determining the amount you will request:
| Expense | Details |
| --- | --- |
| Loan guarantee fee | Amount you will guarantee if you cannot repay the entire loan |
| Interest rate | A percentage of the total borrowed amount charged monthly |
| Rent | Monthly expense for your commercial lease |
| Insurance | Premiums for your restaurant policy to protect against liability for property damage, injuries, and more |
| Licensing fees | Costs associated with permits, liquor licenses, and more |
| Compensation | Staff salaries, wages, and benefits |
| Renovations | Any necessary changes or improvements to your restaurant space |
| Equipment | Appliances, tools, and supplies for use in the kitchen |
| Inventory | Costs associated with your menu |
| Operating capital | Financing to cover initial startup costs of operation and marketing before the first influx of revenue from diners |
By understanding what sort of startup costs you face, you can more confidently apply for a restaurant startup loan.
DoNotPay Will Help You Open Your Restaurant
Running a restaurant is a full-time job—even if you have not opened it yet. If you do not have the time to deal with banks, loan officers, and applications, then outsource the work to DoNotPay instead.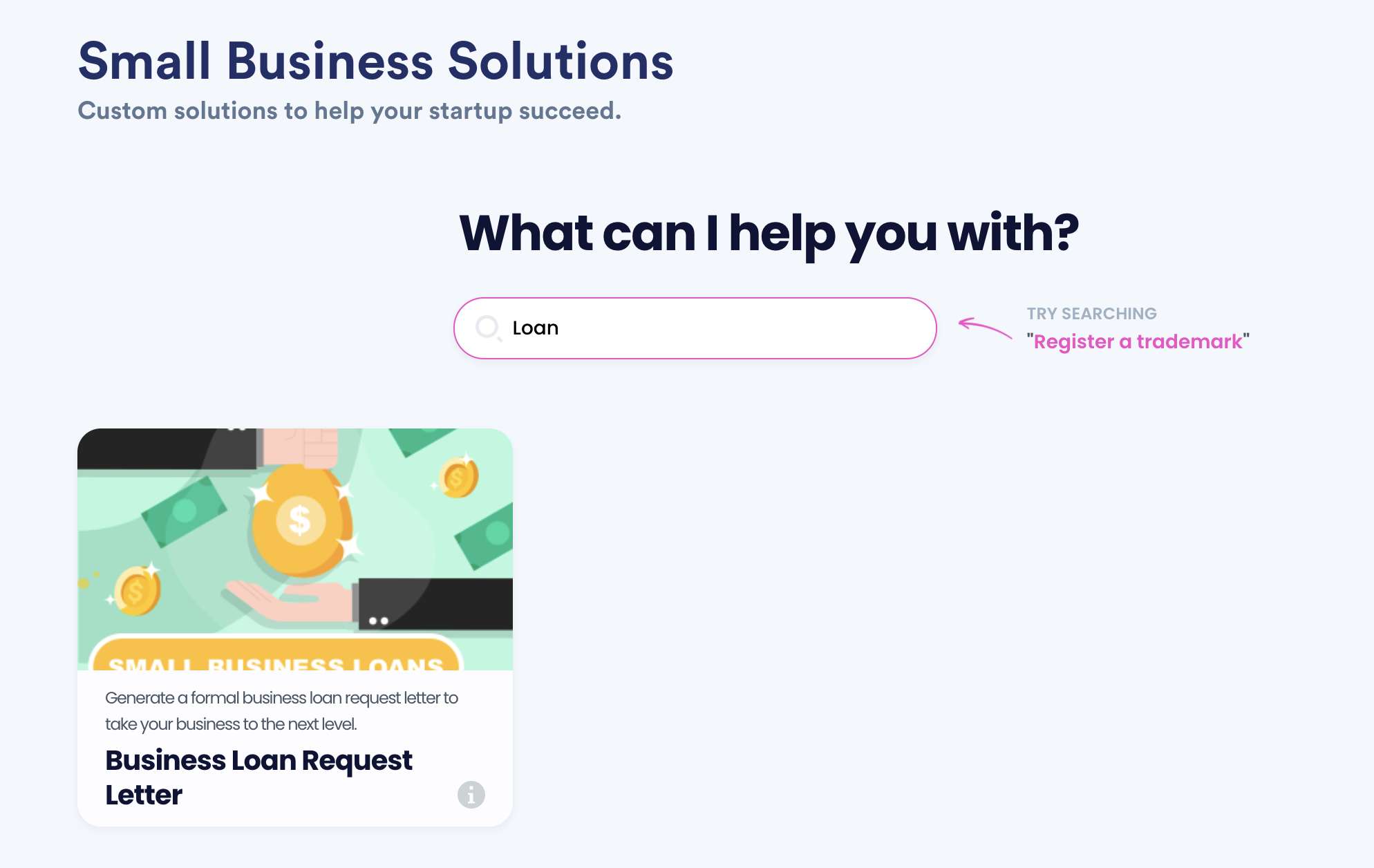 DoNotPay offers tools that can help you find a lender and compose a loan request letter. Here is how to access them:
Ensure you have gathered the necessary business documentation (financial statements, business plan, etc.)
Get an up-to-date credit score (business and personal)
Select the Business Loan Request Letter generator or Find Online Business Loan Lender tool
Input a few details about your business and upload the paperwork
Once you have provided the necessary information, we will handle the rest. Depending on which tool you choose, DoNotPay will prepare a list of the best potential lenders according to your specific needs or draft a watertight loan request letter that will improve your approval chances.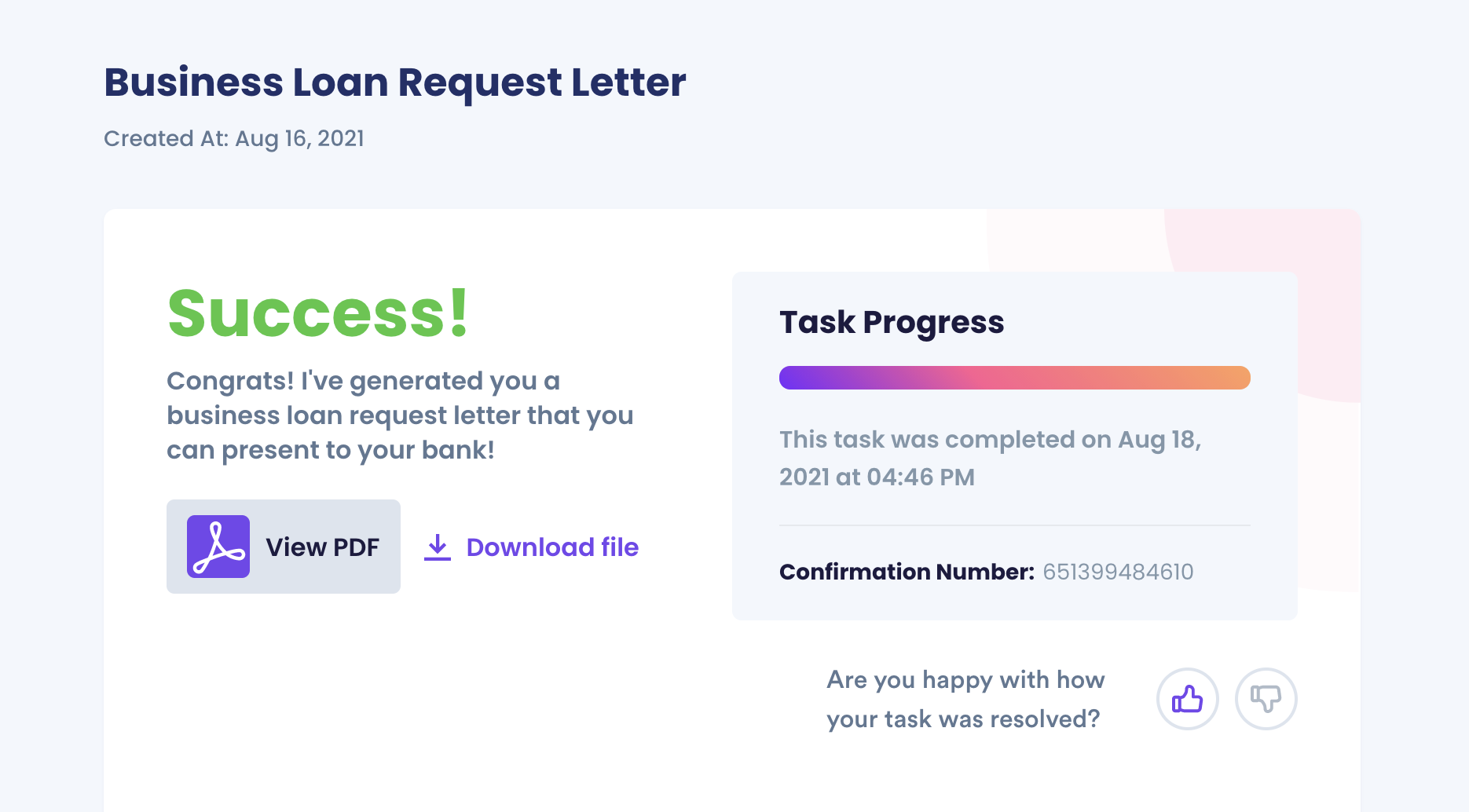 Don't Waste Ages on Tedious Administrative Tasks—Rely on DoNotPay
Running a small business can be a challenging endeavor, but you can count on DoNotPay to make the situation easier! We have developed a number of handy features that you can use to deal with your business-related hurdles. With our help, you can:
Send mail to your customers, investors, or business associates without wasting time going to the post office
Register your business slogan, logo, or name as a trademark to prevent brand infringement
Avoid copyright violations on your website by registering a DMCA agent
Protect the privacy of your clients' data by filing the Privacy Shield program self-certification request
Contest unjust chargebacks and keep the revenue
Deal with clients who breach the contract without wasting money on collection agencies or lawyers
Worked Hard on Creating a Good Business Reputation? Don't Let It Go to Waste!
Has one of the angry clients or envious competitors decided to leave a mean online review that could have a negative impact on your business? DoNotPay is here to help you remove it! We will analyze the problematic review and report it until it is taken down.
Don't know how to protect your trademark and make sure no one else is using it? Our app can monitor the trademark on a monthly basis and send cease and desist letters if necessary.
Let our app take care of many other issues—such as filing 83(b) election forms, registering for an Employer Identification Number (EIN), taking out small business loans, and similar—while you concentrate on the creative side of your business.