How To Get a First-Rate Residential Construction Contract by Doing Less
If you are planning to participate in a construction project as a contractor or property owner, some of the primary aspects to consider are the collaboration terms and conditions. Signing a residential construction contract helps the parties shield their rights, and it should always be a crucial part of the procedure.
Writing this type of contract may be tricky. You may get lost in the sea of legal terms you aren't familiar with or get stuck with inaccurate online templates. The good news is—with our guide, it doesn't have to be rocket science! We will introduce you to the essentials of residential construction contracts and share the secret to drafting legal documents fast and with zero effort!
Residential Construction Contract in a Nutshell
A residential construction contract is a legal document between a contractor and a residence owner that outlines the details of the specific construction project. By signing it, the contractor confirms they will perform construction works on the property under specific conditions and at a specific price.
A solid residential construction contract should:
List the responsibilities and expectations of both parties

Contain precise information about the agreed-upon amount and payment details

State all potential risks the project brings to prevent miscommunication and future disputes between signing entities

Provide solutions for controlling potential changes during the project and defining the consequences of those modifications
What Types of Residential Construction Contracts Exist?
Depending on your case and personal preferences, you can opt for one of the following four types of residential construction contracts:
Type of Construction Contracts

Explanation

Cost-plus

State the costs of both labor and materials

May include a guaranteed maximum price

Protect the contractor if there are uncertainties or if the property owner omits some details

Fixed-price

Define a fixed amount that should be given to the contractor after they complete the job

May include liquidated damage clauses or the penalties that may emerge if the contractor finishes the project later than expected

Time and material

Are valuable in the projects that are considered slightly uncertain

Specify hourly or daily payments, excluding the fixed fee or percentage

May contain the maximum guaranteed price to give the residence owner peace of mind

Unit-pricing

Are used when bidding for federal projects

Inform the residence owner that the contractor will charge them excluding a markup for the units the project involves
Sections You Should Not Skip When Composing a Construction Contract
Besides understanding what a residential construction contract serves for, you must be familiar with some fundamental clauses this agreement should cover. You can be as specific as you want while writing it and add any clause you consider necessary, but make sure you include the following:
Information about the contractor and property owner, including:

Full legal names

Phone numbers

Email addresses

Physical addresses

Legal description of the property

Project description, including:

Scope of work

Work methods

Required permissions

Materials and equipment

Estimated date of completion

Payment terms

Amount

Due dates

Potential exceeding costs

Construction responsibilities

Unforeseen circumstances and acts of God

Damages and limitation to liability

Disposal of materials after the completion of the project

Effective date

Signatures of both signing parties
Not Proficient in Writing Contracts? Let DoNotPay Do It for You
Having your contract drawn up by a lawyer is the safest but the least affordable option. Depending on the document you need, you may have to set aside hundreds or thousands of dollars. If you decide to compose the agreement yourself but aren't familiar with the law, you may end up with dozens of failed drafts.
Why spend time and money on dissatisfying solutions when you can and get a complete personalized contract in under five minutes? Our database boasts the best customizable templates you can modify and turn into a convenient agreement. You don't need to keep up with laws—each contract we create for you complies with applicable regulations in your state. In other words, we do all the grunt work, and you get a ready-made document ready for signing!
We offer numerous standardized legal documents, including:
Intent To Purchase Real Estate

Child Care Authorization Form

General Business Contract

Quitclaim Deed

Promissory Note

General Affidavit
How To Generate a Contract With DoNotPay
To create your customized legal document, follow the steps below:
from any web browser

Search for the desired document by entering its name in the search box

Provide more details you want to cover in your contract
Once you submit all the details, all we need is a couple of moments to create a clear and concise agreement tailored to your preferences. Note that you must sign it with the other party or have it notarized if the local legislature imposes it.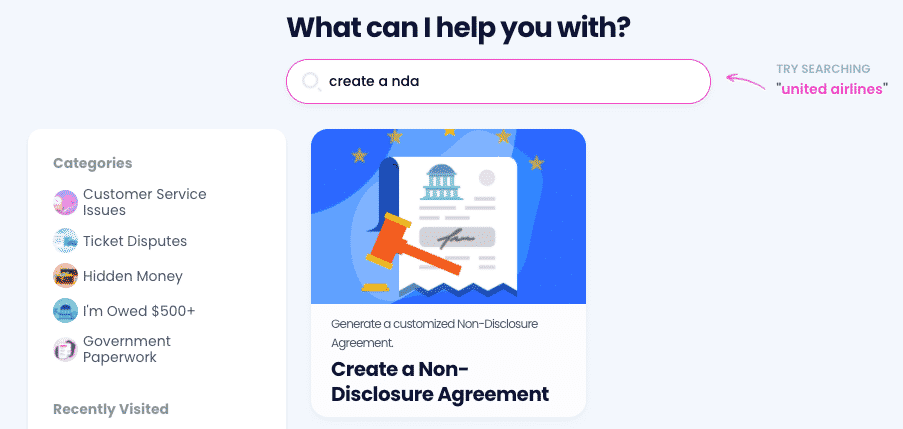 Learn About DoNotPay's Awesome Products!
DoNotPay is a multifunctional app that can solve numerous everyday challenges swiftly. 
You can use our app to protect your work from copyright violations, schedule your driving exam or any other appointment with the DMV, reduce your property taxes in a few steps, and similar.
We have created many useful products to help our users take care of their issues through the same app. With us, you can:
DoNotPay Connects You With Your Loved Ones
Sending letters to inmates can be difficult since you have to follow certain rules to a T to avoid having your letter rejected. The situation is even more complicated if you don't know where your incarcerated loved one serves time. DoNotPay's app can help you locate prisoners and correspond with them without worrying whether you're breaking any rules. 
Do you want to send a letter, but you don't feel like heading over to a post office? By using our mailing service, you can mail as many letters as you want from the comfort of your home. With DoNotPay, you can also send online faxes in under five minutes!
Email and text spam is something that everyone experiences at least once in their lives. DoNotPay has a solution for that too. Access your DoNotPay account and count on us to help you block spam and get compensation by reporting pesky robocalls.