Get Your Products to Market With Watertight
Resellers Agreements
Far too often, companies find that using resellers comes with serious problems—brands get compromised, pricing guidelines are not adhered to, and resellers sell your competitor's products on the same shelf as yours.
The result is slow sales growth, constant headaches, and—most importantly—end users not getting the service they want from your brand.
DoNotPay can help you get your resellers to perform exactly the way you want with resellers agreements that work!
Who Are Resellers?
The term "reseller" can be used to refer to both agents and distributors, but there are crucial differences between them. It all comes down to the business relationship you have with the reseller in question.
The main differences are as follows:
| | |
| --- | --- |
| Reseller Type | Explanation |
| Agent | Negotiates sales on your behalf, after which you ship the products and pay them a commission |
| Distributor | Buys your product and resells it to end-users at a marked up price |
If you are dealing with agents, DoNotPay can give you specific help on drafting agency agreements. We will concentrate here on distributor resellers who buy your products and sell them to their customers.
How To Choose a Reseller
Choosing the right partner to sell your products is a delicate business, and getting out of the relationship can be difficult if matters don't go the way either party wants.
A reseller should be a partner who shares the vendor's vision, values, and mission and who is prepared to invest just as much time and energy in the relationship as the vendor.
The key points to think about when looking for a reseller are:
Capacity

Ability

Desire
Capacity
Does the reseller have the infrastructure to do well now and still grow as the vendor grows?
Ability
Is the reseller skilled enough in sales, marketing, and technical aspects to represent the vendor's brands in the way the vendor wants?
Desire
Does the reseller want a partnership, and is the reseller prepared to commit to exclusivity, sales targets, and brand guidelines?
If these three key questions can be answered in the affirmative, the reseller is a good prospect and worthy of further investigation.
What Is a Resellers Agreement?
A resellers agreement is a contract between you and your resellers that sets out exactly what each party expects of the other.
The details can get complicated—depending on your product and the market you are trying to sell to—but here's what you need to include:
Products and geographical area

Duration

Exclusivity

Pricing, terms, and conditions

Targets

Support, training, and marketing

Brands and intellectual property (IP)

Breaches and termination

Applicable jurisdiction
There may be other clauses required that are specific to certain industries or products, but this list is comprehensive enough to cover most eventualities. If you include all these points in your agreement, it should be the foundation of a long and mutually-beneficial partnership.
Bear in mind that both you and your reseller should sign the agreement, and you should have it notarized to make it legally binding.
Products and Geographical Area
Your reseller agreement should stipulate exactly which of your products the reseller can sell and clarify the geographical limit of the reseller's mandate—which could be a town, county, state, or region.
Duration
The duration, as well as any automatic or negotiated extensions you want to include, should be part of your agreement.
Exclusivity
You may want to insist that the reseller only carries your products from the same industry. In particular, a reseller should be willing to commit to not selling your competitor's products.
Pricing, Terms, and Conditions
You should set all prices to the reseller and any recommended wholesale or retail price models, as well as your payment terms, delivery timelines, stock level expectations, and product return policies.
Targets
Sales targets mean that your reseller has something clear to work towards. Your agreement should include targets in whatever detail is necessary—you should ideally set them to challenge the reseller while not being overly ambitious.
Support, Training, and Marketing
Your reseller's success is dependent on your support, so you should commit to providing, as required:
Training

Marketing materials

Marketing and sales support co-funding
Brands and Intellectual Property
The agreement should set out in clear terms who owns the IP and the rights to your brands after the reseller has purchased the products. This is crucial to safeguarding your brand identity and eliminates the danger of the reseller corrupting your brand in any way.
Breaches and Termination
You should define all the possible breaches of the agreement and the mechanisms for the termination of the agreement by either you or the reseller.
Applicable Jurisdiction
The agreement must define the law under which it is governed. In most cases, a reseller agreement will be governed by the jurisdiction of the state where the reseller is based.
How Can DoNotPay Help Me With My Legal Documents?
Lawyers are expensive, and drawing up a contract on your own—while possible—is fraught with danger. The best option is to let DoNotPay help with legal documents – our legal app is your go-to resource. All you have to do is:
Use a

web browser

to access and sign up for DoNotPay

Search for the document you want to create

Give us some details and let us get to work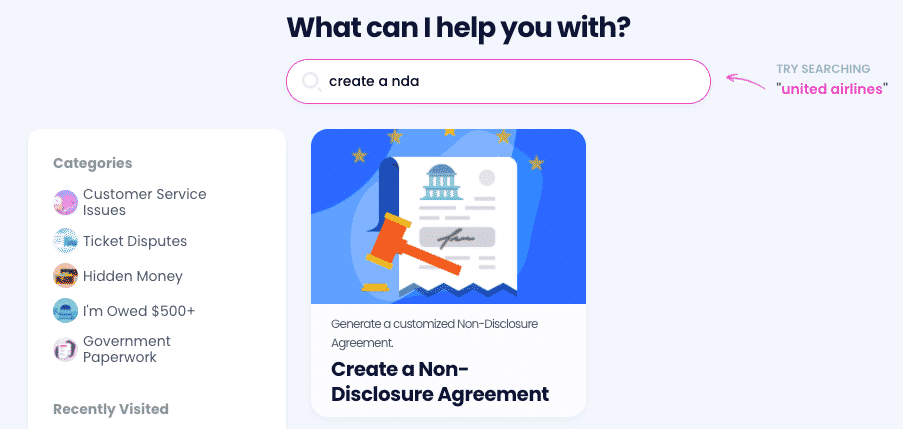 DoNotPay has legal documents and contract templates to help you in many situations. Browse through DoNotPay to see how we can help you.
Some of DoNotPay's ready-made legal documents are:
Whatever your legal document needs, DoNotPay is here to help.
Falling for Scams Is Less Likely With DoNotPay
Thanks to AI technology, DoNotPay is a great resource for protecting your privacy and finances from potential scammers. Our bots can help you report robocalls, keep your inbox clean from spam email and shady text messages, or even deal with stalking and harassment, if it comes to that. 
In case the issues escalate, skip the expensive lawyers and sue the offenders in small claims court with ease. 
Another great way to increase your online security is to use our virtual credit cards and sign up for any free trial without risking unwanted charges. You can even avoid sharing your contact info with our Burner Phone feature. 
The Solution to Your Driving Woes
DoNotPay provides invaluable help to future and current drivers. By helping you ace that driver's license test, scheduling a DMV appointment the easy way, or contesting parking tickets, our app saves you money and time. 
If you need to file a car warranty or an insurance claim, we will help you deal with the necessary paperwork within minutes. Trying to get out of a car wash membership? DoNotPay can cancel it in an instant. 
Our platform works above ground as well. You can use DoNotPay to secure refunds from airline companies or compensation for delayed and canceled flights.