How To Create a Rescission Agreement 
While legal documents and contracts are a significant part of many activities, do you need to hire a lawyer each time you need to prepare a new contract? 
When should you opt for a rescission agreement? DoNotPay provides answers to these and many other questions in this article and on our website.  
What Is Rescission in Contract Law?
Rescission means the cancellation of a contract and can be:
| | |
| --- | --- |
| Types of Rescission | Clarification |
| Unilateral | When one party cancels a contract because of another party's material breach |
| Mutual | When both contracting parties agree to discharge the obligations of a contract. In this case, parties sign a rescission agreement—also called a mutual rescission and release agreement |
| Court-mandated | Courts can void a contract by using rescission |
You can say that a contract is rescinded when:
The whole contract is canceled, i.e., not only a part of the contract or certain obligations

All contractual parties need to return everything they have obtained or exchanged under the contract
What Types of Contracts Can Be Rescinded?
Any contract can be rescinded, but a rescission of a contract often applies to the following:
Insurance

Sale of land 

Timeshare sales

Sale of business

Business-to-consumer contracts
If you would like to find a way to get out of a contract, you should not rely on words of mouth but prepare a rescission agreement instead.
Circumstances for a Rescission Agreement
A contract can be rescinded if there is evidence of a material error, including:
Fraud

Illegal acts

Mutual errors

Breach of contract

Lack of mental or legal capacity

One party not fulfilling its obligation 

Duress, coercion, or undue influence
While different states may have different laws addressing rescission, some contracts—e.g., between a lender and consumer—might be federally regulated.
How To Create a Rescission Agreement
As a rescission agreement is not a complex type of legal document, you could create one by yourself using contract templates available online. Keep in mind that not all templates are free to access, fill out, and download.  
If you are not sure how to create a contract, a lawyer can assist you with this matter. While this might be the best option, it can also be the most expensive one.
What To Include in a Rescission Agreement
A rescission agreement needs to include the following:
Rescission, i.e., that the contractual parties have agreed to back out of the original contract

Release

, i.e., that these parties jointly agree to cancel any obligations between them
The information that should be included in a rescission agreement is:
Names and addresses of both parties

Specific data about the original contract, including the:

Names of contractual parties

Subject matter

Date when the original contract was signed

Date and signatures of both parties

Names and signatures of witnesses
The Termination vs. Rescission of a Contract
The termination and rescission of a contract are not the same. This table clarifies the difference:
Termination
Rescission

Contractual obligations are still in place

All contractual parties can sue each other for the remaining obligations after the termination of the contract

A contract is:

Rendered void or null

No longer legally binding

Contractual obligations vanish
Do I Have the Right To Rescind a Contract Without a Rescission Agreement?
You can use the Federal Trade Commission's (FTC) Cooling-Off Rule to rescind a contract in some instances. This rule applies to high-pressure sales circumstances, including sales made at:
Hotels

Restaurants

Dealerships

Conventions

Your home or business place
The FTC's Cooling-Off Rule gives you three days or 72 hours to back out of a contract. While a rescission agreement is not necessary, you need to sign, date, and send:
A cancellation form if the seller has provided you with one

A cancellation letter if the seller has not given you a cancellation form
DoNotPay Can Help You Create Numerous Documents
How about saving your time and money? Sign up for DoNotPay to create multiple documents and agreements tailored to your specific needs, including the following:
Quitclaim deed

Promissory note

General affidavit

Residential

lease agreement

General business contract

Child care authorization form

Intent to purchase real estate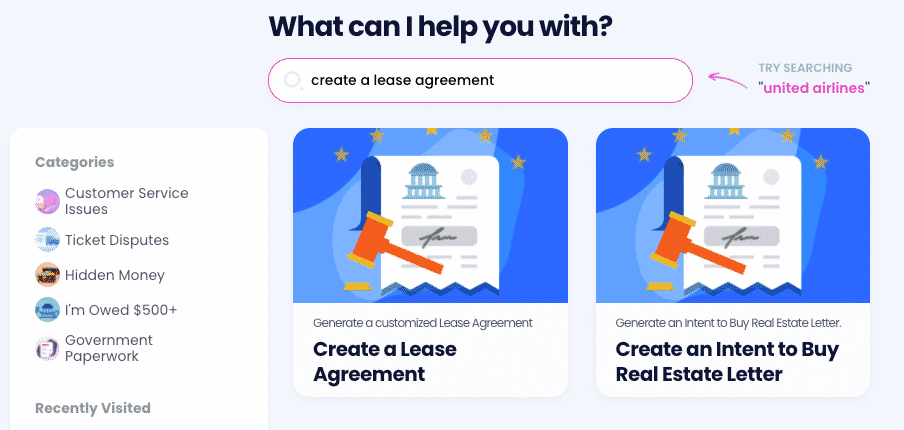 DoNotPay Is Your Safety Net for Document Preparation
Subscribe to DoNotPay to get your customized contract and follow these steps:
Choose the

Standardized Legal Documents

feature

Enter the name of the document you need

Provide some basic details to our chatbot (e.g., names, addresses, and other necessary information)
In a matter of minutes, you will receive a document addressing your specific needs.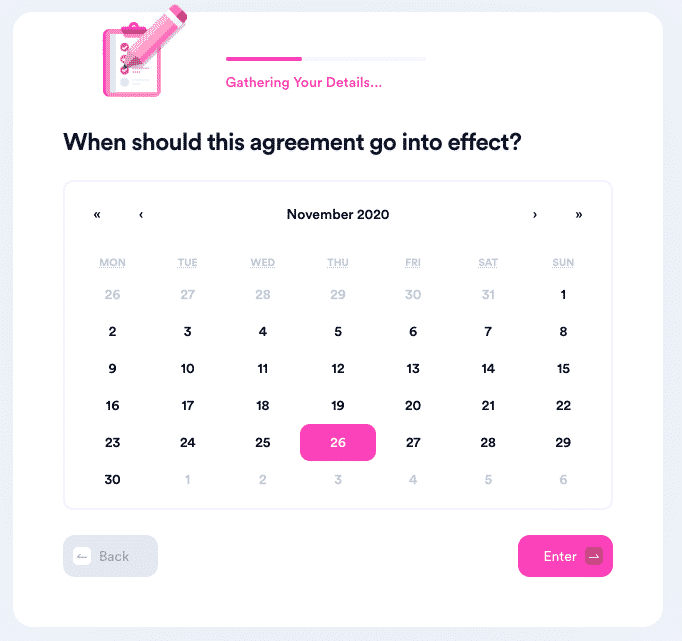 The best part is that once you have received your legal document, you can use our app to:
E-sign the document

Get it notarized

24/7

using our

Notarize Any Document

product

Fax it securely

via the

Online Fax

feature
DoNotPay Helps You Deal With Various Problems Worry-Free
DoNotPay has developed a wide variety of products you can use to manage numerous tasks.
Do you want to get a refund from a company? Are you wondering whether you can request compensation from airlines for poor Wi-Fi or canceled flights? Is hiring a lawyer to draw up legal documents too expensive for you? Sign up for DoNotPay and solve your issues in a matter of minutes!
Use our AI-powered app to get rid of robocalls, spam emails, and text messages. 
Need help locating and canceling all your unused memberships? DoNotPay has a product for that too! 
Prepare for your driving test using our Government Tests Prep feature and schedule a meeting with the DMV to take the test through the same app. We can even help you claim your car insurance or warranty and contest parking tickets in a flash!
Learn How To Protect Your Privacy With DoNotPay
Protecting your personal info online can be challenging but not impossible. The next time you come across a service that requires phone verification, make sure to use our Burner Phone product and have us generate a fake phone number you can use. 
Our virtual credit card can help you sign up for free trials without having to disclose your name, email address, or credit card info. 
Are you thinking about connecting with an inmate pen pal? Make sure to keep your real address a secret by relying on DoNotPay. Besides helping you send letters to inmates, we can also receive mail from the prison on your behalf, scan each letter, and send it to your email address.