Create Requirements Documents Easily with This Template
If you are starting a new project, you realize how valuable requirements documents are. To define and communicate everything clearly, you should find a reliable requirements document template. 
DoNotPay supplies contract templates and tips for writing various legal documents. We can show you how to write a contract and provide information on numerous agreements, including operating and non-compete ones. 
What Are Requirements Documents?
Requirements documents are used to define the project objectives. Project aims need to be expressed concisely and clearly so that all project stakeholders can understand them. 
You can create a requirements document for service, product, or system projects. The format of a requirements document depends on the:
Type of the project

Project expected outcomes

Specific project requirements 
In most cases, a requirements document refers to a business requirements document (BRD). There are also other types of requirements documents a company might use during the project implementation. 
Who Creates Requirements Documents?
Different stakeholders should contribute to the creation of requirements documents for any future project equally. Everyone should be in charge of writing their parts. Once the document is finalized, all stakeholders should review it and add any necessary changes. 
Here are potential creators of requirements documents:
A customer/client is the one in charge of defining the requirements since their needs are the basis of the project

A business analyst should discover all requirements or problems and propose solutions

A project manager is in charge of delivering the solution

A system analyst uses information technology, analyses, and designs to fulfill the requirements 

A marketing manager envisages the marketing strategy in line with the project requirements 

A product manager defines all project aspects for the development team to build
Requirements Documents and Supporting Contracts
can provide documents you can use together with your requirements documents. We can provide an NDA, lease agreement, or bill of sale. The lease agreement can be useful should you decide to rent business premises for your new projects.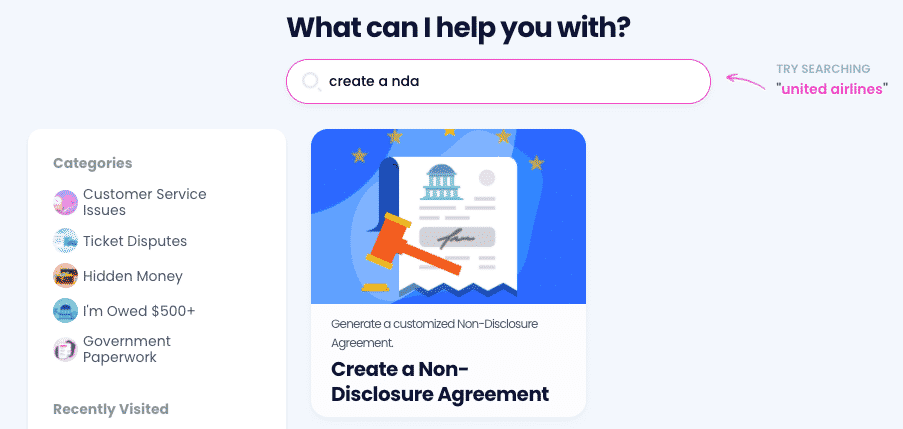 Requirements Document Templates
There are different types of requirements documents. Here is a list of some:
Requirement Document
Explanation
Parts
Business Requirements Document (BRD)

BRD outlines the problems the project is trying to resolve by providing business requirements connected to the customer's needs

An outline of the project's requirements 

Project objectives

A needs statement 

Financial statements

Functional characteristics and requirements 

A business SWOT analysis in relation to the project

Personnel needs

Schedule, timeline, and deadlines

A cost-benefit analysis

Functional Requirements Document (FRD)

FRD determines how the project/system will accomplish the requirements listed in the BRD 

The detailed functionality and intended behavior of the system expressed as activities, services, or functions agreed to be provided

Mockups

Wireframes

Market Requirements Document (MRD)

MRD focuses on the needs of the target market by explaining the product, the target customers, and competitors

A definition of the target market

A list of market requirements the solution needs to fulfill

Success indicators for all requirements

A prioritized requirement list 

A product's launch time frame

Technical Requirements Document (TRD)

TRD provides the software, hardware, and platform requirements 

A project executive summary and background

Assumptions, risks, and factors that might impact the project

Functional and non-functional requirements

References or a list of supporting documents

Software Requirements Specification (SRS)

SRS includes system features and intended behavior

Product overview

Current system summary

Proposed procedures and methods 

Design and security considerations
Additional Types of Requirements Documents
A product requirements document (PRD) template includes the following components:
Product objectives

Features

User experience flow and design notes

Requirements of the system and environment

Assumptions, constraints, and dependencies 
A PRD specifies what should be included in a product release and how a user understands what a product should do. 
Other types of requirements documents are:
User Interface Requirements Document (UIRD)

Quality Requirements Document

Customer/Client Requirements Document
If you need help drafting legal documents, our Standardized Legal Documents tool is here to assist you at any time. 
DoNotPay Can Help You Create Legal Documents 
Preparing legal documents is the foundation of all projects. To secure your business activities, products, and services, you need rock-solid contracts and supporting documentation.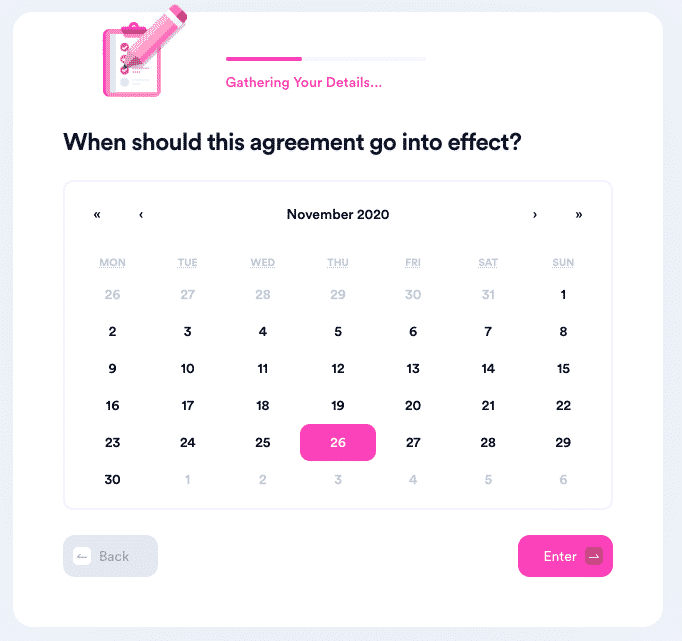 DoNotPay has the know-how, and we will provide documents to meet your business or project needs.
You should do the following:
Visit DoNotPay in any

 

Choose the

Standardized Legal Documents

feature

Enter the name of the document, e.g., an

Independent Contractor Agreement 

Provide the necessary details to the chatbot (names, addresses, and additional information the bot will ask you)
DoNotPay will generate a document using the data you entered. You focus on your project, and we will make sure to deliver the supporting agreements. 
When an important project is in progress, don't forget about your personal interests. Should you decide to get married, make sure that your rights and assets are taken care of. Use the same steps explained above, and DoNotPay will prepare a prenuptial agreement for you. Those going through a divorce can make use of our custody agreement. 
Clear Out Your Daily Tasks Fast With DoNotPay
Are your parking tickets piling up, but the process of appealing them is way too complicated? Do you struggle to pay your bills but are not sure how to get an extension? Is it time to extend your driver's license, but reaching DMV is a nightmare?
DoNotPay will turn all of these dreadful tasks into easy-to-do items you can check off your agenda quickly!
Get rid of spam emails, texts, and calls quickly using our AI-powered app!
Learn how to secure compensation from airlines, get your college fees waived, claim your lost funds, or reduce your property tax—all with a few clicks!
Subscription Issues? DoNotPay Can Help!
If you are looking to test out a service, think twice before disclosing your payment info. Companies will often ask you for your credit card details even when signing up for a free trial—they charge you once the trial expires. 
Use our virtual credit card, and don't worry about unwanted charges! 
Our credit card gets automatically approved for any free trial, but it rejects any real charges since there is no money on it.
DoNotPay will locate and cancel all your unwanted subscriptions without you having to deal with customer service reps.
We can also help you request refunds from companies or take them to small claims court if they refuse to cooperate.