All You Should Know About a
Repurchase Agreement
The purpose of legal documents and contracts is to support the agreements reached in verbal communication. They are a must in various situations, including the investment field. 
We'll introduce you to the term repurchase agreement and explain its perks and drawbacks. If you are interested in trading in securities, you will find the answers to all your questions here! We will show you how to create legal documents in a snap by using DoNotPay's customizable contract templates!
What Is a Repurchase Agreement?
A repurchase agreement is a contract that enables financial organizations—banks or dealers—to sell government securities to another company or investor and repurchase them later. The entity that buys the securities uses them as a guarantee or pledge, and it gets an interest from the seller when the transaction is reversed. 
This contract is popular in state or local government circles. Such documents act as a great substitute for the government-related investment pools or other money market assets. 
What Subtypes of Repurchase Agreements Are There?
Depending on the needs, parties can choose from different repurchase agreement subtypes that have different maturity periods. It's a period after which the seller will purchase the securities back. The table below shows the most common subtypes:
| | |
| --- | --- |
| Repurchase Agreement Type | Details |
| Overnight | An overnight repurchase has a short maturity period—it ends the next business day. The interest rate is usually predetermined and unchangeable |
| Term | Using this subtype, the parties determine a specific maturity period that ranges from a few days to a few weeks. In most cases, these are short-term contracts, but the signing entities may prolong them to a few years if the investment propositions allow it. The interest rate is predetermined and unchangeable |
| Open | The signing entities don't propose a contract end date. The agreement typically keeps renewing every day until one of the parties decides to stop it. The interest rate changes with each passing day |
| Tri-Party | This is the most common type of repurchase agreement. A tri-party organization—usually another bank or a clearing institution—acts as an intermediary between the signing entities. Its purpose is to make sure all the transaction requirements are met  |
| Flexible | The contracts belonging to this subtype are usually long-term and are closely related to certain capital programs |
What Are the Benefits and Risks of
Repurchase Agreements?
Below is another table showing typical advantages and disadvantages of repurchase agreements:
Advantages
Disadvantages

Bearing in mind that the statute usually approves them and that the government agencies support them, repurchase agreements are safe

These agreements tend to give better results than the rest of money market investment assets

Such contracts are secured loans

Both parties can benefit from them

If the financial organization fails to repurchase the securities, the other party has the right to sell them to another entity, which protects them from financial losses

These contracts provide fast and easy liquidity

The government entity can close the repurchase agreement, preventing the bank or financial organizations from buying the securities back

The collateral may not have a satisfying level of liquidity or marketability

The contract value may not be enough to compensate the invested assets

If the counterparty's business closes down, the lender loses principal and interests
Get the Best Personalized Legal Documents With DoNotPay
Getting a valid and well-written contract isn't simple. A mistake or two in the agreement composition or a few unclear rules can make a huge fuss and cause you headaches. Drafting such documents usually requires legal expertise, which most people don't have.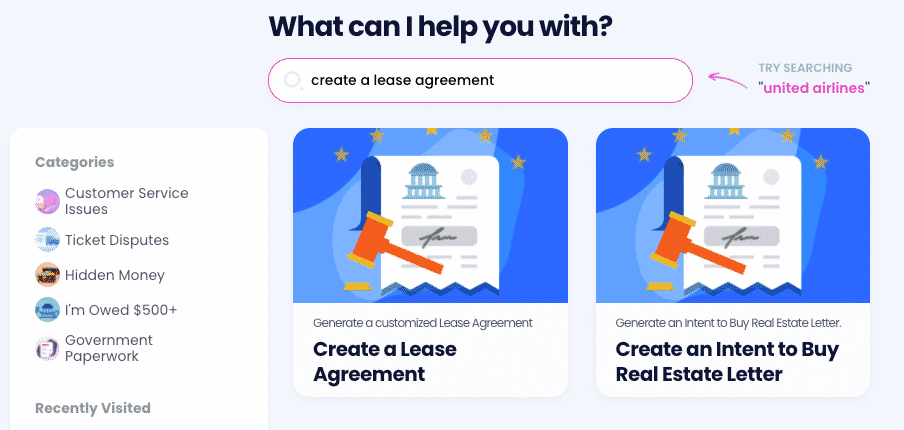 Fortunately, DoNotPay—an ABA Brown Award winner—has developed a special feature that enables you to write an appropriate contract or any other legal document in less than five minutes!
To use our service, follow the steps below:
Log in to DoNotPay in your preferred

web browser

Locate the specific document you want to customize

Enter the details you want to include in your contract
Once you are done, we will process your information and provide you with a personalized document right away. You need to make it valid by putting both parties' signatures on it and getting it notarized.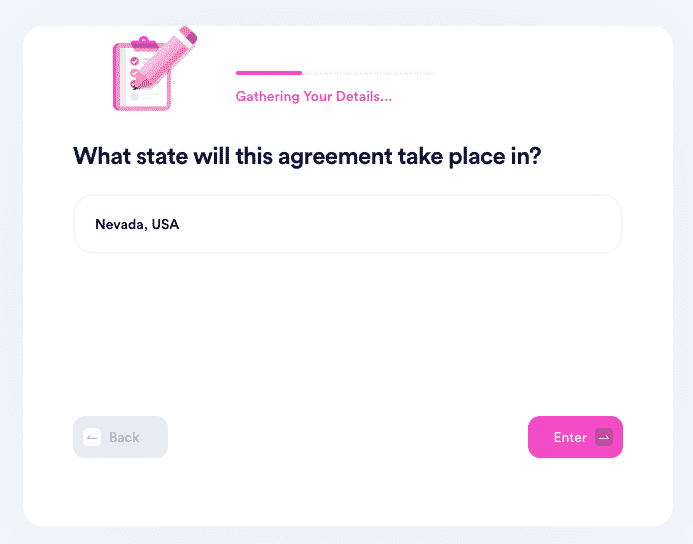 DoNotPay's Database Has Much More in Store for You
Our primary goal is to make your life simpler by creating as many legal documents as you want fast and easy. We will take care of your paperwork and save you from endless drafting by generating the best:
Child Care Authorization Forms

Promissory Notes

General Affidavits

Quitclaim Deeds

Estoppel Certificates

Intent To Purchase Real Estate

General Business Contracts
Another advantage of our service is that we don't cease to teach you new tricks. With DoNotPay's amazing learning center, you can learn the basics of: 
Discovering DoNotPay Will Make Your Day
If you feel overwhelmed by tons of paperwork flooding every area of your life, you can finally breathe out and let go of that stress. DoNotPay is the world's first robot lawyer that handles your bureaucratic chores for you. 
Some of the benefits that come with our service include:
Why Get a Lawyer When You Have DoNotPay?
Our agenda has one major goal—provide easy legal access to anyone who needs it. Every new feature we come up with relies on AI technology that simplifies bureaucratic procedures and saves you time and money. 
If you're wondering how to navigate tasks like contacting imprisoned friends and family members or reducing your property taxes, DoNotPay has the answers. Our service cuts through the red tape even if you need to deal with stalking and harassment, claim forgotten assets the proper way, or secure compensation for crime victims.