Representing Yourself in a Divorce—Should You Do It? DoNotPay Knows!
If you want to have a low-cost marriage dissolution and save as much money as possible, you will probably consider representing yourself in a divorce. DoNotPay is here to tell you whether it is possible to terminate your marriage without a lawyer. We can also create a divorce settlement agreement for you in a matter of minutes!
Can I Represent Myself in a Divorce Court?
You have the legal right to represent yourself in any court proceeding. Whether this is a good idea depends on the type of divorce you are going to have:
Uncontested—You and the spouse agree on everything (alimony, property division, child custody, etc.)
Contested—You and your spouse don't see eye to eye on relevant divorce topics
A contested divorce can be quite complex, and it would be smart to have an attorney who will represent your interests.
Representing yourself in an uncontested divorce should not be a problem since you want to end your marriage amicably. If you choose to have an uncontested divorce, you might have the option to skip court hearings, which will result in the process lasting much shorter. This type of divorce will also make representing yourself a lot easier because you won't have as much responsibility as you would in a contested process.
Essential Information About Representing Yourself in a Divorce Court
When an individual represents themselves in court, the process is referred to as a pro se or pro per divorce. If you decide to represent yourself in divorce, you will be known as the litigant.
Consulting all relevant and current laws of the state you are filing for divorce in is essential in this case. States have different rules when it comes to filing for divorce without a lawyer. The process won't be the same in California, Texas, or Ohio.
For more state-related divorce content, you can check any of our extensive guides:
A pro se litigant is responsible for completing, filing, and serving the divorce papers properly. In case you fail to handle these tasks, the court could make you redo the papers, ask you to re-serve the spouse, or dismiss your case.
Pros and Cons of Representing Yourself in a Divorce
Take a look at the table below for some useful information that will help you decide whether you should represent yourself in a divorce:
Pros
Cons

Lower cost—you don't need to pay attorney fees
Less stress—you and your spouse can work together without lawyers
Shorter processing time—most of the times, this will be an uncontested divorce that has shorter procedures

Complex—you have to do a lot of research on your own
Overwhelming—if you are dealing with a contested divorce
Tricky—if you have no legal knowledge and your spouse has an attorney to represent them
One of the most important obligations of going through a divorce (whether with or without a lawyer) is creating a divorce settlement agreement. You won't have to deal with this essential step on your own—!
Making a Divorce Settlement Agreement Is Simple With DoNotPay
Just like you don't need a lawyer to represent you in court, you also don't need one to create a divorce settlement agreement. With our app, you will get a tailored divorce settlement agreement that will protect all of your interests. Follow these simple steps:
Choose the Divorce Settlement Agreement product
Provide relevant info
Choose to get the agreement notarized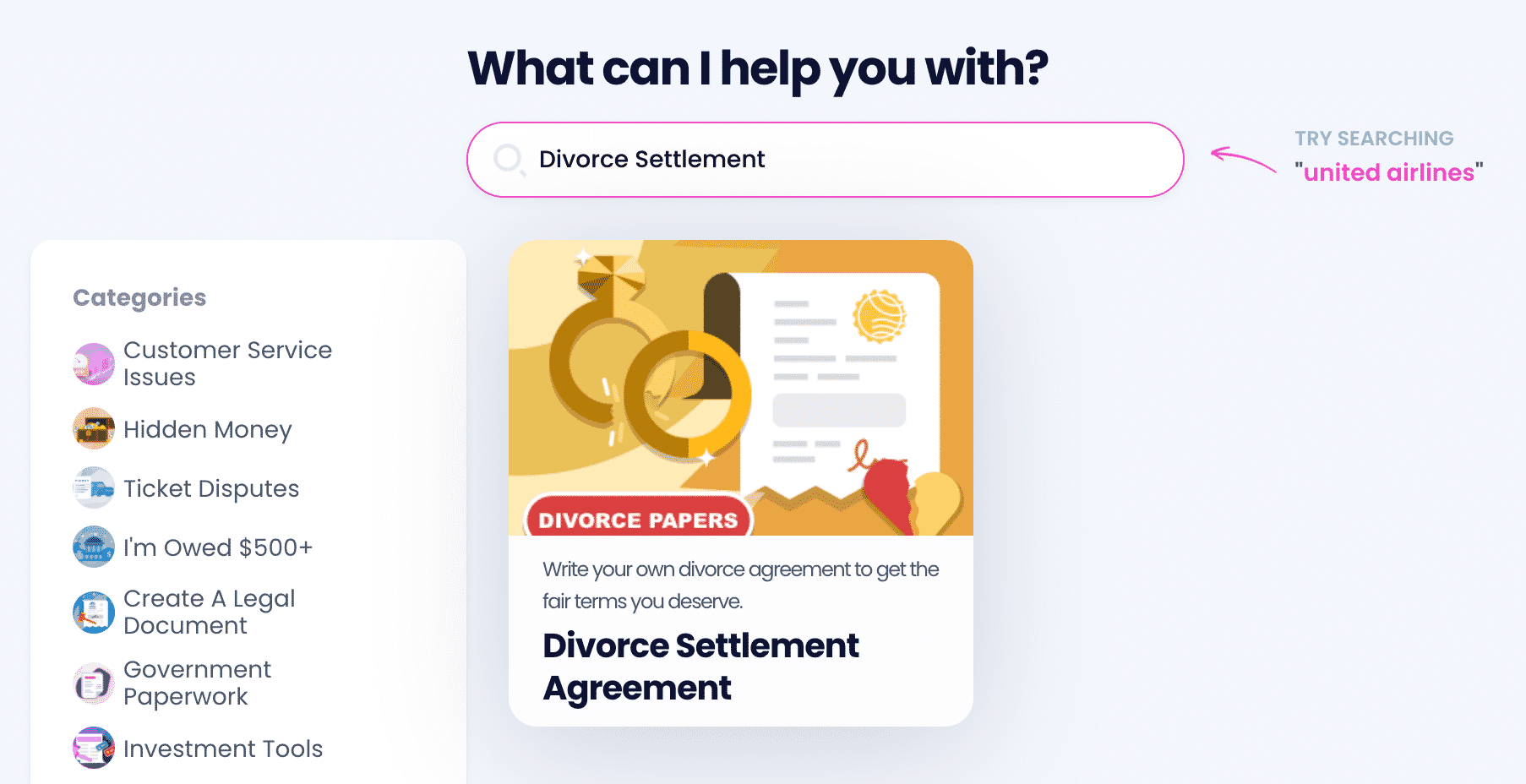 What Other Divorce Papers Will You Need for an Uncontested Divorce?
Aside from a divorce settlement agreement, you will need to collect and file other papers for an uncontested divorce. The forms you will need depend on the state and county you live in. You can usually find these forms on the court's website. Forms can have slightly different names, but usually, these are a must everywhere:
Petition for a dissolution of marriage
Financial affidavit
If you have children, you will also need to acquire other necessary forms, but they are also state-specific.
Divorce-Related Information You Will Need
DoNotPay is a source of all the info you may need about getting a divorce. Here are some of the questions that we can answer:
Shop Online on Your Terms
Have you ever had to deal with complaints about lost, late, or damaged parcels? Is reaching customer service over the phone always a pain? Don't you wish there was an easier way to request refunds and chargebacks for bad purchases?
Shopping can easily turn into a nightmare, but DoNotPay will take away some of that stress. We can help you with all of these issues and more!
If you need to file warranty claims for any kind of product, our AI bots will make the process painless. Those who like to try out new services will fall in love with our virtual credit cards and foolproof methods of signing up for free trials without risking charges.
When you get sick of your subscriptions, cancel them with DoNotPay. Also, don't throw away your used gift cards with a few bucks left—we can help you get your cash back.
DoNotPay Protects Your Interests
There are already so many ways you can use DoNotPay to improve your daily life, but we keep developing more and more features that will make our subscribers even happier.
On our platform, you can find useful resources to: