Reporting Workplace Violence: An Overview
Every company handbook should outline the procedures for reporting workplace violence. It's important to keep in mind that workplace violence can happen during or outside of work hours. This is why employers should empower employees to report an incident or notify the company about early warning signs of violence that they witness.
But what happens if your company doesn't have clear-cut procedures when it comes to violence in the workplace? This article will provide guidelines on what to do when you experience workplace violence and how you can report it anonymously with .
Types of Workplace Violence
Workplace violence can present itself in various forms such as:
Criminal Intent – The perpetrator came from outside the organization and acts may include robbery, shoplifting, trespassing, or terrorist attacks.

Customer or Client – A patron became violent during a business meeting or during work hours.

Between Employees – An employee or former employee threatened or attacked a

co-worker

or former co-worker.

Personal Relationship – The assailant knows the victim personally. An example of this is a case of domestic violence or verbal assault while at work.
Levels of Violence and Response
Warning signs and acts of violence typically occur in certain steps. If not defused, some situations may escalate. Retrieved from the Department of Labor, below is a table outlining the appropriate responses depending on the level of violence. However, take note that this is simply a guide and not a fail-safe solution. You will have to use your judgment on what to do by assessing the situation.
Levels of Violence
Appropriate Response
Level 1: Early Warning Signs

This comes in the form of intimidation, disrespectful and uncooperative behavior, or verbal abuse.

Report to the

manager

or HR department. Document the incident. The supervisor should meet with the misbehaving employee and discuss concerns.

Level 2: Escalation

The perpetrator disobeys policies, sabotages office equipment or verbally abuses co-workers or the boss.

Call 911 if the situation warrants it. Ensure your safety and the safety of others. Document the incident. Contact the supervisor or the HR department. Management should continue with discipline.

Level 3: Emergency Response

The assailant displays anger with suicidal threats, physical assaults, destruction of property, or weapons.

Call 911 and other medical or law enforcement personnel. Vacate the area if at risk. Once out of harm's way, inform the supervisor or the HR department.
How to Report Workplace Violence
Whether it's racial discrimination, sexual harassment, or bullying, workplace violence should not be taken lightly. Employers are required by law to provide employees with a safe workplace. So when violence occurs, you should immediately file an HR report or notify your supervisor. When filing your employee complaint form, make sure to include the following details:
Your name and position in the company, general description of the incident, and place and date of the incident

Names of individuals involved in the incident; indicate the victim and the assailant, their positions in the company, and who their immediate supervisor is

The assailant's relationship to the victim

Possible reasons for the incident i.e. conflict, destruction of property, bullying, physical assault, armed assault, or verbal/sexual harassment

Extent of injury i.e. was medical care required?

Initial response from supervisor i.e. defused the situation, called security, called law enforcement, etc

Detailed description of the incident

Names of witnesses, if any
What to Do if Workplace Violence Is Not Addressed?
Employees should report all incidents in writing to their Human Resources department or their supervisor as soon as possible. If an employer ignores your complaint, you may need to consider asking for assistance from dispute resolution services. You can do the following if workplace violence remains unaddressed:
Report to

OSHA

: The Occupational Safety and Health Administration (OSHA) is tasked with mediating workplace violence matters. You can go to your local OSHA office or you can file complaints online.
File a lawsuit: Employers that ignore reports of workplace violence are subject to legal ramifications according to the Environmental Health and Safety (EHS). For example, families of victims of extreme cases such as homicide may sue the employer if it was proven that the company did not perform background checks.
Go to the police: Employees may want to go to the police before the violence worsens. Law enforcement can be more proactive in protecting employees from workplace violence if an employer continuously ignores employee complaints.
How to File an Anonymous HR Complaint With DoNotPay
A proactive and well-informed employee like you can help reduce workplace violence. DoNotPay can help you file an anonymous HR report without having to suffer ramifications such as retaliation.
Anonymous HR Complaints lets you report an incident without submitting your personal information. All you have to do is:
1. Log in to and choose the Anonymous HR Complaints product.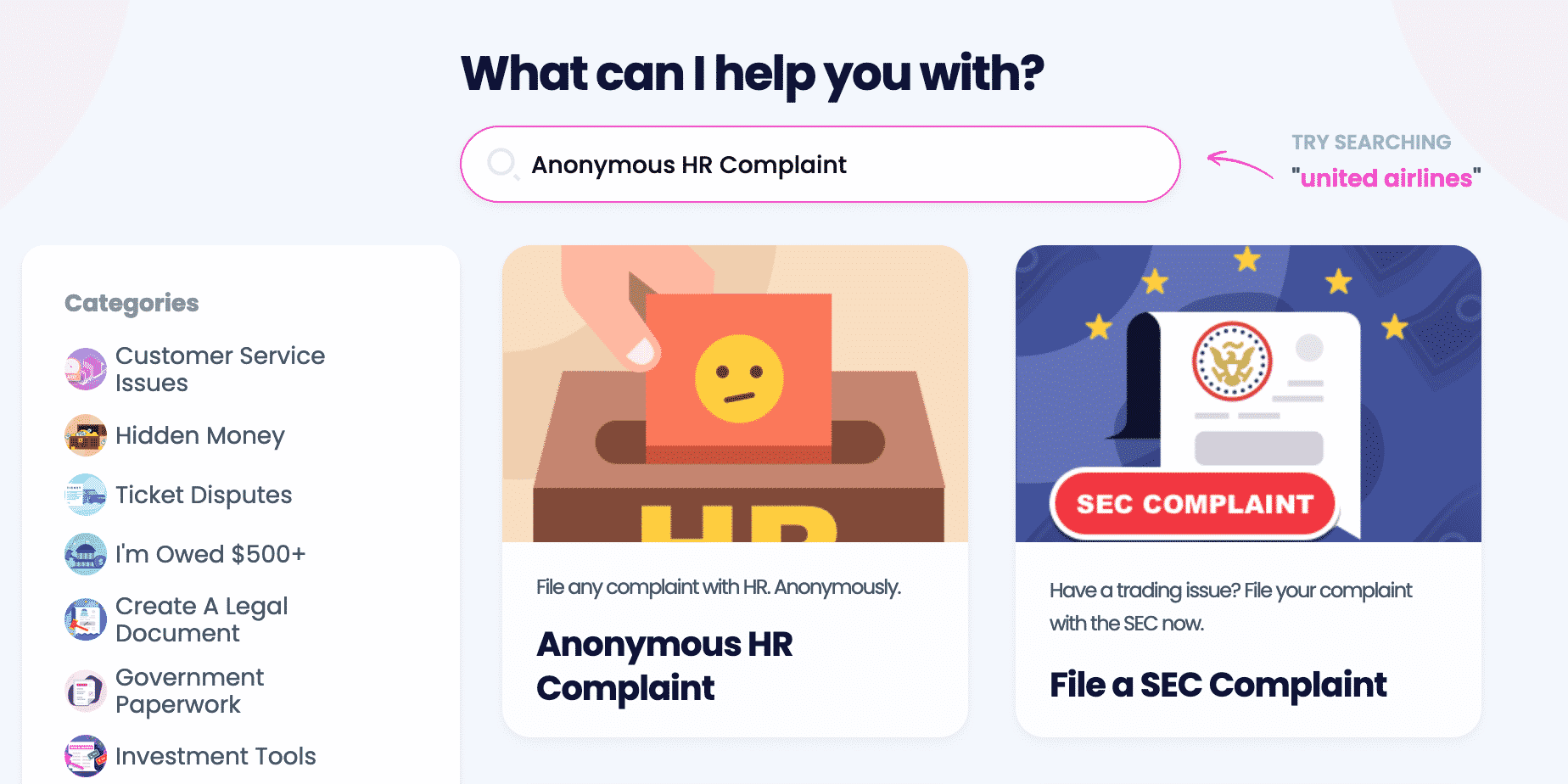 2. Enter your employer's name and the HR department's mailing address.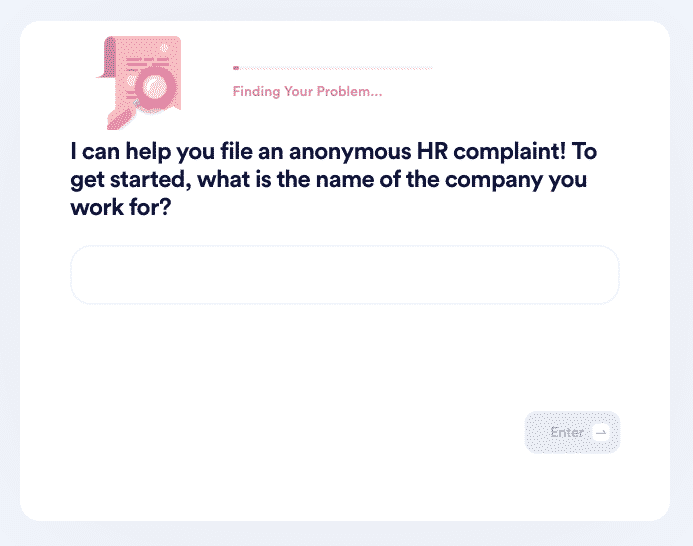 3. Explain the incident that you are experiencing and how you want it to be addressed.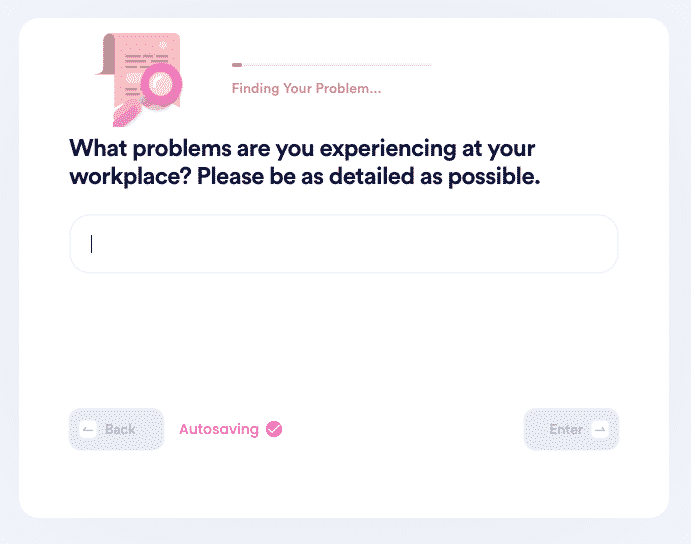 DoNotPay will automatically mail the report without including your personal information!
What Else Can DoNotPay Do?
Once you've submitted your anonymous HR complaint, check out some other services DoNotPay provides: