Guide on Reporting Racism at Work
Racism occurs when people are treated unfairly because of their skin color or ethnicity. Research shows that the workplace is one of the most common settings in which racial harassment takes place.
If you believe that you are a victim or witness of racism at work, DoNotPay is here to help! This article will dive into racism complaints and explain the steps you need to take when you witness or face racism from your employer or colleagues. We'll also introduce a way to file a complaint anonymously through DoNotPay.
What Does Racism Look Like in the Workplace?
Racism within the corporate world can be subtle and unnoticed. But remember, any form of racism is unacceptable and can be detrimental to the victim's mental and physical health. Examples of casual racism in the workplace include:
Making fun of someone's skin color, even if it's disguised as a joke.

Telling someone that they "speak good English for a/an [race]".

Avoiding social interactions with someone because of his/her race.
Why Should You Report Racism?
Racism complaints are extremely common in the US. The table below shows the number of racism complaints that were filed with the EEOC from 2014 to 2020:
Year

Total Racism

Complaints (annual)

% of total registered complaints

(annual)

2020

22,064

33.7%

2019

23,976

33.0%

2018

24,600

32.2%

2017

28,528

33.9%

2016

32,309

35.3%

2015

31,027

34.7%

2014

31,073

35.0%
You may be reluctant to report racism due to language barriers, distrust of law enforcement, or fear of negative consequences such as retaliation. If you are a victim of racial harassment, remember that it is far worse to remain silent because it will only encourage the perpetrator! Here are three reasons why you should report racism:
You're not alone! 1 in 3 complaints filed at the Equal Employment Opportunity Commission (EEOC) is about racism. The table below shows the number of racism complaints that were filed with the EEOC from 2014 to 2020.
You can help government agencies gain a better understanding of racism. Filing formal complaints can help authorities collect more accurate data and improve policy responses.
File a Charge of Discrimination With the EEOC
If you believe that you have been discriminated against at work because of your race, you can file a charge of discrimination with the EEOC through its public portal. The EEOC outlines different steps for reporting racism depending on the sector you work in. If you work in the private sector, take the following steps to file a formal complaint with the EEOC:
You need to file a discrimination complaint within 180 days of the incident.

Once the complaint is received by the EEOC, you will be interviewed by a staff member to determine what legal action needs to be taken against the accused, if any.

The EEOC will either approve your complaint or dismiss it after investigating. If the charge is approved, you will be able to file a lawsuit against your employer. You also have the option to appeal the rejected complaint.
If you are a federal employee or job applicant, you have 45 days to contact an EEO Counselor at the agency you work or where you applied for a job. You can learn more about the process for filing a formal complaint here.
Report Racism Today Through DoNotPay!
Before you submit a discrimination complaint to the EEOC, determine whether or not it can be resolved through HR. helps employees deal with complex HR issues through a streamlined process that guarantees fast resolutions and anonymity. If you're an employee looking to report racism to HR, all you have to do is:
1. Sign in to and click the Anonymous HR Complaint product.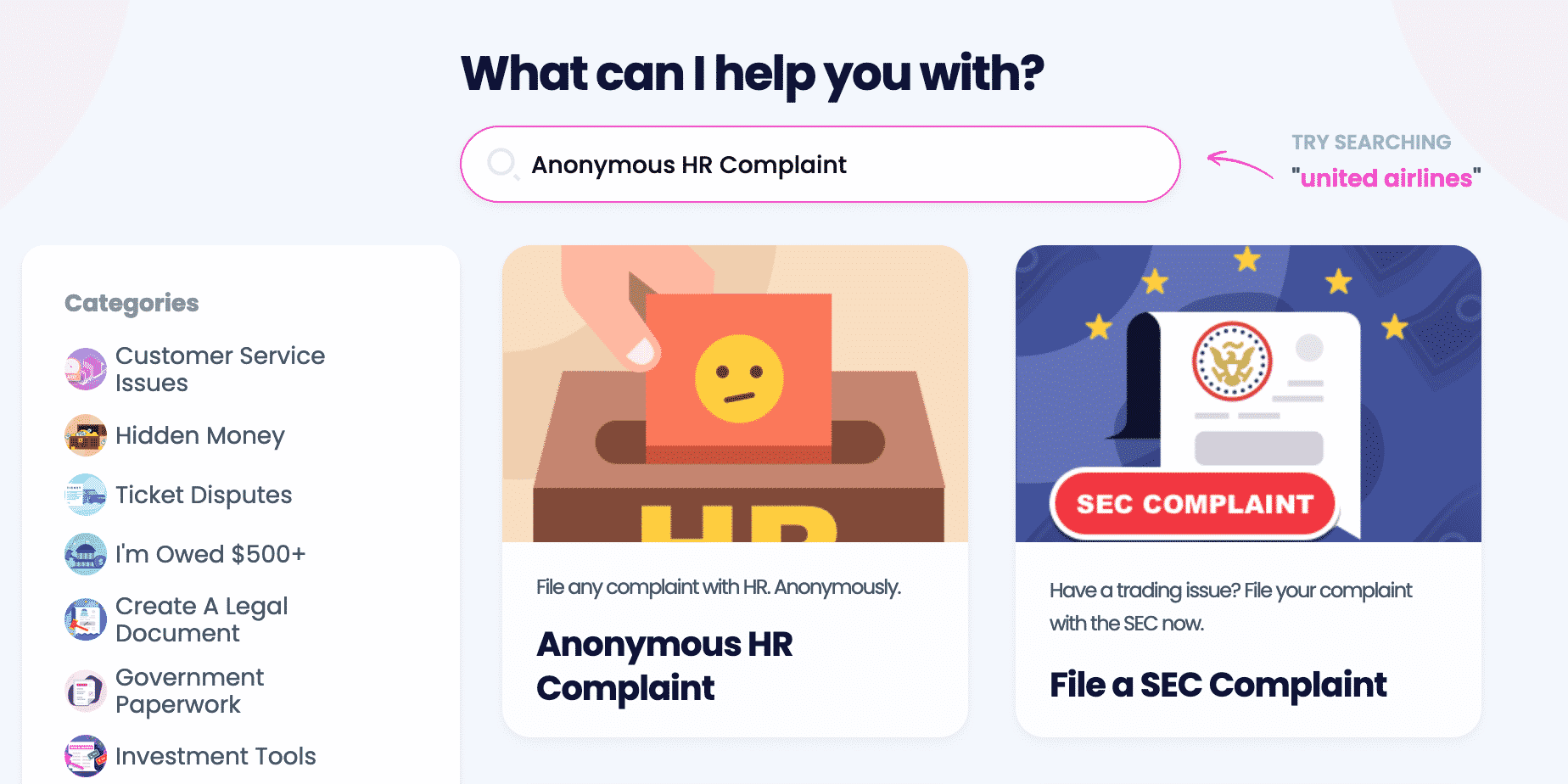 2. Enter your employer's name and your HR department's mailing address.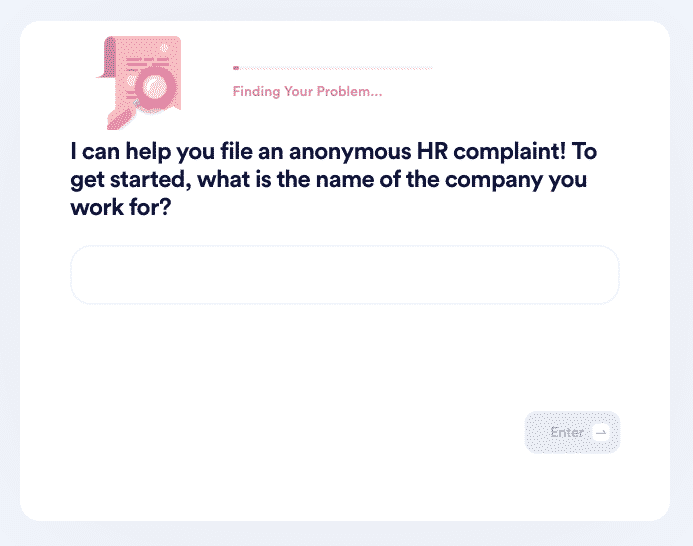 3. Describe your complaint and suggest a solution or action that you would like implemented.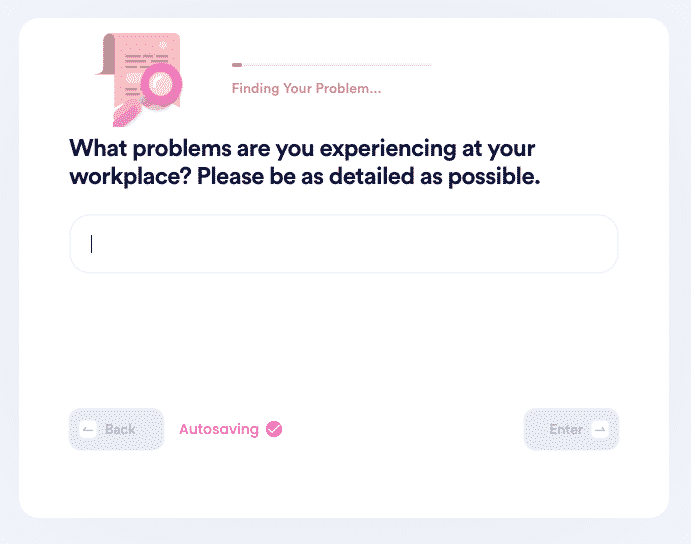 That's it! DoNotPay will mail the report anonymously - your identity will not be revealed.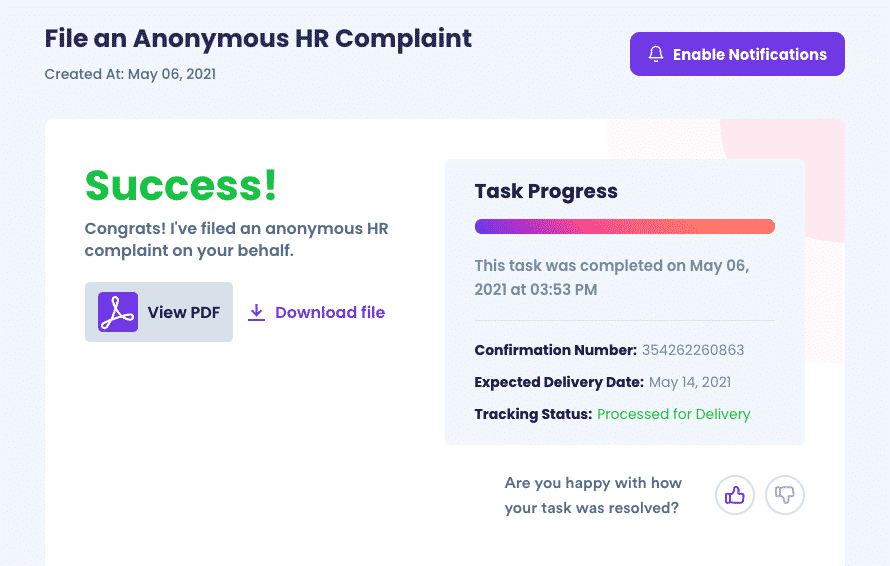 What Else Can DoNotPay Do?
Helping you with reporting racism at work is far from the only task DoNotPay can do for you! DoNotPay is an incredibly versatile robot lawyer that releases new products every month!
Check out to: