Reporting Manager to HR Without Losing Your Job
Trying to figure out the process of reporting your manager to HR without losing your job should be considered an extreme sport. From inappropriate behavior to harassment and discrimination, employees all over the world know far too well the struggle of working in an uncomfortable environment. It's even more difficult to report your manager or boss to HR knowing that you could face backlash or even termination. However, the fear of repercussions should not be the reason employees like you have to deal with bad management in silence.
This article will guide you through the process of reporting your manager to HR and the steps to be aware of before you begin. We'll also introduce an easier, safer alternative that can be done through .
4 Common Reasons Managers are Reported to HR
Here are the 4 most common reasons why employees report their bosses to HR:
Reason

Implication

Harassment

Including but

not limited

to instances of bullying, inappropriate jokes, unwelcome physical contact and acts of a sexual nature

Illegal activity

Acts of fraud, abuse, conflict of interest, theft and

discrimination

Violation of Company Policy

Including but not limited to work safety violations, falsification of official documents and intoxication
Steps to Take When Reporting Your Boss
Are you planning on reporting your boss or manager? If you are, it's important to be informed and have an understanding of how HR complaints work before you start. The process of reporting your manager to HR should be well-calculated with carefully thought-out steps:
Talk to your boss:

If the issue is small, you may be able to resolve the issue directly with your manager. Express your complaint to them and communicate in private. You can also bring in a trusted mediator, like a fellow employee, another manager, or a HR representative. If you are uncomfortable or are worried about their reaction, skip this step.

Document all evidence:

All correspondences, witnesses,

incident reports

and other evidence should be compiled before you submit a report. HR reports are best handled when the department has plenty of proof to look over.

Present Your Case to HR: Go to HR with your evidence to make a formal complaint. You can request confidentiality from them, but they will have to talk to your manager about the allegations and listen to his or her version of events before taking any action.
Seek Other Legal Counsel if Necessary: HR will make a decision once the investigation has concluded. If you are dissatisfied with the result, you can escalate your complaint to a local/state agency or seek legal counsel.
What to Expect After Reporting Your Manager to HR
Even though standing up for yourself and reporting bad management to HR is a good way to create a healthy work environment, you could face blowback:
You might face harassment from your manager and/or co-workers who do not think you should have reported them. Irrespective of the facts and evidence you might have, you might end up being a social pariah.

You might not get the confidentiality you hoped for even after agreeing on it with HR. Because your manager will have to be brought in, word is likely to spread and your report might become the center workplace gossip.

You might not get the justice you hoped for. A bad manager might just get a slap on the wrist or a weak warning from HR. You can end up in an even worse situation than before and might regret even speaking up in the first place.

You might get fired or be forced to quit. Although this is rare, you could end up being terminated from your position. If you're tired of the same working conditions, you may even choose to leave on your own.
How DoNotPay Can Make This Process Safer
is on a mission to help everyone report bad management to HR without worrying about facing consequences. With the Anonymous HR Complaints service, you can send all of your complaints to HR anonymously! Here's how:
1. Log in to your account and open the Anonymous HR Complaint product.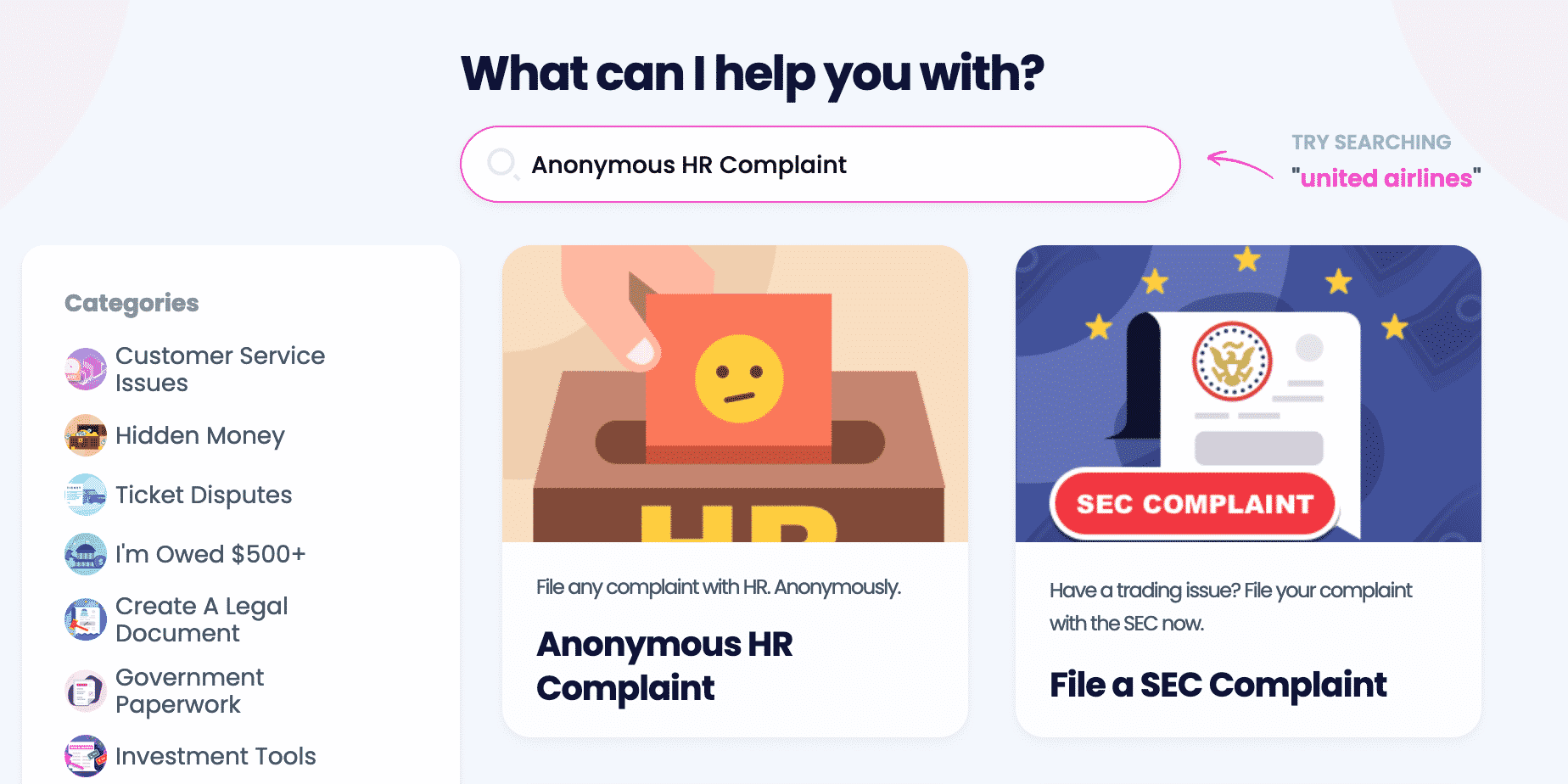 2. Enter your employer's name and the address of your HR department.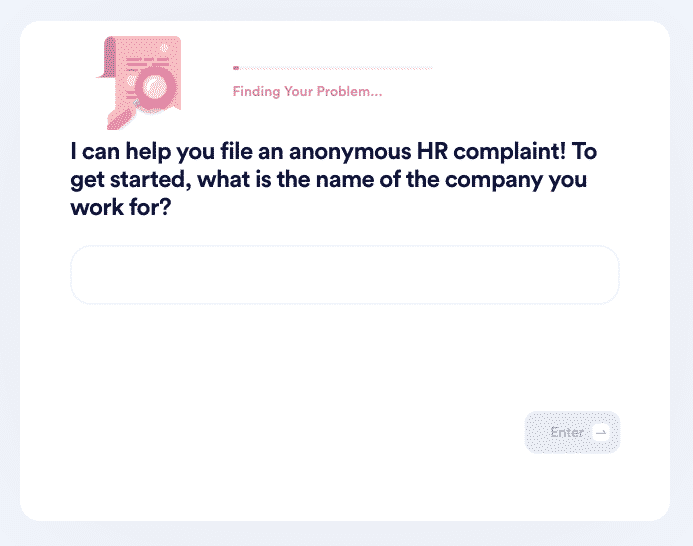 3. State what issues you are facing and how you would like them addressed.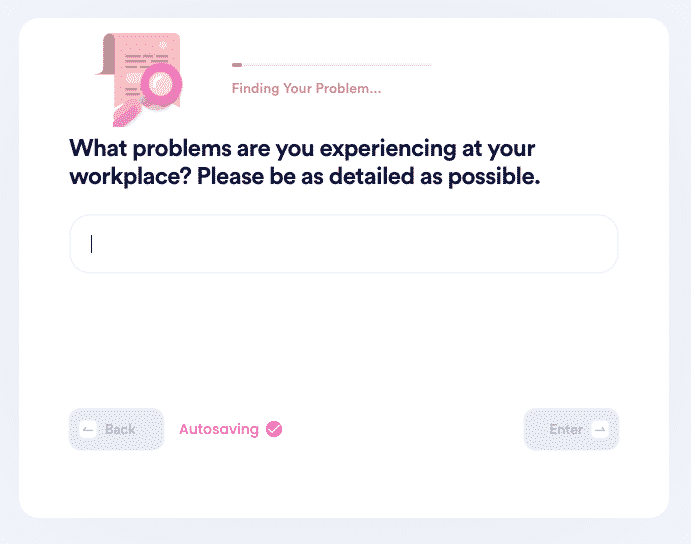 Sit back and let DoNotPay automatically mail your complaint to HR without including any of your personal details!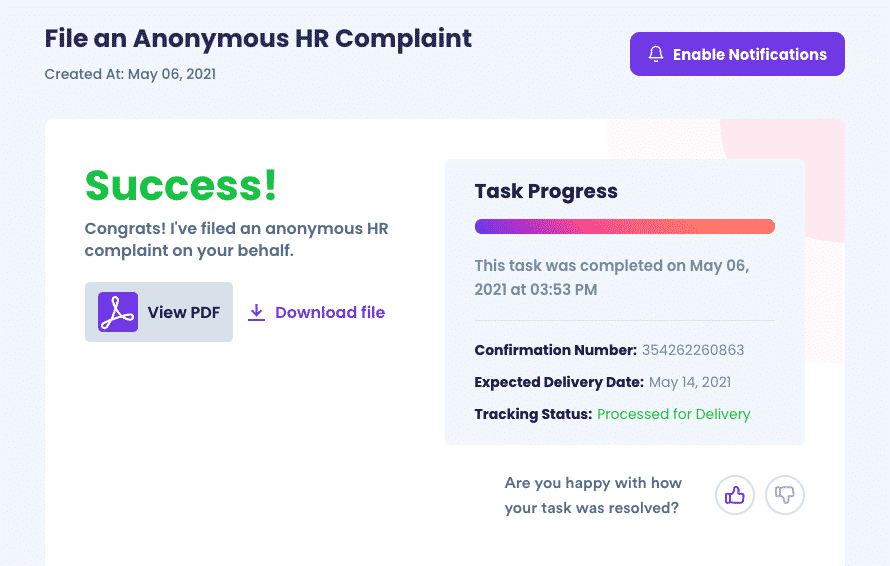 Other Ways DoNotPay Can Help
If you're interested in writing a complaint on your own, check out our sample employee complaint form and our sample complaint letter about a coworker!
DoNotPay is not only great at helping you , but offers a wide range of other services. As the world's first robot lawyer, DoNotPay helps you solve complicated legal situations and fight for your rights! Here are some other services you might be interested in: